IRI MarketEdge reported that Australian wine's share of total domestic retail of-trade wine sales increased by 1.5% point during March 2020, supporting this prediction of a move to 'buy local'. In the year ended June 2020, imported wine sales in the off-trade grew by 7% in volume, compared with 3% for domestic sales, and increased its share of total off-trade wine sales from 12% to 13%.
RATE THE AUSTRALIAN WINE MARKET ATTRACTIVENESS

Alcohol consumption: quality over quantity
The spirits market is globally stable in volume with sales of 65 million liters. The trend is towards premiumization with a 2% increase in value sales for the same volume. Increased demand for ready-to-serve cocktails has benefited the industry over the past five years; revenues are expected to grow by an average of 1.9% per year. 60% of spirits are imported (EUR 480 million, or 35 million liters).
The United Kingdom and the United States are the leading suppliers with respectively 33% and 32% of the market in volume. France is the 3rd largest supplier of spirits in value (cognac, vodka and liqueurs) and the 4th in volume.
The beer market has declined due to health awareness, regulation, increased competition from wine and cider, and consumer preferences that increasingly emphasize quality over quantity. Consumers are moving towards more artisanal and qualitative beers.
Read also

 New Zealand, demand for more choice
Alcohol Consumption share:
| | |
| --- | --- |
| Beers | 35.9% |
| Wines | 26.4% |
| Spirits | 20.7% |
| Premix (RTD) | 13.4% |
| Ciders | 3.6% |
French still wines perform
Domestic wine : Australia's priority is to enhance the value of its wines by focusing on premiumization, as well as on the regionalization of its offer. The Australian consumer is encouraged to focus on quality, rather than quantity. Now focusing on premium, the most expensive wines are now driving sales upwards: sales of bottles between EUR 21 and 35 increased by 55% in 2017.
French wine is well perceived in Australia. France remains its 2nd supplier with 38% of the value of wine imports to Australia (19% of the volume). New Zealand accounts for 56% of imported volume, Italy 15%.
France is the major growth driver in the imported wine category.
French still wines performed particularly well with +17% in volume and 15% in value. In this niche, Burgundy is the leading export region to Australia in value with 30% of total sales.
While wines from the Bordeaux, Burgundy and Côtes-du-Rhône regions are well known, appreciated and still hold significant market shares in volume, imports from other French regions have grown strongly over the past 3 years, allowing importers to differentiate themselves and introduce consumers to an offer that is still little known on the market. This is evidenced by Languedoc wines, with a nice increase in 2018 +98% in volume and +99% in value or Southwestern wines with +44% in volume and +40% in value.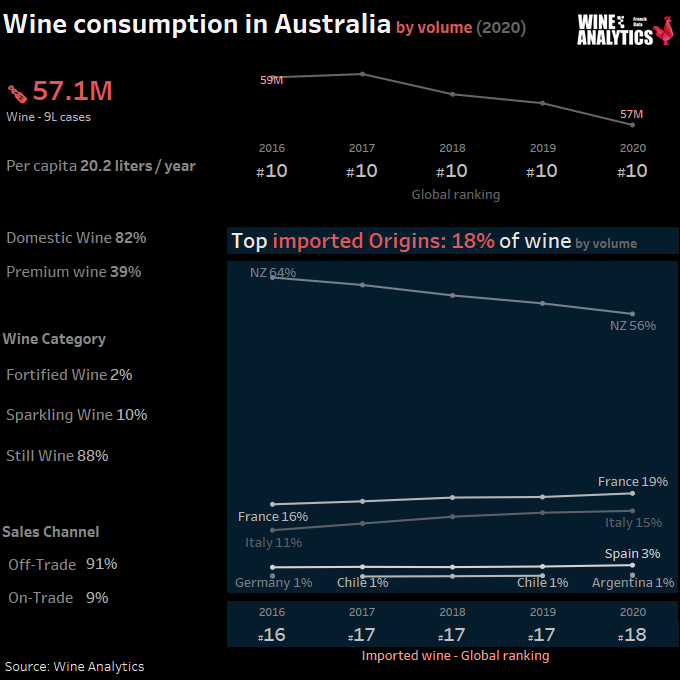 Champagne accounts for nearly 1/3 of the volume of French wines sold on this market, which is the 6th largest export market for champagne. Nevertheless, in 2018, champagne sales in Australia experienced their first decline in a long time (- 6,4 %).
Red and rosé wines are preferred when it comes to French wines and they account for 80.1% of imports (50% reds and 30% rosés), but white wines can also find a place, such as Sauvignon Blancs from the Loire or Chablis, which are well appreciated by Australians.
Shiraz (Syrah) has overtaken Sauvignon Blanc has the number one selling variety by value. Shiraz (Syrah) sales grew by 9% over the period while Sauvignon Blanc sales declined by 5%. There were mixed results for the other categories in the top five. Chardonnay sales declined by 2%, Cabernet Sauvignon sales increased by 5% and Sparkling white sales declined by 6%.
Categories outside the top 5 showing solid growth include Pinot Noir (+17%), rosé (+56%), Prosecco (+73%), Pinot Grigio (+15%), Pinot Gris (+31%) and Grenache (+20%).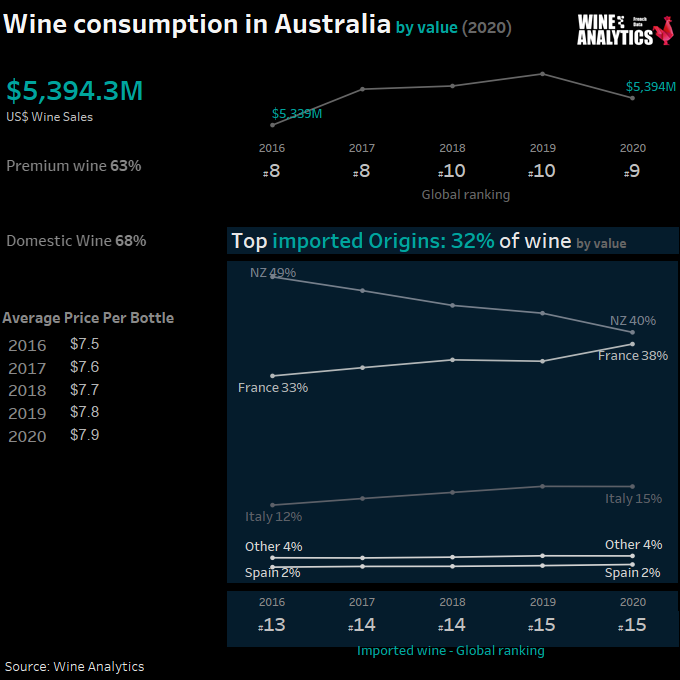 The market is difficult for SMEs to penetrate
Relational skills are very important in Australia. Working with importers is the most economical and interesting solution. They have a network and know the local market as well as consumer trends.
The retail market is very concentrated (mainly direct imports). 60% of the market is controlled by two major players: Woolworths and Coles.
Online sales are developing significantly, with the possibility of direct imports, and today account for 4% of the market.
The importation of wines and spirits is free upon entry into Australia, without the need to obtain a permit. In general, imports of alcoholic beverages are subject to a 5% customs duty. There is also a specific tax on wine, the Wine Equalisation Tax (which applies to both local production (via wholesalers) and imports, although wholesalers benefit from special rebates (on criteria).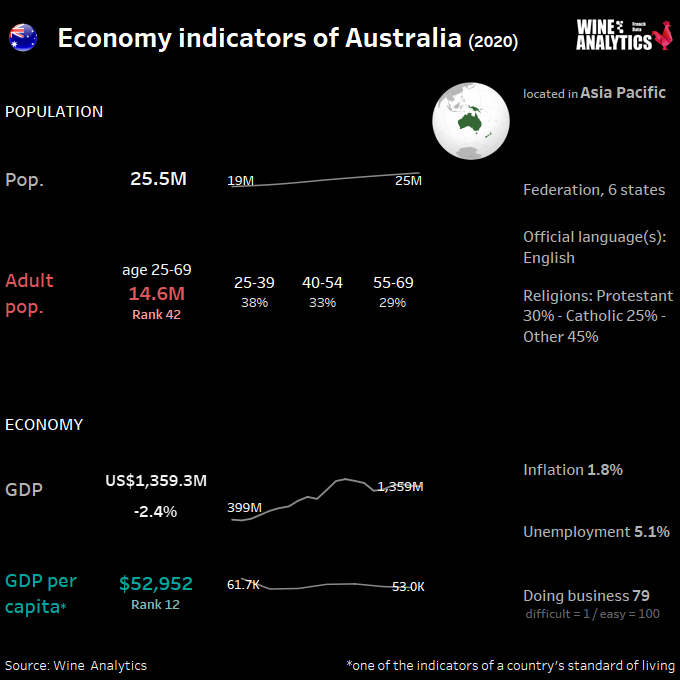 Establishing a foothold in this market can take time; it can take several months or more to find the right partners. It should be noted that this market is difficult for SMEs to penetrate and is dominated by major brands.

Australia, difficulties for estates to penetrate
Our evaluation method
The data shows key metrics, and these are combined to show a ranking calculated using a composite weighted attractiveness combining overall economic factors and wine market factors.
WINE CONSUMPTION IN VOLUME
90
WINE CONSUMPTION IN VALUE
91
IMPORTED WINE IN VOLUME
82
83
Wine Market Attractiveness