Since the start of Covid-19, many Canadians are staying close to home and seem to be looking for more local products.
A full lockdown in Quebec came into effect in March 2020, with non-essential businesses closing on the 23rd. To the great relief of wine lovers, the Société des alcools du Québec (SAQ), the liquor monopoly, was deemed essential. Although it stated that local wine sales have increased by 80 per cent, the SAQ will not give precise figures on other sales since the start of Covid-19. Judging by the long line-ups to get into the stores, consumption must be up sharply. From the beginning, restaurants were allowed to sell a bottle of wine along with their take-out meals. Bars with a food permit did not enjoy the same privilege.
Restaurants reopened on June 15, with the exception of Montreal, where they opened on June 22. This was accompanied by strict regulations; severe fines are imposed for non-compliance, and in extreme cases the premises may be closed.
In Quebec, summer was in full swing and the weather was hot, an ideal opportunity for restaurants with outdoor spaces to catch up. Inspired by Europe, many streets have become pedestrianized, allowing owners to expand their establishments to the street. But with many people still working from home, vacationers exploring the beauty of the countryside, and all the festivals in Quebec City and Montreal cancelled, tables don't turn as quickly and many places remain quiet.
We have analyzed red wines listed in the restaurants of the Quebec province, Canada.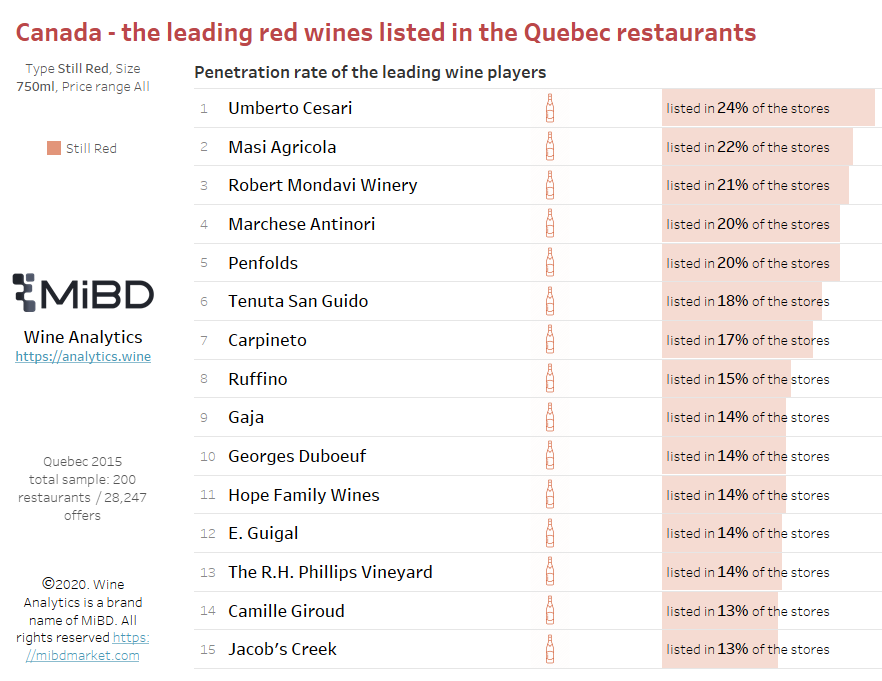 1. Umberto Cesari
2. Masi Agricola
3. Robert Mondavi Winery
4. Marchese Antinori
5. Penfolds

6. Tenuta San Guido
7. Carpineto
8. Ruffino
9. Gaja
10. Georges Duboeuf

11. Hope Family Wines
12. E. Guigal
13. The R.H. Phillips Vineyard
14. Camille Giroud
15. Jacob's Creek
Provincial alcohol laws of British Columbia have been relaxed to help businesses survive the pandemic crisis. As of July 20, all licensed operators in the hospitality and tourism sector are allowed for the first time to purchase wine at wholesale prices, something they had been asking for long before Covid-19. The issue will be reviewed in March 2021. As in Quebec, restaurants are now allowed to sell wine in addition to take-out.
Barbara Philip MW, head of the European wine category at the BC Liquor Distribution Branch, says that, as elsewhere, she has seen a trend toward professionals buying large quantities of inexpensive big brand wine, as sales of fine wines dropped in March. April sales also declined, mainly due to shorter opening hours and Sunday closings. In May and especially in June, Philip saw a return of high-end customers.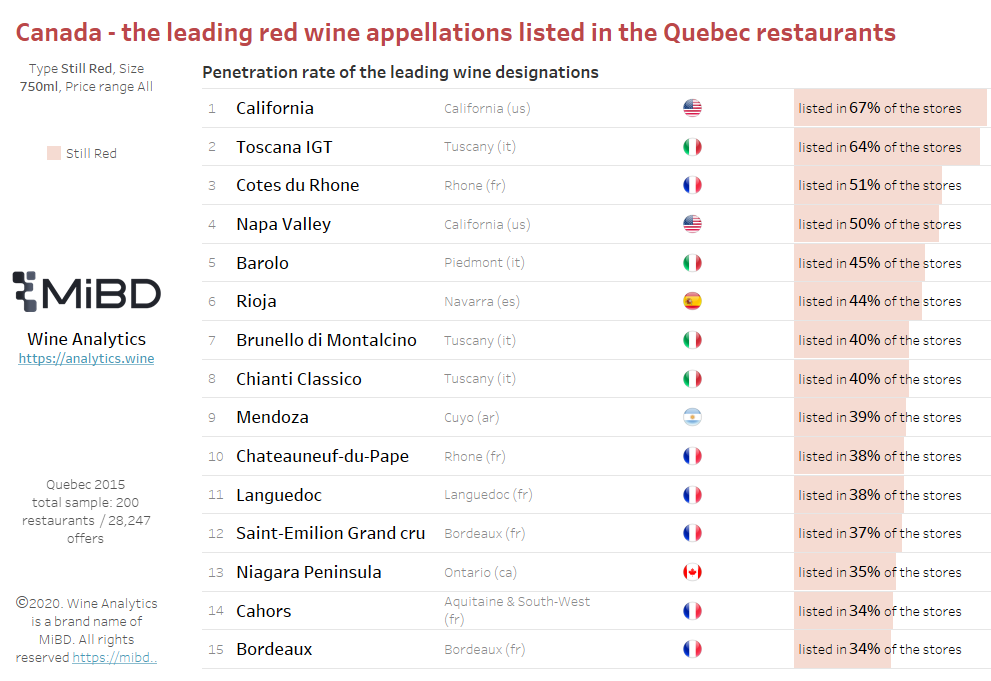 1. California
2. Toscana
3. Cotes du Rhone
4. Napa Valley
5. Barolo

6. Rioja
7. Brunello di Montalcino
8. Chianti Classico
9. Mendoza
10. Chateauneuf-du-Pape

11. Languedoc
12. Saint-Emilion Grand Cru
13. Niagara Peninsula
14. Cahors
15. Bordeaux
Canadians were encouraged to drink local wines by their respective provincial governments. Magdalena Kaiser, Director of Public Relations for the Wine Marketing Association of Ontario, says that "while there have been some spikes in local wine purchases through DTC channels, there are no details on how this has changed week to week in terms of consumer spending patterns during this pandemic.
Magdalena Kaiser added that the numbers were encouraging – Ontario VQA wines have seen a 14.6% year-to-date volume increase at the LCBO. Like many Canadians, Ontarians are staying close to home and seem to be looking for more local products.