Quebec is the largest wine-importing province in Canada, at 180 million liters of wine valued at $770 million in 2020. While nearly all imported bottled wines are sold at provincially owned and operated retail outlets, imported bulk wines bottled in Quebec can be sold in convenience and grocery stores.
RATE THE QUEBEC WINE MARKET ATTRACTIVENESS

In 2020, four provinces – Quebec, Ontario, British Columbia, and Alberta – made up 92% of the total Canadian wine retail market value, including both imported and Canadian-produced wines.1 At US$2 billion, Quebec represented 32% of the total Canadian wine retail market, just behind Ontario (36%). When purchasing alcohol, Quebec consumers predominantly select wine over other types of alcoholic beverages, a characteristic attributable to the primarily francophone population and deep cultural ties with major European wine producing countries. In 2020, Quebec consumers continued to lead all other provinces in Canada in per capita wine consumption (based on retail sales) at 24 liters and US$280 per person, up 39 and 63% respectively from 2005.
READ ALSO

 Ontario, a New World Wine Province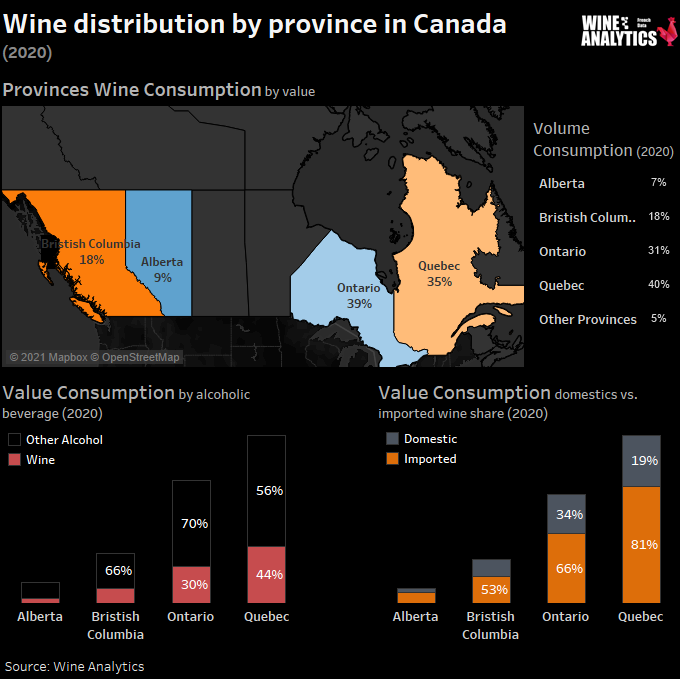 Wine Distribution Channels in Quebec
The purchase, distribution, and sale of alcohol in Québec is controlled by the provincial liquor authority Société des alcools du Québec (SAQ), while the Régie des alcools, des courses et des jeux (RACJ) regulates the alcohol industry (as well as the lottery, publicity contests, gambling, racing, and combat sports industries).
The following table presents the value of wine sales in retail outlets in Quebec, as reported by the SAQ. Between 2002 and 2020, total wine sales have increased by nearly 130%. Wine sales in retail outlets represent, on average in Canada, about 85% of overall sales of wine in the country. Although the precise percentage may be different in the province of Quebec, there may be another estimated $150-300 million in wine sales through other distribution channels, such as food service or private sales to individuals.
| | | | | | |
| --- | --- | --- | --- | --- | --- |
| Total Wine Sales | 2000 | 2005 | 2010 | 2015 | 2020 |
| in SAQ stores | 80% | 82% | 85% | 86% | 86% |
| in groceries / convenient stores | 20% | 18% | 15% | 14% | 14% |
Retail sales of wine in Quebec, as reported by the SAQ
Over the last 20 years, wine sales in SAQ stores grew by 145%, while wine sales in groceries and convenience stores grew by only 60%. This is also reflected by the SAQ stores' increasing share of total sales (from 80 to 86%) and the declining share of wine sales in groceries (from 20 to 14%) as Quebec consumers increasingly opt for better quality wines, which are predominantly found at SAQ stores.
SAQ Stores
The largest wine distribution channel in Quebec is via the SAQ stores and SAQ agency stores, accounting for about 86% of the total 2020 retail wine sales in the province. The SAQ stores are retail outlets directly owned and operated by the SAQ. The SAQ agency stores are essentially SAQ shelf space co-located within grocery or convenience stores in smaller towns or in remote locations, where a directly owned SAQ store would not be economically viable. The SAQ shelf space in an agency store is clearly separated from the grocery's shelf space, is dedicated to wine, and is marked accordingly with signs reading "SAQ." Revenues from the SAQ wine sales are accounted for separately and transferred to the SAQ. The SAQ reports that it was operating 410 stores and 426 agency stores in 2020.
There are over 9,000 active wine SKUs across all SAQ stores and agency stores. An average SAQ store would hold between 1,000-2,000 wine SKUs. For all imported wine sold through its stores, the SAQ is the importer of record, wholesaler, provider of warehouse services, distributor, and retailer. Typically, wine imported into Quebec and sold in SAQ stores is assessed the following duties and charges: customs duties, excise taxes, federal goods and services tax (all paid to the federal government); provincial sales tax and a specific tax paid to the provincial government; and the SAQ markup, which covers the SAQ's cost of selling, merchandising, and distribution as well as administrative expenses.
In order to conduct business with the SAQ, wine suppliers typically go through a licensed agent. A3 Québec (formerly the Association québécoise des agences de vins, bières et spiritueux – AQAVBS) is the leading organization for wine (and other alcoholic beverages) agents in the province. According to A3 Québec's website, the association serves as a liaison between agencies and the SAQ, the Government of Quebec, industry associations, the media, public interest groups and others, while promoting wines and other alcoholic beverages throughout the province. A3 Québec agents represent wine producers from around the world in their dealings with the SAQ and help market imported products in Quebec. Currently, A3 Québec has 70 members, representing wines from over 20 countries. According to the association, 95% of the products sold in SAQ outlets are represented by agents who are members of A3 Québec.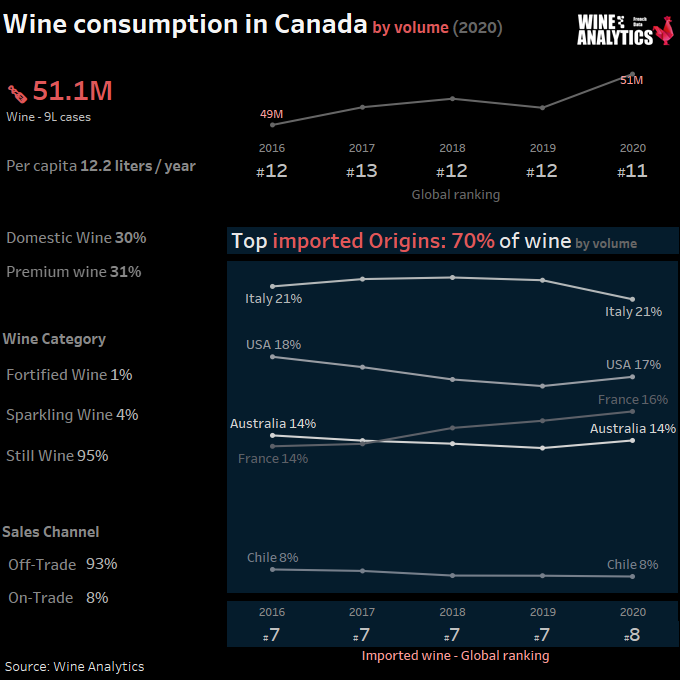 Grocery and Convenience Stores
The second largest distribution channel in Quebec, accounting for about 14% of the wine retail sales, is represented by grocery and convenience stores. According to Statistics Canada, in 2020, there were nearly 7,300 such retail stores in the province.
Wine distributed through grocery and convenience stores in Quebec has to be bottled in the province. There are few such companies that import bulk wines and bottle it locally under their own private brands for sale in groceries. The RACJ provides on its website a list (on page 11, the permit category "VIN") of such companies, which are called "industrial winemaker permit holders."
The SAQ is the importer of record for bulk wines imported for bottling. Once it clears customs, wine shipments are released to the bottling companies. Once bottled, the wine is transported to SAQ warehouses, and then distributed by the SAQ to individual groceries and convenience stores. The SAQ markup is applied to all wine sold through this distribution channel.
Imported wine bottled in Quebec and sold in grocery and convenience stores is commonly referred to as "table wine." A series of regulatory changes adopted by the provincial government in 2016 redefined the concept of "table wine" to limit the information listed on the labels to:
Country of origin
Vintage year
Grape variety (prior to 2016, the variety was not allowed on the label)
Private brand name of the bottling company
The appellation of origin continues to be prohibited from being listed on the wine label.
In 2020, Quebec imported nearly 60 million liters of bulk wines, representing over 30% of the total volume of imported wine. By value, bulk wine imports totaled over $44 million in 2020, or nearly 6% of the total value of imported wine. The top suppliers of bulk wine were Australia (19.4 million liters), France (7.7 million liters), and Italy (5.4 million liters).
Private Order Sales
The third and final type of distribution channel for imported wines in Quebec is through private orders, sometimes referred to as "private imports." Although sales through private orders are not as large as sales through grocery and convenience stores, private order sales represent a growing distribution channel, with increasing potential in the future.
The minimum purchase requirement for a private order, applicable to both the foodservice sector and individuals, is one case of wine (12 bottles). This is often given as a downside for this distribution channel, particularly for individuals, since some may find it prohibitive to order wine by the case, especially if one looks at purchasing a variety of wines. Nevertheless, industry sources indicate that this distribution channel has shown considerable growth over the past several years.
Private orders can be placed either directly through the SAQ or via an agent. However, the group of wine promoters and agents that is particularly active in the private orders distribution channel is Le regroupement des agences spécialisée dans la promotion des importations privées des alcools et des vins – RASPIPAV. In addition to procurement services offered to their clients (either foodservice establishments or individuals), RASPIPAV organizes semiannual wine tasting events in Quebec City and Montreal, where customers are allowed to buy wine by the bottle (as opposed to the one-case minimum requirement). These wine tasting events are increasingly popular and account for a significant portion of the association's sales.
Similar to the other distribution channels for imported wine described earlier, the SAQ markup also applies to sales under private orders. Regardless if an agent was involved in the procurement of wine, the SAQ is also the importer of record, and once the private order clears customs, the SAQ keeps the wine in storage for pick-up by the client; the SAQ can also organize transport of the order to an SAQ store near the client's location.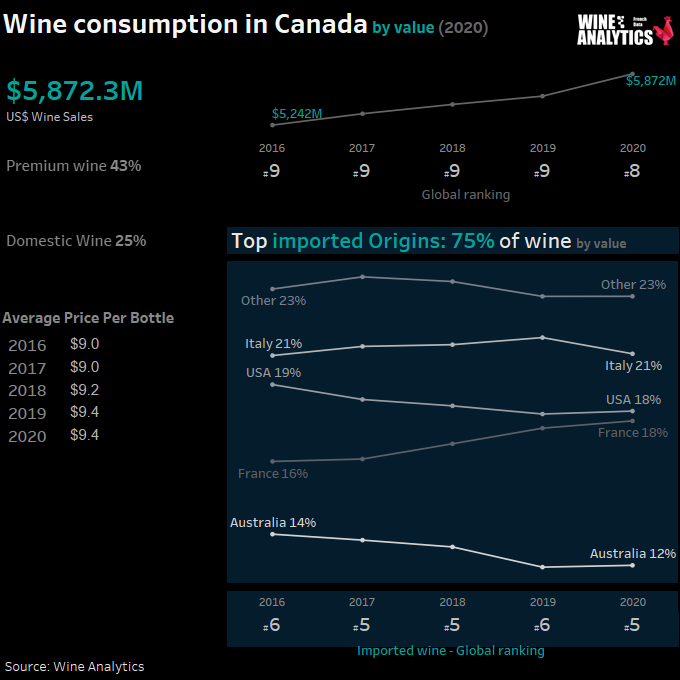 Imported Wines
Quebec is the largest wine importing province in Canada, with 40% of total volume and 39% of total value of imported wines. In 2020, Quebec imported nearly 180 million liters of wine, valued at over $770 million. Of the total volume of wine imported by Quebec in 2020, 64% (or 115 million liters) was bottled wine, 3% (6 million liters) was sparkling wine and 31% (55 million liters) was wine in bulk. In addition, 2% (3 million liters) of the wine imported into Quebec was packaged in containers of between 2 to 10 liters.
Unlike in Ontario and British Columbia, where imported bulk wine is blended with local domestic wine and marketed as international-Canadian blends, in Quebec, imports of bulk wine are generally bottled in the province and distributed through groceries and convenience stores as wine originating from those respective foreign countries.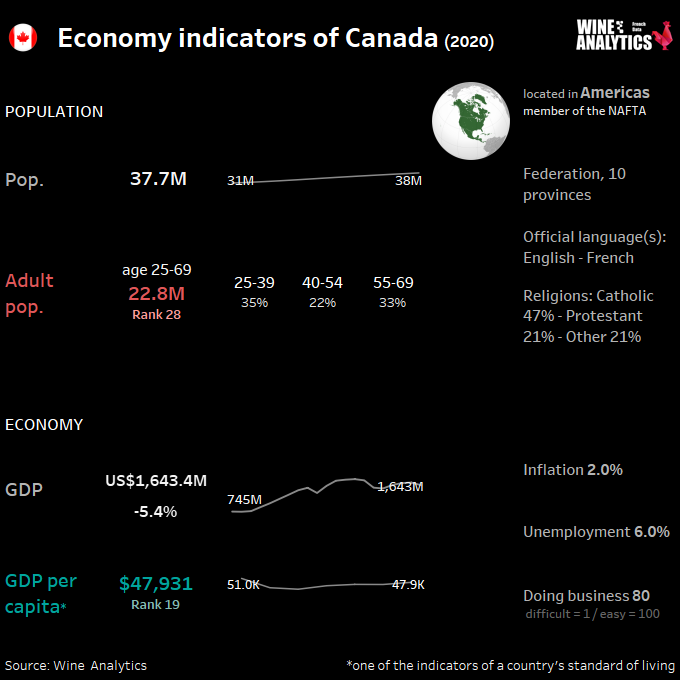 Overall, the most popular foreign wines in Quebec are those from European countries. In 2020, EU countries supplied over 64% of the wine imported by Quebec, with France on top at 48 million liters, followed by Italy at 37 million liters, and then Spain at 18 million liters.
Of non-EU origin wines, Australia exported 24 million liters to Quebec in 2020.
The United States supplied nearly 15 million liters of wine valued at $66 million (8% market share by volume and 9% share by value).

Canada Quebec, an Old World Wine province
Our evaluation method
The data shows key metrics, and these are combined to show a ranking calculated using a composite weighted attractiveness combining overall economic factors and wine market factors.
WINE CONSUMPTION IN VOLUME
89
WINE CONSUMPTION IN VALUE
92
IMPORTED WINE IN VOLUME
92
85
Wine Market Attractiveness