Despite its small size, New Zealand is already an important market for alcoholic beverages and ingredients. New Zealand imports of alcoholic beverages have had growth since 2011. Whiskies, wine, and liqueurs are the largest alcohol categories being imported by New Zealand.
RATE THE NEW ZEALAND WINE MARKET ATTRACTIVENESS
Over the past 40 years, the government has transformed New Zealand from an agrarian economy, dependent on concessionary British market access, to a more industrialized, free market economy that can compete globally. This dynamic growth has boosted real incomes, but left behind some at the bottom of the ladder and broadened and deepened the technological capabilities of the industrial sector.
Wine Consumers are Demanding more Traceability
Wine is the top alcoholic beverage that New Zealand imports by value. Three-quarters of consumption is domestic wine and a quarter is imported. Red wine is the dominant wine style with a 71% value share ahead of white wine with 19%, sparkling wine with 8%, and fortified and other wine with 3%.
As expected, Sauvignon Blanc is the number one selling varietal in New Zealand supermarkets with sales valued at around NZ$180 million ahead of Chardonnay, Pinot Noir and Pinot Gris (each with sales of NZ$80 million) and then Merlot (NZ$45 million), Syrah (NZ$40 million) and Cabernet Sauvignon (NZ$20 million). New Zealand producers dominate sales of Sauvignon Blanc (94% value share), Chardonnay (90%), Pinot Noir (91%) and Pinot Gris (97%), while honours are more evenly split in Merlot (New Zealand with 58% and Australia 39%).
Consumers in New Zealand are now very focused on 'sustainability' as playing a more important role in the purchasing decision. In line with this trend New Zealand is trying to sell a sustainable story with international markets as well. International consumers are showing an increasing interest in the sustainability of products they consume.
Further to the sustainability message, New Zealand consumers are demanding more choice and traceability when it comes to where the product came from and how it was made. Examples include more organic, biodynamic, natural, and vegan wines now finding their way onto the wine shelves in supermarkets.
High-Quality and High-Price Point of Domestic Wine
Over the last 1-2 years the New Zealand wine supply has seen improved grape production because of an increase in area planted. However, demand for wine – when domestic and international demand for New Zealand wine are combined – has outstripped New Zealand's supply.
This deficit in supply is driven largely by New Zealand wine exporters having growing consumer demand overseas for high-quality and high-price point wine. This supply shortfall has allowed some international brands to grow in New Zealand. Therefore, international brands can find niches in the New Zealand market, and grow their brands here. But competition remains strong.
The Increase of Imported Wine
In recent years imported wine has been taking a larger share of the domestic New Zealand market. Total wine imports by New Zealand for 2019 were 42.43 mL, up 1.7% from 2018. Over the last five years there has been a general upward trend of imports at 4% annually. Meanwhile, over this period per capita domestic consumption of wine has been slowly trending downward, although with population growth overall consumption has been more stable.
The reason for increasing imports is that they have been priced competitively, while strong demand for New Zealand wines overseas has meant that wineries have not discounted their product domestically to increase sales. As a result, imports have filled the demand gap, especially for red wines. Total domestic consumption is forecast largely stable at 90 mL.
Most alcoholic beverage imports arrive at the North Island of New Zealand, which has approximately 3.7 million of New Zealand's total population of 5 million. About 93% of total alcoholic beverage imports arrive into New Zealand via sea freight. Most of the alcoholic beverages arriving by air freight (beer, wine, and whisky) arrive at Auckland airport, while most of the sea freight arrives into the Port of Tauranga or the Port of Auckland.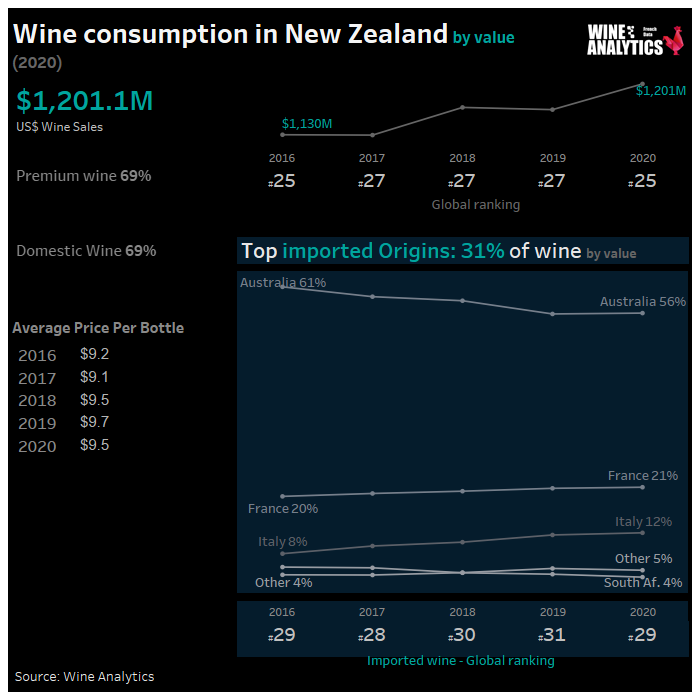 New Zealand has been and remains an important market for Australian wine. This is driven primarily by imports of Australian wine. Under the trade agreement between New Zealand and Australia, wine in either country has a special tax exemption which brings the pricing in line with each other's domestic price. On top of the tax exemption there are many wine varieties and brands produced domestically in New Zealand, and this can also make it difficult for international brands to compete both on price and shelf position in store.
New Zealand and the United States have an agreement in place that mutually accepts the respective wine making practices of the two countries. However, there are some differences in labeling requirements. For instance, New Zealand regulations require specific information on the label regarding how many "standard drinks" are contained in the wine bottle. There is also a requirement for allergen labeling,
Prior to the "Brexit" referendum, the European Union agreed to start the free trade negotiation process with New Zealand. Now with the United Kingdom having left the EU, it means New Zealand will negotiate separately to secure free trade agreements with both the United Kingdom and the EU. The United Kingdom was the second largest market for New Zealand wine last year, and Germany, Netherlands, France, and Ireland were also among the top ten markets.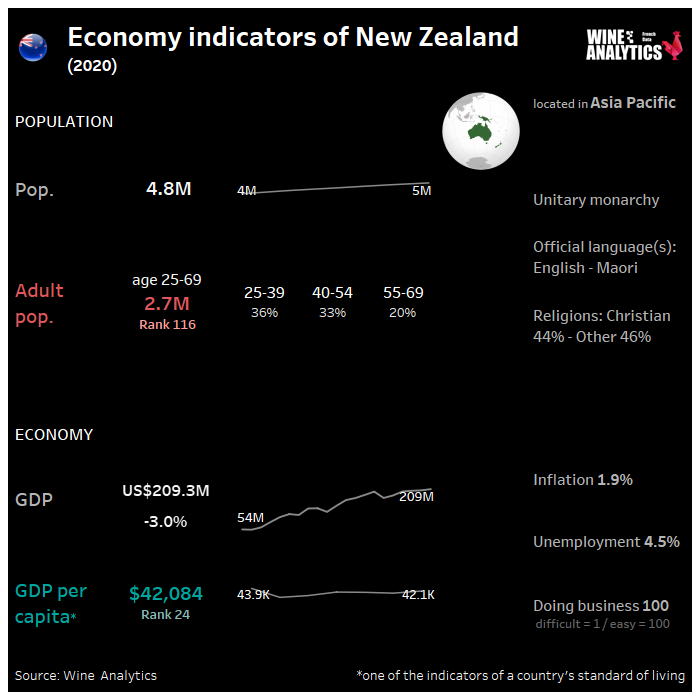 While there are no specific requirements for information that must appear on the front or back wine labels in New Zealand, front labels tend to be reasonably simple. All wine sold in New Zealand, including imported wine, must meet the labeling and composition requirements set out in the Australia New Zealand Food Standards Code, commonly referred to as "the Code".
Market Structure
New Zealand is a well-developed market. Establishing good working relationships with importers/distributors is the key to entering the New Zealand market. Approximately 80% of all imported food and beverage products are purchased and distributed within New Zealand by importers/distributors.
Over 65% of all alcoholic beverages (excluding spirits) sold in New Zealand is through two major supermarket groups – Food Stuffs and Progressive Enterprises. Spirits and the rest of the market volume is sold through independent bottle stores and chains.
High quality products with innovative packaging and unique features that are price competitive tend to do well in the New Zealand market.
All imported food and beverage products must comply with all aspects of Food Act and Food Standards Code at the point of entry into New Zealand. The Ministry for Primary Industries performs random inspections on any food imported. High-risk foods can be targeted for inspection at a higher frequency.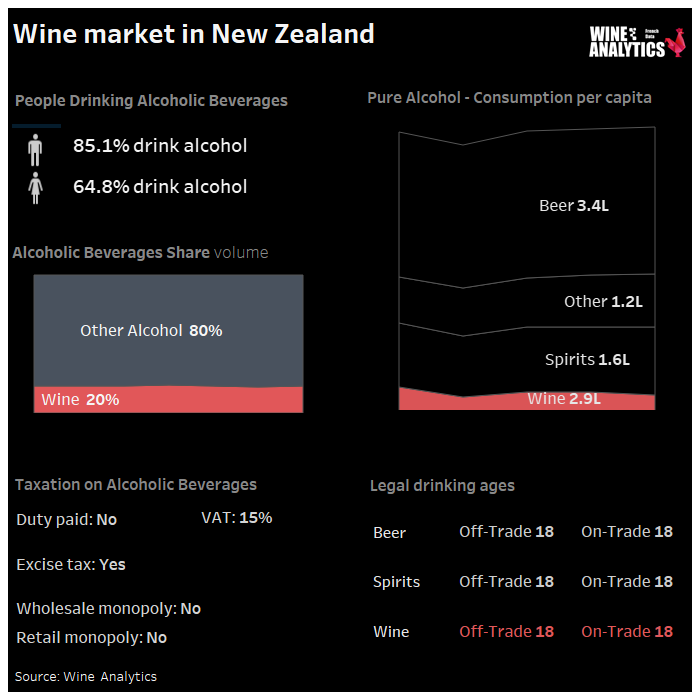 Other Alcoholic Beverages
Beer: in recent years beer consumption in New Zealand for the main brands has softened. Craft beer has shown strong growth but is beginning to slow. Overall beer consumption is not growing like the other categories. The rapid rise of craft beer production in New Zealand began in 2012, as several small craft breweries were established. This fueled growth in craft beer as a percentage of total beer consumption, which went from 2.6% in 2012 to 6.8% in 2016 and now it stands at over 15% of total beer consumed.
Driving the rise of the craft beer industry is a focus on flavor and having the latest and greatest flavors. As a result, brewers and importers are continually on the look-out for the next, different beer type or style. Although beer consumption in New Zealand has been strong, there are indications that this has begun to slow as a result of shifting preferences from the younger generations.
Spirits: younger New Zealand consumers are consuming less but have shifted spending towards to more premium ranges in this category. Overall, the spirits industry reports that their sales are down 5.8% for the year 2020, which is largely driven by the removal of international tourists caused by COVID-19's and border closures. In recent years the trend for drinking spirits has shifted in New Zealand from consuming a lot of cheaper products to less consumption overall, but of more premium products.
This trend has begun to shift the Ready-to-Drink (RTD) market away from the low-end high-alcohol content to premium-end lower alcohol content products. Seltzer is an example of this. This product has begun to dominate the RTD market and is very popular among millennial consumers. The move to premium products has now created a market shift in spirits leading to the rise of craft spirits.
Craft spirits have cut across all spirit types with gin being the most popular choice in this category.

New Zealand, demand for more choice
Our evaluation method
The data shows key metrics, and these are combined to show a ranking calculated using a composite weighted attractiveness combining overall economic factors and wine market factors.
WINE CONSUMPTION IN VOLUME
67
WINE CONSUMPTION IN VALUE
75
IMPORTED WINE IN VOLUME
70
64
Wine Market Attractiveness