Les préoccupations en matière de santé, ainsi que l'évolution des modes de vie et de la démographie, entraînent une diminution de la consommation de vin par habitant. Le Royaume-Uni est un marché clé pour le commerce mondial du vin, notamment en termes de valeur des ventes. Le marché britannique du vin est un environnement dynamique, en constante évolution, et où la concurrence est rude. Compte tenu des faibles marges dans les secteurs traditionnels, la plupart des opportunités pour le vin américain se trouvent chez les importateurs qui desservent les magasins indépendants haut de gamme et le secteur de la restauration moins regardant sur les prix.
ÉVALUER L'ATTRACTIVITÉ DU MARCHÉ BRITANNIQUE DU VIN
Le Royaume-Uni est composé de quatre pays : l'Angleterre, l'Écosse, le Pays de Galles et l'Irlande du Nord. Puissance commerciale et centre financier de premier plan, le Royaume-Uni est la troisième économie d'Europe, après l'Allemagne et la France. Les services, notamment les banques, les assurances et les services aux entreprises, représentent la plus grande part du PIB, tandis que l'industrie manufacturière continue de perdre de son importance.
Le 23 juin 2016, les électeurs britanniques ont indiqué leur souhait de quitter l'Union européenne (UE). Après des mois de négociations, le Royaume-Uni et l'UE ont finalement convenu d'un accord qui définira leur future relation, et qui entrera en vigueur le 31 décembre 2020.
LIRE ÉGALEMENT

 Finlande, un label pour les vins neutres en carbone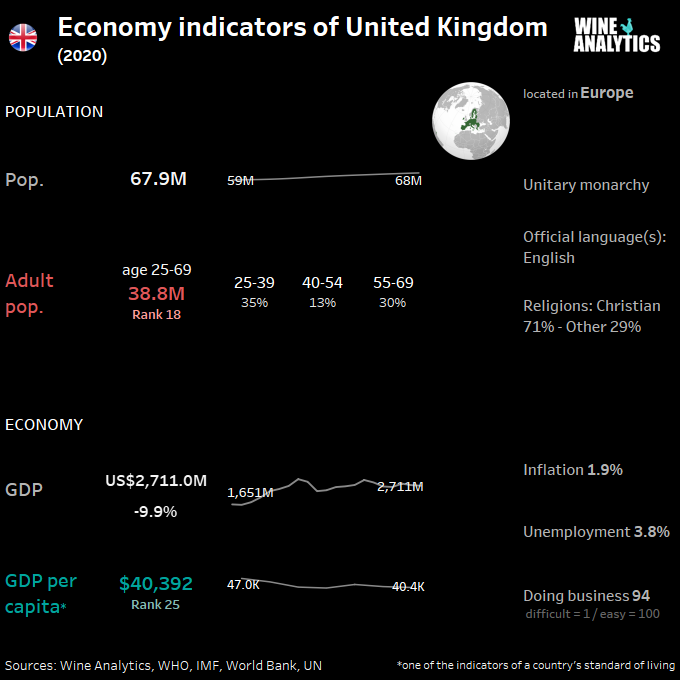 Selon les dernières données disponibles (2016) de l'Office britannique des statistiques nationales (ONS), le Sud-Est de l'Angleterre abrite quelque 9,0 millions de résidents (13,6 % de la population, suivi de Londres, qui compte 8,7 millions de personnes (13,2 % de la population). Le Nord-Ouest (Manchester, Liverpool, etc.) occupe la troisième place avec 7,2 millions de résidents (11 % de la population).
Les discounters de plus en plus importants
Les dépenses alimentaires et d'épicerie représentent 51 pence pour chaque pound dépensé en grande distribution. Neuf personnes sur dix se rendent régulièrement dans un magasin de proximité pour acheter des produits d'épicerie courants. Quatre chaînes de supermarchés dominent le commerce de détail alimentaire au Royaume-Uni, représentant 69% du marché.
| | |
| --- | --- |
| Distributeur | Part de marché 2017 |
| Tesco | 27.9% |
| Sainsbury's | 15.8% |
| Asda | 15.4% |
| Morrison's | 10.3% |
| Aldi | 6.8% |
| Co-op | 6.2% |
| Waitrose | 5.3% |
| Lidl | 5.2% |
| Autres | 7% |
Source : Kantar Worldpanel
En général, chaque chaîne se concentre sur un segment de marché spécifique. Par exemple, Tesco vise le marché intermédiaire, en proposant à la fois des produits économiques et haut de gamme. Sainsbury's se situe légèrement plus haut de gamme de Tesco, tandis qu'Asda se situe un peu plus bas sur le marché. Morrison's et la Cooperative se situent à peu près au même niveau de concurrence qu'Asda, tandis que Waitrose, qui fait partie du John Lewis Partnership, est la plus haut de gamme des grandes chaînes. Iceland, Aldi et Lidl sont tous des magasins axés sur les prix.
Les ventes des discounters (Aldi et Lidl) ont augmenté de 30 % en 2016 ; la part de marché d'Aldi est passée à 6,8 %, un record absolu qui en fait le 5e supermarché du Royaume-Uni. Les discounters continuent de renforcer leur position sur le marché.
Les grands magasins. Les halles d'alimentation de Marks and Spencer (M&S) continuent à maintenir une croissance commerciale réussie. La plupart des clients de M&S ont tendance à acheter la majeure partie de leurs produits alimentaires auprès de détaillants moins haut de gamme. Les grands magasins basés à Londres : Harvey Nichols et Selfridges se sont étendus à d'autres grandes villes britanniques comme Birmingham, Manchester et Leeds. D'autres grands magasins réputés sont Fortnum & Mason et Harrods.
Les grandes chaînes de supermarchés britanniques dominent le marché des marques de distributeur et, en moyenne, 47% des produits dans leurs magasins sont des marques de distributeur (MDD).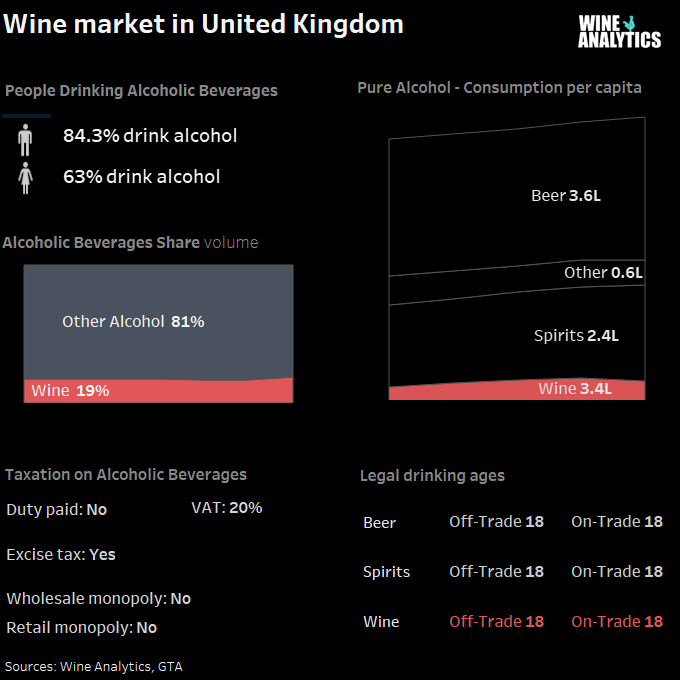 Un marché stratégique pour les boissons alcoolisées
Le Royaume-Uni est le 2ème importateur mondial de vin et le 1er exportateur de spiritueux. C'est un marché stratégique et de proximité.
La consommation britannique de boissons alcoolisées a jusqu'à présent tendu vers la premiumisation – consommer moins mais consommer mieux. Cependant, cela ne s'est pas forcément traduit par une augmentation du prix d'achat à l'importation des vins et spiritueux. En effet, l'augmentation des droits d'accises et l'instabilité du taux de change GBP-EUR depuis l'annonce du Brexit ont créé une valorisation partiellement fausse des boissons alcoolisées.
La consommation totale d'alcool au Royaume-Uni a diminué de 20 % au cours des dix dernières années (données de Her Majesty's Customs and Excise). Les préoccupations en matière de santé en sont le principal moteur, ainsi que l'évolution des modes de vie et de la démographie. L'Office for National Statistics du Royaume-Uni indique que les dépenses de consommation en boissons alcoolisées ont augmenté de 13 % depuis 2007. Au plus fort de la crise financière, les dépenses des consommateurs ont diminué entre 2007 et 2009, mais ont augmenté chaque année par la suite. Bien que les consommateurs britanniques puissent "monter en gamme" dans leurs achats, une grande partie de l'augmentation des dépenses est une augmentation des taxes sous la forme de droits d'accise. Le Royaume-Uni a l'un des régimes de droits d'accises les plus punitifs de l'Union européenne. Cela fait partie de la stratégie du gouvernement visant à réduire la consommation d'alcool par habitant.
Les MDD de vin
Au Royaume-Uni, les femmes sont plus susceptibles de boire du vin que les hommes. Les achats de vin au détail sont orientés vers le vin blanc (47% de toutes les ventes). Le vin rouge représente 42% et le rosé 11%.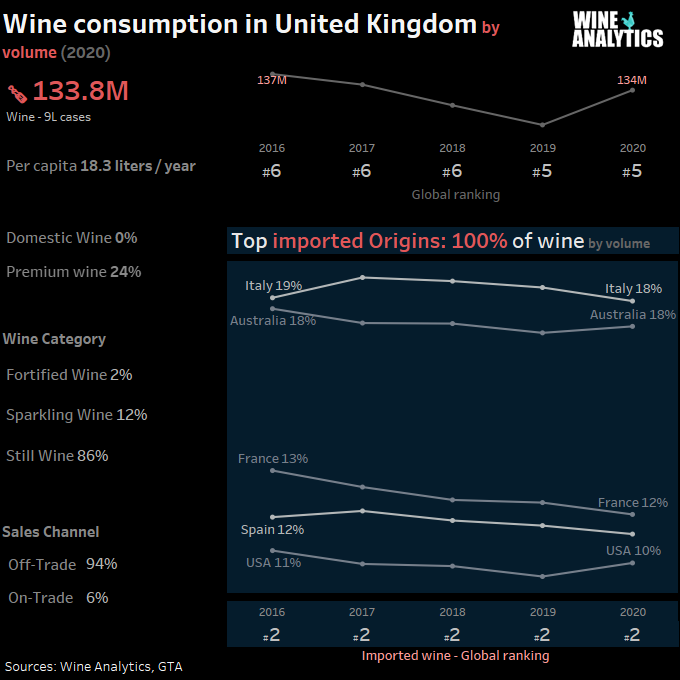 Le marché britannique du vin est très concurrentiel et principalement axé sur les prix. La plupart des opportunités pour le vin se trouvent chez les importateurs qui desservent les magasins indépendants haut de gamme et le secteur de la restauration moins regardant sur les prix. La consommation de vin blanc est légèrement préférée à celle de vin rouge. Le vin effervescent est la catégorie qui connaît la plus forte croissance, principalement grâce au Prosecco italien et au Cava espagnol qui sont perçus comme ayant un meilleur rapport qualité-prix que le Champagne. Les vins aromatisés aux fruits et les vins à faible teneur en alcool sont des produits d'un nouveau genre qui présentent un potentiel de croissance.
La majorité des ventes de vin au Royaume-Uni se font dans des points de vente au détail (appelés "off-trade" au Royaume-Uni). Le reste des ventes se fait dans les bars, les restaurants, les hôtels et autres lieux de restauration ("on-trade"). Les consommateurs britanniques sont généralement très sensibles aux prix en ce qui concerne le vin, en particulier ceux qui achètent du vin dans les supermarchés, car les consommateurs n'optent souvent pour des marques de prix moyen ou supérieur que lorsque la marque fait l'objet d'une forte réduction.
Le secteur du commerce de détail a été secoué par la croissance des épiceries non traditionnelles telles que les chaînes de magasins à prix réduits Aldi et Lidl. Les consommateurs soucieux de leur argent sont leurs principaux clients, mais leur succès est également dû aux consommateurs traditionnels qui recherchent un bon rapport qualité-prix pour leurs achats. Les consommateurs britanniques sont de plus en plus nombreux à se tourner vers les détaillants haut de gamme pour des achats occasionnels et par souci de qualité. Cette polarisation au sein du secteur de la vente au détail a entraîné une réduction des parts de marché détenues par les chaînes de supermarchés telles que Tesco, Sainsburys et Asda (Walmart). Il en résulte une réduction radicale du nombre de références de produits vinicoles en magasin. En fait, en tant qu'industrie, la consolidation et la rationalisation des entreprises se poursuivent à grande échelle tout au long de la chaîne d'approvisionnement.
Les marques de distributeur sont importantes dans le secteur du vin, bien plus que dans toute autre catégorie de boissons alcoolisées, les détaillants en épicerie offrant aux consommateurs un large choix de vins tranquilles à raisins légers et de vins mousseux en particulier. Les consommateurs britanniques s'attendant à payer des prix relativement bas pour le vin, les acteurs de la marque de distributeur sont bien placés pour en tirer parti en comblant le vide entre les marques de vin économiques et de prix moyen.
Les occasions de servir de l'alcool en fonction de la nourriture sont devenues de plus en plus importantes pour le secteur de la restauration. Les restaurants décontractés représentent désormais 60 % du marché, contre 40 % en 2002. Étant donné que les repas décontractés impliquent un temps d'attente plus court, les gammes de vins disponibles "au verre" deviennent de plus en plus importantes. Les carafes sont également de plus en plus courantes dans les restaurants. Les heures traditionnelles de repas devenant moins importantes, les consommateurs soucieux de leur santé sont moins enclins à boire avec un déjeuner tardif qu'avec un dîner.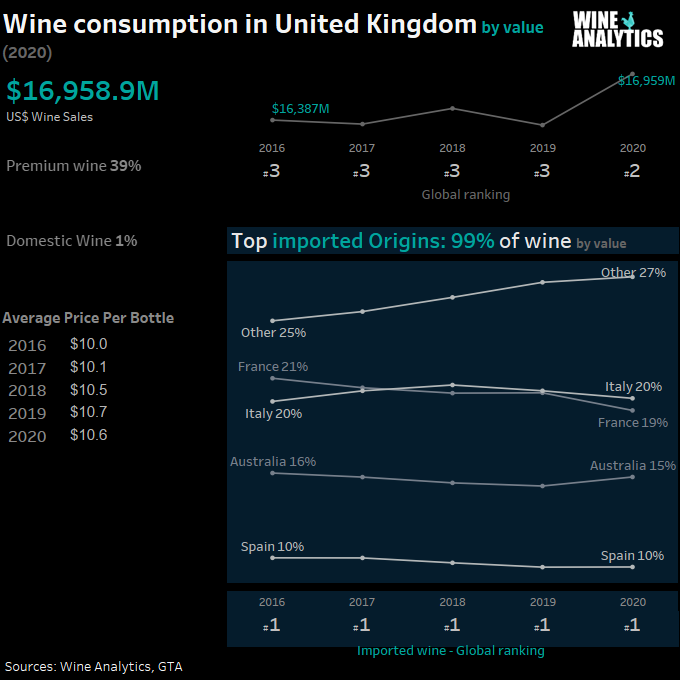 Le canal de vente de vin sur Internet connaissait déjà une croissance à deux chiffres avant la crise du Covid-19. Cette croissance est accélérée par la situation actuelle et se poursuivra probablement après la crise.
Les consommateurs sont désormais plus conscients des cépages et connaissent leurs préférences. Le Sauvignon Blanc et le Pinot Grigio/Gris continuent de prendre des parts de marché au Chardonnay. Le Pinot Noir est de plus en plus connu et compris dans la catégorie des vins rouges, tout comme le Zinfandel. Les vins rouges issus de cépages et de régions moins connus en Europe gagnent également en popularité. La promotion d'un cépage avec une histoire régionale qui reflète la diversité des producteurs de vin est généralement plus facile à comprendre.
Les vins effervecents s'opposent à la tendance à la baisse avec une augmentation de 27% en 2015. La croissance du marché des effervecents provient en particulier des consommateurs de moins de 35 ans. Après la crise financière de 2008, le Prosecco italien est devenu la boisson de célébration de choix pour de nombreux consommateurs, car le Champagne semblait inabordable pour beaucoup. Bien que le champagne soit revenu à une croissance légèrement positive du volume total, les consommateurs britanniques sont toujours très favorables au prosecco en raison du rapport qualité-prix qu'il offre, tandis que le cava espagnol est également devenu de plus en plus populaire.
Augmentation des ventes de vins à faible teneur en alcool et de vins biologiques
Malgré une croissance importante, la production locale reste très limitée 15,6M de bouteilles en 2018. Le Royaume-Uni produit également une petite quantité de "made wine", qui est fabriqué à partir de moût de raisin concentré importé, principalement d'Italie. Environ deux tiers du vin fabriqué en Angleterre et au Pays de Galles est pétillant, et des comparaisons sont souvent établies entre le vin mousseux anglais et le Champagne – notamment parce que le climat et le sol calcaire du sud-est de l'Angleterre sont similaires à la région de Champagne en France. Les deux cépages les plus populaires cultivés en Angleterre sont les cépages champenois, le Chardonnay et le Pinot Noir.
La France est le 1er fournisseur de vin du Royaume-Uni en valeur et le 2ème en volume. La concurrence est très forte et totalement internationale sur le marché. Les vins italiens dans le circuit CHR et les vins du Nouveau Monde dans le segment d'entrée de gamme sont les principaux concurrents.
LIRE ÉGALEMENT

 France, France, année difficile pour les grossistes en vin
Tirant parti de l'obsession des Britanniques pour la santé, les vins sont désormais disponibles en versions hypocaloriques. Les vins à faible teneur en alcool par volume devraient enregistrer une croissance lente mais régulière au cours des cinq prochaines années. On trouve également un nombre croissant de vins biologiques sur le marché britannique. Le Royaume-Uni est l'un des principaux marchés mondiaux du commerce équitable – Fairtrade (+4,9% de croissance en volume en 2019). The Co-op a introduit des vins équitables en provenance du Chili. Les vins biologiques consommés au Royaume-Uni proviennent principalement d'Europe.
En termes d'emballage, de nombreuses marques apparaissent désormais dans des bouteilles à usage unique ou avec des bouchons à vis. En fait, les bouchons à vis sont désormais la norme pour la plupart des vins d'entrée de gamme. Il existe également un grand nombre de paquets-cadeaux pour les occasions spéciales.
Les certificats VI-1 supprimés
Au Royaume-Uni, la plupart des opérateurs s'approvisionnent au moins pour une partie de leur gamme auprès d'un importateur, qui joue donc un rôle clé sur le marché britannique. Il faut prévoir de voyager au moins une fois par an pour animer le réseau de clients de votre importateur. Les Britanniques aiment rencontrer les producteurs.
Les importateurs et les embouteilleurs doivent respecter certaines règles lorsqu'ils étiquettent le vin importé en Grande-Bretagne. Le Food Standards Agency (FSA) est responsable de la sécurité, de la traçabilité et de l'authenticité du vin et des produits du secteur vitivinicole au Royaume-Uni. Le guide sur les exigences d'étiquetage auxquelles le vin doit satisfaire est un document important. Un certificat VI-1 accompagne les importations de vin en Grande-Bretagne. Il fournit des détails sur la cargaison de vin et une analyse technique de ce vin.
"L'Association du commerce des vins et spiritueux a été claire : pour autant qu'elle le sache, la bureaucratie supplémentaire était totalement inutile. Il n'y avait aucune exigence douanière à ce sujet, et aucun problème de sécurité n'était en jeu. L'importation de 25 000 litres de Chardonnay sud-africain, de Shiraz australien ou de Sauvignon blanc kiwi dans un flexi-tank avec un seul formulaire VI-1 est beaucoup moins contraignante et nettement moins chère que l'importation de 20 vins en bouteilles depuis l'UE, qui nécessite 20 documents supplémentaires."
Le jeudi 16 décembre, le ministre de l'alimentation, M. Prentis, a promulgué une loi qui supprime l'obligation de présenter un certificat VI-1 pour tous les vins importés en Grande-Bretagne à partir du 1er janvier 2022.

Le Royaume-Uni, un marché du vin stratégique et de proximité
Notre méthode de calcul
Les données montrent les principaux paramètres, et ceux-ci sont combinés pour présenter un classement calculé à l'aide d'une attractivité composite pondérée combinant les facteurs économiques globaux et les facteurs du marché du vin.
CONSOMMATION DE VIN EN VOLUME
95
CONSOMMATION DE VIN EN VALEUR
98
VINS IMPORTÉS EN VOLUME
98
VINS IMPORTÉS EN VALEUR
99
94
Attractivité du marché du vin