One of the biggest consumer shifts during the COVID-19 pandemic has been the widespread move to eCommerce.
But as alcohol eCommerce gathers momentum around the world, lawmakers are having to play catch-up by amending legislation and closing existing loopholes. For example, in June 2020 Chicago changed its liquor tax policy to require that duty is paid on Direct-To-Consumer (DTC) wine sales shipped to people with a Chicago address. Previously, city liquor tax only applied to physical sales.
The US – which has a strict three-tier system – has been particularly active in amending its alcohol legislation in recent months. From cocktail deliveries to curb-side pick-ups, the US has initiated a wave of temporary legal relaxations to help the industry during the pandemic, and capitalize on consumers broad move online. In the US, the rise of eCommerce coupled with COVID-19 is leading to a liberalization of alcohol policy, for example allowing bars and restaurants to sell alcohol to-go and more direct shipping to consumer across states that previously had restrictions.
We analyzed white wines listed on the online retailers of the United States.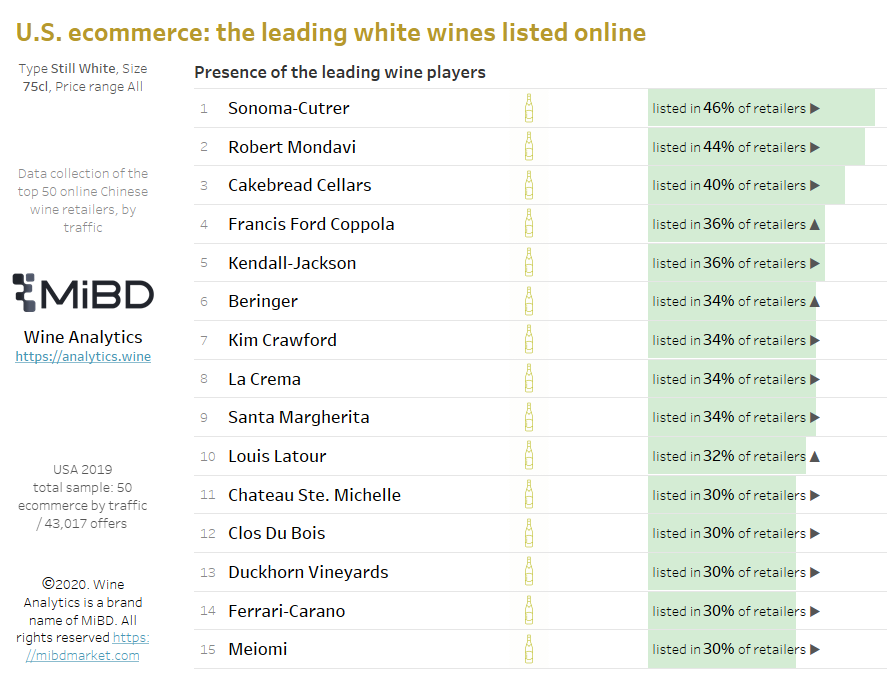 1. Sonoma-Cutrer
2. Robert Mondavi
3. Cakebread Cellars
4. Francis Ford Coppola
5. Kendall-Jackson

6. Beringer
7. Kim Crawford
8. La Crema
9. Santa Margherita
10. Louis Latour

11. Chateau Ste. Michelle
12. Clos du Bois
13. Duckhorn Vineyards
14. Ferrari-Carano
15. Meiomi
One of the biggest temporary changes to the US's legal system for alcohol has been the approval of DTC spirits sales in some states, including Kentucky and Virginia. The move has largely been seen as a lifeline for small distillers that rely on sales from the on-trade and on-site tasting rooms – two channels which remain only partially open.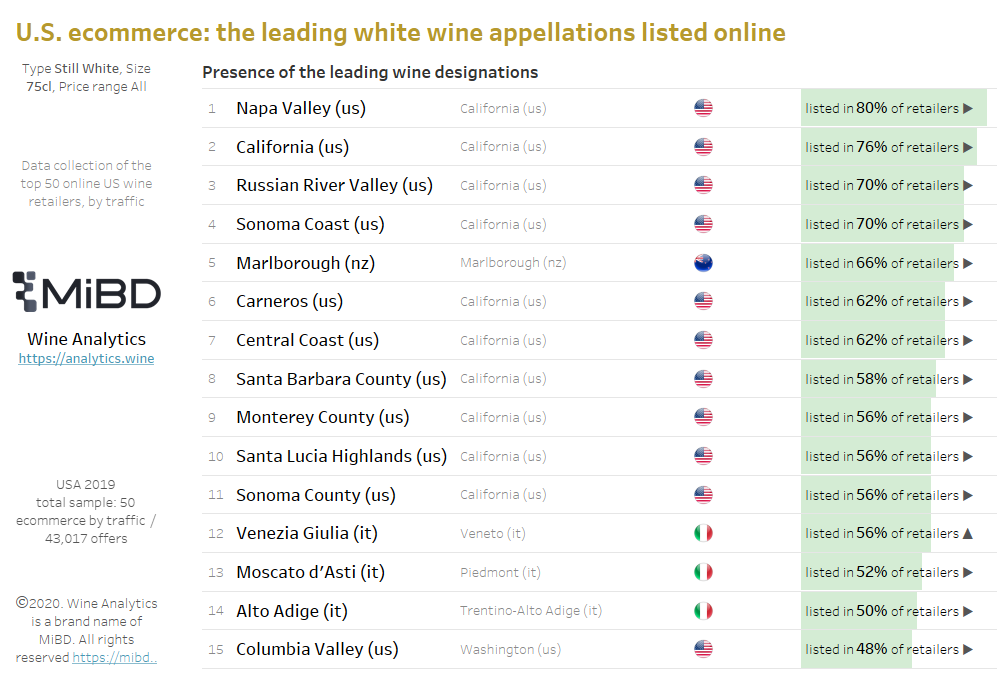 1. Napa Valley
2. California
3. Russian River Valley
4. Sonoma Coast
5. Marlborough

6. Carneros
7. Central Coast
8. Santa Barbara County
9. Monterey County
10. Santa Lucia Highlands

11. Sonoma County
12. Venezia Giulia
13. Moscato d'Asti
14. Alto Adige
15. Columbia Valley
While DTC sales are common in the US wine industry, legislative red tape has historically prevented spirits from moving into the space, and now distillers would like to see the measure made permanent. However, trade bodies are not advocating the dismantling of the three-tier system, rather an evolution of it, claiming that DTC sales for spirits can sit alongside the current system as an additional channel.
If the move is made permanent, it will mark one of the most significant changes to US alcohol law since Prohibition.