Reopening restaurants brings a third of consumers back. More than half of them have visited pubs (54%) – ahead of both restaurants (46%) and bars (26%).
Just over a third of English consumers returned to restaurants, pubs and bars in the first ten days of reopening. Many more pubs opened their doors than restaurants. The industry barometer shows that 42% of managed pubs, bars and pub restaurants traded, while just 12% of restaurants were open for business.
"Trading at around 55% of pre-COVID norms may seem a disappointing result, and it won't be profitable for operators, but it is very much in line with what we have seen in other markets," said Karl Chessell, director of CGA.
We analyzed red wines listed in the restaurants of London, UK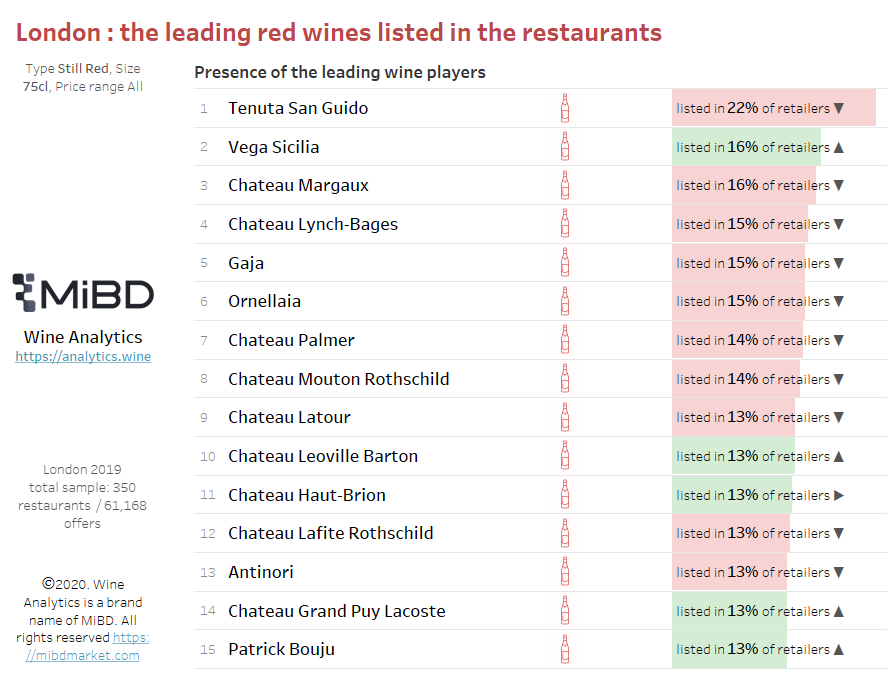 1. Tenuta San Guido
2. Vega Sicilia
3. Chateau Margaux
4. Chateau Lynch-Bages
5. Gaja

6. Ornellaia
7. Chateau Palmer
8. Chateau Mouton Rothschild
9. Chateau Latour
10. Chateau Leoville Barton

11. Chateau Haut-Brion
12. Chateau Lafite Rothschild
13. Antinori
14. Chateau Grand Puy Lacoste
15. Domaine La Boheme
It shows that 35% of adults in England had paid a visit between Saturday 4 and Monday 13 July, and that the charge was led by younger adults: more than half (55%) of 25 to 34 year-olds have now ventured out, and nearly as many 18 to 24 year-olds (46%). With an average of 2.5 visits in the first ten days, the research shows that many early returners are already getting back into the habit of regular visits.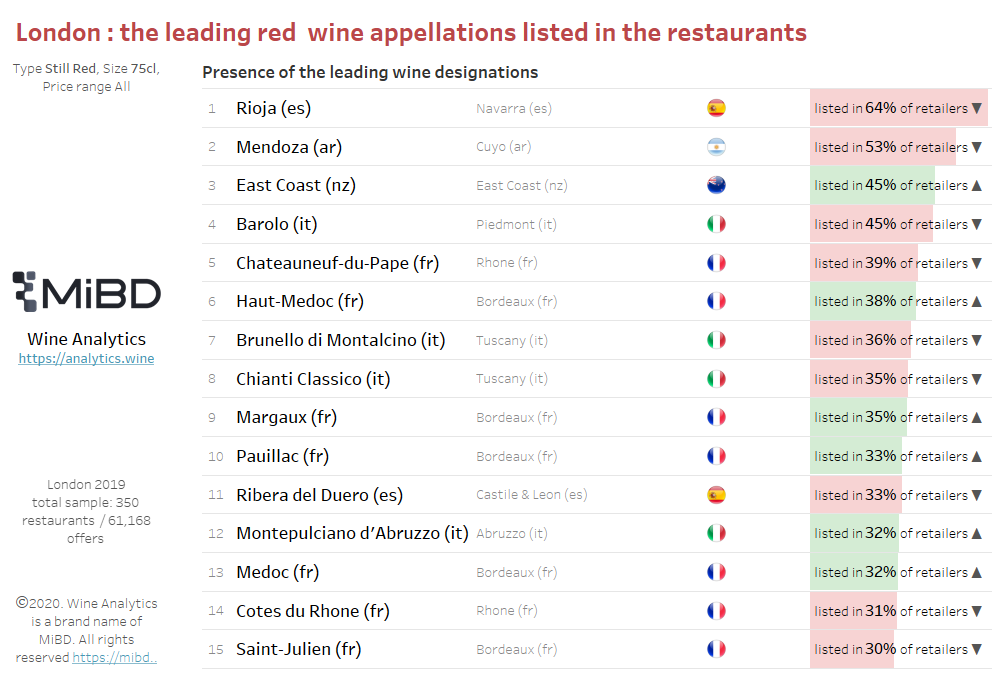 1. Rioja
2. Mendoza
3. East Coast
4. Barolo
5. Chateauneuf-du-Pape

6. Haut-Medoc
7. Brunello di Montalcino
8. Chianti Classico
9. Margaux
10. Pauillac

11. Ribera del Duero
12. Montepulciano d'Abruzzo
13. Medoc
14. Cotes du Rhone
15. Saint-Julien
Consumers want to stay close to home even as movement restrictions ease. More than two thirds (69%) traveled no further than 20 minutes to eat or drink out—which presents major challenges for town and city centre operators who have previously been able to draw people in from outlying areas.
It is going to take time for the trade to return. There are positive signs that returning consumers are going to stay out, with four in five planning another visit in either the next week (57%) or next fortnight (23%). Nearly half (46%) of non-returners say they don't feel safe in close proximity to strangers, and nearly as many (41%) don't feel safe enough to go out generally yet. But there are encouraging hints that the government's new Eat Out To Help Out scheme could kickstart visits: two in five of those who haven't been out yet say they are very or somewhat likely to use the scheme.