Austrians are big wine consumers. In general, consumers are turning to quality products at the expense of low-end products. Helped by strong purchasing power, Austrians are buying wines at higher prices than in the past. The Covid-19 crisis has only reinforced this trend of home consumption and has led to an explosion in online sales with the rise of e-commerce (+50%).
RATE THE AUSTRIAN WINE MARKET ATTRACTIVENESS
Located in the heart of Central Europe, Austria is a crossroads of communication and economic and cultural exchanges. Austria is a federal state, divided into nine "Länder" Vienna, capital and international metropolis, has a population of 1.9 million, i.e. 15th of the total population of the country.
Austria is a country of small and medium-sized enterprises with a strong industrial base and an export orientation. About 200 Austrian companies hold leading positions on the international market, without being particularly well known to the general public, the so-called "hidden champions".
READ MORE

 Denmark, a platform of wine re-exports
It occupies a strategic position in the center of Europe and is closely tied to other European Union (EU) economies, especially Germany's.
REWE covers mainly the eastern part; Spar the western part
The Austrian food retail sector is saturated and highly consolidated. The top three retail chains together account for 71% of the revenues (REWE, Spar, Hofer). Apart from Spar, the leading food retailers in Austria are large and influential German retailer groups.
There are good opportunities particularly at the upper end of the market and organic sectors. he market share of organics in food retail accounts for about 8%. Austrian consumers are highly aware of environmental issues. This creates a rapidly growing market for sustainably produced food products. In reaction to this trend, retail chains started launching private labels promoting the so-called sustainability of their products.
| | |
| --- | --- |
| Rank | Leading Retailers |
| 1. | REWE (26.3% market share in 2017) |
| 2. | Spar (24.5%) |
| 3. | Aldi |
| 4. | Schwarz Beteiligungs |
| 5. | M-Preis Warenvertriebs |
| 6. | Markant |
| 7. | Pfeiffer Handels |
| 8. | Royal Dutch Shell |
| 9. | ENI |
| 10. | OMV Tankstellen |
Source: Euromonitor
Intense competition between supermarkets/hypermarkets and discounters has led to greater efforts to copy these key success factors. Non-discounting retailers strengthen low-priced product lines, especially private labels. Discounters, on the other hand, have made efforts to improve by offering more fresh products and the introduction of organic and sustainable products.
The REWE retail chain, for example, introduced the "Pro Planet" brand that claims to offer food products that are produced in an environmentally and social responsible way. Also, the second largest retail chain SPAR promotes its sustainability concept. The biggest Austrian discounter Hofer promotes its improved carbon footprint for organic products sold under the label "Zurück zum Ursprung". Some retailers also promote fair trade products.
Traditionally, Austrians have conservative tastes which are reflected in the local cuisine and in local production methods and marketing. With fruit juices, tartness (higher acidity) is preferred over sweeter products. This also applies to white wines.
Austria has a strong tourism sector, and hotels and restaurants provide an important contribution to the Austrian GDP. In general, tourists, particularly those from Germany, favor the local Austrian cuisine during their vacation. However, in recent years ethnic foods have become more popular in restaurants for tourists as well as for the Austrian population.
World's leading Consumers of Beer
Austrians are among the world's leading consumers of beer. Beer is the beverage of choice with a consumption of 114.7 L per year per capita, mostly from local production. Beer consumption decreased due to the closure of the catering industry and the cancellation of sporting events.
Austrians largely prefer local breweries and beers (Lager, Märzen). Nevertheless, quality beers, especially craft beers, which focus on taste, quality and novelty, are part of a growing niche market.
In total, Austrian households spend almost EUR 1 billion on spirits with a consumption of 3.4 L/capita/year. The main imported alcohols are whiskies (21.3% market share), brandies/Schnapps, liqueurs, vodka, rum, and gin.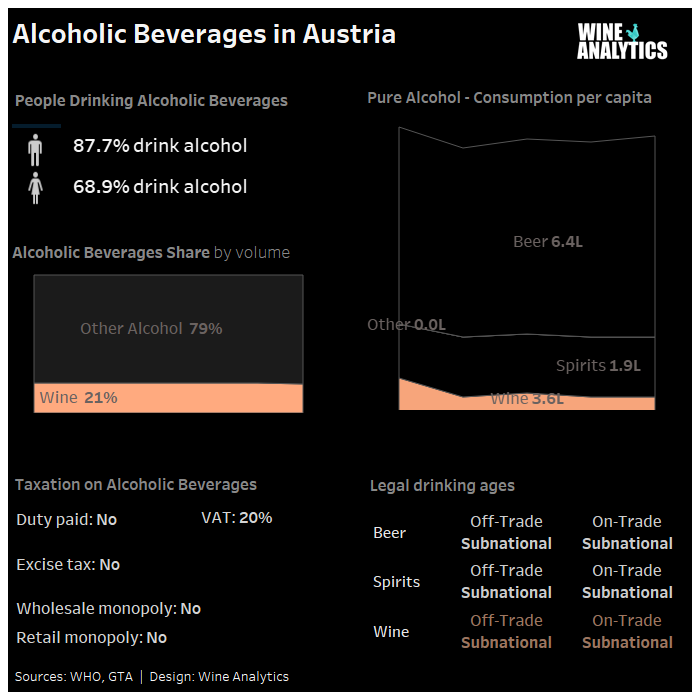 White Wine is the most Popular
Austria is a country with a strong wine tradition. It is estimated that Austrian wines account for 80% of the consumption. The local varieties Grüner Veltiner (white) and Blauer Zweigelt (red) are very popular. However, this proportion varies greatly depending on the distribution channel. It is higher in the restaurant sector (more than 90% of the sales volume) than in the home consumption (67.5% of the sales volume).
Austrians are great wine consumers with a stable consumption. They consume about 38 million bottles of sparkling wine per year. White wine is the most popular among Austrian consumers with 59% of still wine consumed, followed by red 39% and rosé 2%.
Austrians obtain a substantial proportion of their supplies from the highly concentrated retail sector, which plays a major role in the communication strategy and promotion of brands, especially foreign ones.
In 2020, more than 900 winegrowers had already converted to organic production, representing almost 16% of the Austrian winegrowing area (about 7,200 ha).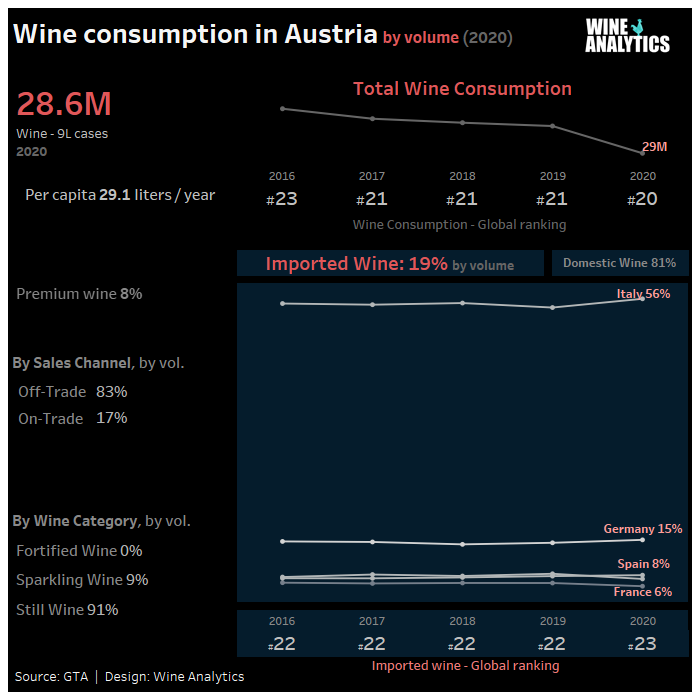 Foreign wine imports represent 20% of the market share in volume. Italy, very close geographically to Austria, has a dominant position. It is followed by Germany, Hungary, Spain and France. However, France will be the second largest wine importer in Austria in terms of value in 2020.
Austrians are always fond of French elegance. The year 2020 is a complicated year for French still wines in Austria, imports have decreased by 4% in volume. Bordeaux wines, Burgundy wines and Provence wines are among the top 3 in volume. The most impressive increases are for wines from Provence (+27%), the Rhone Valley (+21%) and Languedoc (+19%). In addition, the rosé wine market is a niche market that remains with strong growth potential (+4% in 2019).
After years of growth, Champagne has suffered the backlash of the closure of the on-trade sector. Champagne, a luxury product par excellence, embodies a unique product that is democratized through the actions of promotions in supermarkets. Thus, the sales of Champagne in supermarkets have increased by 14% in 2020. Champagne imports have increased steadily over the past 10 years, 60% in volume and 90% in value.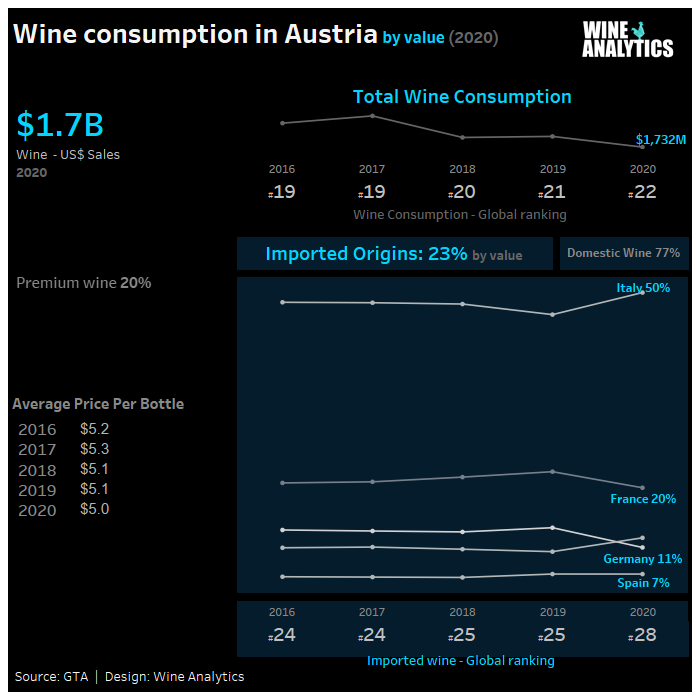 The e-commerce and online sales sector is booming. Traditional brands or pure players are putting much more emphasis on foreign wines on their online sales sites. E-commerce is an asset for French wines, as these players differentiate themselves from traditional players by a very diversified offer, especially in small wine producers and more confidential appellations.
READ MORE Germany, Consumers Drink More
Show Professionalism. The key word is Rigor
Making direct contact with Austrian buyers is an essential part of closing a deal in this market. Flexibility and reactivity on the part of exporters is also a very important point. Austria is a specific market, the exporter must be able to adapt and respond to the demand. The speed of a response or the sending of samples and additional information can make the difference against foreign competition.
Companies wishing to succeed in the Austrian market must show professionalism in dealing with competent customers. The key word is rigor. Austrians are very sensitive to detailed product descriptions. The technical documentation is therefore an important element of the sale.
Austrians are used to starting and ending their day early. They like to start their day between 7:30 and 8:00 a.m. so that they can enjoy their early evening in peace from 4:30 to 5:00 p.m.

Austria: Great Consumers of Wine
Our evaluation method
The data shows key metrics, and these are combined to show a ranking calculated using a composite weighted attractiveness combining overall economic factors and wine market factors.
WINE CONSUMPTION IN VOLUME
80
WINE CONSUMPTION IN VALUE
77
IMPORTED WINE IN VOLUME
78
72
Wine Market Attractiveness