Less frequent purchases and, above all, in smaller quantities quantity: this is the face of wine consumption in France as shown by the panels. Wine, like most alcoholic beverages, is losing buyers. A loss that is only partly compensated compensated by the positive demographic evolution.
RATE THE FRENCH WINE MARKET ATTRACTIVENESS
The French economy is diversified across all sectors. The government has partially or fully privatized many large companies, including Air France, France Telecom, Renault, and Thales. However, the government maintains a strong presence in some sectors, particularly power, public transport, and defense industries. France is the most visited country in the world with 89 million foreign tourists in 2017. France's leaders remain committed to a capitalism in which they maintain social equity by means of laws, tax policies, and social spending that mitigate economic inequality.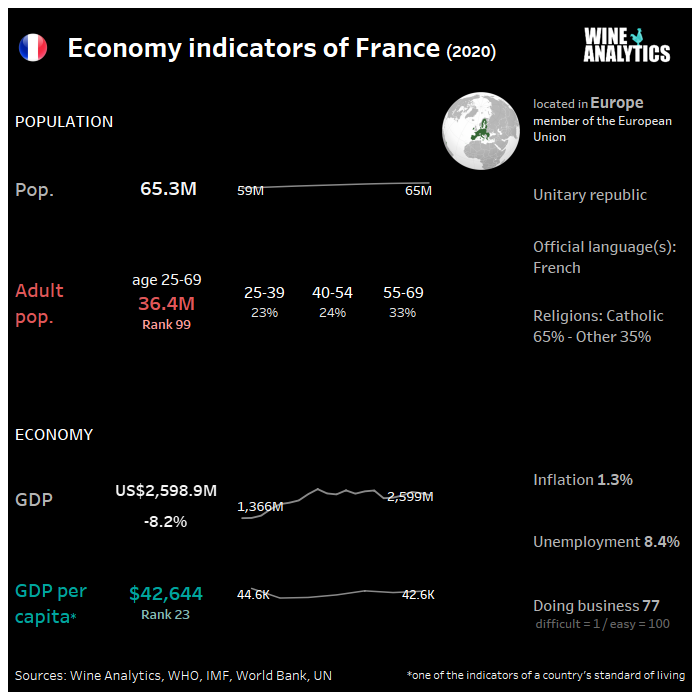 Much of the population is concentrated in the north and southeast; although there are many urban agglomerations throughout the country, Paris is by far the largest city, with Lyon ranked a distant second.
ALSO READ

 UK, a Strategic and Proximity Wine Market
The Decreasing Consumption of Wine
Deconsumerism does not have only one face. It impacts several categories of consumers and moments of consumption, themselves linked to consumption habits. If a part of the occasions of wine consumption is totally lost, the great majority is to other drinks. These shifts confirm that the habits of the French are evolving and tend to consume less alcohol:
For sparkling wine – they are drunk three times out of four as an aperitif,. The de-consumption logically concerns aperitifs with guests for the over 50s.
White wine – the occasions of consumption are more varied. White wine is mainly consumed for the over-50s. They consume less during meals. The de-consumption of white wines is also more prevalent during meals without guests for the 50-64 year olds.
Rosés and reds are the mainstays of consumption during daily meals. However, this consumption is tending to decline, for all categories of consumers.
For reds – most of the erosion is due to the decline in daily consumption by the over 50s.
But rosés and reds also tend to lose space, to a lesser extent, during meals with guests.
The beverages chosen to replace wine also differ by gender:
– As an aperitif, women replace French sparkling wines with tea drinks, non-alcoholic beers, fruit tea, non-alcoholic beers, fruit drinks syrups, or even foreign sparkling wines or or white wine.
– Men prefer rum, juices, beer, vodka beer, vodka, gin or aniseed drinks.
Hypermarkets 60% / Supermarkets 40%
Liquids are the hardest hit by the decline in sales volume. In 2019, sales of still wines in hypermarkets and supermarkets represented 8.6 million hectoliters, for 4.1 billion euros.
Hypermarkets (60% of Market Share in volume), with a decline in sales volume less important than in all channels (-4% vs. 2018), are faring better than supermarkets (40% market share in volume). For hypermarkets, this is due to store openings, compared to supermarkets that are closing outlets.
Among alcoholic beverages, still wines retain their 1st place in value, with 31% of market share, despite a loss of 2.2 points over 9 years. In terms of volume, still wines still dominate the alcoholic beverage universe (34% market share vs. 41% in 2010) but beers benefit from this decline and increase their dominance (47% vs. 36% in 2010).
This acceleration of the decline in the overall still wine market is mainly linked to the collapse of red wine sales in volume and value, while white wines are stabilizing in volume.
Sales of rosé wines are slightly decreasing in volume and in value. Rosé wines no longer compensate for the losses of red wines. The PDOs difficulties explain more than 70% of the decrease.
PDOs account for 45% of the volume and two-thirds of the value of sales of still wines in supermarkets.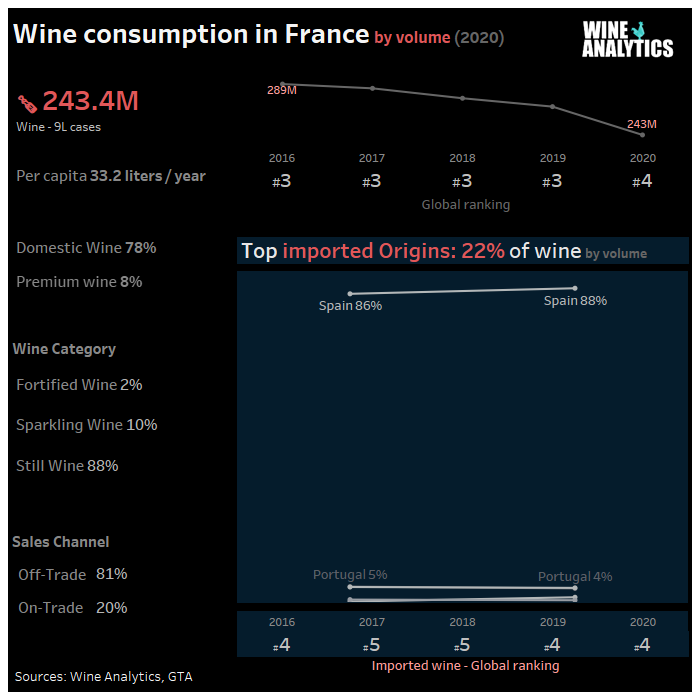 In 10 years, red wine sales in supermarkets have decreased by 28% in volume, to the benefit of white and rosé wines, which have increased by 5% and 20% respectively. white and rosé wines, which have increased by 5% and 20% respectively.
In 2019, imported wines sold in supermarkets represented 88,000 hectoliters (1% of total volume) and generated 46 million euros in sales (1% of total value), a sharp decline in volume (-19.4% compared to the previous four years) but also in value (-13.3% vs 2015/18).
Imoprted wines: 6% of wine listed in restaurants
The bottle of 750 ml represents two thirds of the total wine listed on menus, with a median price of €37 a bottle. Wine by the glass comes in second place, with 17% of references, present in 80% establishments, at €5.60. The pitcher and the half-bottle are offered in 50% of venues and represent represent 9% of wines.
By color – still red wines (49% of the wine listed) and white wines (38% of the wine listed) are present are listed in 98% of establishments, positioned at an identical median median price of €38 per bottle. Rosé wines represent 13% of the offer and are present in nine out of ten restaurants, for a more accessible median price of median price of €26 per bottle.
By origins – five regions stand out as the most important: Burgundy, Bordeaux, Loire, Rhône and Provence represent 60% of wines. The consumer is sure to find at least one wine from these regions in 95% of restaurants.
Imported wines represent 6% of the wines listed on French wine menus. They are especially present in restaurants serving specialties (Italian cuisine, in particular).
ALSO READ

 Taiwan, Socializing with Wine in Hotel Restaurants
Types of restaurants – Independent restaurants and hotel-restaurants list an average of and 38 different wines on their wine lists, while on their wine lists, while chain restaurants (such as Buffalo Grill, La Pataterie…) have a smaller wine offer (20 SKUs) and concentrated on a lower on a lower median price at €25 per bottle, compared to €36 and €45 for the previous ones.
Type of cuisines – restaurants with traditional (French) cuisine have the most extensive wine list, with 42 SKUs on average, for a median price at €39 per bottle. Hotel-restaurants have a slightly smaller assortment (37 items), but with a higher median price at €45 per bottle, driven by some very high references. At the other end of the scale, restaurants offering regional cuisine and crêperies have a reduced wine list with less than 20 wines, for a median price of less than €30 per bottle.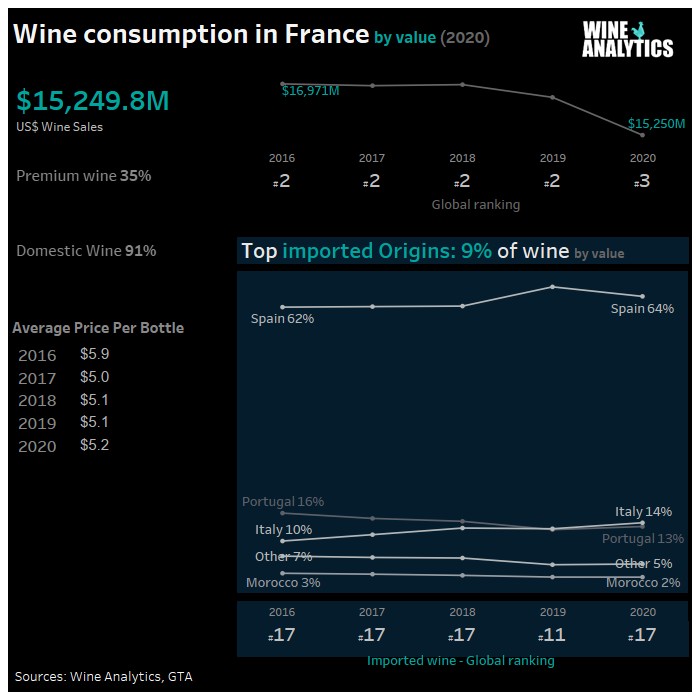 Consolidation of players selling wine online
Internet sales of wine have also experienced very high growth rates. Since 2005, internet sales have been growing rapidly. This increase in sales is currently estimated at about 11% per year. This phase of market maturation is characterized in particular by a competitive landscape in the process of consolidation. The number of sites selling wine is decreasing by 10% per year.
One of the main explanations for this phenomenon is the barriers to entry that are increasingly strong in this sector: investment in logistics, inventory management or marketing costs that limit access to this market. Business and marketing models are evolving and wine e-commerce channels are hybridizing to overcome the weaknesses of their respective business models.
The cost and quality of deliveries remain major issues in the sale of wine via the Internet. Home delivery, an asset of generalist sites, is a lever that they have been able to mobilize to capture new customers and take an important place in the market. In response, traditional wine retailers are trying to gain market share by developing similar services, but are finding it difficult to amortize these costs in their business models.
Regardless of the logistics organization implemented, individualized deliveries are expensive and this explains the implementation of "hybrid" physical/digital models that have been developing for several years. These hybrid models also make it possible to meet the expectations of customers, whose wine purchases are generally "passion purchases" (as opposed to "rational purchases") and that online sites alone cannot always support, despite the new tools deployed (chatbot, video content, sommeliers, etc.).
In this highly competitive universe (more than 500 sites listed), visibility is becoming a key criterion as well as the capacity to transform the audience into purchasing acts. The consolidation of players is strong and the work around artificial intelligence (data processing) is a strategic axis that will probably condition the presence of tomorrow's players.
These evolutions make the borders between the distribution channels of wine by internet more and more blurred and permeable.

France, de-consumption of wine
Our evaluation method
The data shows key metrics, and these are combined to show a ranking calculated using a composite weighted attractiveness combining overall economic factors and wine market factors.
WINE CONSUMPTION IN VOLUME
96
WINE CONSUMPTION IN VALUE
96
IMPORTED WINE IN VOLUME
97
81
Wine Market Attractiveness