Denmark is the only open Nordic wine market without a monopoly. In 2018 according to the Danish authorities, the wine market is a platform for re-exports to other Nordic countries. Danish consumers prefer red wines while whites are gaining more and more ground, as is rosé wine, which is appreciated especially in the summer.
RATE THE DANISH WINE MARKET ATTRACTIVENESS
Denmark is a high-income country in Scandinavia. The country's small, open economy is highly dependent on foreign trade. The government supports a relatively liberal trade policy with exports and imports of goods and services accounting for 55% and 49% of GDP, respectively. In 2018, Denmark's GDP reached $351.3 billion.
ALSO READ

 France, deconsumption of wine
Denmark is a small country in Northwest Europe and accounts for only one percent of the total population of the European Union (EU), but it has one of the highest GDP's in the world (coupled with a low rate of unemployment and inflation). In fact, the Danes are among the most affluent consumers in the EU.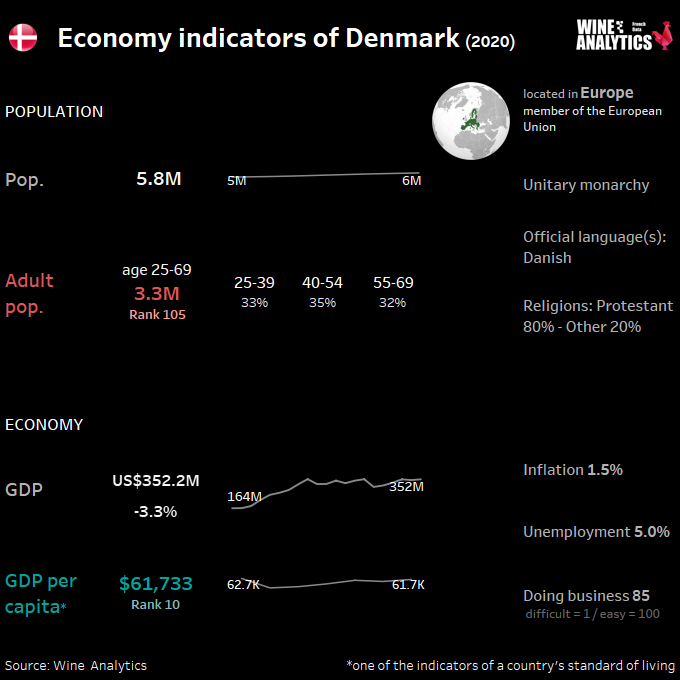 Denmark is a constitutional monarchy which shares a southern border with Germany and is connected, via a bridge, with Sweden. The country has been a member of the EU since 1973. However, Denmark has not elected to participate in the Euro. Nevertheless, the Danish Krone (DKK) is pegged to the Euro with a very narrow band (2.25%) of Central Bank intervention rates through the EU's exchange rate mechanism. Denmark is a social welfare state, with a thoroughly modern service-based market economy, that ensures low levels of poverty and inequality.
Denmark is a world leader in "green energy" industries, and sectors such as information and telecommunications, health and life sciences, and shipping. Denmark often serves as a distribution point for other markets in the Nordics and Baltics. The economy is highly dependent on foreign trade, with exports accounting for the largest component of GDP.
Retail, consumers are price sensitive
Supermarket chains (full-service supermarkets, discounters, and convenience stores) dominate the food retail landscape. In Denmark there are few independent grocery stores or large hyper-markets. In cities like Copenhagen, where shopping is quite dense, there are generally several supermarkets within walking distance anywhere in the city, many with long hours of operation. In addition to well-known A-brands, most supermarkets have their own private labels (often a low-cost brand as well as a high-end brand).
As a percentage of overall food, organic products account for 12% of Danish food sales. Most of the sales of organic foods in Denmark are generated by regular food retailers. There are no organic trade statistics available for Denmark because organic products are only differentiated through certification. Denmark's biggest export market is Germany, responsible for 42% of total exports. Other important export markets are Sweden (16%), China (10%), and France (7%).
The food retail market in Denmark is highly consolidated. The top 3 leading grocery retailers, Coop amba (formerly FDB Group), Salling Group (formerly Dansk Supermarked) and Dagrofa, have a collective market share of more than 68%. However, the supermarket with the highest number of outlets is Netto, with more than 500 stores in the country.
| | |
| --- | --- |
| Top 10 Retailers | Market share |
| Netto | 12.7% |
| Rema 1000 | 10.5% |
| Superbrugsen | 10.4% |
| Føtex | 8.7% |
| Fakta | 6.8% |
| Bilka | 6.7% |
| Kvickly | 6.4% |
| Meny | 5.4% |
| Dagli'Brugsen | 3.9% |
| Aldi | 2.8% |
Denmark also has the highest consumption of organic food products in the world. Organic food sales account for 11.5% of total Danish food consumption – the highest percentage in Europe.
Although much like wine, consumers are very price conscious and there is a culture of special offers. The price for Danish food and non-alcoholic beverages are 30% higher than the EU average. In general, Danes are price conscious and seek out 'value for money' and products 'on sale," which explains why discount retailers like Fakta, Netto, Kiwi, Aldi, and Lidl are faring well in Denmark.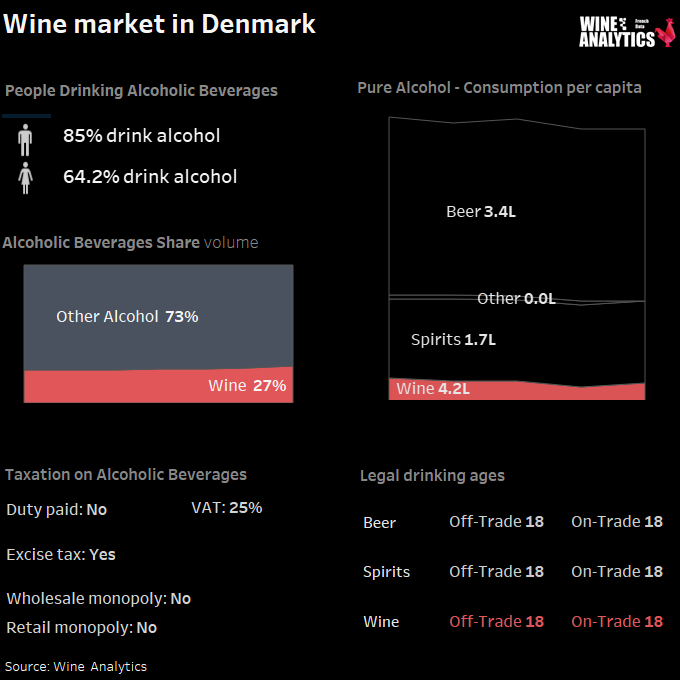 The phenomemon of New Nordic Cuisine
The restaurant segment (+40% of the turnover in 10 years), the wine bars and the wine shops have evolved strongly in the last few years and are experiencing a real boom. This phenomenon is riding the wave of New Nordic Cuisine and the growing interest of Danes in gastronomy and food/wine pairings.
Ten years ago, the Danish government introduced labels for the marketing of organic food in large-scale kitchens, restaurants, cafés, hospitals, schools, and larger businesses. The share of organic food and food products is given in percentage intervals: 30-60%, 60-90%, or 90-100%. Large-scale kitchens can use one of three Organic Cuisine Labels to show how much organic raw materials are used in their food production. Today, 2,000 establishments, like cafés, restaurants, and public kitchens, use the Organic Cuisine Label.
Beer, a national proud
Spirits, including artisanal ones, are on the rise thanks to the development and success of mixology and bartenders.
Wine consumption is relatively flat in Denmark and faces stiff competition from beer, especially craft beers. After Germany, Belgium, and Sweden, the United States is the fourth largest supplier of foreign beer to the Danish market. Carlsberg is Denmark's largest brewery and has a 58.8 percent market share.
Danish micro brewers fall into the super premium segment, while lagers land in the mainstream segment, followed by discount beers. Industry sources believe craft beer retail sales represent roughly ten percent of the Danish beer market. Danes often travel just over the border in Germany to buy beer with a much lower VAT.
According to GTA, the most imported spirits in terms of volume are whisky 17%, vodka 17% and liqueurs 11%. Vodka imports to Denmark grew by 10.9% between 2018 and 2019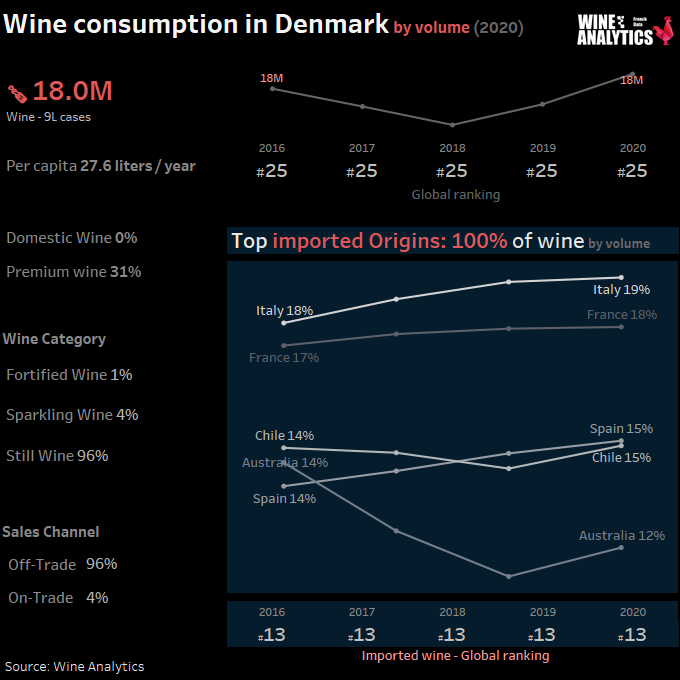 ALSO READ

 UK, a Strategic and Proximity Wine Market
Wine consumers are more knowledgeable
The Danish market is price oriented, and supermarkets are still the main distribution channel for wine with about 70 % of the market. However, a qualification of the wine consumption is observed (and settled) and the Danish are becoming more and more curious and knowledgeable.
Organic wines are very successful and are very popular with Danish consumers and professionals. This is true for supermarkets (especially for products with a good price/quality ratio) as well as for restaurants, wine shops, etc. Biodynamic wines and natural wines are in demand in the restaurant industry, especially by the New Nordic Cuisine and its generation of new, internationally renowned chefs.
Denmark fully depends on imported wines. Italy is the leading exporter to Denmark in volume. Spain, Chile and South Africa are also major suppliers to Denmark. The most imported French still wines by Denmark are from the Rhone Valley in volume and Burgundy in value for PDO wines. The most imported still PGI wines in Denmark are those of the Pays d'Oc. From 2018 to 2019 PGI wines have seen significant growth.
In 2018 according to the authorities, the Danish wine market is a platform for re-exports to other Nordic countries. These re-exports represent 9% in volume.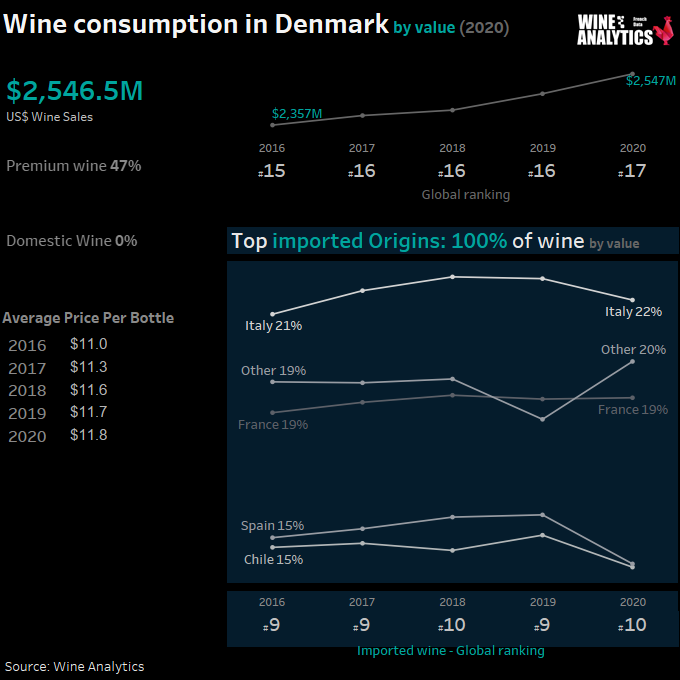 The most dynamic French wine regions for the export of PDO wines to Denmark are Burgundy and the Loire Valley, which responds particularly well to the research of the restaurant industry in particular.
From 2018 to 2019 Bordeaux PDO wines have experienced a qualification of their offer on the Danish market with an increase in value of 12 04 against a decline in their exports despite a decrease in volume.
Danish imports of French bubbles have increased significantly in recent years (particularly champagne). Today, they are stabilizing. Note the competition from Italian sparkling wines which represent a good quality/price ratio for the Danish market.
Rosé wine is increasingly appreciated by the Danes and is often linked to the French origin and the French art of living.
Some restaurants are prescriptors for importers
Success in introducing a product in the Danish market predominantly depends on an exporter's level of knowledge of the market and the relationship they have with an importer who knows the market, the trade barriers, and the required documentation.
The access to the Danish market is done directly with the central purchasing offices of the supermarket chains or via an importer. Their role will be to approach the different distribution channels (supermarkets, wine bars, wine shops). Some restaurant owners, wine shops and wine bars import directly or are prescriptors for importers.
Most business people in Denmark speak English and have a high level of education (i.e., a Masters or Bachelor's degree). They expect timely responses to their communications and are not hierarchical. Furthermore, the Danes are punctual, straightforward, and business-minded. They like to be well-informed about a product, its price, and their business partner. As a result, they can be quick decision makers while valuing long-term partnerships.
There are about 1,500 approved importers, including about 100 professionals.
Denmark, a platform of wine re-exports
Our evaluation method
The data shows key metrics, and these are combined to show a ranking calculated using a composite weighted attractiveness combining overall economic factors and wine market factors.
WINE CONSUMPTION IN VOLUME
75
WINE CONSUMPTION IN VALUE
87
IMPORTED WINE IN VOLUME
83
78
Wine Market Attractiveness