With this volume of demand, the German wine market ranks third among the world's largest consumer markets for wine. According to the International Organization for Vine and Wine (OIV), most wine is drunk in the USA, followed by France and Italy.

RATE THE GERMAN WINE MARKET ATTRACTIVENESS


Domestic Wines Prevail in a Declining Wine Market
Wine consumption in Germany decreased by 0.4 liters to 20.1 liters per capita in 2019, which remains within the 20-year range of 20 to 21 liters. Sparkling wine consumption remained unchanged at 3.3 liters, resulting in a per capita consumption of 23.4 liters of wine and sparkling wine.
63% of the harvest comes from white grapes and 37% from red grapes. The five most important grape varieties in Germany (Riesling, Pinot Noir, Müller-Thurgau, Pinot Gris and Dornfelder), comprising five million hectoliters, make up 60% of the total harvest.
Read also

 Russia, Why New Restrictions for Imported Wine?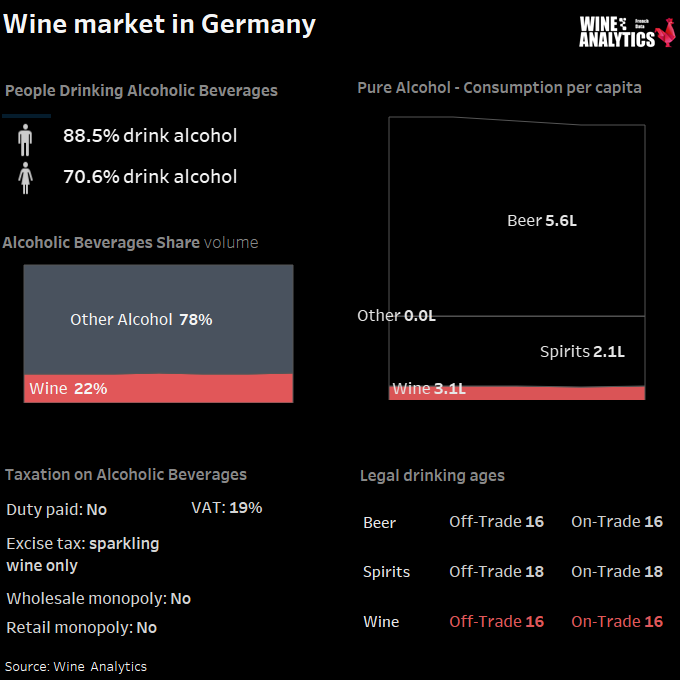 The food retail sector maintained its strong market position for wine distribution in Germany, selling 79% of all wines in 2019. The discount stores retained their 50% market share and the classic supermarkets their 18%, whilst the hypermarkets gained an additional percentage point to claim 11% of the market. 4% of all wines were sold online, as per the year prior.
We have analyzed white wines listed in restaurants:
1. Loire
2. Burgundy
3. Baden
4. IGP France
5. Pfalz

6. Mosel-Saar-Ruwer
7. Rheingau
8. Rheinhessen
9. Alsace
10. Lower Austria

11. Bordeaux
12. Nahe
13. Rhône
14. IGT Italy
15. Franken
Sales of domestic wines have remained stable despite wine purchases falling by 0.9% overall. German wines thus maintained their market share of 48%, followed by Italy with 16%, France with 12% and Spain with 9%.
Germans drink more wine in 2020
The wine consumption in Germany has risen. Germans drank an average of 0.6 liters more wine per person in the past wine year (August 1, 2019 – July 31, 2020), than in the previous year. A total of 17.2 million hectoliters of domestic and imported still wines were consumed in this country in the 12-month period, which, converted to the 83.1 million inhabitants, corresponds to a wine per capita consumption of 26.1 liters.
The wine consumption balance shows the entire wine market. It includes both consumption outside the home, for example in gastronomy, as well as wine purchases in retail and from producers.
The fact that wine consumption increased in the past wine year, despite restaurants being closed due to the corona restrictions, is also due to the cancellation of holiday trips abroad. In addition, more wine was bought in stores during the first lockdown and many consumers replenished their wine supplies during this time.

Monika Reule, DWI Managing Director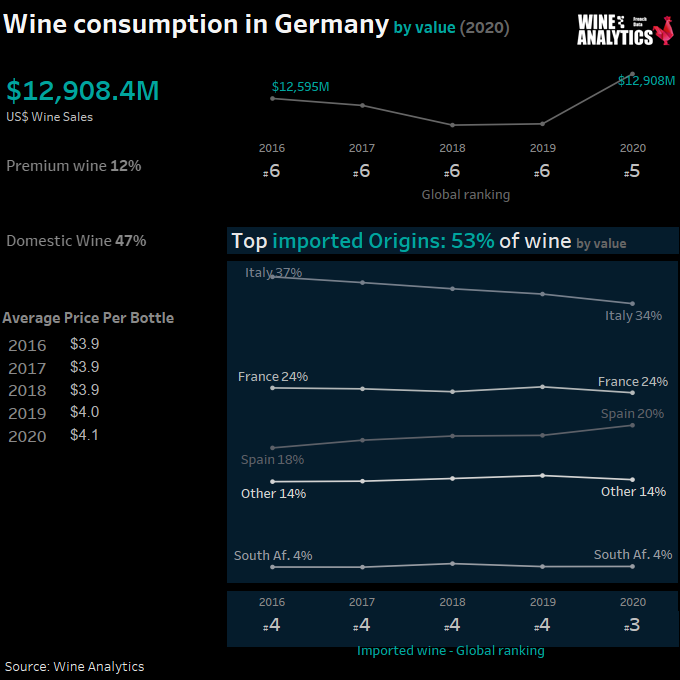 The consumption of sparkling wine however, did not benefit from this development. In the past wine year, a total of 2.6 million hectoliters was sold, which is a slight decrease of 0.1 liters per person, hence the lower total of 3.2 liters per person and year.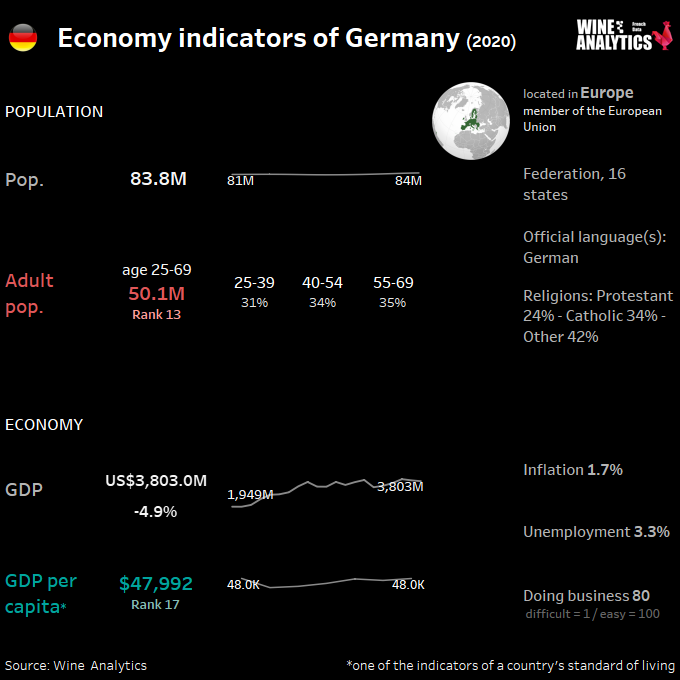 For still and sparkling wine consumption, the current balance results in a total of 19.8 million hectoliters, which corresponds to 29.3 liters of wine and sparkling wine per capita per year for all German citizens.

Germany, Consumers Drink More
Our evaluation method
The data shows key metrics, and these are combined to show a ranking calculated using a composite weighted attractiveness combining overall economic factors and wine market factors.
WINE CONSUMPTON IN VOLUME
97
WINE CONSUMPTON IN VALUE
95
IMPORTED WINE IN VOLUME
99
95
Wine Market Attractiveness