Anyone who talks about Switzerland and its wine scene must bear in mind that the country is not part of the European Union, although it is surrounded by EU members. It also has its own wine production and a strong wine-loving tradition.
RATE THE SWISS WINE MARKET ATTRACTIVENESS 
Two distinct groups of consumers
French-speaking regular wine drinkers are generally more involved in the wine category, drink wine more frequently and are more adventurous with their wine choices. These drinkers also typically consider country and region of origin as well as expert validation to be particularly important when buying wine.
By contrast, German-speaking drinkers have a tendency to drink wine less frequently than their French-speaking counterparts. They are also more likely to choose both locally grown and lower-calorie wine. German-speaking drinkers are less experimental and more health conscious with wine.
What the Swiss buy when choosing wines?
Read also

 Poland, red and sweet white wines
The two groups have commonalities: their interest in choosing wine based on its complementing food with food matching being the top driver amongst Swiss regular wine drinkers. According Wine Intelligence, 82% reported that they find it to be the most important factor when purchasing a wine.
Trade experts suggest wine is intertwined with gastronomy in Switzerland.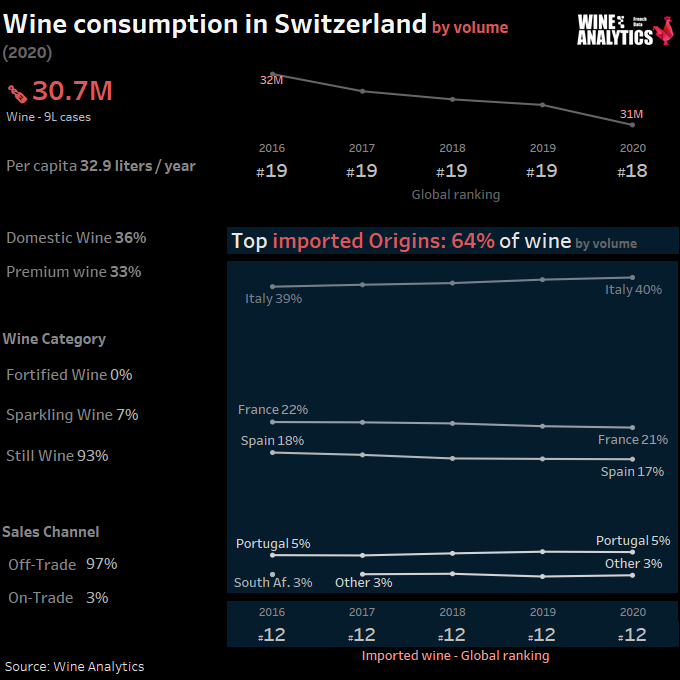 Trade experts suggest wine is intertwined with gastronomy in Switzerland, which can disadvantage some old-world producing countries in particular, due to the lack of association of these origins with food typically served in Switzerland.
In 2016, the Swiss government implemented stricter drinking and driving regulations, reported to have contributed to a shift in wine consumption behavior and suggested to be a contributor to the small decline in volume of wines sold, particularly in restaurants.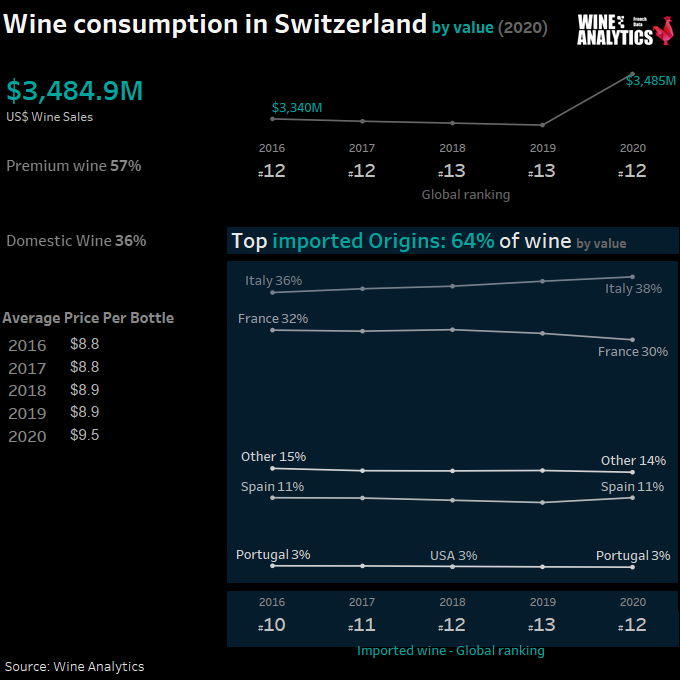 The fiercely competitive Swiss wine market
A high gross domestic product goes hand in hand with a comparatively high wine consumption and the willingness to spend relatively large amounts of money per bottle. As well as their own wines, people traditionally drink wines from Italy and France, the country's big wine-producing neighbors.
Wines from Austria have established themselves in recent years, German Rieslings have caught on in the German-speaking areas, and Spain is the number three importing country. South Africa, Australia and Portugal also play important roles.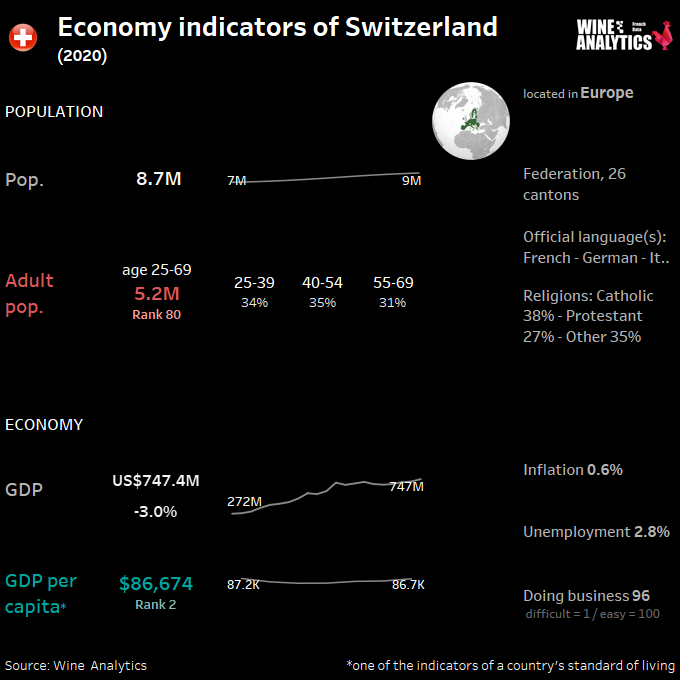 In recent years, interest has also grown in topics such as regionality and sustainability. Young Swiss winemakers are also finding an audience keen to try out their wines.

Switzerland, a wine market structured on linguistic grounds
Our evaluation method
The data shows key metrics, and these are combined to show a ranking calculated using a composite weighted attractiveness combining overall economic factors and wine market factors.
WINE CONSUMPTION IN VOLUME
82
WINE CONSUMPTION IN VALUE
88
IMPORTED WINE IN VOLUME
88
82
Wine Market Attractiveness