A middle-income country, Malaysia has implemented an economic transition plan to join the club of high-income countries by 2025. With a cultural diversity unseen in Southeast Asia, Malaysia is a country very open to foreign investment that offers many opportunities for businesses. In 2020, Malaysia has been ranked 12th in the World Bank's "Doing Business" ranking for the quality of its business environment, thus gaining three places.
RATE THE MALAYSIAN WINE MARKET ATTRACTIVENESS
Malaysia is a federal parliamentary monarchy. Every five years, a sultan is elected from among the country's nine royal families. He then appoints the members of his government from among the parliamentarians, elected by universal suffrage. The third largest economy in ASEAN, Malaysia has a diversified economy based on services (57.7% of GDP), manufacturing (22.9%), oil and mining (6.8%), agriculture (7.4%) and construction (4.0%).
The country's business is governed by the "Bumiputera" rule, which was adopted in the 1970s and requires that all foreign companies have a "Bumiputera" (ethnic Malay) partner for at least 30% of their capital. Since then, it has been relaxed to encourage investment, particularly in the high-tech and new technology sectors, but remains applicable in the public sector.
Read also

 Thailand, the largest alcoholic beverages market in Southeast Asia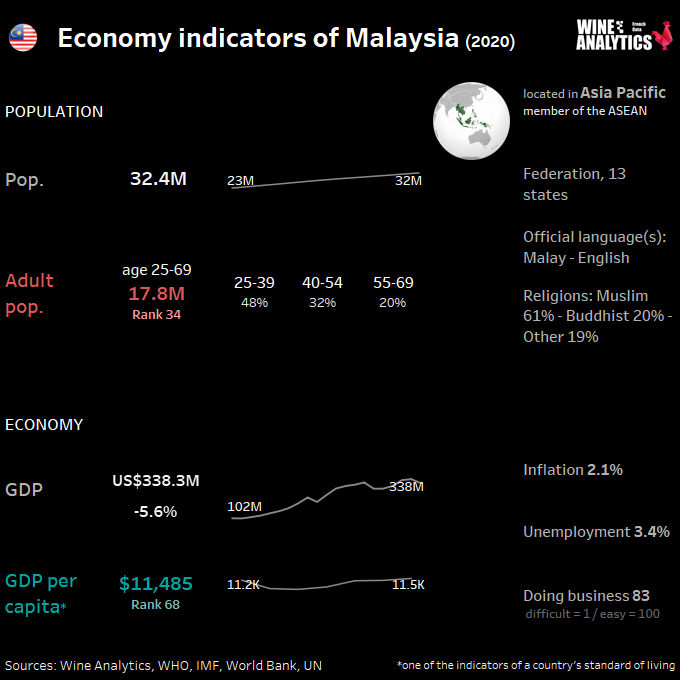 The population is young and educated, with a median age of 30.3 years. It has a high purchasing power, with Malaysians having the 2nd highest per capita income in ASEAN after Singapore. Australia and New Zealand both have free trade agreements with Malaysia and have a strong presence in the country's consumer-oriented food and beverage market.
Halal certification is recommended
As roughly 60%of the Malaysian population is Muslim, the majority of hotels, restaurants and catering services work to ensure 100% halal certification. To ensure full market access to the Malaysian Hotel, Restaurant, and Institutional (HRI) industry, halal certification is strongly recommended for all imported food and beverage products.
The Malaysian HRI industry is one of the fastest growing sectors in the country and is largely driven by robust tourism and increased consumer spending. Malaysia's food service industry is one of the most diverse in the world with a broad range of Asian and Western cuisine widely available in dining formats ranging from food stalls to full service restaurants.
Additionally, healthy and organic products are becoming very popular. Malaysia's relatively young and educated population frequently enjoys eating out. The majority of Malaysian consumers only dine at high-end restaurants for special occasions.
The increase in the number of gourmet restaurants is creating new market opportunities. Indeed, the opening of numerous luxury hotels, mainly in Kuala Lumpur, has led to the establishment of gastronomic hotspots, where the demand for wines and champagnes is growing strongly.
Distribution channels continue to evolve towards e-commerce especially for wine and beer with a growing number of online wine and spirits stores. The emergence of online wine and spirits distributors represents a market to be conquered. Market leaders such as Wine Talk, Wine Connection and Wine Warehouse offer a wide range of products and numerous services to consumers (home delivery) that are attracting more and more customers.
A 7.6 M individual potential market
Over 60% of Malaysia's 29 million population is Muslim (alcohol is forbidden in the religion), who do not consume alcoholic beverages. Wine consumers are limited to the country's other ethnic groups: Chinese (25%), Indian (10%); expatriates, and tourists. There is still a third of the population that drinks alcohol regularly, that is to say a potential market (excluding the Muslim population and those under 18 years old) of 7.6 M individuals.
Malaysia re-exports a significant amount of its alcoholic beverage imports to various Asian countries (mainly Singapore, Vietnam, Thailand and Hong Kong) and a significant portion of its spirits are sold duty free.
Beer remains the most widely sold beverage, accounting for 93% of total volume. A constantly warm climate in the country also encourages the consumption of these drinks. The market is dominated by two multinationals Guiness Anchor Berhad and Carlsberg. Wines and spirits occupy 4.1% and 2.4% of the Malaysian market by volume respectively.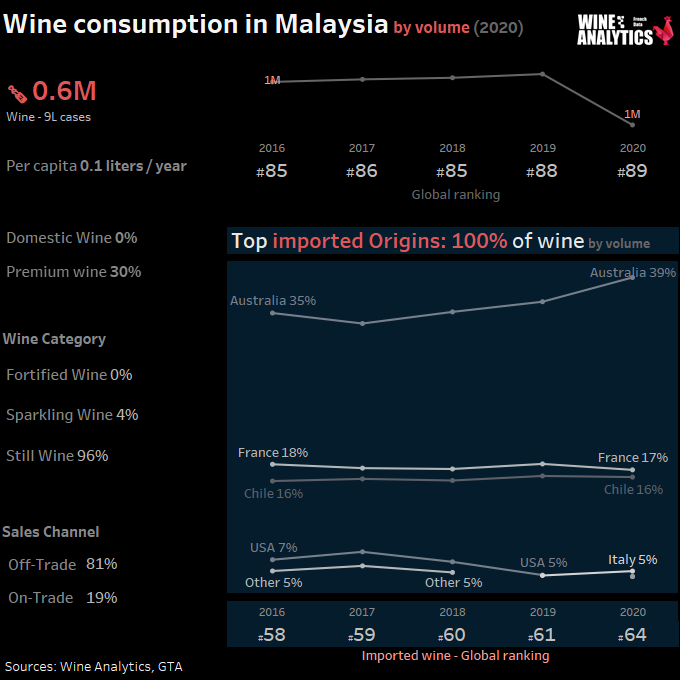 Drinking alcohol is an important part of the social life of non-Muslims, especially during parties, festivities, business meetings and celebrations.
The cocktail and speakeasy culture is also very trendy in Malaysia especially among the youth with the opening of several The cocktail and speakeasy culture is also very trendy in Malaysia especially among the youth with the opening of several new bars specializing in cocktails and bartenders who have acquired their own follower base.
The grape varieties plays an important role
Malaysia's official import data differs significantly from what exporting countries report as being shipped. This probably reflects the fact that high import and excise duties lead to under-declaration upon entry. In addition, the figures do not capture the quantity that is trans-shipped through Singapore. By conservative estimates, about 30,000 hectoliters are shipped through Singapore to Malaysia.
Red wine dominates the market, with 75% of consumers preferring it over white due to the perceived health benefits. In Malaysia, the reputation of grape varieties plays an important role in the wine selection process. Cabernet and Syrah/Shiraz are the two most popular red wines, while Chardonnay and Sauvignon Blanc are the leading whites. Wines are served at most Chinese weddings and other special celebrations.
Read also

 Vietnam, the next wine hub for Southeast Asia?
French wines are well-established among the well-to-do and older generation. France enjoys an excellent brand image but faces strong competition from the New World (New Zealand, Chile) because of their attractive prices. Demand for new world wines has grown steadily among the younger generation. In addition, travel abroad for business, study, and tourism has exposed affluent Malaysians to wine culture overseas, further boosting demand. Young Malaysians increasingly prefer drinking wines and see it as fashionable and healthier choice compared to other alcoholic drinks.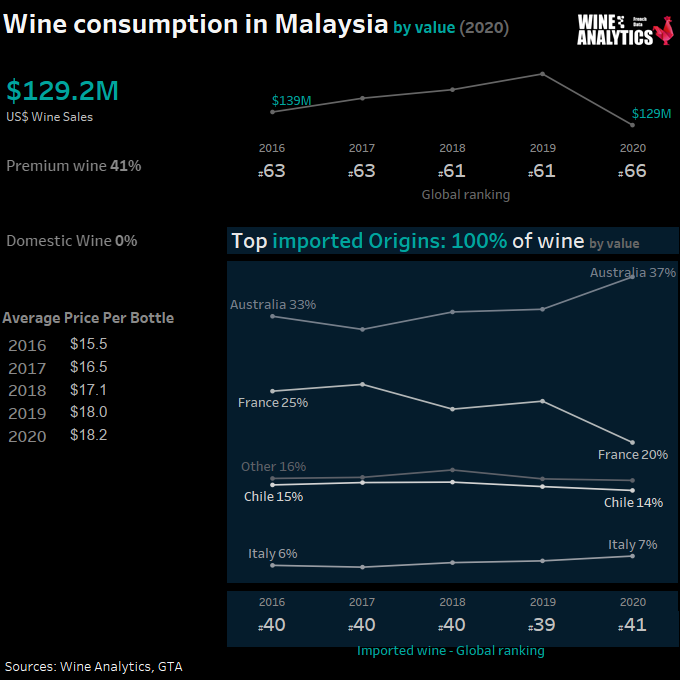 Majority of consumers are urban dwellers and the main places of consumption are in cities such as Kuala Lumpur and Penang City and other of country's secondary cities. The second has a big concentration of Malaysia Chinese community, which is located near to the duty-free island of Langkawi.
Local wine consumers are very price conscious. Low-to-medium range wines sold at retail outlets attract budget-conscious consumers, looking for promotional pricing. More affluent and well-travelled consumers buy wines from specialty wine shops and private wine clubs, wine bars and fine dining restaurants. The general consumer will continue to search for affordable brands, but demand for higher quality wines is forecast to continue to grow among higher income buyers with greater appreciation for premium wines. Mid-range wines priced between RM50 – RM100 ($16-$35) per bottle have the most potential in the market.
About 100 wine importers
Carefully select local importers that are best positioned. There are about 100 importers in Malaysia, most of which are Chinese Malaysian. These importers should be specialist wine importers with the ability and experience to market wine to the food retail and food service sectors. The market leader in the Malaysian wines and spirits in terms of volumes is Caldbeck Macgregor.
A wine importer must have a premise license and a retail/wholesale liquor license from the district council to trade wines. There is no import quota for wines. However, as wine is a controlled item, a valid import license issued by the Royal Customs and Excise Department is required to import wine.
The Ministry of Health enforces the 1985 Food Regulations law, which covers all food and beverage products. This set of regulations governs standards and specific labeling for wines, language to be used (English or Bahasa Malaysia), food additive and packaging. Labels on imported wines must include the name and address of importers, country of origin and the minimum contents by volume. The label must give a specific description of the product, the alcoholic content in bold-faced lettering of a non-serif character not less than 12 point size lettering, stating the words "ARAK MENGANDUNGI _% ALKOHOL" (liquor containing _% alcohol), as well as the primary ingredients used in production.
After establishing trade agreements with local importers, conduct product promotions with end-user hotels and restaurants. This type of marketing event is particularly effective during festivals and peak seasons (Chinese New Year, Ramadan, Deepavali, etc.).
Many gourmet clubs promote wines and spirits in Malaysia, such as The International Wine & Food Society. The SOMLAY Sommelier Association, created in 2009, aims to improve the level of exposure and knowledge of Malaysian on wines and spirits products. This association is a part of the ASI (Association of International Sommelier). The Malaysian Food and Beverage Executive Association, created in 1988, aims to safeguard the interests of food and beverage professionals while contributing to the development of supply in Malaysia.
The promotion of wines is subject to specific regulations. It is prohibited.

Malaysia, wine promotion is prohibited
Our evaluation method
The data shows key metrics, and these are combined to show a ranking calculated using a composite weighted attractiveness combining overall economic factors and wine market factors.
WINE CONSUMPTION IN VOLUME
11
WINE CONSUMPTION IN VALUE
36
IMPORTED WINE IN VOLUME
34
43
Wine Market Attractiveness