The Socialist Republic of Vietnam, a strategic crossroads located in the heart of ASEAN, is a country undergoing country in full economic, industrial and social mutation which benefits from a strong growth in an uncertain geopolitical environment. Its geographical position, coupled with a development of consumption and a qualified workforce at low cost, makes it an essential market market and a land of opportunity for French companies. Vietnam is today one of the most dynamic countries in the world.
RATE THE VIETNAMESE WINE MARKET ATTRACTIVENESS

Vietnam became the 4th largest economy in Southeast Asia at the end of 2020, having overtaken Malaysia and Singapore. It is also the 3rd most populated country in ASEAN. Since 1990, the country has recorded an average annual GDP growth of 6.8%. Its economy recorded a remarkable year 2020 with a growth of 2.91% despite the pandemic of COVID 19 this thanks to its exports, industrial production and retail sales. Its economy is export-oriented where the share of foreign companies is essential.
Read also Thailand, the largest alcoholic beverages market in Southeast Asi
Party state system makes economic interests a political priority:
Political stability guaranteed by strong security apparatus;
Leadership of the country renewed in 2021 for 5 years (XIII Communist Party of Vietnam Congress);
Government-led economic reforms designed to accelerate growth and open up new business opportunities in the new digital age.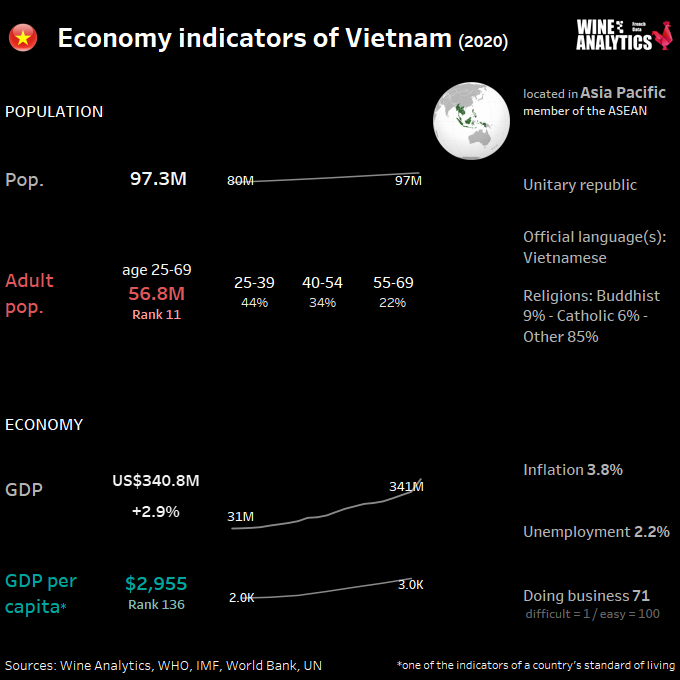 From independent stores to chain retailers
Vietnam's retail food landscape is largely dominated by traditional wet markets and small independent stores ideal for small–quantity/high–frequency food purchases. Modern retailers (supermarkets, hypermarkets, mini–marts, convenience stores, and department stores) appeal to a growing number of consumers in many key urban areas (Hanoi, Ho Chi Minh City, Hai Phong, Danang, Can Tho, Nha Trang, Quang Ninh, Binh Duong).
Company profiles:
| | | |
| --- | --- | --- |
| Retailer Name | Format Type | Nationality |
| SAIGON CO-OP / COOPMART | Supermarkets, Food Stores & Convenience Stores | Local company |
| METRO CASH & CARRY | Wholesale stores | German company |
| BIG C | Hypermarkets and Supermarkets | JV with Casino Group (France) |
| MAXIMARK | Supermarkets and Department Stores | Local company |
| FIVIMART | Supermarkets | Local company |
| CITIMART | Supermarkets and Convenient Stores | Local company |
| INTIMEX | Supermarkets and Department Stores | JV |
| Saigon Trading Corporation SATRA | Supermarkets and Convenient Stores | State-owned Company |
| Hapro / Hapromart | Supermarkets and Convenient Stores | State-owned Company |
| SELECT | Supermarkets | Local Company |
| PARKSON | Department Stores | Malaysian Company |
| Lotte Mart | Hypermarkets and Supermarkets | Korean Company |
| GIANT | Supermarkets | Singaporean Company (Dairy Farm Group) |
| An Phu | Supermarkets | State-owned Company |
| CT Group | Supermarkets | Local company |
| Ocean Mart | Supermarkets | Local company |
| HiwaySuper Centers | Super Centers | Local company |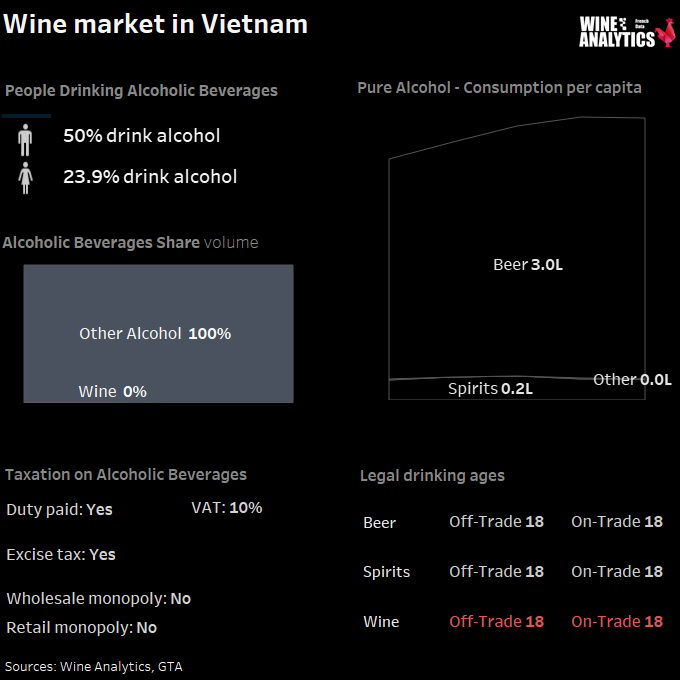 Its population is young and active. The emergence of an urban and educated middle class makes Vietnamese consumers more and more inclined to buy.
Vietnam's affluent middle class currently represents 13% of the population and is becoming increasingly important with an estimated 26% by 2026. The westernization of the Vietnamese lifestyle as well as the continued growth of the tourism sector tourism sector have strongly contributed to the growth of wine and spirits sales in Vietnam in recent years.
Vietnamese middle and upper classes as well as foreigners are increasingly interested in imported products, from entry-level and mid-range to high-end. Some Vietnamese millionaires prefer very high-end products.
It has become elegant and trendy to drink imported alcohol, despite the high price of this Western-style chic, combined with recent health concerns, is causing some consumers to switch from drinking beer and hard liquor to wine.
Local vs. craft beers
Local production is mainly composed of beer 4 4 billion L in 2020 of rice-based spirits and fruit liqueurs.
Beer is the most consumed alcoholic beverage in Vietnam, representing 98% of consumption. Although the country is a beer producer, Vietnamese people are starting to be interested in higher quality beers such as craft beers, imported beers, etc. Draft beers are becoming more and more fashionable in Vietnam now.
Spirits also represent a status symbol and are often used as gifts between businessmen of high social standing. Cognac, Whiskies and Armagnac are particularly appreciated. This market is still a niche market in Vietnam.
The alcoholic beverage sector is expected to grow at a rate of 8% annually in this market.
Chilean and French Wines are leaders
Wine consumption is becoming more and more democratic in Vietnam. Still wines account for 80% of total wine sales, 70% of which are red wines. Bordeaux is the favorite wine appellation of Vietnamese thanks to the historical past between France and Vietnam, representing 70% of French imported wines.
Sales volume decreased by 40% in 2020 due to Covid 19 as well as the zero tolerance law on blood alcohol levels while driving, implemented in early January 2020 There was a decrease in the consumption of high-end and sparkling wines due to the absence of tourists and the temporary closure of some hotels and restaurants.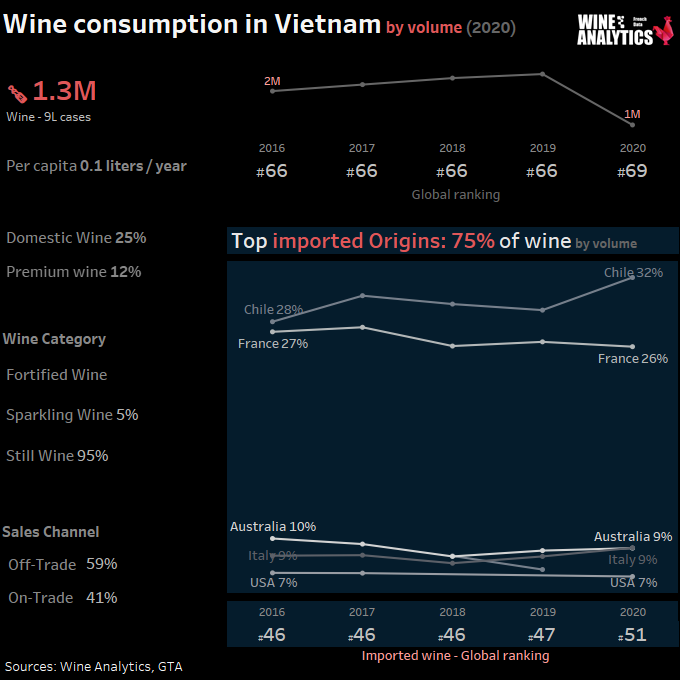 The production of wine in Vietnam is very low and is mainly concentrated in the central region of Da Lat "Vang Dalat", white and red, for the local population, the ASEAN area and Japan.
The main suppliers of alcoholic beverages are France, Italy, Singapore (as a platform for re-export), Australia and the United States but especially Chile for wines. France remains one of the leaders in wine exports to Vietnam in value.
The average price of French wines ranges from 9 to 14 EUR for the entry level and from 30 EUR for the top of the range. With a good reputation for quality and the prestige of French products, Vietnamese consumers are increasingly interested in French wines. Wine connoisseurs prefer high quality products from France.
Entry-level and mid-range red wines are always in demand in Vietnam, mainly from Bordeaux but also from other regions such as Languedoc-Roussillon, Rhone Valley and Burgundy. White wines as well as rosé and sparkling wines have been growing for a few years. Organic wines remain a niche market.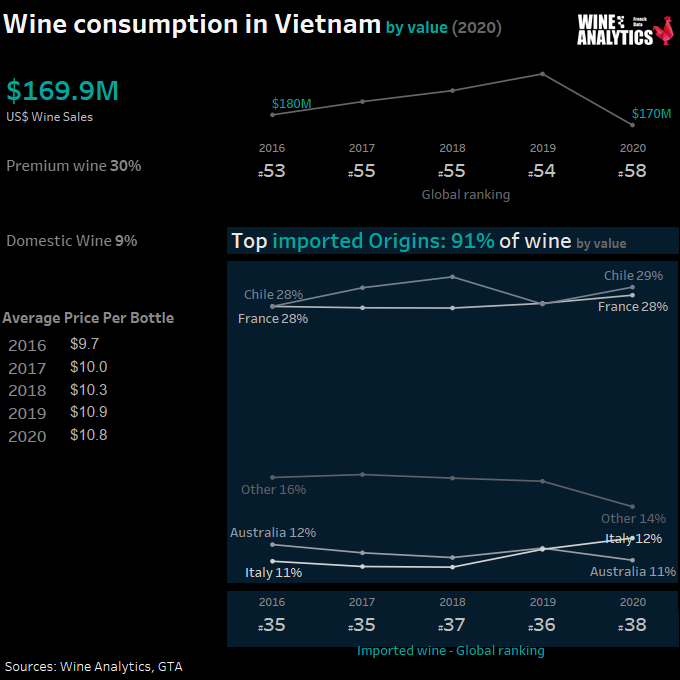 Wine Hub to ASEAN
Vietnam could become a platform for access to neighboring markets and even a hub for ASEAN countries.
The upcoming EU-Vietnam FTA should level the playing field for EU wine, hence increasing even more EU wine exports to Vietnam. This upcoming FTA is particularly important given that other major wine exporting countries are also set to experience further significant tariff liberalization for their exports to Vietnam, notably via the Trans Pacific Partnership (TPP) agreement and the ASEAN Economic Community.
Customs duties will be fully eliminated for wines after an 8-year transitional period.
86 key wine Geographical Indications will be protected in Vietnam at the entry into force of the agreement.
The possibility for EU approved exporters to self-certify the EU origin will simplify customs procedures.
Vietnam has committed to improving the conditions for the distribution and sale of wines.
The rules of origin contain a non-alteration clause that will facilitate the use of regional hubs by EU exporters. Logistic hubs are crucial to the distribution model of EU wine in the Asean region.
On November 15, 2020, Vietnam signed the Regional Comprehensive Economic Agreement (RCEP) with nine other ASEAN countries and five others – Australia, China, Japan, South Korea and New Zealand – after eight years of negotiations. It will enter into force on 1 January 2022. The RCEP will improve the integration of Asian markets by eliminating tariffs and quotas on more than 65% of the goods traded within the region immediately and gradually over 20 years on 90% of them.
Holding a license for distribution or mass production
The relationship is important for Vietnamese importers. A first contact is appreciated.
The business partners are importers of alcoholic beverages who have an import license for this type of products. According to Decree 94 applicable since January 1, 2013 the import of alcoholic beverages is allowed only for companies holding a license for distribution or mass production. This decree has been replaced by 105 2017 /ND CP, effective as of November 1, 2017.
Decree 38 requires the presentation of a HACCP or ISO 22000 certificate or equivalent that meets the international standards on food safety (BRC or IFS).
A long-term partnership strategy followed by a marketing support will be essential for the success on the Vietnamese market.

Vietnam, the next wine hub for Southeast Asia?
Our evaluation method
The data shows key metrics, and these are combined to show a ranking calculated using a composite weighted attractiveness combining overall economic factors and wine market factors.
WINE CONSUMPTION IN VOLUME
31
WINE CONSUMPTION IN VALUE
42
IMPORTED WINE IN VOLUME
49
50
Wine Market Attractiveness