Food is one of Taiwan's top strengths as a tourist destination, whether the tourists opt for night market snacks or fine dining. Night markets with hundreds of food options are common island wide and remain favorite destinations for foreign tourists. However, Michelin also published the first-ever guide to fine- dining in Taipei in 2018, and as of 2020 including Taichung, a testimony of the island's soft power development and culinary maturity.
RATE THE TAIWANESE WINE MARKET ATTRACTIVENESS
Taiwan has a dynamic capitalist economy that is driven largely by industrial manufacturing, and especially exports of electronics, machinery, and petrochemicals. This heavy dependence on exports exposes the economy to fluctuations in global demand. Taiwan's diplomatic isolation, low birth rate, rapidly aging population, and increasing competition from China and other Asia Pacific markets are other major long-term challenges.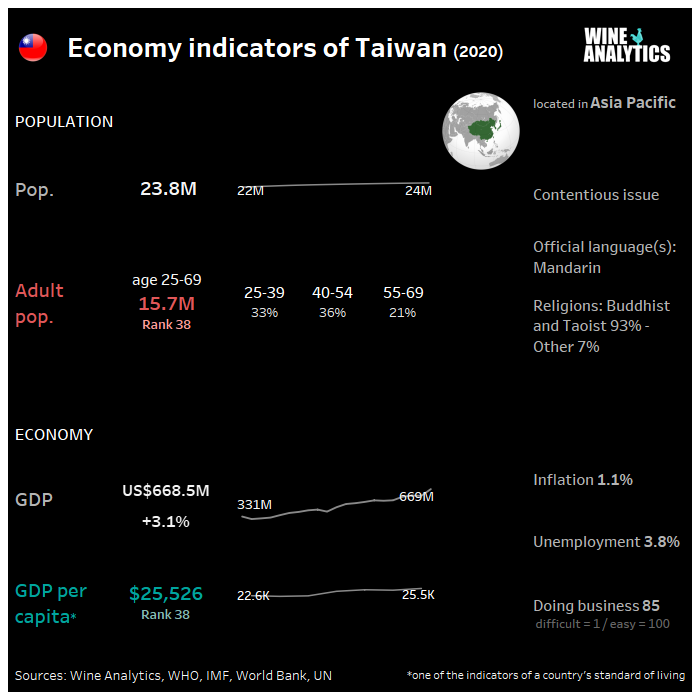 One store for every 2,300 people
Consumers' preference for convenience and a growing interest in healthy foods and food safety have influenced the industry to develop easy-to-prepare meals, healthier options, clean labels, and other similar initiatives. The density of Taiwan's more than 10,000 convenience stores is the second highest in the world with one store for every 2,300 people according the Ministry of Economic Affairs, Department of Statistics.
Sales generated by Taiwan's retail outlets including supermarkets, convenience stores, hypermarkets and others totaled US$31.2 billion in 2020, an increase of 2.3% from 2019's sales of US$30.5 billion. In 2020, the revenue generated by supermarkets had the strongest growth, 11.6%, followed by 9.0% growth in convenience stores, and 8.5% in the hypermarkets. Other retail outlets, including wholesaler and distributors serving the food service industry, decreased by a significant 30% to US$3.9 billion because consumers opted to cook at home more frequently during the pandemic.
International retailers dominate in Taiwan, with few domestic players in direct competition. International retail stores have grown by taking advantage of Taiwan's high population density and high disposable incomes. The anticipated growth is supported by continuous expansion by 7-11, Family Mart, Costco, PX Mart, and Carrefour.
ALSO READ

 UK, a Strategic and Proximity Wine Market
Convenience Stores – Currently, convenience stores operators are increasingly less aggressive about outlet expansion and focus on same-store sales and gross margin improvements. The top four convenience store chains are 7-Eleven, Family Mart, Hi-Life, and OK Mart.
Hypermarkets – In terms of sales generated, foreign operators, including Carrefour and Costco, continue to dominate the Taiwan market and hold more than 50 percent market share. With the newly announced acquisition by Carrefour of Wellcome (202 stores) and Jason's Market Place (26 stores), Carrefour is expected to play a more active role in competing with local chain operator and competitor, PX Mart.
Supemarkets – Continued fierce competition from hypermarkets and convenience stores have made it difficult for small supermarkets to survive. Efforts to promote fresh food in their stores also boosted supermarket sales. Sales have also been driven by the increase in the number of stores and developing new store formats, such as more neighborhood focused stores. Top supermarket store chains are PX Mart, Simple Mart, and Taiwan Fresh Supermarket. There are high-end supermarkets, such as CitySuper stores, under this new supermarket format category. This high-end supermarket format is expected to grow even more over the next several years in line with Taiwan consumer's increasing purchasing power and commitment to high-quality food products.
E-Retail – Taiwan is a large consumer market with a fast-growing e-retail sector. Online shopping platforms in Taiwan now blend digital payments, group deals, social media, gaming, instant messaging, short-form videos, and live streaming by celebrities.
Taiwan consumers are incredibly social media savvy and seek out new opportunities, experiences, and food/drinks to share on their own social media accounts on platforms such as LINE, Instagram, and Facebook.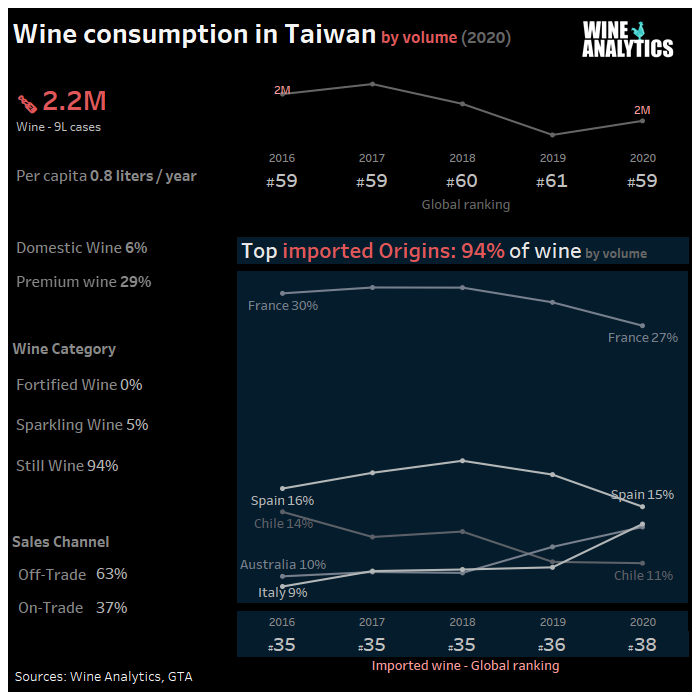 Food is one of Taiwan's top strengths
According to the Ministry of Economic Affairs (MOEA), the economic estimated output of Taiwan's food service sector at $27.4 billion in 2020. As elsewhere, the Taiwan food service sector suffered a major setback with the COVID-19 pandemic. Despite recording no domestic cases until March 2021, Taiwan food sectors were impacted by a lack of tourists as strict border controls limited travel. Nevertheless, Taiwan's food service operations were speedily restructured to where profound adjustments are leading to a success in delivering fresh and frozen ready meals.
Hotels, especially those that employ foreign chefs or offer authentic international cuisines, and other high-end family-style restaurants typically use more items from importers or wholesalers/distributors. Western and local fast food restaurant chains usually either have their own distribution channels or they contract with an independent distribution center to purchase, process, and deliver the daily needs. A recent trend is that retail outlets such as Costco are frequented by many small food service HRI operators who buy items in bulk at the lowest possible cost thereby avoiding the need to source from multiple importers.
Hotels – Socializing in hotel restaurants is common in Taiwan. Food served on these occasions tends to be either Western-style buffets or Chinese-style food banquets. Also, holiday celebrations are becoming commercialized, especially Chinese New Year and Western holidays such as Christmas, Halloween, Oktoberfest, and Valentine's Day.
Restaurants – Most restaurants in Taiwan are casual dining places. As most of the restaurants in this category are small businesses, they purchase materials mainly from wholesalers and wet markets. Only larger chains/franchises tend to buy products from importers or import directly.
Taiwan has a very dynamic food service industry exemplified by the release of the first Michelin guide for Taipei in 2018. Most restaurants in Taiwan are casual dining places. As most of the restaurants in this category are small businesses, they purchase materials mainly from wholesalers and wet markets. Only larger chains/franchises tend to buy products from importers or import directly.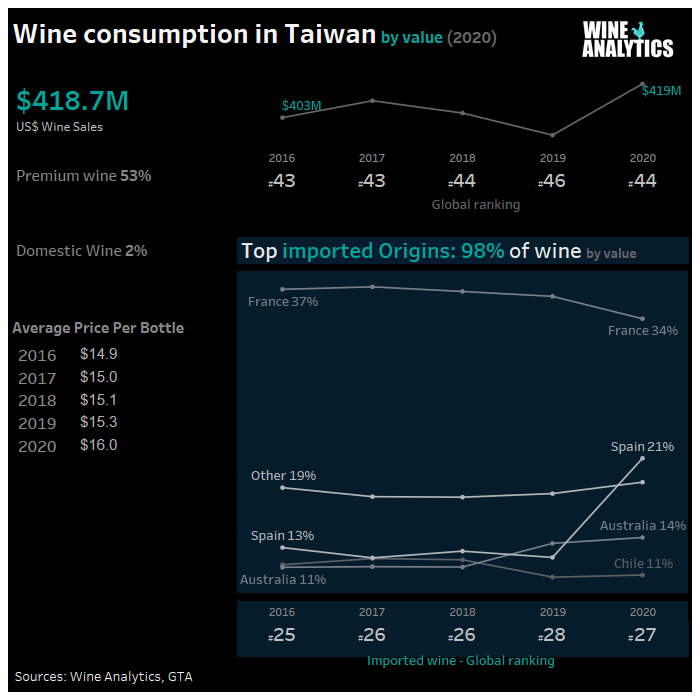 Consumption of domestic alcohol
2019 was a great year for the alcoholic beverage segment in Taiwan, experiencing both value and volume growth. This is due to robust domestic consumption as well as a favorable exchange rate in 2019. The local production is mainly oriented towards beer, rice alcohol (used for cooking) and sorghum alcohol (strong Kinmen alcohol). For some years, Taiwan has also been producing and exporting quality whisky.
Local wine production remains marginal and the Taiwanese market depends mainly on imports. France remains the leading supplier of wines with a 54% market share in value. The 5 main competitors supplying wines are the United States, Italy, Chile, Australia and Spain.
Bordeaux and Burgundy wines maintain their predominant position (respectively 45% and 31% of the value of French wine imports in 2019), but the growing interest in niche products and appellations that are still little known to consumers continues to contribute to the diversification of the available offer.
The Taiwanese are looking for prestige products that are consumed in lesser quantities but are still high-end products that favor either the most famous PDOs (Burgundy and Champagne) or niche products that offer a sense of exclusivity.
More than 300 wine & spirits importers
A competitive and fragmented market with more than 300 active wine and spirits importers in Taiwan. A structured and dense distribution network 2,000 super- and hypermarkets, 10,600 CVS, 500 wine shops, 1,000 organic stores.
Duties and taxes for wines:
Customs duty 10% for still wines and 20% for sparkling wines.
Excise duty 7 TWD/L/degree of alcohol for wines.
Commercial transaction tax (equivalent to VAT): 5%.
Online sales are prohibited.

Taiwan, Socializing with Wine in Hotel Restaurants
Our evaluation method
The data shows key metrics, and these are combined to show a ranking calculated using a composite weighted attractiveness combining overall economic factors and wine market factors.
WINE CONSUMPTION IN VOLUME
41
WINE CONSUMPTION IN VALUE
62
IMPORTED WINE IN VOLUME
56
63
Wine Market Attractiveness