During the first quarter of 2020, Spanish data shows a significant drop in wine sales to the domestic and international markets. The drop in Spanish wine sales is primarily due to the closure of the hospitality and tourism sectors in response to the COVID-19 crisis. Average prices for Spanish wine are also expected to decline.

RATE THE SPANISH WINE MARKET ATTRACTIVENESS
Beer and Spirits, consumed mostly in restaurants
In 2018 the total consumption of beer in Spain exceeded the 40 million hectoliters mark, remaining the most consumed alcoholic beverage in Spain. The highest levels of consumption are recorded in Andalusia and Extremadura. The on-trade sector is the main sales channel for beer, accounting in 2018 for 67% of the total beer marketed throughout Spain.
Spain is a large consumer of whisky (25% of the total spirits consumed by Spaniards). Liqueurs represent 20% of the total consumption, gin 19%, rum 15%, cognac 10%, aniseed 6.5%, vodka 4% and tequila 1%. The main suppliers of Spain are the United Kingdom, the Netherlands, the United States and France.
According to the Spanish Federation of Spirits, 62% of the national consumption would be outside the home. It is the on-trade sector that is the main sales channel. The remaining 38% corresponds to the food circuit, mainly in supermarkets, followed by hypermarkets and specialty chains.
Read also

 Italy, the online sale of wine has exploded
Wine Export to EU and the US
Spain is a net exporter of wine, the top global wine exporter in volume terms while third largest exporter in value. Following a shorter-than-expected harvest and relatively high 2018 wine stocks, according to official trade data, Spain's wine exports increased 6.7% in volume to 21.7 million HL in 2019 compared to previous year. However, due to a 14% decline in average Spanish wine prices, in 2019, the value of Spanish wine exports dropped 12% to $3 billion.
Last year, Spain's wine exports to the EU, its major market, declined 18% mainly due to the value decline in exports to France, Portugal, and Italy. The United States was Spain's second largest export destination. Spanish wine exports to China also declined in 2019, both in value and volume, to $143 million. Conversely, last year, Spain's wine exports to Japan and Canada continued trending upward.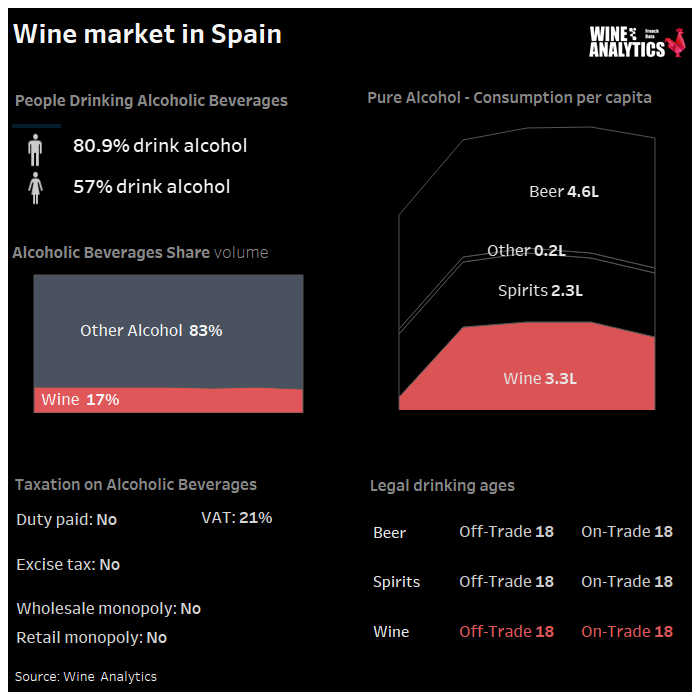 During the first quarter of 2020, Spanish wine consumption decreased almost 15% due to the closure of hospitality and tourism sectors. Spain's declaration of the State of Alarm in response to the COVID-19 pandemic started on March 14 and ended on June 2020.
Official consumption data shows that during the first 10 weeks of confinement from week 11 to week 21 of 2020, average wine consumption in Spanish households rose 42%. Additionally, during the Spanish lockdown there was a significant increase in on-line wine sales. However, this rise in sales did not compensate for the sales loss incurred from the closure of the hospitality sector in terms of both volume and value.
In response to the pandemic's negative impact on the Spanish wine sector and seeking to avoid a surplus of wine during the new 2020/21 wine season, the Spanish Ministry of Agriculture implemented a set of extraordinary measure.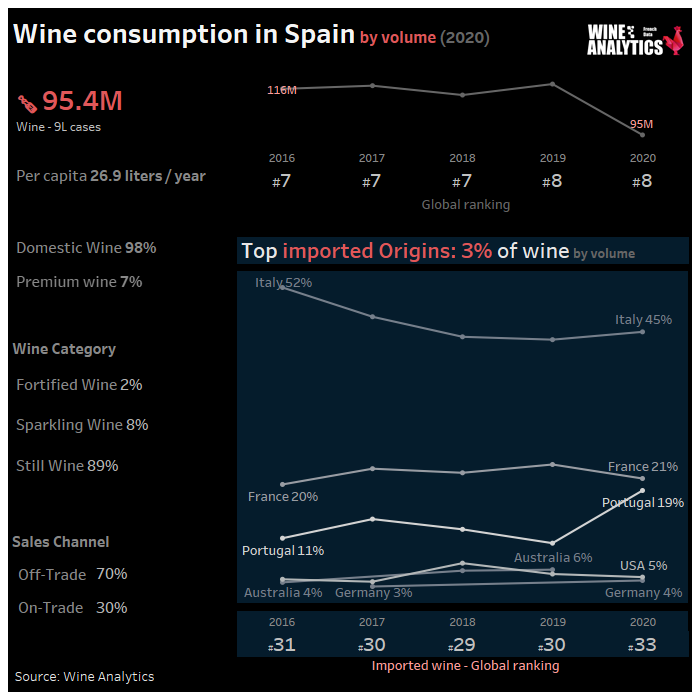 The consumption of red wine represents 72.9% of the total wine consumption, white wine 12.9%, rosé wine 6.4%, sparkling wines 6%, and Sherry wine 1.8%. The consumption of white and rosé wines is increasing, with high temperatures during the summer as the main factor contributing to this increase, or as an alternative to beer. It is a mature market in the sparkling wine segment, due to the traditional consumption of Cava.
According to a study by Nielsen and the Spanish Wine Market Observatory :
60% of Spaniards consume wine. Catalonia, Andalusia and Madrid have the highest consumption;
Of this total, 26% are aged between 18 and 34 years, 36% between 35 and 54 years and 38% over 54 years.
Domestic Wine Leader
Spain produces wine throughout all its 17 autonomous regions, with a total of 70 different PDOs and 42 GIs. In Spain, there are about 150 native grape varieties planted. The most cultivated varieties are Airen, Tempranillo, Bobal, and Garnacha Tinta.
Spanish wine production represents 23% of the total wine produced in the EU, ranking third after Italy and France. Of this total wine production, Spain produces 33% of its wines under Protected Denomination of Origin (PDO) and 9% of wines with Geographical Indication (GI). The rest are varietal wines without PDO or GI.
Among the main companies/groups in the wine sector is Freixenet, which is the leading wine producer in Spain with sales of EUR 535 million, followed by the J García Carrión group and Felix Solis Avantis.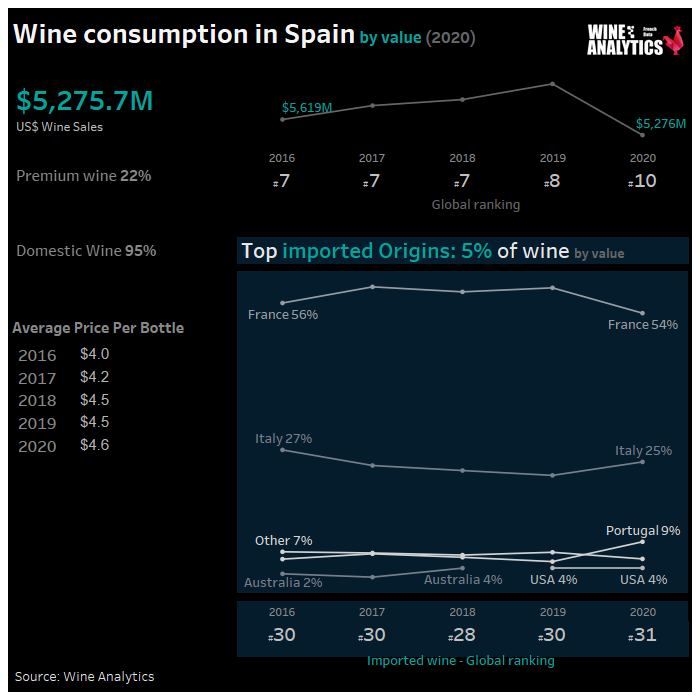 France is in strong competition with Italy in terms of wine exports to Spain. Spanish producers are moving upmarket and diversifying their offer (white wines, rosés, frizzante). The most exported French still wines to Spain are Burgundy wines in 2019, followed by Bordeaux wines.
33% per Sales Channel
According to Spanish Wine Market Observatory (OEMV) data, in 2019, Spanish wine consumption increased almost 10% compared to previous. The Spanish market is still a price driven market, however there is an increase in demand for quality products, so consumers are willing to pay the price for quality.
According to a study by the Spanish Wine Interprofessional (OIVE) and OEMV, in 2018, one third of the total volume of Spanish wine consumption represented household consumption. Another third represented HRI consumption, and the last third represented consumption through other channels, namely gourmet stores, direct sales in wineries, on-line sales, and direct sales to tourists. However, only 17% of the total value reached in 2018, represented household consumption.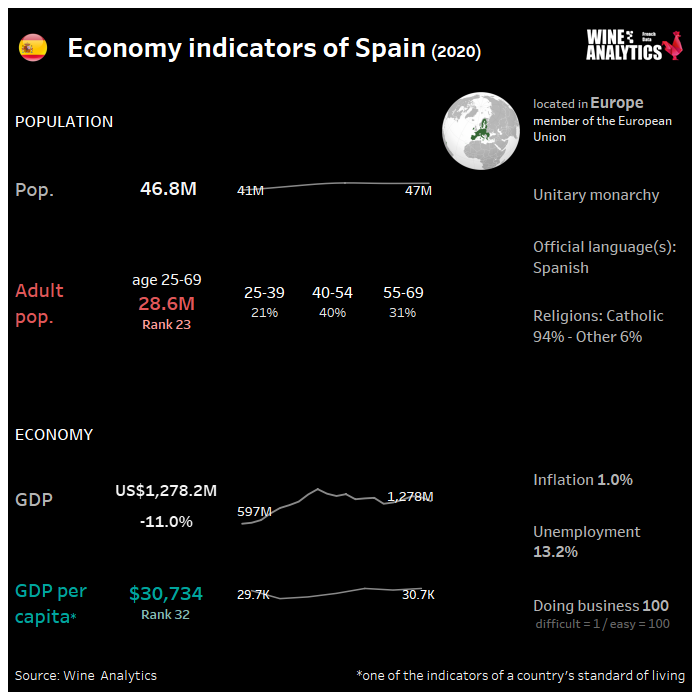 Importers and wholesalers manage a rather regional distribution to wine shops, delicatessens and on-trade (restaurants, bars and cafeterias). However, mass retailers are difficult to approach because domestic wines are strongly promoted on the shelves, while foreign wines are not well referenced.

Spain, the Wine Consumption Decrease by 15%
Our evaluation method
The data shows key metrics, and these are combined to show a ranking calculated using a composite weighted attractiveness combining overall economic factors and wine market factors.
WINE CONSUMPTION IN VOLUME
92
WINE CONSUMPTION IN VALUE
90
IMPORTED WINE IN VOLUME
67
74
Wine Market Attractiveness