In Canada, the authority to import and distribute alcohol rests with the provincial governments. Four provinces – Quebec, Ontario, Alberta, and British Columbia – make up 94% of the Canadian wine market. Ontario alone imported 34 million liters of U.S. wine in 2020 worth $184 million.
RATE THE ONTARIO WINE MARKET ATTRACTIVENESS
All alcohol in Ontario must be imported and distributed through the provincially owned Liquor Control Board of Ontario (LCBO), which operates as the importer of record, wholesaler, and primary retailer for most wines.
Three categories of Ontario-produced wine
Ontario Vintners Quality Alliance (VQA), wine that is produced from 100% Ontario grapes and which meets additional, specified production standards
International-Canadian Blends (ICB), a blend of Ontario and imported wines, containing a minimum of 25% Ontario grape content. According to Wine Growers Ontario, most of the wine produced in Ontario (54% of the grape crop by volume) is used to make ICBs
100% Ontario, wine that contains 100% local grape content but does not meet all VQA production standards.
Read also

 United States, Barriers to Entry for Small Wineries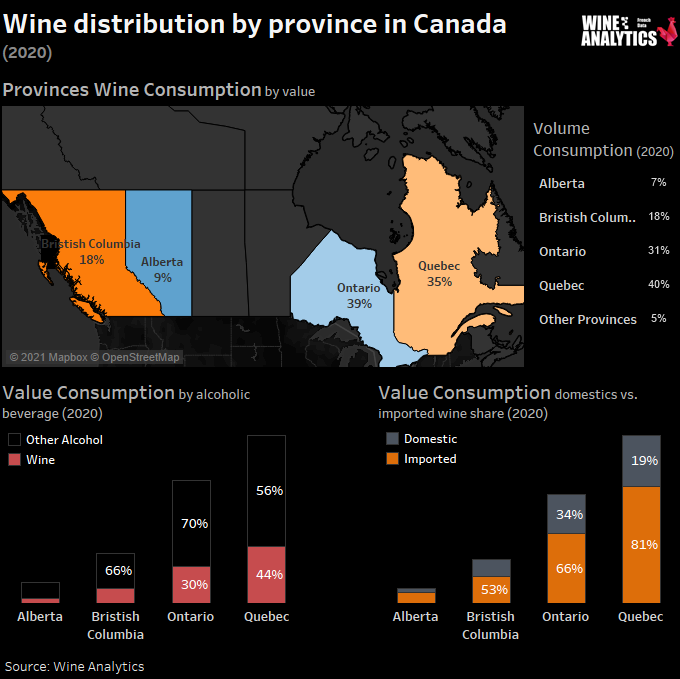 The LCBO monopoly's wine market
The Alcohol and Gaming Commission of Ontario (AGCO) is a Crown agency established to oversee and regulate the alcohol, gaming, and horse racing sectors. The LCBO distributes nearly all and sells most of the alcoholic beverages in the province, whereas the AGCO regulates the production and sale of alcohol in Ontario.
Imported wines represented 65% of total retail wine sales.
Ontario's retail beverage alcohol market was valued at more than $7.4 billion in 2020, with total wine sales exceeding $2.2 billion. Imported wines represented approximately two-thirds, or nearly $1.5 billion, of total retail wine sales in Ontario in 2020, while locally produced wine accounted for the remaining one-third at $700 million.
LCBO retail stores are by far the largest distribution channel in Ontario, and imported wines constitute roughly 75% of total LCBO wine sales. Imported wines account for over 95% of sales in LCBO's Vintages category, which is comprised of premium wines. Although wine must be imported through the LCBO, currently there are four distribution channels: LCBO retail stores; on-site and off-site winery retail stores; direct delivery to hotels and restaurants; and grocery store.
Four distribution channels
Although wine must be imported through the LCBO, currently there are four distribution channels: LCBO retail stores; on-site and off-site winery retail stores; direct delivery to hotels and restaurants; and grocery stores.
With over 80% share of total wine sales in the province, the LCBO was the largest retail channel in the Ontario wine market in 2020, capitalizing on its network of over 660 LCBO retail stores and nearly 400 LCBO agency stores, which are privately owned retail operations located in communities too small to have an LCBO retail location.
U.S. wines have the largest share of the imported wines category. Italy and France are the second-and third-largest origins.
Canadian wines (mostly Ontario wines) represent the largest wine category at the LCBO, with 2020 sales of nearly $450 million. By value, U.S. wines have the largest share of the imported wines category at the LCBO with sales of over $370 million in 2020. Italy and France were the second-and third-largest foreign suppliers of imported wines with $325 million and $200 million of LCBO sales in 2020, respectively.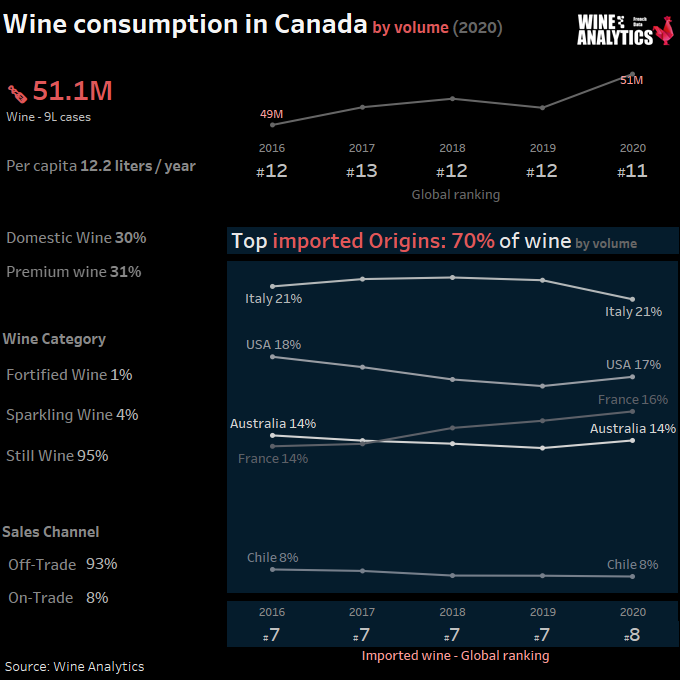 Direct Deliveries to bars and restaurants
Sales of wine to licensee customers, such as bars and restaurants, can either be direct from a manufacturing winery (only for Ontario-produced wines, including ICBs – international-Canadian blends) or through the LCBO wholesale channel (for imported wines and Ontario-produced wines). Ontario-produced wines delivered directly from the manufacturer to the licensee are exempt from some of the applicable fees, such as the LCBO markup. For imported wines, the LCBO is the wholesaler, and therefore all fees apply, including the markup.
Many bars and restaurants buy wine through sales agents in order to get access to a wider selection than the LCBO listings, as agents may order virtually any wine from overseas, a process for which the LCBO remains the importer and wholesaler of record. The LCBO assesses the standard markup as well as other fees to wines imported in this manner. The direct delivery distribution channel currently accounts for less than 5% of Ontario's wine sales, although provincial measures initiated during the COVID-19 pandemic response may accelerate growth.
Imported wine only being sold on 50% of the available grocery store shelves.
Initially announced as a temporary COVID-19 relief measure for the foodservice and hospitality sector, the Ontario government made permanent selling alcoholic beverages with food takeout and delivery by licensed establishments, such as restaurants and bars. Starting in January 2021, this represents an additional opportunity for imported wines to reach Canadian consumers. The details of this policy can be found on AGCO website.
In 2014, a Premier's Advisory Council on Government Assets was charged by the Ontario Premier to review a number of government assets, including the LCBO. The Council published its report which amended the Liquor Control Act. The regulations went into effect in December 2016, allowing the sale of wine, beer, and cider in licensed grocery stores for the first time in the province. Regulation 232 has been amended a further nine times since 2016, expanding access and modifying various conditions regulating the sale of wine, beer, and cider in grocery stores.
Although authorized grocery stores are permitted to sell both domestic and imported wine, the conditions in Regulation 232 result in most imported wine only being sold on 50% of the available grocery store shelves. For instance, the "statutory appellations of origin" regime in the definition of "quality assurance wines" is interpreted to encompass the overall appellation system in a given country, thereby grouping all recognized growing areas in a country together.
Grocers and wine suppliers alike can enroll at LCBO's portal for the grocery program, where the wine catalogue and access to the grocery operations team are available. Documents and presentations directed to suppliers are also available and regularly updated. According to the Report to the Minister of Finance, wine sales through grocery stores.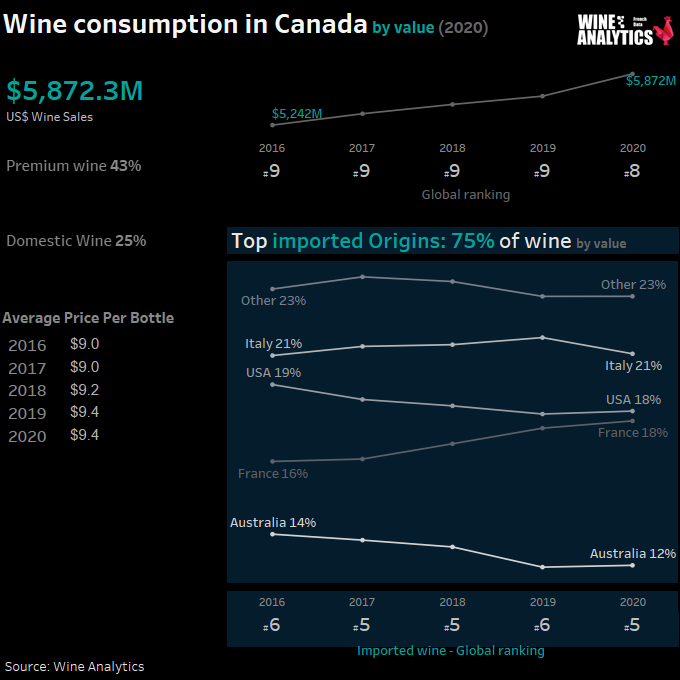 Wine Shops: the International blend from imported and domestic wines
Ontario Regulation 232 also allows for the creation of wine shops. Essentially, these are off-site WRS allowed to move inside a grocery store and use the grocery's cash registers for processing wine sales. In addition to the conditions that apply to unrestricted grocery store wine and beer authorizations, the following conditions apply to the sale of wine in wine boutiques:
wines must be produced exclusively in Ontario
at least 50% of the containers of wine on display are VQA
and, at least 25% are wines manufactured by other Ontario wineries.
ICBs, allowed for sale in wine boutiques, represent the only avenue for imported wines (i.e., imported in bulk and blended with Ontario wines) to be sold in wine boutiques. To date, a total of 70 wine boutiques have been authorized.
Reducing Environmental Impact
The LCBO launched a lightweight 750ml glass bottle policy in 2010 to reduce environmental impact and to improve employee welfare. The policy has since been expanded to include 1L and 1.5L bottles as well as to introduce a phased approach to gradually increase the sales price threshold for compliance, currently set at $17 CAD. All products priced less than $18 CAD must comply by October 2021, and the threshold will rise to $19 CAD in April 2022. Non-compliant products are assessed a penalty of $1.00 CAD per bottle.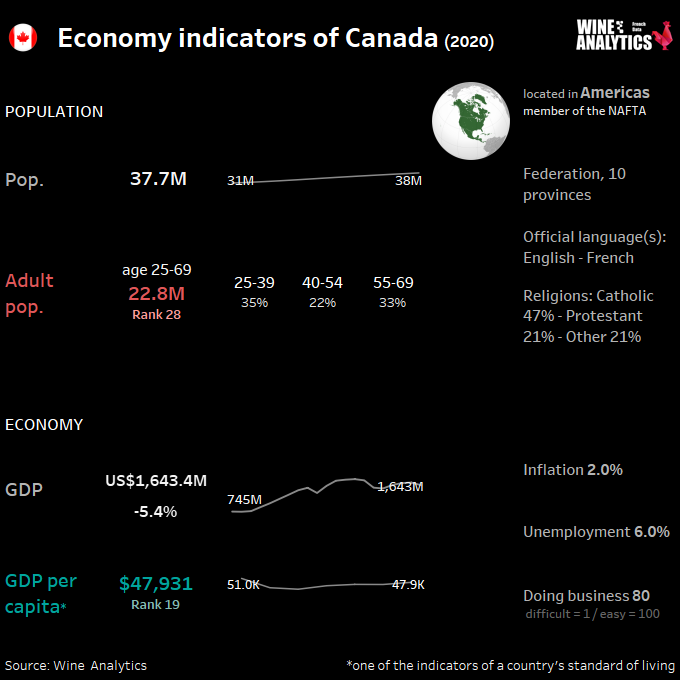 According to the LCBO, as of October 2020, over 90% of 75cl format products listed by the LCBO met the lightweight glass requirements.

Canada Ontario, a New World Wine Province
Our evaluation method
The data shows key metrics, and these are combined to show a ranking calculated using a composite weighted attractiveness combining overall economic factors and wine market factors.
WINE CONSUMPTION IN VOLUME
89
WINE CONSUMPTION IN VALUE
92
IMPORTED WINE IN VOLUME
92
82
Wine Market Attractiveness