Due to the severe winters and short growing season, Finland relies heavily on imports. Finland is the fifth largest country within the EU; it is also the country with the lowest population density. Finland's population is over 5.5 million and the vast majority lives in urban areas of which 1.5 million in the Greater Helsinki area. Finnish and Swedish are the official languages.
RATE THE FINNISH WINE MARKET ATTRACTIVENESS
Finland has a host of long-term challenges from an aging population and a rising welfare burden, to high unemployment and a labor market transitioning from an aging industrial base (most notably forestry and paper products) to a high tech, knowledge-driven economy. Finland joined the European Union in 1995 and it is the only Nordic country that is part of the Eurozone.
Whether in terms of quality of life education or macroeconomic stability, it occupies the first places in many international international rankings. The country's geographical position puts it at the crossroads of the Scandinavian between the Scandinavian, Russian and Baltic markets.
READ ALSO

 Sweden, Cultural Shift and Alternative Wines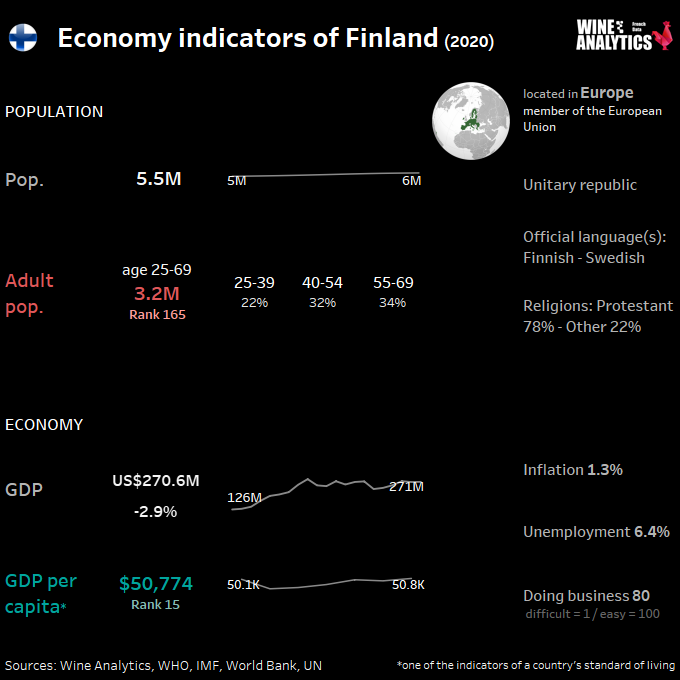 Especially in the urban areas, the Fins are rather affluent, well-educated and open-minded.
The number of small households (1 or 2 persons) continues to grow, especially in the urban areas. Given its geographical location, Finland has a short growing season and heavily depends on imports for products.
Supermarkets sell only beer less than 4.7%
The Fins shop about three times a week. On the weekend they buy most of their groceries while buying perishable and fresh items during the week. Growing demand for products that contribute to a healthier lifestyle. The market for organic food products is growing.
The food retail industry is dominated by two large retail chains, the S group and the K group:
The largest chain, the S group (SOK Corporation) is a Finnish owned cooperative founded in 1904 with its head office in Helsinki. The S group operates with various retail chains, including S-market, Prisma and Alepa.
The K group (Kesko Food) is the second largest food retailer in Finland. It is a public listed company and was founded in 1940 after four regional wholesalers merged. The K group operates with various retail chains, including K-supermarket, K-citymarket and K-market.
Some of the smaller food retailers include Tokmanni, Minimani, M-ketju, R-kiosk and Stockmann. The latter is a department store with a high-end supermarket; there are six Stockmann supermarkets in Finland. Germany based discounter Lidl opened its first store in Finland 15 years ago.
| | |
| --- | --- |
| Retailer chains | Brands |
| S group | S-market (supermarket), Prisma (hypermarket), Alepa (convenience store) |
| K group | K-supermarket (supermarket), K-citymarket (hypermarket), K-market (convenience store) |
| Lidl | Lidl (discount supermarket) |
| Tokmanni | Tokmanni (non-food supermarket) |
| Minimani | Minimani (non-food hypermarket) |
| Stockmann | Stockmann (high-end supermarket) |
Source: the Finnish Grocery Trade Association (PTY)
In most Finnish cities there is a close density of supermarkets. There are a few shops generally within walking distance anywhere in the city. There are roughly three thousand supermarkets in Finland although this number is slowly declining due to the dropping number of small and large supermarkets.
In addition to well-known A-brands, most Finnish supermarkets have their own private labels often a low budget brand and a high end brand.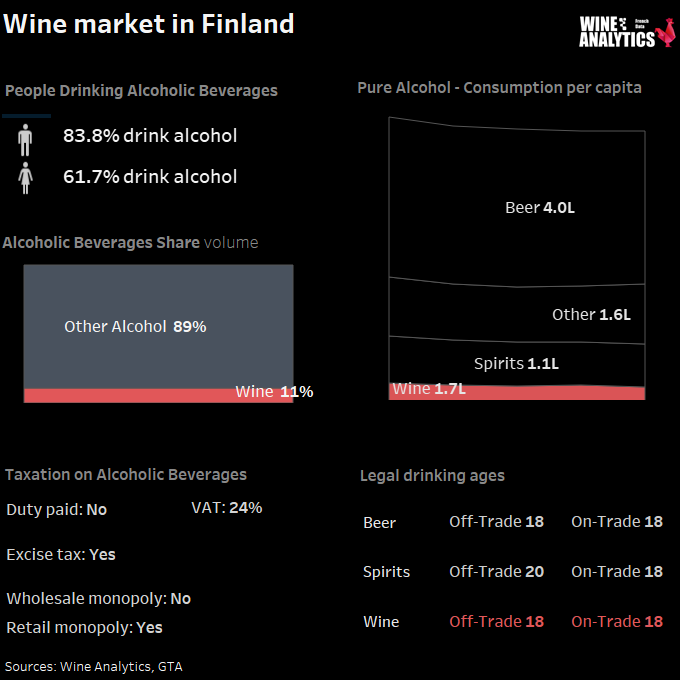 In addition to food retail companies, there are several wholesalers, mainly distributing food and beverages to the Finnish HRI industry. Every day, one in two Finns has a meal or a coffee in a HRI outlet. Hotels, cafes, restaurants and public institution are the largest group of foodservice companies. Exact turnover figures of the HRI industry are not available.
Albeit a small market, Finland is an interesting market for high-value products and offers export potential in particular for wine, craft beer, whiskeys, gin. Alcoholic beverages are expensive due to Alko's pricing system, the alcoholic beverage tax and the VAT.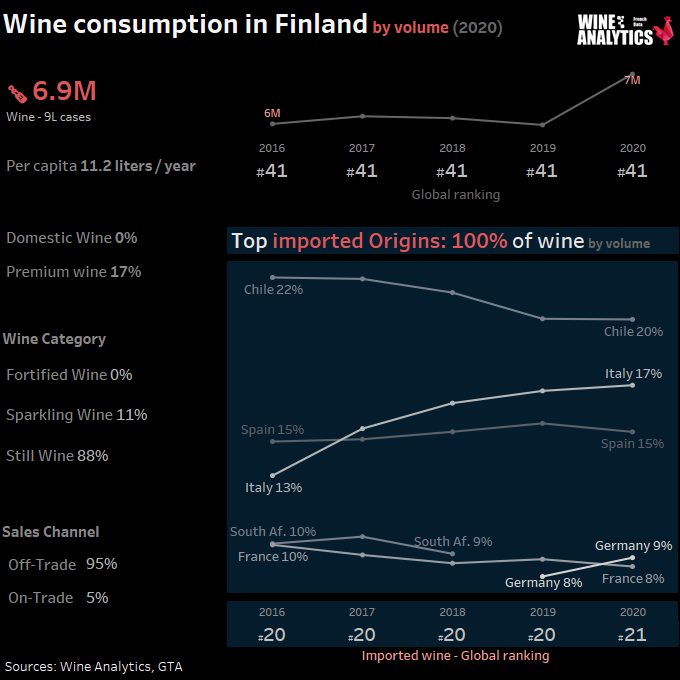 In Finland, supermarkets sell only beer with an alcoholic percentage of less than 4.7%. Alko sell the vast majority of alcoholic beverages. Industry sources expect that about 10% of alcoholic beverages are consumed at bars, clubs, restaurants and hotels. The HRI industry buys alcoholic beverages via specialized importers, often member of SAJK. Some larger hotel and restaurant chains buy alcoholic drinks directly from suppliers.
Monopoly Alko sell Alcoholic beverages
Except for Denmark, the sales of alcoholic drinks in all Nordic countries are government regulated. Consumers can buy their beer, wine and spirits at the non-profit Monopoly Alko, which was established in 1932. The purpose of Finland's alcohol policy is to reduce the harmful effects of drinking too much alcohol.
Alko sells annually almost 100 million liters of alcohol. Over half of that quantity is wine, while spirits and beer represent respectively 25% and 15%. Alko recently started an online store which offers over 6,400 products. Only the monopoly is entitled to sell online. The products that sell well online can be added to the assortment in the stores.
There are 354 Alko stores, of which most can be found in the cities. Another 60 pick-up points are mainly located in less population and remote areas in Finland. There are three types of stores:
The smallest one is called convenience store and offers around 1,500 products, mainly beer and liquor.
Another type of stores is called a special store which is bigger than the convenience store. Special stores offer a broader assortment of beer, liquor and even some wines.
The third and largest type of store is the high-end store which offers in addition a wide assortment of quality wines. High-end stores typically offer 3,000 products and are frequently found in cities.
Alko's assortment tree can be split up in wine, beer and distilled spirits. There are 19 subcategories and they are again divided in 222 segments based on price, special certification, grapes, packaging, styles, alcohol percentage, etc. Alko will use these segments when putting out tenders for suppliers plan every six months. Both producers (including foreign producers) and Finnish importers can present their products to Alko.
Alcoholic drinks are very expensive in Finland and the Finns are turning to lower drinks with a lower alcohol percentage. The Fins love Finnish beer. Competition comes from Germany and the UK. On Alko's website there is a price calculator which automatically calculates a retail price when uploading the purchase price.
 ALSO READ

 Norway, The Exclusive Rights to Sell Wine
Cross border trade by 5% of travelers
Almost half of the volume of alcoholic beverages was brought in by only 5% of the cross border travelers according to the Association of Finnish Alcoholic Beverage Suppliers (SAJK). Prices of alcoholic drinks for instance are cheap in Estonia compared to Finland and the travel time between Helsinki and Tallinn is two hours by ferry.
Need to reassure about the wine origins
Finland does not produce wine and therefore fully depends on imports. Wines from New World countries and Old World countries are equally popular. Wines from Chile are in particular popular followed closely by Spain and Italy, together representing more than half of total wine imports. Other supplying countries include South Africa, France, Australia and Germany. The many French appellations are difficult to grasp for the average Finnish consumer and the price level is higher than that of Spanish and Italian or New World wines.
Alko's wines are all arranged by country of origin. Red wines are more popular than white wines in Finland. There are ample opportunities for organic wines. For sparkling wines, France was ranked third in volume in 2020 behind Spain and Italy. The more expensive wines are purchased mostly for parties and other special events.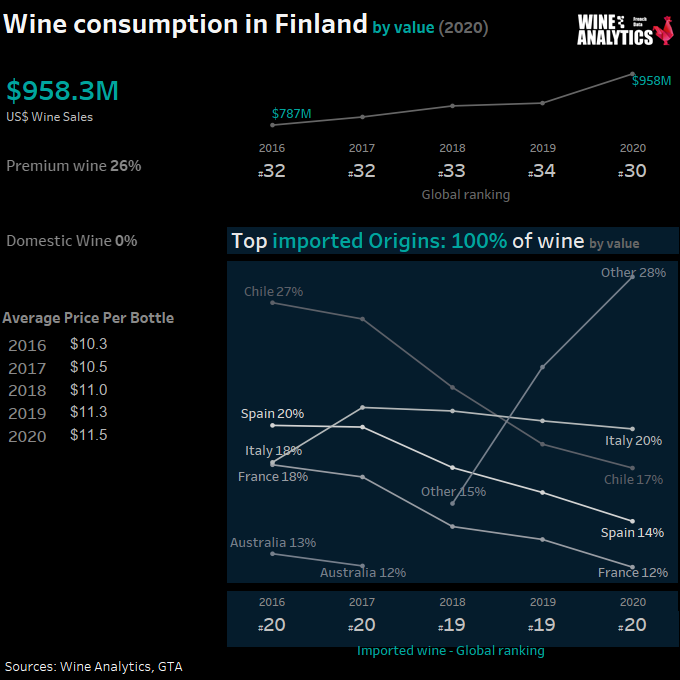 Finnish consumers and professionals are showing a growing interest in European wines with an organic label, strong terroir and regional grape varieties. Following the Covid 19 crisis, Finnish consumers need to be reassured about the origins, the eco-responsible production methods and the environmentally friendly carbon footprint. The Alko monopoly has developed a carbon neutral products label.
Finland has never abandoned its mandatory recycling system "Palpa". A barcode on each bottle allows the bottle to be returned to to return it to the machines in exchange for a few cents. Depending on their volumes, importers can decide to be part of this can decide to be part of this system for a fee.
Monopoly's calls for tender
Most business people in Finland speak English and have a high level of education (Masters or Bachelor's degree). They are punctual, straightforward, well-traveled and informal. The Finnish like to be well informed about the offered product, price and their business partner while valuing long-term partnerships.
Some importers are more particularly specialized in selling to the monopoly or to the Horeca/Duty Free sector. The right choice of importer will be the key to success in Finland, although it is always possible to respond directly to the monopoly's calls for tender. It is advisable to come and meet the contact person at least once to ensure a business relationship.
The promotion of alcoholic beverages is forbidden.

Finland, a label for carbon neutral wines
Our evaluation method
The data shows key metrics, and these are combined to show a ranking calculated using a composite weighted attractiveness combining overall economic factors and wine market factors.
WINE CONSUMPTION IN VOLUME
59
WINE CONSUMPTION IN VALUE
79
IMPORTED WINE IN VOLUME
70
69
Wine Market Attractiveness