Mexico represents the seventh largest market for California wine. Although per capita consumption in Mexico is less than one liter of wine per year, a noticeable increase of 8% appeared in 2017, with the trend expected to continue. This increase is related to the growing availability of wine options from different origins and affordable prices, creating curiosity among consumers. The largest segment of wine consumers in Mexico are between the ages of 25-35 from the middle and high-income population.
RATE THE MEXICAN WINE MARKET ATTRACTIVENESS
Mexico is the world's 16th largest economy and Latin America's second largest. In 2020, Mexico experienced its worst economic downturn since 1932, mainly due to the COVID-19 pandemic. Mexico's more educated population, urbanization, credit availability, and smaller family sizes have changed consumption patterns. Demographically, Mexico is experienced a population growth of 1.3% in 2016, adding to the current population of almost 130 million; 65% of the population is under the age of 35 and 78% of the population resides in urban areas. Violence and crimes associated with illicit drugs have a negative economic impact.
The country has a vast domestic market of nearly 130 million inhabitants (11th in the world) of which 55 million are consumers with "European" purchasing power. The country's geographical position allows it to have a privileged economic and commercial relationship with the United States.Urban women in particular are shifting to healthier lifestyles for themselves and their children and are thus shifting their consumption patterns to a more U.S./European style.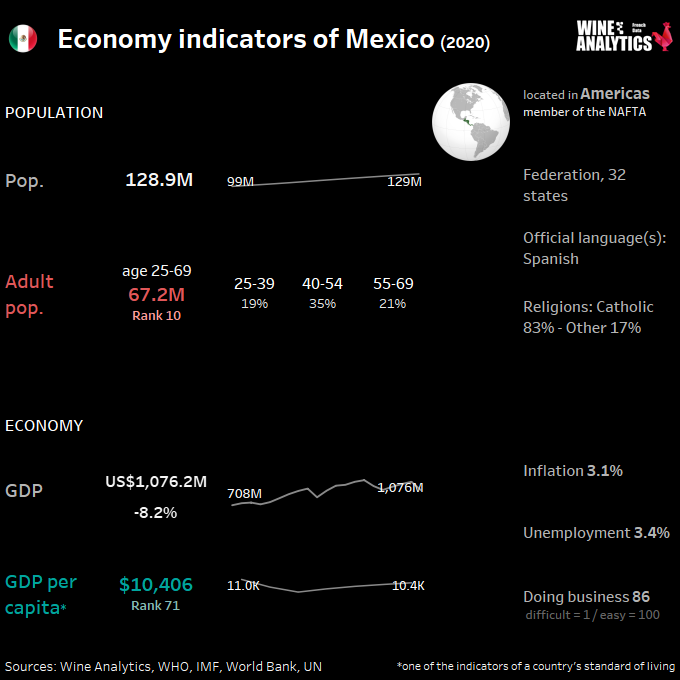 Mexico, a price-sensitive market
The retail channel
Mexico's National Association of Retails and Department Stores (ANTAD) reports that in 2020, the Mexican retail sector included 3,435 supermarkets, 2,484 department stores, and 62,345 specialized stores with a majority of sales generated at traditional markets including small mom-and-pop stores and public markets.
The on-trade channel
Mexico's hotel, restaurant, and institutional (HRI) industries were negatively affected by the pandemic, with numerous hotel closures and over 120,000 restaurants closures.
Mexico ranked seventh-most visited country in 2020, despite COVID, as the country did not restrict international arrivals by travel by plane. Nonetheless, the HRI industries suffered due to the pandemic. Because tourism accounts for 8% of Mexico's GDP, the dip in HRI negatively affected the macroeconomy. During 2020 the number of international visitors was 13 million with an average expenditure of $1,033.
Digitalization continues to be a sectoral driver, as more and more restaurants continue to establish delivery apps or digital platforms to reach consumers.
Currently, Mexico's total hotel room inventory is about 400,000 rooms. The Cancun/Mayan Riviera area is Mexico's primary tourism area, followed by Mexico City, and Puerto Vallarta.
| | | |
| --- | --- | --- |
| Rank | Players | |
| 1 | OYO Rooms | 406 hotels |
| 2 | Grupo Posadas | 179 hotels |
| 3 | City Express | 143 hotels |
| 4 | IHG Group | 143 hotels |
| 5 | Marriott International | 111 hotels |
| 6 | Hilton Worldwide | 69 hotels |
| 7 | Wyndham Hotels and Resorts | 59 hotels |
| 8 | Best Western | 51 hotels |
| 9 | Hoteles Mision | 38 hotels |
| 10 | Grupo Real Turismo | 37 hotels |
Source: Statisca
Products perceived as healthful are increasingly features on menus, due in part to more awareness about personal nutrition because of the pandemic. More Mexican consumers have become increasingly health conscious, as many COVID-related deaths in Mexico have been due to underlying health issues including obesity. Many foodservice trends in Mexico correspond with global trends.
Food delivery apps played an important role during the pandemic and added many restaurants to their platforms. Mexico has three main delivery apps, including Rappi (Columbia), Uber Easts (USA), and Didi Foods (China).
Mexico remains a price-sensitive market, although some consumers are willing to pay for premium high-quality products. The Mexican market is divided in two big segments:
High and upper-middle socioeconomic levels look for quality and functional products (normally imported);
Middle and lower-middle socioeconomic levels typically make purchases based on price According to the World Bank, 53% of Mexico's population lives on less than $100 a month.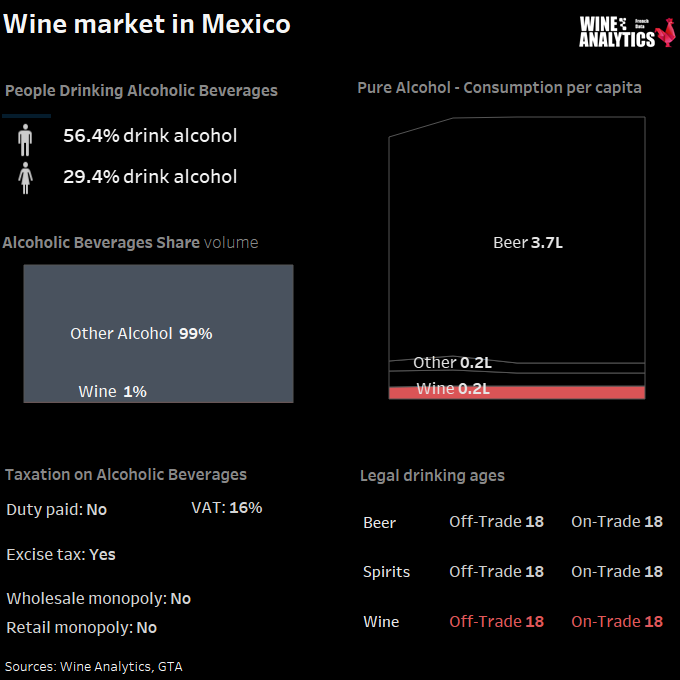 Tequila and beer: Mexico is a country with lots of local options
Beer is the favorite alcoholic beverage of Mexicans, representing 94% of the volume of alcoholic beverage sales and 68% of the value. Beyond being a great consumer, Mexico is above all a great producer, 4th in the world, 124.5M hectoliters in 2019 and the largest exporter of beer in the world.
Producer of tequila and mezcal, Mexico is not left behind in the spirits market. This sector represents 3% of alcoholic beverage sales in volume 283M liters in 2018 and 25% in value.
It is very important for producers, manufacturers, packers, and importers of alcoholic beverages to Mexico to consider all the requirements and processes so that the product reaches the final consumer without setbacks.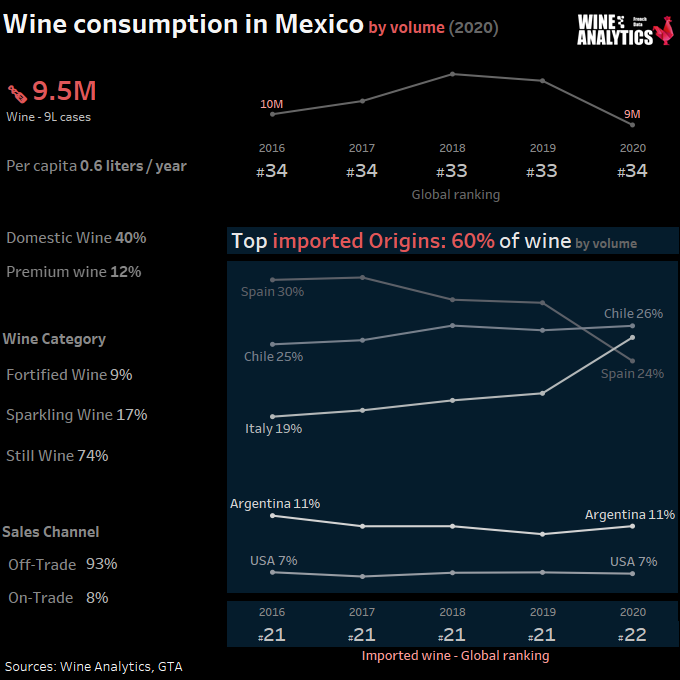 Mexico is a country with lots of local options for alcoholic beverages but Mexicans are increasingly consuming more wine and are open to incorporating beverages from diverse origins. Mexico is also a wine producer and consumer. Nevertheless, with an annual consumption of barely 1 liter per capita, it is still a young country in this market which represents only 1.3% of alcoholic beverage sales in volume 130M liters in 2019 and 6% in value. The wine market is a market of the future, it is the one that has recorded the strongest growth in recent years.
As the offer of wine increases rapidly, the market tends to become saturated
The culture of wine has evolved a lot in recent years in Mexico. For a long time perceived as a luxurious and elitist product, reserved for a wealthy, middle-aged and male public, wine is tending to be democratized, especially with the arrival of New World wines, which are more affordable. The enlargement and diversification of the offer has allowed to reach a wider public. Today, wine appeals more and more to young people and women. These new customers prefer value for money and opt for more economical wines in line with their means.
In volume, most sales of alcoholic beverages are made off-trade (68% for wine), however, in value, the sale of alcohol is largely superior through on-trade channels (64% for wine).
Outside of the major cities, growth potential lies in the country's coastal and tourist areas (huge consumer basins frequented by a North American and European clientele with high purchasing power and knowledge of French wines) and in the interior of the country (although the standard of living is lower there than in the major cities).
| | |
| --- | --- |
| Category | sales |
| Red wine | 68% |
| White wine | 14% |
| Sparkling wine | 14% |
| Rosé wine | 3% |
| Champagne | 1% |
Wine category market share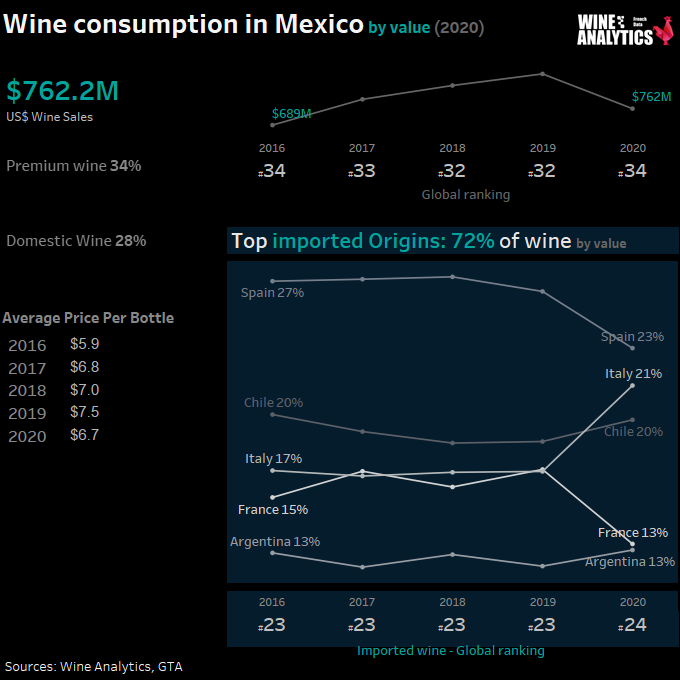 70% of the wines marketed in Mexico are imported, and Spain is undoubtedly the leader (30% of imported wines in value). Spanish wine names, wine regions and grape varieties are known and appreciated by Mexicans. They are gaining market share thanks to very aggressive promotional campaigns.
Next come French, Italian and Chilean wines (each 20% in value depending on the year). The latter have conquered the market thanks to their easy-to-drink and very affordable wines. The French performance is largely driven by bubbly wines. Champagne is the wine that has recorded the strongest growth over the last 5 years in Mexico 73% in volume and 145% in value and the outlook for 2018-2023 is 52% and 70%.
Champagne is becoming trendy among Mexico's golden youth and is increasingly consumed in nightclubs and during dinners with family and friends. It is also increasingly used in the creation of cocktails. The champagne market is largely dominated by the LVMH group, which holds a little over 90% of the volume of sales, which are divided between the 3 brands Möet Chandon, Veuve Clicquot and Dom Pérignon.
Although Mexican wines represent only 30% of sales, the weather conditions and soil quality are conducive to large-scale wine production. By encouraging local production, the government hopes to reach 45% within 10 years. Mexican labels are becoming fashionable, and producers are positioning their brand by developing high quality products. The Mexican wine industry hopes to triple annual consumption to 3 liters per person within 10 years.
The largest national producers concentrate 15% of total sales.
Largest Mexican wine producers
In two regions of the country, Baja California and Querétaro, the development of the wine sector has favored the development of wine tourism. The Mexican consumer is becoming increasingly educated and knowledgeable.
Personal relationships are essential
Exporters should consider regional purchasing patterns. Mexico is a large and diverse country and while some products might work well in some regions, they may not work as well in others. In the interior of the country, the distribution network is less well developed and the support of a good local distributor will be necessary. It should also be noted that large supermarket chains and grocery stores specializing in gourmet products are increasingly buying directly.
It is important to work with experienced and professional importers or distributors. Distributors and importers will help with issues related to regulations, procedures, labeling, and customs clearance (special tax – IEPS – for alcoholic beverages ranges from 26.5% to 53%, depending on the alcohol volume.). Big hotel and restaurant chains have their own purchasing and import departments.
A person or company that wishes to import merchandise to Mexico needs to register before the Tax Authority (SAT in Spanish). First you need to be part of the Federal Tax Registry or RFC (Registro Federal de Contribuyentes), and in the case of alcoholic beverages, registration at the Registry of Taxpayers of Alcoholic Beverages (Padrón de Contribuyentes de Bebidas Alcohólicas en el RFC) is required. These processes are free and can be done through SAT's website. Importers should also be registered at the Official Register of Importers (Padrón de Importadores), an official registry of businesses authorized to import products into Mexico, and the Registry of Importers of Specific Sectors, a list of businesses authorized to import specific products such as wine, spirits, beer, cigarettes.
Personal relationships are essential to Mexican business relationships. Mexicans attach great importance to courtesy in all business endeavors. A warm handshake combined with conversation about the person's well being, family, or other similar topics prior to launching into any conversation related to business is considered a common courtesy. The concept that "time is money" should be left at the border and, though Mexican businesses are also conscious of the bottom line, courtesy and diplomacy are more important values to most Mexicans than getting immediately "down to business".
The differences between wine regions, appellations, châteaux and estates are complex and unknown to Mexicans, as well as the French language is difficult to pronounce. The solution is to use Spanish labels, which are more readable, modern and attractive. The grape variety is also an important factor to emphasize.
Imported alcoholic beverages must be labeled in Spanish, on a back label of the same size as the original label, with the name and trademark, net content, company name and address of the importer, country of origin, best before date, alcohol content, list of ingredients, warning statements and symbols.
Mexico – a future market for wine?
Our evaluation method
The data shows key metrics, and these are combined to show a ranking calculated using a composite weighted attractiveness combining overall economic factors and wine market factors.
WINE CONSUMPTON IN VOLUME
66
WINE CONSUMPTON IN VALUE
66
IMPORTED WINE IN VOLUME
78
71
Wine Market Attractiveness