The Netherlands is a small country geographically, but is the perfect gateway into the EU due to the presence of the Port of Rotterdam, Amsterdam Schiphol Airport, the confluence of two European rivers and an excellent road and railway infrastructure. The Dutch are known for their expertise in transportation and logistics. The Dutch market was a price market. It is difficult to access with accumulated stocks, Netherlands is nonetheless promising for wines, which can capitalize on the rise in average prices.
RATE THE DUTCH WINE MARKET ATTRACTIVENESS 
Strengths of the Dutch economy include the Netherlands's stable political and macroeconomic climate, a highly developed financial sector, strategic location, a well-educated and productive labor force, and high-quality physical and communications infrastructure.
Read also

 Italy, the online sale of wine has exploded
The 2 largest retailers represent 50% of the market
Most of the food retail stores are supermarkets. The top two food retailer formulas in the Netherlands, Albert Heijn and Jumbo, have a market share of almost 54%. The market share held by German discounters Aldi and Lidl combined has further increased to almost 18% this past year.
Top 10 Food Retailers in the Netherlands, Market Share (2018):
In addition there are some department stores (Bijenkorf, HEMA and Hudson's Bay) and convenience stores (AH To Go, CoopCompact, Spar City Store and Attent). The Dutch will continue to buy more private label brands and groceries online. The market share of private label is high in retail markets; these markets are highly consolidated and innovative. Several retailers in the Netherlands market have developed two private labels; one focusing on price and the other on enhancing quality.
Consumers are becoming more aware of and are more concerned about the effects foods may have on their health and well-being. Consumers are increasingly looking for sustainable products, products that are healthy, and convenience products.
The vast majority of supermarkets and superstores buy foreign (specialty) products via specialized importers.
The On-Trade channel is fragmented
Consumers are increasingly stressed and seem to be rushed. They are struggling to do many things on a regular weekday such as taking care of the children, doing their job, going to the gym, engaging socially and of course eating. Consumers are faced with a dilemma: less time
for buying food and preparing meals versus a growing awareness of health and nutrition. As a result, the demand for convenient and healthy food products (albeit at an affordable price) is growing more than ever before. People are increasingly eating alone and/or dining out.
Unlike the retail sector, the Dutch foodservice industry is fragmented and has many independent players. This is especially the case for cafés/bars, restaurants, cafeterias and street stalls/kiosks.
The Dutch are price-conscious consumers
The Dutch market is a mature market where niche or innovative products can make a place for themselves. It is also a market where price is of great importance in the purchase decision. Beware of clichés, especially in this period of health crisis reshuffling the cards. The general idea remains that the Netherlands is a price market.
A real movement is developing in the Netherlands to reduce alcohol consumption. This is known as the "No Low" trend (No alcohol or Low alcohol) Aware of the harmful effects that alcohol can have on their health, the Dutch prefer to consume less alcoholic beverages, or to drink less in quantity but of better quality.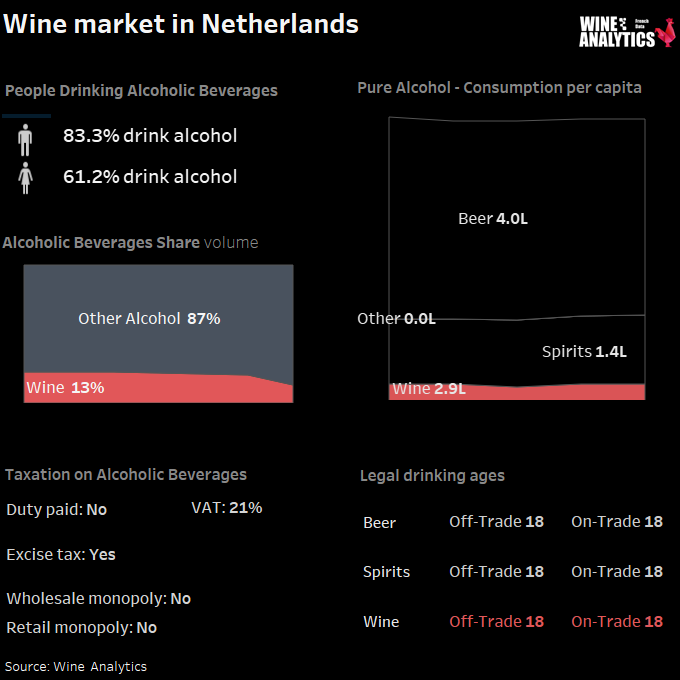 A major beer producer
The Netherlands is in the list of European countries with a relatively moderate alcohol consumption. Their consumption is mainly focused on beer, being themselves a producer country, and on wine. The country is a major beer producer. 85% of the beer consumed in the Netherlands is produced locally.
As far as spirits are concerned, the Dutch produce their local spirits Genever and Advocaat, but also import other strong spirits used as a base for cocktails. The alcoholic beverages market is strongly dominated by the major brands Heineken (beers and ciders), Pernod Ricard (wines), Bacardi Martini (spirits). France is particularly well known for its wines and certain types of spirits (Cognac, Armagnac, etc.).
French wine is leader but decreases
France is the leading supplier of wine to the Netherlands, but is losing market share every year. French products, although appreciated, are often considered too expensive. It is therefore important to offer the right price for this market or to be able to justify the price differential by the intrinsic qualities of the product, as the Dutch are willing to pay a little more for products of superior quality.
Faced with a mature wine market, consumer behavior suggests opportunities for little-known French appellations. Curious, the Dutch want to discover new products and new grape varieties. They are also increasingly attracted to more premium wines because of their taste qualities. A little tired of "new world" wines, Dutch consumers seem to be turning back to "old world" products.
We have analyzed red wines listed in restaurants:
1. Bordeaux
2. Burgundy
3. Navarra
4. Loire
5. Rhône

6. Central Valley
7. Piedmont
8. Veneto
9. Cuyo
10. South Australia

11. Castile & Leon
12. California
13. Languedoc
14. Provence
15. Italy IGT
In supermarkets, the purchase price would increase from 3.5 to 4.5 or 5€. In wine shops, the average ticket would increase from 7.5 to 8.5 or 9€. For e-commerce, the increase would be 11 to 12€. Accelerated by the Covid pandemic and confinements, this trend is a reality before the crisis. Mass distribution is the preferred channel for the sale of alcoholic beverages, except for spirits, which are spirits, which are sold in wine shops due to local legislation.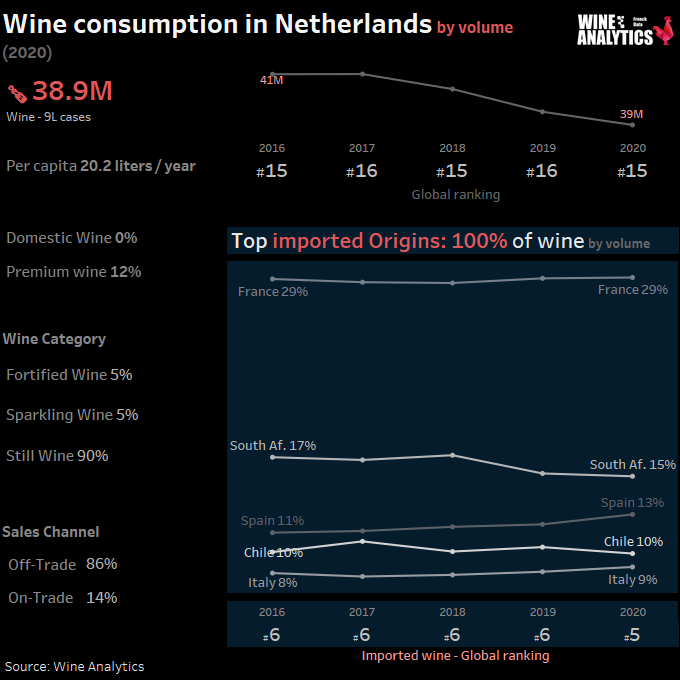 If the Dutch market is evolving in value, the French wines are the most imported origin, with there PGI designation wines (Pays d'Oc and South-West, Vin de France). Lainé also observes a strong development of certain appellations (Provence for rosé, Loire with Chenin…) and of lifestyle-oriented labels, such as organic wines (10% of the market).
The Netherlands is a mature market, even saturated, says Michèle Lainé, Business France export manager for wines and spirits, who emphasizes the strong international competition, coming from the wines of the new world (Chile and South Africa), but also from European vineyards (especially Germany).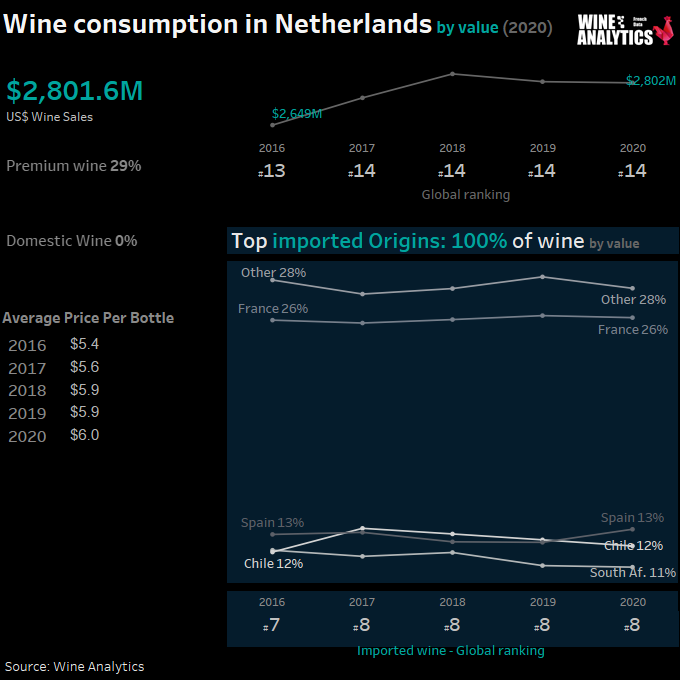 The Dutch, concerned about the impact of their consumption on the environment, are increasingly interested in natural, organic or biodynamic wines. Although this segment is not yet well developed, the number of references is growing.
A lot of Stock in Warehouses
Even if wine re-exports explain these significant increases in imports (to Belgium, Norway and Great Britain), 2020 is a very good year for the grocery and wine retailers. The e-commerce market share increased from 10% to 35% of the total wine sales. Since October 14, 2020 restaurants remain closed in the Netherlands, wine stocks remain high for the On-Trade channel suppliers.
Today, it is not easy to enter the Dutch market. There is a lot of stock. It is complicated to find an importer who is looking for wines, especially from France. The country is small, they usually have in their portfolio one wine per region.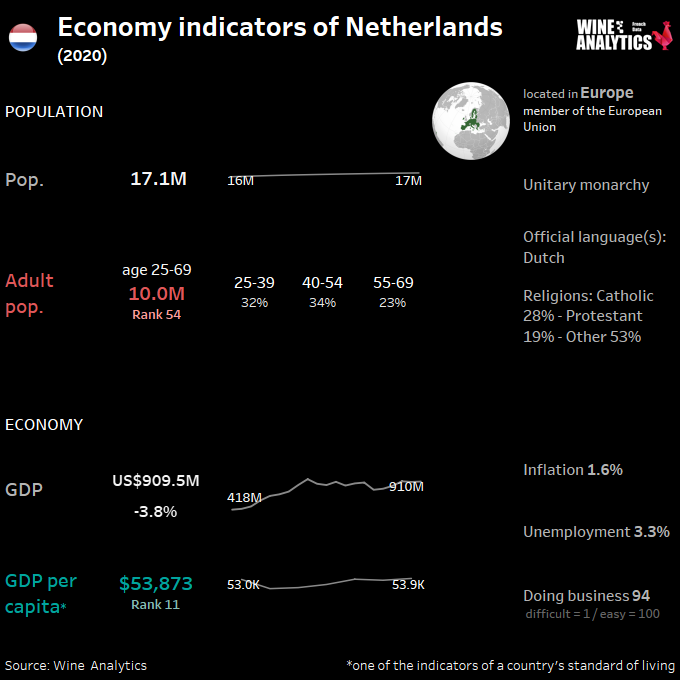 The majority of the actors have recourse to importers, rare are those which import alcoholic beverages directly. The great distribution or the large chains of wine merchants can do it for certain products of their assortment.
Dutch Traders are Key in Distributing Throughout the EU
Success in introducing your product in the Dutch market will depend mainly on your knowledge of the market and your ability to build relationships with knowledgeable and established importers. An importer knows the market, the trade barriers and the required documentation.
Local traders prefer to work with professional suppliers that deliver products with a consistent quality. Most people speak and write in English and have a high level of education (Masters or Bachelor degree). They are straightforward, open-minded, and like traveling internationally. The Dutch are business-minded and like to be well informed about the company they are about to do business with, the product in question, price, and future business opportunities. Doing business does not require 'wining & dining.'
Importers negotiate hard, it is in their genes to be traders.

Michèle Lainé, export manager for wines and spirits
The Dutch preferably want to get the job done during regular business hours since a healthy 'work-life' balance is important to them.

Netherlands, No Longer Based on Price
Our evaluation method
The data shows key metrics, and these are combined to show a ranking calculated using a composite weighted attractiveness combining overall economic factors and wine market factors.
WINE CONSUMPTION IN VOLUME
85
WINE CONSUMPTION IN VALUE
86
IMPORTED WINE IN VOLUME
95
87
Wine Market Attractiveness