Formerly a Chinese territory under Portuguese administration, Macau became a Special Administrative Region (SAR) of the People's Republic of China on December 20, 1999. Macau's economy is highly dependent on its tourism and gaming industries.
RATE THE MACAU WINE MARKET ATTRACTIVENESS
Food and Beverage Retail Sales
In 2019, retail sales in Macau reached US $9.56 billion, among them US $613 million, or 6.3%, were goods in supermarkets. That represented a 7.3% growth compared with 2018. They are the modern grocery outlets that provide consumers with convenient and high-quality options.
In addition to groceries, these stores are offering a more comprehensive shopping experience with increased items of fresh food, bread and pastry, organic options, and hot takeout meals.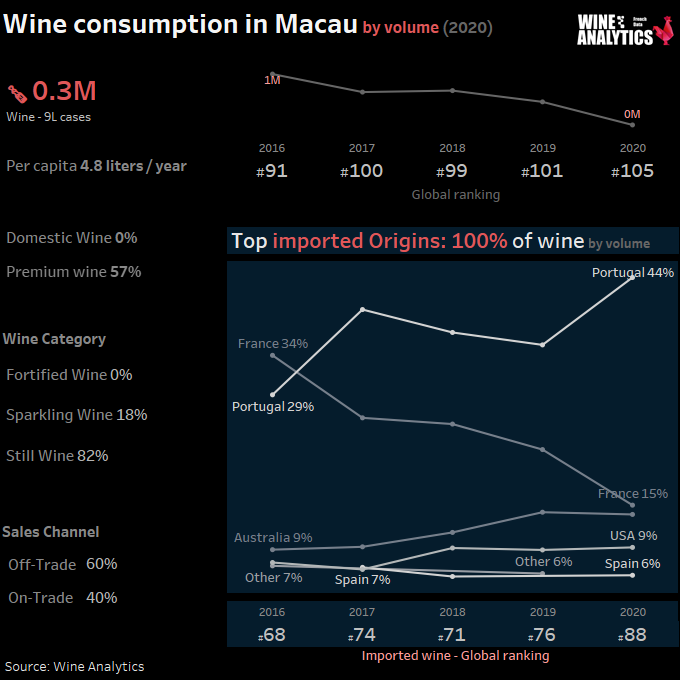 World-wide travel restrictions due to the coronavirus outbreak are slowing Macau's economic growth and food demand. For the first quarter of 2020, Macau's gaming revenue dropped by 60% year-on-year. For the first two months of 2020, Macau's imports of consumer-oriented agricultural products reached $188.45 million, representing growth of 4% year-on-year.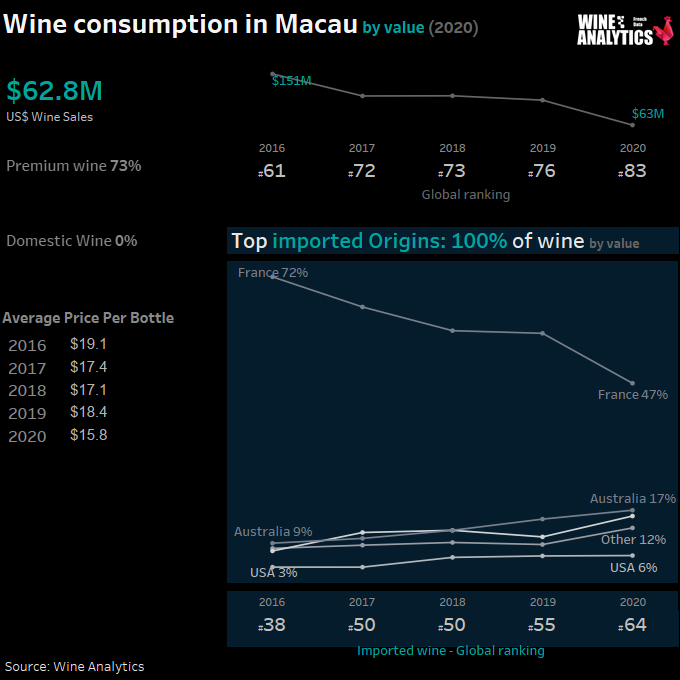 We have analyzed red wines listed in liquor stores:
1. Australia – no GI region: MOP 200
2. South Australia: MOP 373
3. Bordeaux: MOP 880
4. Burgundy: MOP 588
5. Chile – no GI region: MOP 185

6. Central Valley: MOP 132
7. Rhône: MOP 360
8. Alentejo: MOP 245
9. Vinho Regional: MOP 213
10. Languedoc: MOP 213

11. Piedmont: MOP 610
12. Tuscany: MOP 332
13. Beiras: MOP 158
14. Western Australia: MOP 190
15. Victoria: MOP 269
Leading Origins
Major countries of origin (by volume, 2019) includes Portugal (37%), France (23%), Australia (15%), the United States (9%), and Spain (5%).
Major countries of origin (by value, 2019) includes France (64%), Australia (11%), Portugal (11%), the United States (6%), and Chile (3%).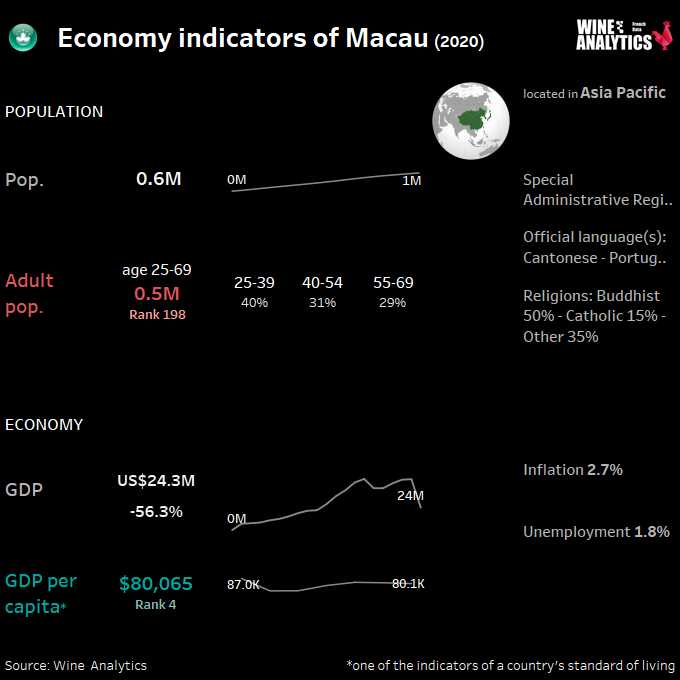 Due to land constraints, Macau produces a minimal amount of its food requirements, depending on global sources to meet most of its needs. The vast majority of Macau's imports were transshipped via Hong Kong as Macau lacks a deep-water port. Exporters rarely sell directly to Macau food retailers.

Macau, Wine Imports transshipped via Hong Kong
Our evaluation method
The data shows key metrics, and these are combined to show a ranking calculated using a composite weighted attractiveness combining overall economic factors and wine market factors.
WINE CONSUMPTION IN VOLUME
0
WINE CONSUMPTION IN VALUE
17
IMPORTED WINE IN VOLUME
12
26
Wine Market Attractiveness