Norway's wine monopoly (known as Vinmonopolet) has exclusive rights to sell beer, wine, and spirits to the Norwegian consumer. 74% of Norwegians are in favor of a wine monopoly.
RATE THE NORWEGIAN WINE MARKET ATTRACTIVENESS

Vinmonopolet is a wholly-owned state corporation subject to the oversight of the Norwegian Ministry of Health and Social Affairs.
Vinmonopolet Stores
Vinmonopolet is a wholly-owned state corporation subject to the oversight of the Norwegian Ministry of Health and Social Affairs.
Vinmonopolet has 335 stores across the country, and estimates its market share at roughly 90% in 2020. There is no direct trade between Vinmonopolet and producers of wine, beer, and spirits in Norway. All of its 27,000 products are purchased from (and sourced by) approved Norwegian importers.
Vinmonopolet's stores are divided into 6 categories based on their anticipated sales volume.
Vinmonopolet's stores are divided into six categories based on their anticipated sales volume. Annual sales range from one million liters in its largest stores to less than 35,000 liters in its smaller stores. The number of products sold in a shop also vary – from nearly 200 in a small (category 1) store up to over 1,700 different products in a large (category 6) store.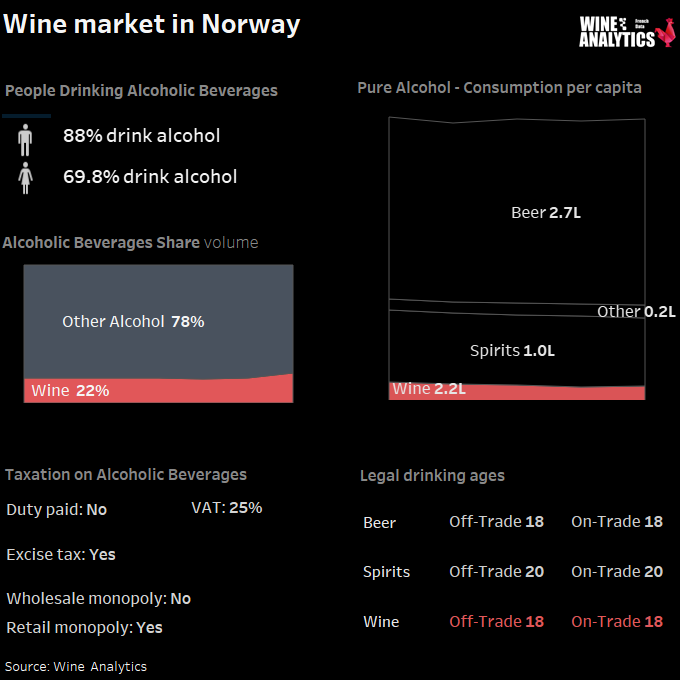 The Norwegian beer, wine and spirits market is dependent on imports as domestic production is limited (only 20% of shelving is dedicated to Norwegian beer and spirits). The largest wine supplying countries to Norway are Italy and France who, together, account for roughly half of Norway's wine imports.
As for spirits, there are strong sales developments for gin and rum in particular with +71% and +61% between 2019 and 2020.
Growth of wine in cities near Sweden
Vinmonopolet sold a total of 115.5 million liters of alcohol in 2020, nearly 40% more than in 2019. The increase resulted, in large part, from a complete cessation of cross-border trade and tax-free sales (at duty free shops) as a result of the coronavirus (COVID-19) pandemic. Significant reductions in the sale of alcohol at bars, restaurants and cafés due to social distancing mandates also contributed to Vinmonopolet's sales growth. The growth was highest in the counties and municipalities closest to the border with Sweden.
Wine monopoly sales increased by 40% in 2020, during the Covid-19 period. This is due in particular to the almost complete of alcoholic products at the borders, in duty-free stores on cruise ships and at airports, as well as sales in the as well as sales in the hospitality sector.
Red wine was, by far, the largest sales category, followed by white wine and sparkling wine (8.4%). However, the exceptionally good weather during recent summers continues to lead to an increase in demand for lighter wines. Overall wine sales grew by 42% in the past year (compared to 2019). The largest increase in sales was observed for rosé wines, which saw an increase of 72%. Additionally, over the past decade, the monopoly has seen an increasing number of consumers (particularly in the population-heavy southern part of the country and Oslo) purchasing lower alcohol products, such as cider and beer.
Italy is the leading red wine supplier to Norway, with 38% of sales.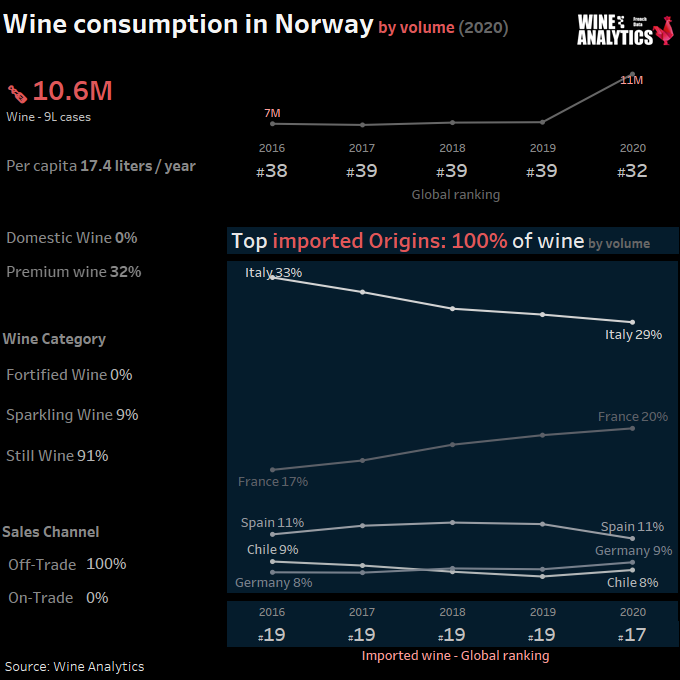 Approximately 52% of the wine sold by Vinmonopolet (by volume) is bag-in-box wine, with red wines accounting for nearly half (48%) of these sales. Italy is the leading red wine supplier to Norway, responsible for 38% of sales. Along with Italy, Spain, France, Chile and the U.S are the top 5 wine origins of red wines. One of the monopoly's top selling wines is a lighter red from California (bag-in-box).
Germany and France, the leading suppliers of white wine, accounted for more than half of sales (5%). After France and Italy, the United States was the third largest rosé wine supplier for Vinmonopolet. However, sales of rosé wines from France and Italy have seen rapid growth in recent years.
The French regions that perform best in exports to Norway are : Rhone Valley, Burgundy and Bordeaux.
The increase in BIB sales is responsible for the largest share of the monopoly's sales growth. The main trend in Norway in the field of wine is a growing demand for :
organic, biodynamic and natural wines;
sparkling wines ;
white and rosé wines;
wines with a lower percentage of alcohol or equal to 0;
wines with eco-responsible packaging (less heavy, recyclable, etc.). The Norwegian certification body for organic products is called DEBIO.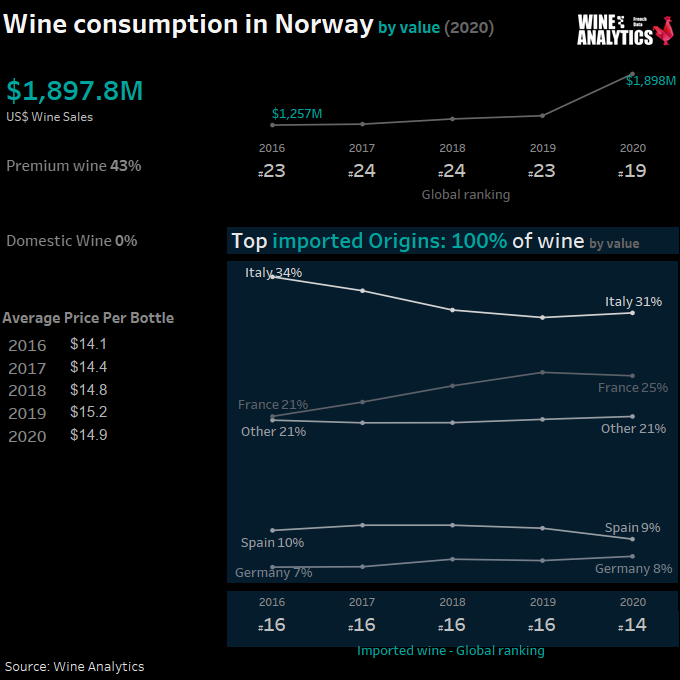 | | | | | |
| --- | --- | --- | --- | --- |
| Rank | Red wines | White wines | Rosé Wines | Sparkling Wines |
| 1. | Italy 🇮🇹 | Germany 🇩🇪 | France 🇫🇷 | Italy 🇮🇹 |
| 2. | Spain 🇪🇸 | France 🇫🇷 | Italy 🇮🇹 | France 🇫🇷 |
| 3. | France 🇫🇷 | Italy 🇮🇹 | USA 🇺🇸 | Spain 🇪🇸 |
| 4. | USA 🇺🇸 | Chile 🇨🇱 | Spain | Australia 🇦🇺 |
Liquor consumption is growing
In 2020, Vinmonopolet sold nearly 4 million liters of beer –the most popular types being light lagers and India pale ales. These two beers accounted for almost half of Vinmonopolet's beer sales, and accounted for an increasing share of beer sales in both 2019 and 2020. Overall beer sales grew by 31% in 2020.
In 2020, Norway saw a 16% increase in alcohol-free sales. This growth came on top of a 10% increase in alcohol-free sales in 2019, as younger Norwegians (under the age of 30) increasingly drink less alcohol than older generations. Vinmonopolet's alcohol-free sales reached 688,574 liters in 2020, the monopoly's highest sales volume ever for alcohol-free drinks. The largest growth segment was alcohol-free soft drinks for which sales increased by 44%. Alcohol-free beer, however, saw a 3% decline in sales.
The European directives in the Norwegian laws, oblige the producer who wants to see his products products to appear on the shelves of the monopoly to work with an authorized importer. importer. Vinmonopolet is no longer allowed to import alcoholic beverages itself.
Some restaurant owners have their own import license and can therefore sell directly in their sell directly in their establishment.
In conclusion, it is imperative for French wine producers to find an importer/partner with an import license partner with an import license in order to enter the Norwegian market.
Three types of taxes are applicable on alcoholic beverages from the European Union excise duties, environmental taxes and value added tax.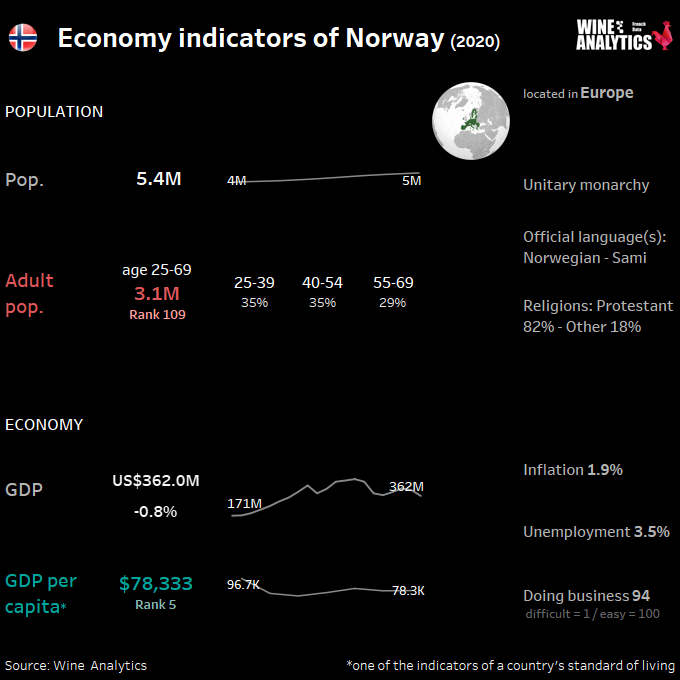 Most categories of liquor consumption in Norway are growing, with the exception of grape spirits (Cognac), which has been falling since 2011. Liquors tend to see an increase in consumption towards the end of the year, but are not weather sensitive (like wine).

Norway, The Exclusive Rights to Sell Wine
Our evaluation method
The data shows key metrics, and these are combined to show a ranking calculated using a composite weighted attractiveness combining overall economic factors and wine market factors.
WINE CONSUMPTION IN VOLUME
68
WINE CONSUMPTION IN VALUE
81
IMPORTED WINE IN VOLUME
83
75
Wine Market Attractiveness