Much of the 20th century, the wine industry in Croatia has been overshadowed by the rise and fall of communism which, similar to other Eastern European countries, led to the dominance of large cooperatives and state enterprises that churned out vast amounts of low quality wines.
RATE THE CROATIAN WINE MARKET ATTRACTIVENESS

From domestic to international grape varieties
Under communist rule, there were two distinct phases of the wine industry. The early years, between World War I and II and up to the 1960s, are characterized by the pursuit of high-yielding grape varieties and the move away from indigenous grape varieties, which were not as productive as some international varieties. It was during this time that we first saw early plantings of Rhône varieties in the hot and dry regions of southern Dalmatia.
The 1970s and onwards led to even more plantings of international varieties to satisfy the growing production and exports of bulk wine, mainly to Germany. During this period, Croatian wine exports were greater than they are today but could only be bulk, not bottled wine, pumped out by the large state enterprises. Under communism, it was forbidden for private citizens to own more than ten hectares of land which, which not only assured the dominance of large-scale state owned wine production but led to the proliferation of thousands of family grape growers and wineries that continues to this day.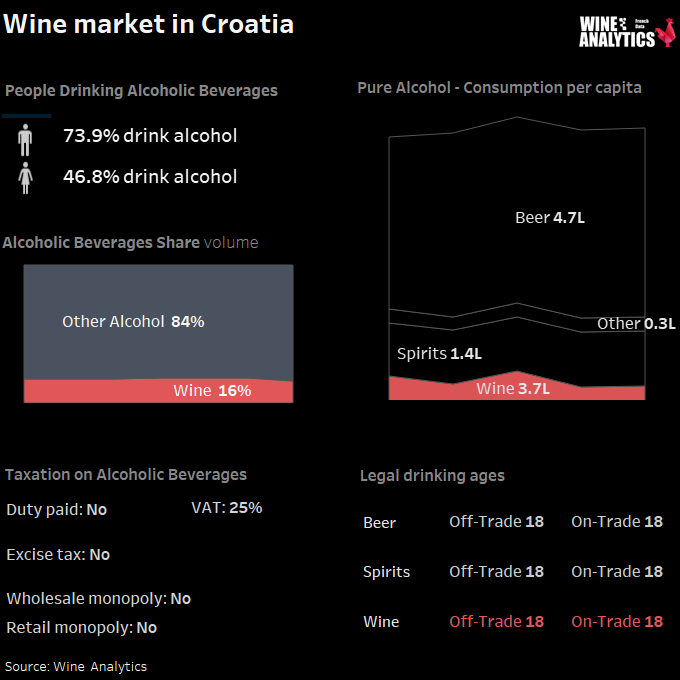 Increase of the wine quality
Croatia became an independent country in 1991. A significant factor in Croatia's increased wine quality and success of the industry can be attributed to the country joining the European Union in 2013.
Croatia has four main wine growing regions which can be characterized as either continental or coastal. Slovenia and the Croatian Danube comprise 31% of hectares under vine, the Croatian Uplands 22% with Istria and Dalmatia combined accounting for 47% of vineyard plantings. The country's four wine regions are divided into sixteen sub-regions or Protected Designation of Origin (PDO) and 66 appellations.
Croatia has been growing grapes and making wine for thousands of years and produces a range of white and red wines from indigenous and international grape varieties.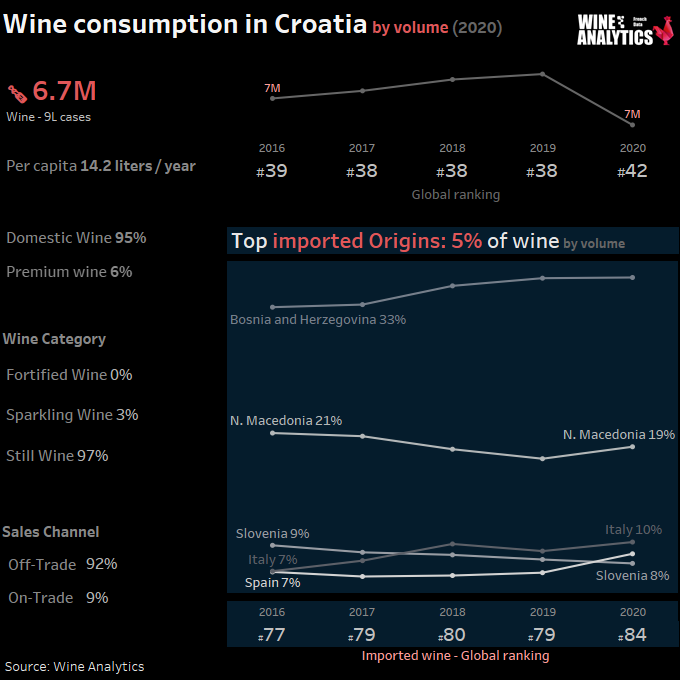 Wine and tourism
Domestic wine production is an especially important segment of Croatian agriculture and plays an important role in tourism, which is a vital segment of the Croatian economy. The wine that is produced commercially mainly goes to supply the country's thirsty tourism industry.
To understand wine consumption in Croatia, it should be noted that for years the Croatian consumer had little choice but to consume domestic wines. However, after Croatia's independence, the wine market opened, and foreign wines began to enter the country. Because Croatians take great pride in their wines, the market for foreign wines did not change overnight. Instead, the market is still developing and is expected to grow with the standard of living. This is especially true for the market segment of medium to higher quality wines targeted to consumers in Zagreb – the Croatian capital – where people have higher incomes and want to experiment with new wines and tastes.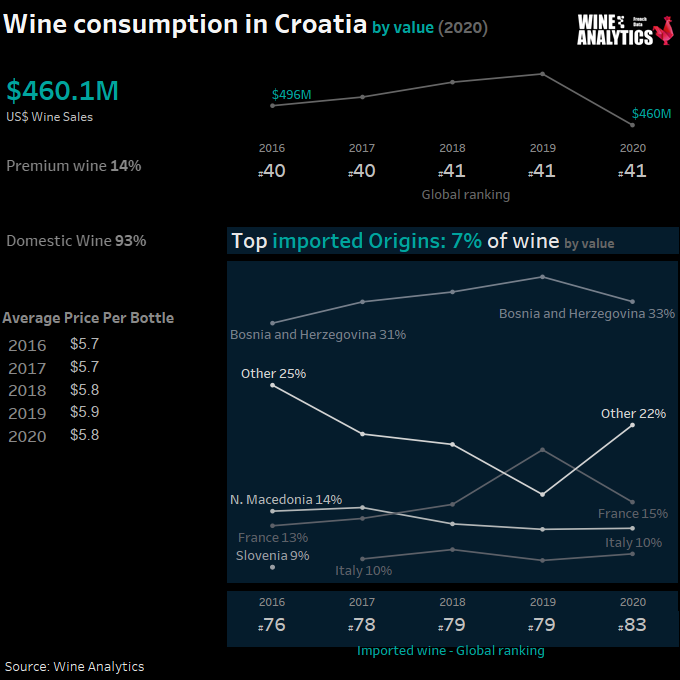 Wine imports were mostly from Macedonia, France, Italy, and Germany.
In 2020, Croatia imported wine valued at $31 million. Imports were mostly from Macedonia, France, Italy, and Germany. From 2017 to 2019 there was a year-on-year increase in wine imports with a 15% drop from 2019 to 2020.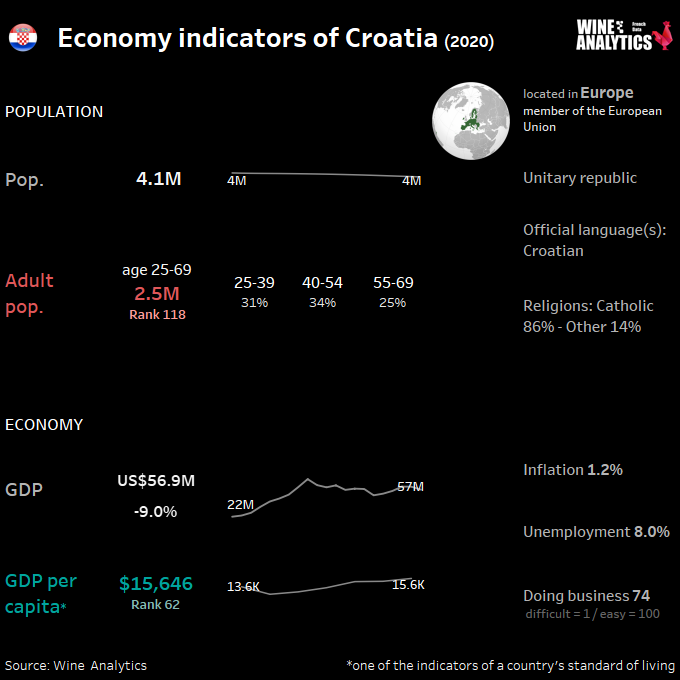 Croatia's 2020, wine exports primarily to Bosnia and Herzegovina, Germany, and Montenegro were valued at $ 14.6 million.

Croatia, Higher Quality Wine to Grow
Our evaluation method
The data shows key metrics, and these are combined to show a ranking calculated using a composite weighted attractiveness combining overall economic factors and wine market factors.
WINE CONSUMPTION IN VOLUME
58
WINE CONSUMPTION IN VALUE
59
IMPORTED WINE IN VOLUME
16
25
Wine Market Attractiveness