Early signs suggest that global wine production and consumption may be closer together in 2021 than they have been since 2017. However, physically bringing wine and consumers together may be harder than ever before, as turbulence in wine markets and shipping routes disrupt global wine trade.
Wine production decreasing
Preliminary indications for the 2021 global harvest, based on collated industry estimates and OIV reports, are that it will be around 25 billion liters, which would make it 4% lower than the 2020 harvest and the second lowest in the past 10 years.
The estimate is based on reports of a significantly reduced crop in France, below average crop in Italy, Spain and the USA, and average- to above-average harvests elsewhere. France in particular is facing one of the worst harvests in its recorded history, if not the worst, according to its agriculture ministry, which estimates crop reductions of between 24 and 30% due primarily to widespread severe spring frosts, which devastated vines. If this proves to be the case, the total wine lost will be around 1.1 billion liters – almost as much as Australia's average annual production.
In the southern hemisphere, Argentina has reported a crush of 2.22 million tonnes – below average but 7% above the 2020 harvest, while Chile's production has been reported to be a record 1.34 billion liters. Australia's crush of 2.03 million tonnes was also a record, and South Africa's harvest was up by an estimated 10% to 1.46 million tonnes.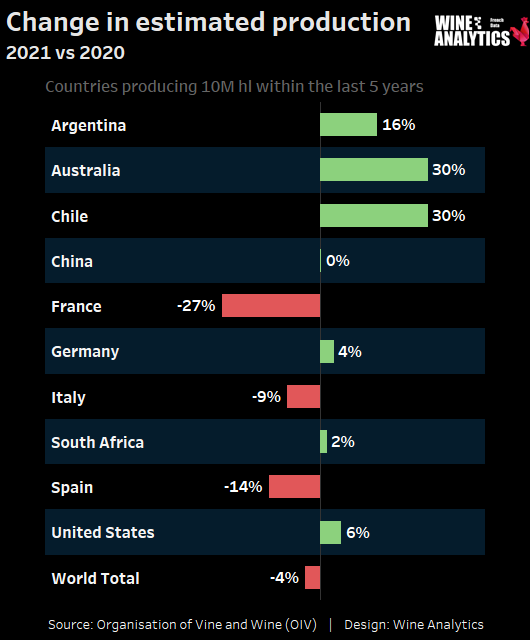 Wine Consumption increasing
While global production is expected to decline in 2021, global consumption is expected to increase slightly compared with 2020. Global consumption in 2020, according to the OIV, was the lowest recorded consumption since 2002 at 23.4 billion liters. The main driver of the overall decline was China, where consumption decreased sharply for the third consecutive year, indicating an enduring reduction rather than short-term effects of COVID-19.
The 2020 figure will not be finalized by the OIV until early 2022, and a final global consumption figure for 2021 is more than 18 months away. However, the IWSR has forecast that global wine consumption will increase overall by 1.7% in 2020–21 and by 0.9% in 2021–22. Applying the IWSR growth forecast to the OIV figure for 2020 gives an estimated global consumption of 23.7 billion liters in 2021.
If correct, this would be 1.3 billion liters less than production – the smallest gap since 2017 but still indicating a surplus. It should also be noted that according to IWSR, consumption is not forecast to return to 2019 levels during the forecast period. In fact, it is expected to be almost flat between 2023 and 2025.
Forecasting demand across this timeframe is particularly difficult due to the after-effects of COVID-19 in terms of recessions, ongoing disruptions to travel/international tourism and enduring changes in purchasing behavior are hard to predict.
It is also not clear how much market distortions such as over-ordering in anticipation of Brexit and 'pantry-loading' in response to COVID-19 lockdowns have artificially raised sales figures in 2020; these would in turn cause demand to fall in the next 12 months as the excess stocks are consumed.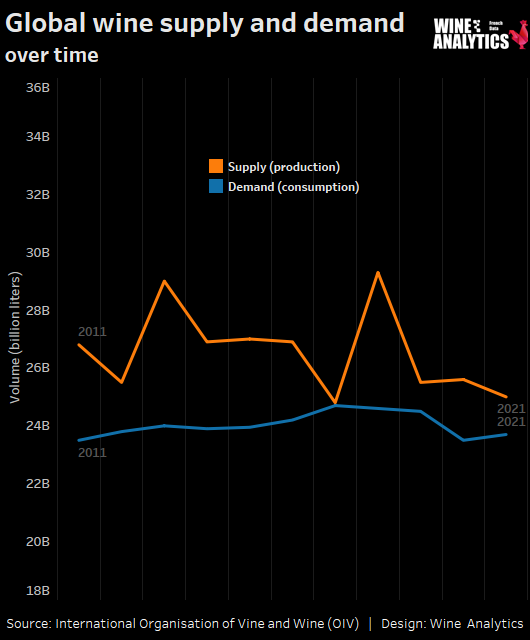 Difficult to get wine to market
Getting wine to market has possibly never been more difficult. More than 10 billion liters of wine were imported globally in 2020, meaning that more than 40% of all wine consumed has to cross an international border to get to the consumer.
After an era of favorable trade tailwinds due to the introduction of numerous free trade agreements, wine trade has become more difficult over the past few years, due to trade disputes between the USA and the EU that saw both markets impose tariffs on each other's wines, tariffs on Australian wines imposed by China and the uncertainty and negotiations in the run-up to Brexit.
Further challenges to meeting demand in the most literal sense have recently been reported, in the form of world-wide transportation issues – including a shortage of shipping containers (and ships), port congestion and increases in costs.
World wine trade should thus be slow between 2023 and 2025.