Researches indicate increasing market demand for sustainably produced wine. As the value of sustainability in the marketplace flourishes, growers and vintners across the U.S. are increasingly embracing sustainable winegrowing practices.
Consumers key insights
While organic wine is more universally understood, sustainably produced wine has the highest future purchase consideration, with 71% of U.S. wine drinkers indicating that they would consider buying sustainably produced wine in the future.
Millennials lead the way in purchasing from the range of sustainably and environmentally produced wine, and 9 in 10 are "willing to pay" more for sustainable wine. Among all U.S. wine consumers, $3 was the average extra value that consumers indicated they were "willing to pay" for a sustainably produced wine.
Younger consumers are significantly more engaged with sustainability, view it as increasingly important to protect the future, and have a strong affinity towards sustainable wine certifications.
Consumers seek easy ways to find and identify sustainable wine such as clear and simple visual cues or clearly identified sections in a store. Sustainability certifications for wine provide transparency and reassurance.
We have analyzed red wines listed in the Californian liquor stores.
1. Central Valley
2. Bordeaux
3. Tuscany
4. Cuyo
5. South Australia

6. California
7. Piedmont
8. Burgundy
9. Western Australia
10. Navarra

11. Victoria
12. Marlborough
13. Catalonia
14. South Australia
15. Aconcagua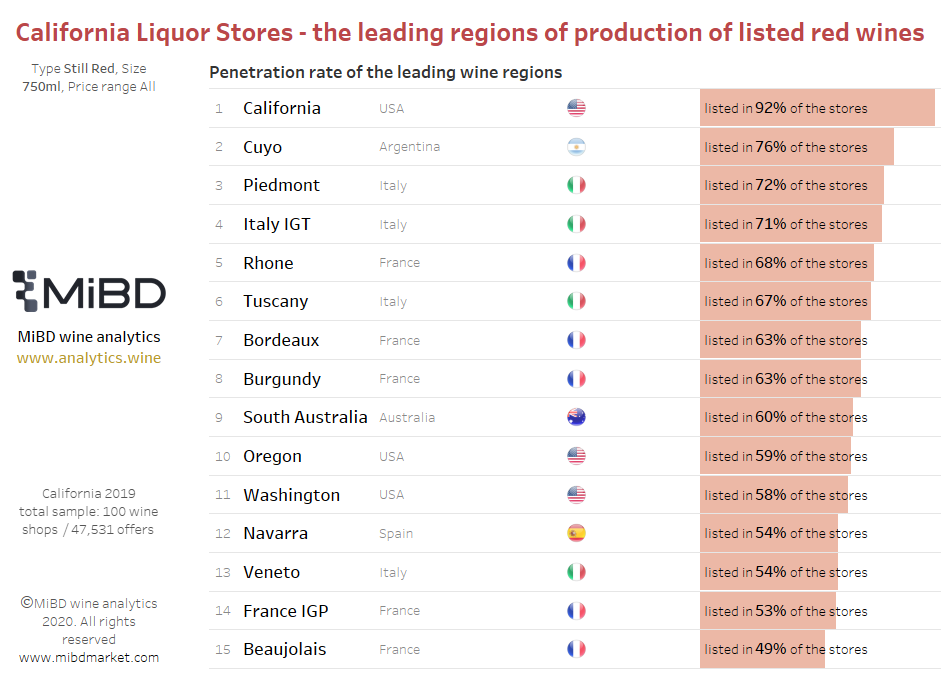 Professionals key insights
Protecting natural resources and addressing climate change impacts were perceived as the two leading goals of sustainable production, with 86% and 79% respectively agreeing that they were necessary requirements of sustainability.
Sustainable practices are frequently (32%) or occasionally (50%) a factor when choosing a wine to market or sell to customers. Only 3% responded "Never." "All things being equal" (in terms of the product), 71% would purchase a sustainably produced wine over one that is not.
The promotions or actions that were seen as most useful in supporting the category were "clear and highly visible labeling" on wine packages, back label information and tastings or seminars promoting sustainably produced wines to consumers.