The players in brick and mortar stores are going digital, unlike the Pure Players and the Subscription websites create physical places of purchase or consumption.
In 2019, more than half of the French population bought products at least once on the internet and spent more than €100 billion. E-commerce accounts for 9% of trade by value in France. Wine is no exception, and in 2019, wine e-commerce will account for 9 to 10% of sales in value terms for an estimated turnover of €500 million. This turnover has been rising steadily since 2008.
On the consumer side, price remains the number one criterion for motivating people to buy on the Internet. This price is understood to include delivery costs, which are an important purchasing criterion. In 2019, m-commerce (purchases via a smartphone or a tablet) represents 30% of online purchases, and up to 47% of purchases from 26-35 year olds.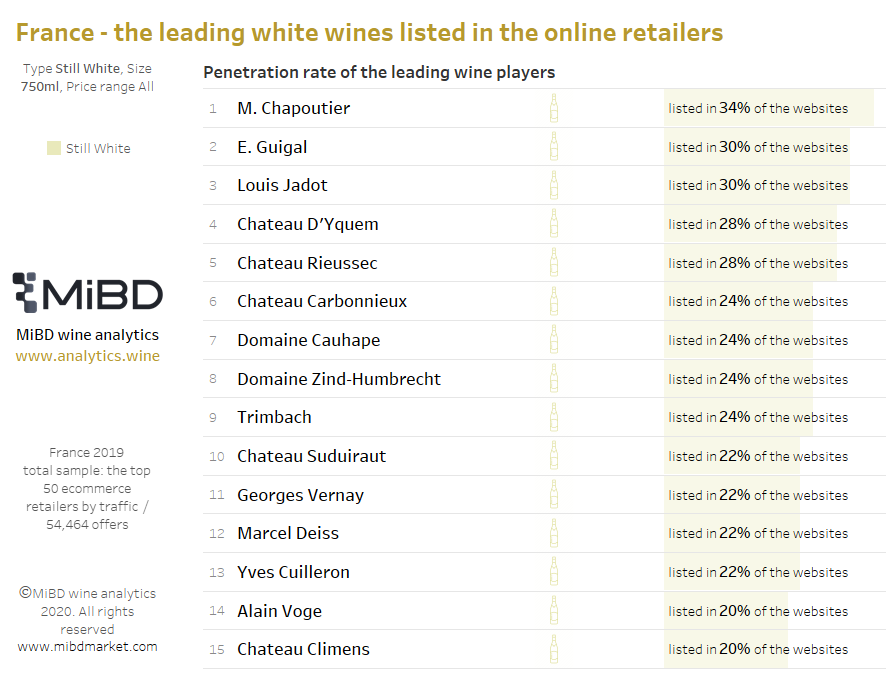 1. M. Chapoutier
2. E. Guigal
3. Louis Jadot
4. Château d'Yquem
5. Château Rieussec

6. Château Carbonnieux
7. Domaine Cauhape
8. Domaine Zind-Humbrecht
9. Trimbach
10. Château Suduiraut

11. Georges Vernay
12. Marcel Deiss
13. Yves Cuilleron
14. Alain Voge
15. Château Climens
507 websites selling wine in France were listed in June 2019. In an increasingly competitive economic landscape, their number has declined by 12% per year since 2016. In addition, revenue growth varied by site: while it grew by 17% per year for the 20 largest sales sites, it declined by 11% annually for the smallest sites.
Pure Players (Vinatis, Millesima…): the historical category, remain leaders with more than a third of the total turnover. Often specializing in Grand Crus and old vintages, Pure Players are fewer and fewer in number: 23% of the websites listed in 2016 disappeared in 2019.
Ecommerce by Supermarkets (Carrefour, Lidl…): supermarkets have taken a late interest in wine e-commerce and their sites still lack visibility. Considering the investments in marketing and SEO, some brands are playing alliances (Casino with Amazon, Carrefour bought GrandsVinsPrives, Leclerc got WineAdvisor).
Online Private Sale (Veepee, 1jour1vin…): the promise of private auction sites – an attractive price – is working at full speed. The pre-booking system limits storage costs and, therefore, working capital requirements. These sites build on an already large customer base. Weaknesses include a "non-expert" image and longer delivery times than generalists.
Online Generalist Websites (Cdiscount, Amazon…): these websites have been able to improve their image by offering wine fairs, by relying on their logistical power and by developing express delivery services in order to be competitive.
Online Subscription Websites (Le Petit Ballon, Chais d'œuvre…): most of these sites now offer wines to be purchased outside of subscriptions, in order to perpetuate the activity. The subscription system has the advantage of smoothing cash flow and building customer loyalty. However, these sites are faced with a threshold effect that forces them to diversify.
Online of Wine Shops (Nicolas, InterCaves…): many of them have a commercial site, but the cumulative turnover of wine merchants on the Web remains small. But this new sales channel allows them to reach a younger consumer target.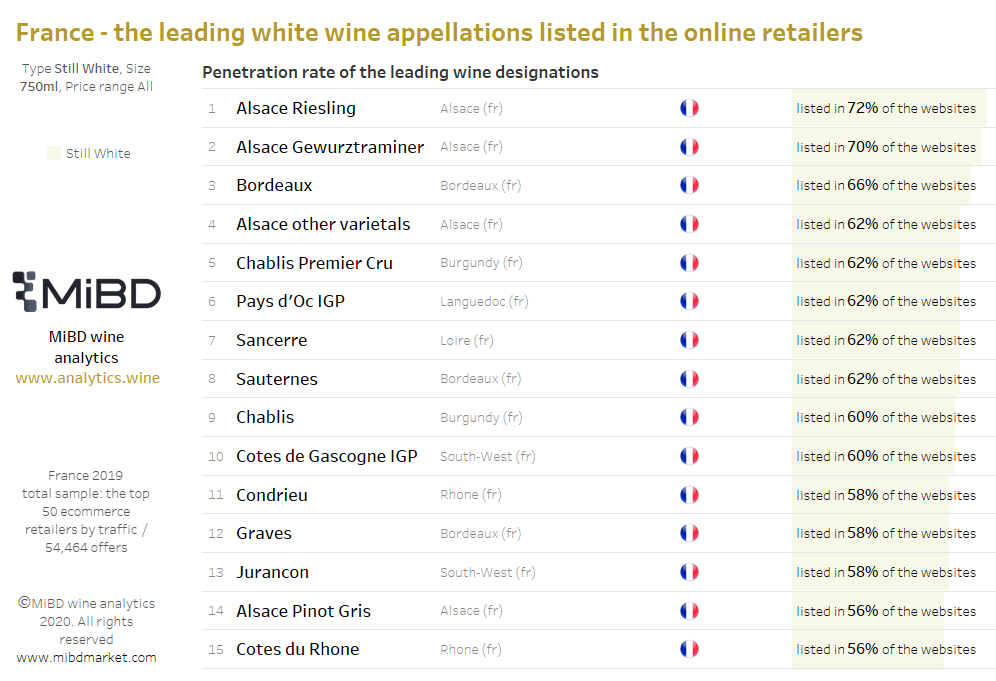 1. Alsace Riesling
2. Alsace Gewürztraminer
3. Bordeaux
4. Alsace other varietals
5. Chablis Premier Cru

6. Pays d'Oc IGP
7. Sancerre
8. Sauternes
9. Chablis
10. Côtes de Gascogne

11. Condrieu
12. Graves
13. Jurançon
14. Alsace Pinot Gris
15. Côtes du Rhône
These developments are making the boundaries between wine distribution channels on the Internet increasingly blurred and permeable: the players in brick and mortar stores (supermarkets, wine merchants) are going digital, unlike the Pure Players and the Subscription websites that create physical places of purchase or consumption. The combination of physical and digital activities then makes it possible to reach new targets, to improve the customers' buying experience and thus to remain present in this highly competitive universe.