Wine consumers in Canada have weathered the storm of Covid by drinking wine a bit more often, buying more familiar brands, and opting for larger formats in some cases, while reducing their on-premise visits.
We have analyzed red wines listed in French restaurants:
1. Bordeaux
2. Rhône
3. Burgundy
4. California
5. Beaujolais

6. Languedoc
7. Tuscany
8. Piedmont
9. Veneto
10. South West France

11. Loire
12. Catalonia
13. Navarra
14. South Australia
15. Roussillon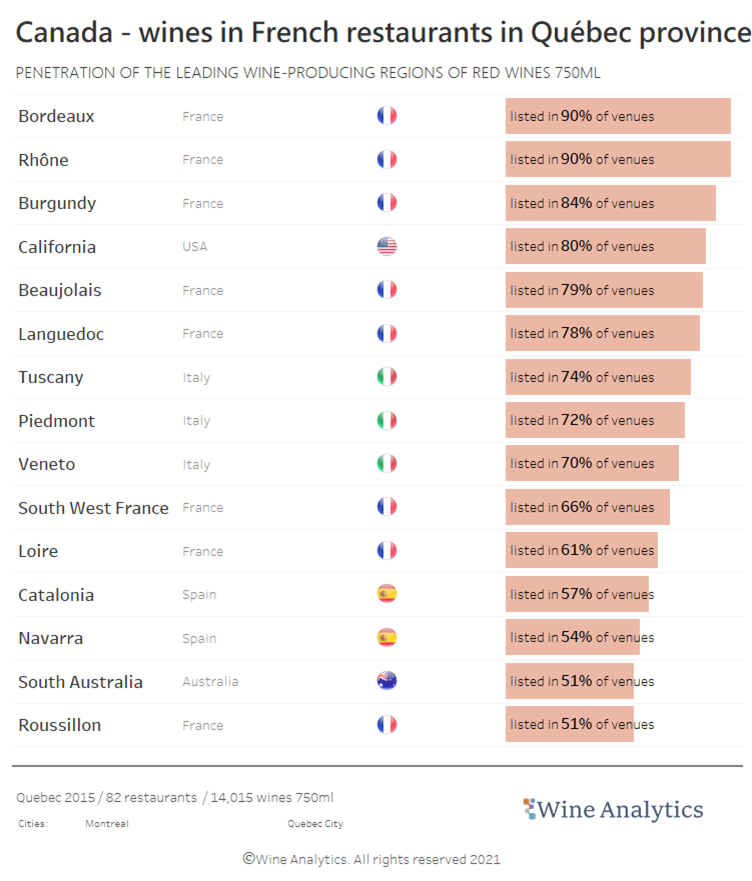 New opportunities to consume wine have arisen as a result of the pandemic. Instead, consumers seem to be moving the wine time forward to late afternoon and using wine in their online social relationships.
The context of wine is also changing. Ready-to-drink alcoholic beverages, such as hard seltzer and pre-mixed cocktails, have seen their market share increase significantly over the past year. While the main victim of this change seems to be the beer category, the RTD trend also seems to be encroaching on the wine territory.
It is also due to some consumers who reduce their consumption, either because of economic concerns or because they find more attractive offers from monopoly retailers who are trying to meet the challenge of selling wine in grocery stores.