Taiwan has a very dynamic food service industry exemplified by the release of the first Michelin guide for Taipei in 2018. There is increasing growth of fast food chains and casual dining restaurants, boosting consumption of food ingredients.
High Density of the Retail sector
The retail food sector is dominated by chain operators like Costco, 7-Eleven, PX Mart, Carrefour, and Wellcome. The density of Taiwan's 10,454 convenience stores in the highest level in the world, around one convenience store for every 2300 local resident.
Foodservice Sector Growth
According to the Ministry of Economic Affairs (MOEA), the economic output of Taiwan's food service sector, excluding institutional food service, was estimated at US$15.2 billion in 2017. The food service sector has had stable growth over the past decade with tourism development cited as the primary driver. Other factors such as the rise in consumer income, smaller family size, a growing number of working women and the growth of e-commerce have helped the food service sector grow.
The majority of HRI companies purchase most of their food products from importers, distributors, wholesalers, regional wholesale markets, wet markets, supermarkets, and hypermarkets. Institutional users buy most products from local distributors or import directly. A recent trend is that retail outlets such as Costco, are frequented by many small foodservice/HRI operators who buy items in bulk at the lowest possible cost, thereby avoiding the need to source from multiple importers.
French Wine: Leader in Hotels and Restaurants
Most restaurants in Taiwan are casual dining places. As most of the restaurants in this category are small businesses, they purchase materials mainly from wholesalers and wet markets. Only larger chains/franchises tend to buy products from importers or import directly.
We have analyzed red wines listed in Chinese restaurants:
1. Central Valley
2. Bordeaux
3. Tuscany
4. Cuyo
5. South Australia

6. California
7. Piedmont
8. Burgundy
9. Western Australia
10. Navarra

11. Victoria
12. Marlborough
13. Catalonia
14. South Australia
15. Aconcagua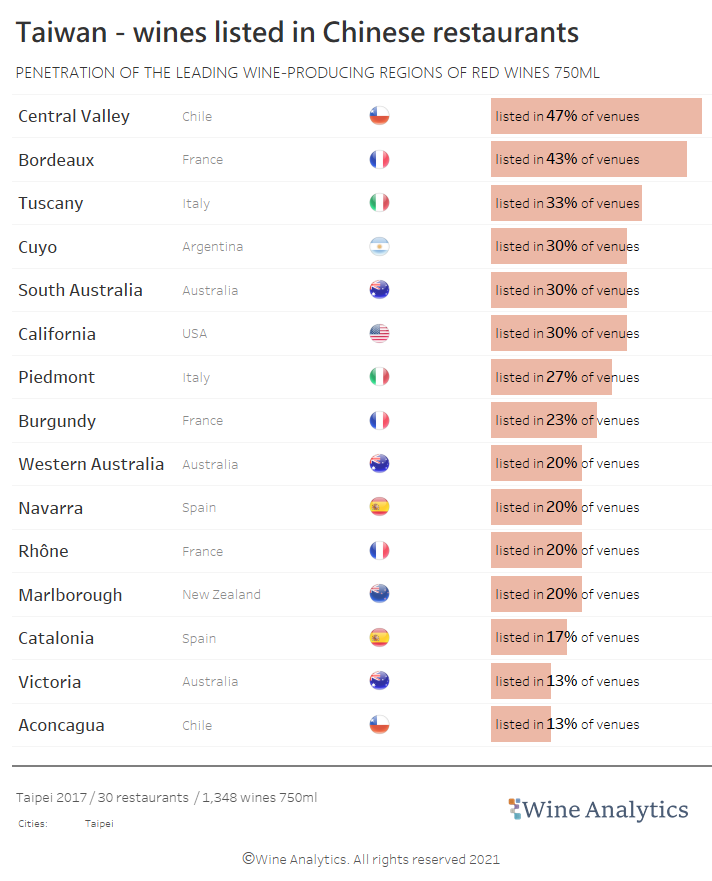 France dominates the wine market, but new world countries are gaining traction due to competitive pricing. The top 5 origins (85% vs. total): France 53%, USA 10%, Italy 9%, Chile 7%, Spain 7%.
Socializing in hotel restaurants is common in Taiwan.
Socializing in hotel restaurants is common in Taiwan. As a result, hotel restaurants have become a significant source of revenue. Food served on these occasions tends to be either Western-style buffets or Chinese-style food banquets.
Also, holiday celebrations are becoming commercialized, especially Western holidays such as Christmas, Thanksgiving, Oktoberfest and Valentine's Day.