Throughout the review period and into 2019 just prior to the onset of the Covid-19 pandemic, the market for alcoholic beverages in Morocco has seen significant annual declines in consumption Beer remains by far the most popular alcoholic beverage in the country, so declines in this category have had the least significant impact on the market.
RATE THE MOROCCAN WINE MARKET ATTRACTIVENESS
Morocco has capitalized on its proximity to Europe and relatively low labor costs, with a population of 37 million, to work towards building a diverse, market-oriented economy.
Alcohol: Is Morocco a Dry Country?
You can drink alcohol in Morocco without offending local sensibilities, as long as you do it discreetly.
Morocco is quite a liberal country in comparison to other Muslim nations. You can drink alcohol in Morocco without offending local sensibilities, as long as you do it discreetly. Alcohol is expensive in Morocco due to taxes.
Morocco allows the consumption of alcohol. Alcohol must be purchased and consumed in licensed hotels, bars, and tourist areas. You can also buy alcohol in most major supermarkets. The alcohol section is usually in a separate room from the main supermarket. Any attempt to purchase or consume alcohol outside of these areas could result in problems with the police.
Licensed bars tend to have no windows because, while drinking is allowed, you are not allowed to be seen by those outside. There are a small number of bars and restaurants which permit drinking outside, but only tourists are allowed to drink in public. Many Moroccans drink alcohol but are restricted to drinking indoors.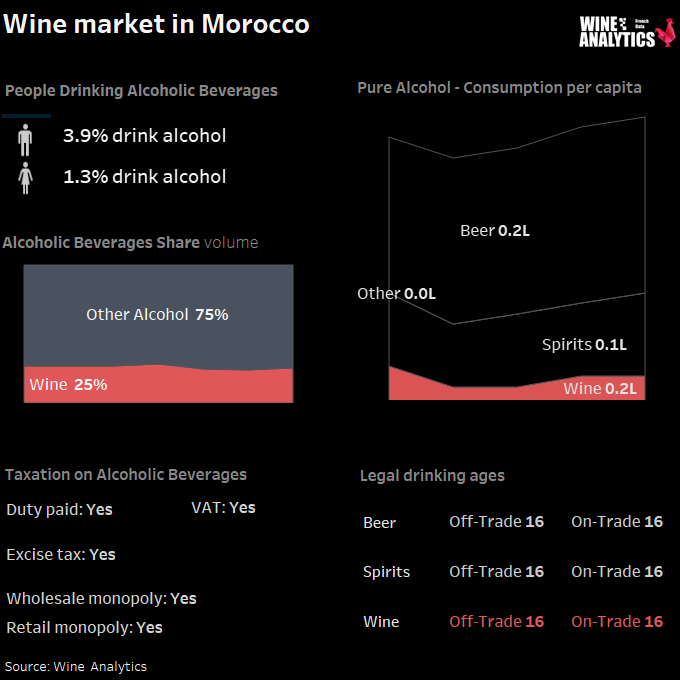 10-15% of Moroccans can afford to buy imported products. Key sectors of the economy include agriculture, tourism, aerospace, automotive, textiles, apparel, and sub-components.
Retail Foods in Morocco
In 2018, Morocco imported US$1.4 billion worth of retail-related food products in 2018. Morocco's food retail market represented 13% of GDP. The Casablanca-Rabat corridor accounts for about 50% of all modern retailers. Marjane Holding (Marjane and Acima) and Label'Vie (Carrefour, Carrefour Market, and Atacadao) are Morocco's leading modern food retailers with other notables including Ynna (Aswak Salam) and BIM.
Recent Trends & Upcoming Events in Retail:
Marjane (SNI Group) leads hypermarkets in Morocco with a 56% value share in 2018, followed by Label'Vie group.
Label'Vie intends to continue its development program with the opening this year of 16 new points of sale, nearly 30,000 m² of additional sales area. This expansion covers the 3 business segments: "Carrefour", "Carrefour Market" and "Atacadao".
Peak sales occur during RamadaMorocco's Ministry of Industry introduced the Rawaj Vision program in 2007 aimed to modernize distribution and supply chains and boost the sector's contribution to GDP from 11% to 15%. To achieve this, the plan called for the development of 600 supermarkets and hypermarkets, as well as 15 malls and 15 outlet stores.
Industry sources anticipate modern, large-scale distribution will support 30% of national consumption by 2025.
While the Ministry of Industry estimates traditional channels still account for 80% of grocery retailing, industry sources anticipate modern, large-scale distribution will support 30% of national consumption by 2025. This estimate is supported by changing demographics, urbanization, and the evolution of the consumers' purchasing behaviors, which should create additional opportunities for imported food products.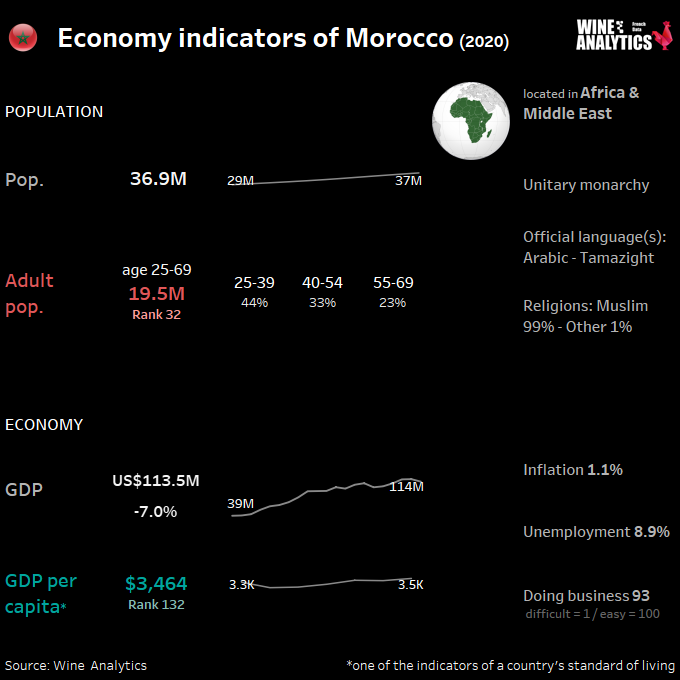 Hypermarkets in Morocco
Hypermarkets have large parking lots that can fit up to 1,000 cars but are not often within walking distance. They stock over 17,000 SKUs in food items and are believed to account for 40-50% of total sales. This category is aggressive in promoting their products. They publish monthly brochures and occasional flyers where the importers promote their products.
Marjane is especially aggressive in advertising.
Atacadao positions itself between a hypermarket and a discounter, targeting lower-income consumers, professionals, and small retailers, including through offering bulk purchase discounts.
Aswak Assalam has reduced its number of stores
Supermarkets in Morocco
Supermarkets, discounters, and convenience stores are located in or within walking distance to medium to high-income neighborhoods and are designed to attract urban consumers from the traditional mom-and-pop shops and open-air markets. They are much smaller than hypermarkets but have a minimum of 20,000 ft (185m²) and 3 to 6 registers with limited parking space.
ACIMA is stocks at least 5,000 items.
Carrefour Market carries stocks around 10,000 products, including 4,000-5,000 food items, including specialty products like pork and alcohol.
Discount food outlets such as BIM, which opened in 2009, have grown in popularity, followed by Costcutter. Label'Vie addresses the deep-discount market segment through its Atacadao stores.
Morocco has only independent convenience stores.
Small Independent Grocery Stores in Morocco
Imported products are not well positioned in this market segment. This category includes an estimated 45,000 grocery stores. Their size varies from less than 225 ft (20m²) to 1,000 ft (95m²). These shops have limited financial resources and are typically managed by one person. In cities, these stores may have a refrigerator and a very small number have ice cream freezers. Convenience, proximity, and credit offered to the final consumer are their strongest assets. To reach small mom-and-pop stores, products can go through multiple distributors or wholesalers and sometimes larger retailers.
You can drink alcohol in Morocco without offending local sensibilities, as long as you do it discreetly.
As for the BtoC distribution, it is mainly done through a network of small grocery stores with some chains that are positioned as Nicolas whose franchise is owned by Les Brasseries Du Maroc. Few supermarket chains offer alcohol, except for Carrefour label'vie.
Hotels & Restaurants in Morocco
Morocco's food service market is growing at 4-6% annually and was valued at US$3.2 billion in 2018 with the fastest growing categories being quick-service and full-service restaurants. Morocco's food service industry is most developed in Casablanca (commercial center) and Marrakech (tourism).
Restaurants in Morocco
Quick-service (QSR) and pizza food service establishments, including Pizza Hut, Dominos, McDonalds, Burger King, and KFC, now have a strong presence in Morocco's in major cities (e.g., Casablanca, Rabat, Marrakech, and Tangier) while Chili's, Starbucks, Cinnabon, and Papa John's have recently entered one or more cities and are fast expanding.
French style bakeries and cafes are inseparable from Moroccan food culture and daily lifestyle. French and Spanish cuisines are the most popular among sit-down restaurants with alcoholic beverages often being available in such establishments.
Most non-QSR restaurants close entirely for the month of Ramadan. However, select upscale restaurants do open for the evening breaking of the fast, and of those, most replace their a la carte menu with buffets.
Brasseries du Maroc belongs to the Castel Group since 2003. The group is the leading player in alcoholic beverages in Morocco and holds 92% of the Moroccan beer market share in 2018.
Hotels in Morocco
Morocco's upscale lodging options, where imported food is most likely to be present, include a mix of European and Moroccan hotel chains as well as local independent operators
Two tourist destinations, Marrakech and Agadir, generated 64% of the total nights in 2018
In 2018, foreign tourist arrivals to Morocco reached 12.3 million, up 8.3% from 2017. Growth was led by visitors from Italy, France, and Germany.
The Moroccan-style meals include lamb, beef, poultry, dried fruits and nuts, spices, tea, and coffee. The popularity of western-style buffets is growing.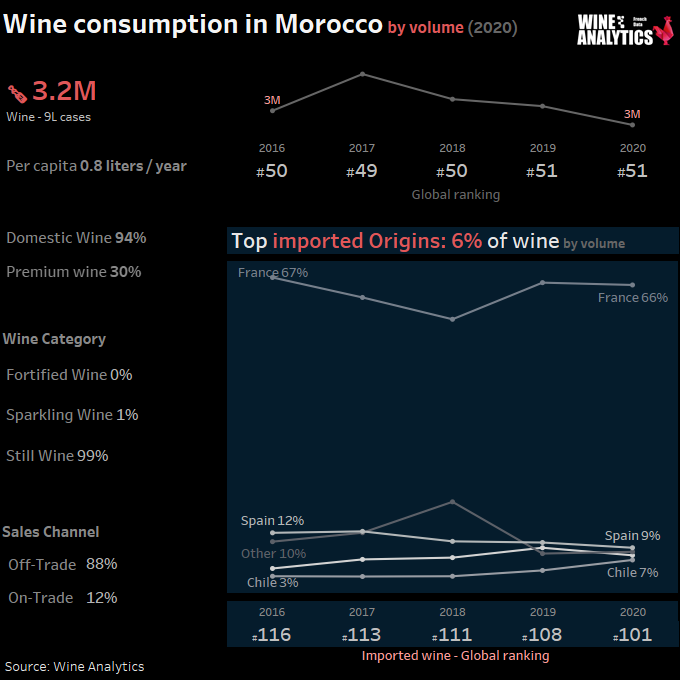 Moroccan Wine / les vins du Maroc
It comes as quite a surprise to many people that Morocco, a Muslim country, produces wine, but wine has been made in North Africa for least 2,500 years. Curiously enough, the word 'alcohol' comes from the Arabic al-kohl.
It was during the years as a French protectorate in the first half of the 20th century that wine production boomed in Morocco, most of it produced on the sunny plateau around Meknes. When Morocco became independent in 1956 the wine industry collapsed, as the country lost most of its winemaking expertise, its consumers and its main export market. A limited production continued and developed in the 1990s. When the European Union banned blending wine from elsewhere with its production, Morocco turned to creating its own labels.
Les Celliers de Meknès, a subsidiary of Diana Holding, provides 85% of the national production. The French group Castel and Les Deux Domaines are among the best known wine producers in Morocco. The main wineries in Morocco are located in Meknes (50 of the total wine area), Khemisset 15 and El Hajeb 10. There are 14 appellations of guaranteed origin in Morocco and 3 Protected Designation of Origin (PDO).
Moroccan grape production accelerated in 2018 and 2019 which can be explained by the fact that many Moroccans continue to adopt the Western lifestyle, a trend that should continue to support red wine consumption in the future Also, there is a definite modernization of the Moroccan vineyard and the development of organic wine, such as in Essaouira with the Val d'Argan estate.
The Moroccan market is also invested by high-end brands and products driven by the increase in the standard of living of the Moroccan population and tourism, especially in large cities such as Casablanca, Marrakech or Rabat.
Morocco is the 2nd largest exporter of wine on the African continent after South Africa.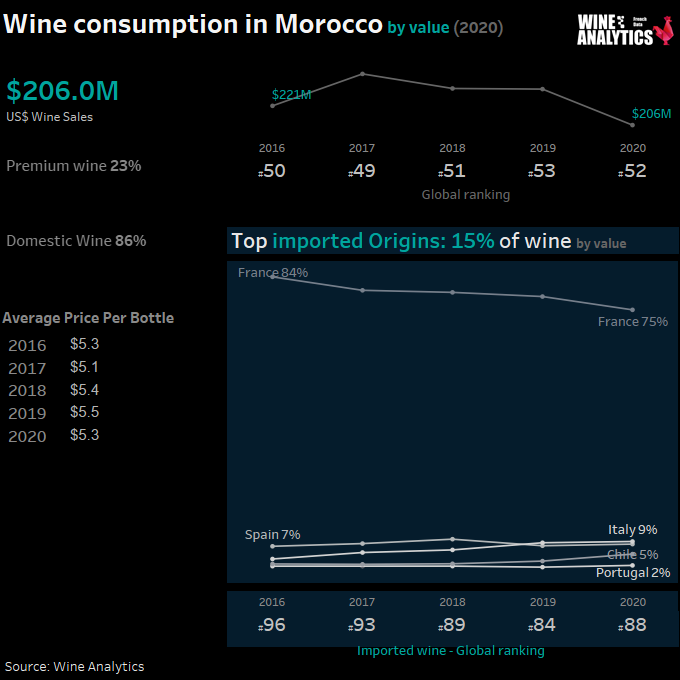 French wine is leader
France and Spain are the main suppliers of Morocco in wines.
The consumption of wines should register a positive growth in both value and volume, thanks in particular to the fact that the month of Ramadan will no longer fall in the summer season. Indeed, the majority of Moroccans living abroad return home at this time of year, and the number of tourists reaches its maximum, which tends to favor French wines, which enjoy an image of quality, as well as Spanish wines, which are inexpensive compared to Moroccan wines.
Few wine importers
The actors of the importation of wines and spirits are few in Morocco and thus more selective. Let's mention Bourchanin & Cie, Foods & Goods and the subsidiaries of local producers such as Ebertec of Diana Holding or LCL / Les Brasseries du Maroc.
In addition, some brands have chosen to establish themselves directly in order to sell their own brand, including Pernod Ricard.

Morocco, Growth of Wine Consumption
Our evaluation method
The data shows key metrics, and these are combined to show a ranking calculated using a composite weighted attractiveness combining overall economic factors and wine market factors.
WINE CONSUMPTION IN VOLUME
49
WINE CONSUMPTION IN VALUE
48
20
Wine Market Attractiveness