The Russian Ministry of Agriculture is focused on making wine production one of the key branches of agriculture in the country. While domestic wine production is growing, so have wine imports, especially from Europe. In 2019, Russia was the world's ninth largest importer of wine in both volume and value.

RATE THE RUSSIAN WINE MARKET ATTRACTIVENESS
As a result of the wine excise taxes reform implemented January 1, 2020, equal excise taxes were placed on domestically produced and imported wine, as well as new excise taxes introduced on grapes and wine materials. Since 2016, reduced tax rates have been applied to wine produced in Russia. The preferential categories included wine with a protected geographical designation of origin. The cancellation of such benefits is associated with a violation of the World Trade Organization (WTO) rules. A tax deduction is provided to wine producers using grapes personally produced and grown in Russia.
Read also

 Netherlands, No Longer Based on Price
Support to the Domestic Wine Producers
The new 'Federal law on viticulture and wine-making in the Russian Federation,' aims to support domestic wine producers by reducing the amount of counterfeit wine sold, under the guise of Russian wine, support domestic producers, and introduce a number of new regulations that could potentially impact the largest bulk wine suppliers in the Russian Federation.
The topic of wine production and wine varieties is gaining popularity among the In 2020, the Russian Federation harvested 474,000 tons of grapes, 30 percent less than in 2019, and in January-August 2020 produced 6.4 million hectoliters (HL) of wine products, 16.9% less than in the same period of 2019. One reason for the decline in the grape harvest was the dry weather in the main regions where grapes are cultivated in the country. At the same time, conditions affecting the quality of grapes was exactly the opposite. The weather in 2020, although dry, was not as hot as 2019, allowing the grapes to ripen more evenly, and the low humidity helped grapes avoid fungal diseases.
Bulk wine imports came primarily from Chile, Argentina, Australia, and Spain.
Imports came primarily from Chile, Argentina, Australia, and Spain. The Russian government's implementation of 'the law on viticulture and winemaking in the Russian Federation restrictions on use of imported grapes and wine materials for wine production stimulated planting of new vineyards. In 2020, the plan was to increase the area of vineyards by 7,000 hectares, which is comparable to the increase in 2019. In 2020, the total area of vineyards in the country was 80,000 hectares.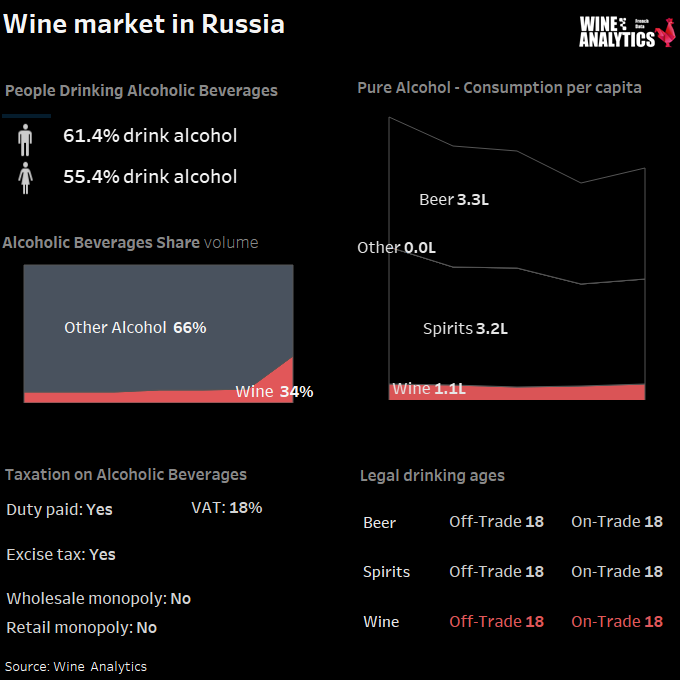 The new law on viticulture and wine making is expected to create new restrictions for imported wine and wine materials as well as barriers for domestic producers to increase the volume of wine production over the next seven years (the average indicator when the vine begins to bear fruit). A 10-15% rise in prices for domestic wines is projected for the second quarter of 2021. Overall, these factors are expected to lead to an increase in wine imports.
Since 2018, the Government of the Russian Federation has sponsored several projects aimed at supporting and popularizing wines produced from grapes grown in Russia. One of these projects is the bi-annual festival, "Russian Wines Days." During the festival, the largest retail chains of the country, restaurants, and wine boutiques, offer wines at special prices, along with experts confirming the Russian origin and the quality of the grapes.
In 2019, the Ministry of Industry and Trade and the Ministry of Agriculture of Russia launched the Wine Guide of Russia, an annual project for the study of wine products. Through this project, a special commission made up of leading domestic and international experts and sommeliers assess the quality of Russian wines. Consumers can then get acquainted with the rating of the wines selected by the tasting commission.
10% Drop in Wine Sales
In 2020, an increase in excise taxes, a decrease in real incomes, and the restrictions on the food service sector due to COVID-19 led to a 10% drop in wine sales compared to 2019.
The closure of bars and restaurants during the COVID-19 pandemic had little impact on alcohol sales in Russia. Only 4% of alcohol sales is represented by drinking in public establishments, with the exceptions of whiskey, rum, gin, absinthe, and tequila (their consumption in bars accounts for 12-13% of total alcohol sales). However, this volume in the pandemic was completely taken over by retail stores.
Market operators had the opportunity to keep wine prices low due do the stocks.
In 2020, Russians consumed about 11 million HL of wine products, which shows a slight increase (up 13.4%) compared to 2019. The sales growth was supported by increased demand for alcoholic beverages during the period of quarantine restrictions in Russia (March – June 2020). During this time there was also high demand for domestic tourism in the wine regions of the Russian Federation after the closure of the borders, and an active wine discount campaign in retail chains.
| | | |
| --- | --- | --- |
| | Company | Wine imports |
| 1 | Simple Group | $69,700,000 |
| 2 | Aroma | $37,000,000 |
| 3 | Luding | $35,500,000 |
| 4 | Logistic Trade | $33,900,000 |
| 5 | Polini Import | $29,600,000 |
| 6 | Logistika Alternitiva | $29,600,000 |
| 7 | Beluga Group | $27,800,000 |
| 8 | Moro Group | $25,100,000 |
| 9 | Alianta Group | $24,200,000 |
| 10 | Marex | $21,700,000 |
Top 10 Russian Wine Importers by Value, October 2018-September 2019. Source: Russian Custom Data.
At the same time, market operators had the opportunity to keep wine prices low due to the stocks formed in 2019-2020. Russian wine stocks already included wine from several sources, including wine domestically produced in 2019 following a record grape harvest and in anticipation of an increase in excise taxes; wine produced from imported wine materials before the law restricting their use came into force; and imported wine imported before the exchange rate appreciation.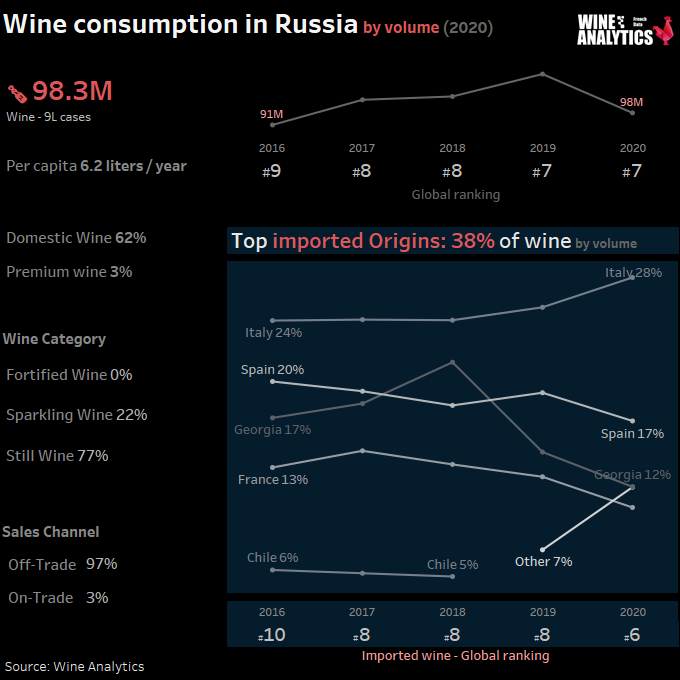 Wine Consumers Want to Learn
the wine-consuming culture among Russians is only being formed. Therefore, all of the measures mentioned previously will gradually helping to gain consumers' confidence in Russian wine.
The topic of wine production and wine varieties is gaining popularity among the population. More and more, Russian wine consumers want to learn about the product being consumed, which is reflected in the growing influence of beverage retailers on the retail distribution of wine. These outlets represent a source of information and knowledge, as well as products for many Russian wine lovers. Large retailers have hired wine sommeliers to organize collections of wines at different price points, conduct training programs for wine shops and 'cellar masters,' and create mobile applications which help customers choose wine.
The decrease in imports is due to several factors, including significant increases in excise taxes on alcohol from January 1, 2020; the weakening of the ruble in the second quarter of 2020; and the government-mandated shutdown of the country's HRI industry from April to June 2020 due to the COVID-19 pandemic. With the opening of the HRI industry and food services in June 2020, there was no need to import wines given the already sufficient stock.
Italian, French, and Spanish wines accounted for 61% of the value if imports.
In 2019, Russia's wine imports showed an increase of 9% compared to 2018 and were estimated at 4.47 million HL valued at $1.16 billion. Italian, French and Spanish wines accounted for 61% of the value of imports in 2019. Imports of Italian wines represented the largest share in total imports at 29%, followed by France at 17%, and Spain at 16 %. Moldova wines registered 81% import growth, the highest compared to other origins.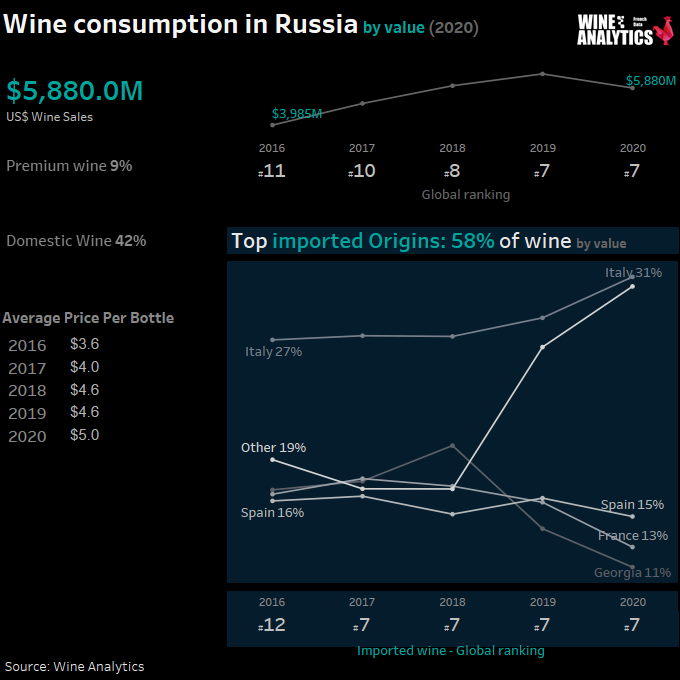 The Wine Consumer Portrait
Not surprisingly, the typical alcohol shopper in Russia is at least of average financial standing. Wine, it turns out, is one of the major alcoholic drinks consumed by 59% of Russians; beer is 63%, followed by Cognac (45%), sparkling wine (41%), vodka (36%) and whisky (25%). Women tend to have a bigger preference for wine, with 69% of them consuming it regularly. People under 35 prefer wine and beer, while older audiences tend to favor spirits.
Still, a typical alcohol shopper is, in fact, a male: 26-45 years old, employed and at least of average financial standing. The average Russian spends around 800 RUB ($13) on alcohol per purchase and does so around five times a month, spending $780 annually, which is the same amount as the average inhabitant of Saint Petersburg earns in a month. High income respondents, not surprisingly, spend more.
Russian men spend at least 20% more on alcoholic products and buy them more often, at six times a month versus four times a month. When it came to confidence, 46% of respondents were sure they had a "strong knowledge" of alcoholic brands, which rose to 54% in Moscow and 57% in Saint Petersburg. Men had much higher rates of confidence about brand knowledge than women, at 59% versus 33%.
Online Caution
39% of Russians are willing to buy alcoholic drinks online – despite the fact that 43% of them also oppose this kind of sales channel, mostly because of concerns around underage drinking.
Russians worry about product authenticity, especially when it comes to online sales – 58% of Russians doubt they can buy authentic alcoholic drinks from the Internet. These fears are easily explained: since 2013, Russian officials banned all discussion and advertising of wine and spirits; the only public information that remains comes from news about criminal activity related to alcohol, and about police anti-counterfeiting actions.
Discount Sensitive
The wine trade's belief that Russian consumers are very sensitive to discounting and often buy only on promotion dates or on special occasions, such as New Year sales and Black Fridays; 40% of respondents define themselves as "discount hunters". This is not surprising, considering food (and alcohol) spending accounts for 31% of the average Russian household budget.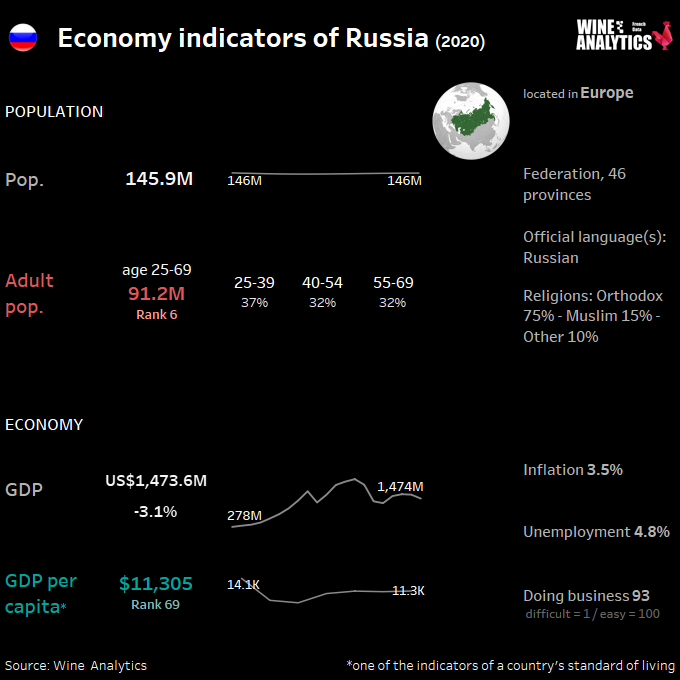 Men and younger people in general are more open to the idea of allowing alcohol advertising back in the media.

Russia, Why Restrictions for Imported Wine?
Our evaluation method
The data shows key metrics, and these are combined to show a ranking calculated using a composite weighted attractiveness combining overall economic factors and wine market factors.
WINE CONSUMPTON IN VOLUME
93
WINE CONSUMPTON IN VALUE
93
IMPORTED WINE IN VOLUME
94
87
Wine Market Attractiveness