The Dutch market was a price market. It is difficult to access with accumulated stocks, Netherlands is nonetheless promising for wines, which can capitalize on the rise in average prices.
The Average Price Increases
Beware of clichés, especially in this period of health crisis reshuffling the cards. The general idea remains that the Netherlands is a price market:
Importers negotiate hard, it is in their genes to be traders. But distributors have realized that to have a good product, you have to put in the means.

Michèle Lainé, export manager for wines and spirits
Lainé points to the expected increase in the average price of wines sold in 2020. In supermarkets, the purchase price would increase from 3.5 to 4.5 or 5€. In wine shops, the average ticket would increase from 7.5 to 8.5 or 9€. For e-commerce, the increase would be 11 to 12€. Accelerated by the Covid pandemic and confinements, this trend is a reality before the crisis.
We have analyzed red wines listed in French restaurants:
1. Bordeaux
2. Burgundy
3. Navarra
4. Loire
5. Rhône

6. Central Valley
7. Piedmont
8. Veneto
9. Cuyo
10. South Australia

11. Castile & Leon
12. California
13. Languedoc
14. Provence
15. Italy IGT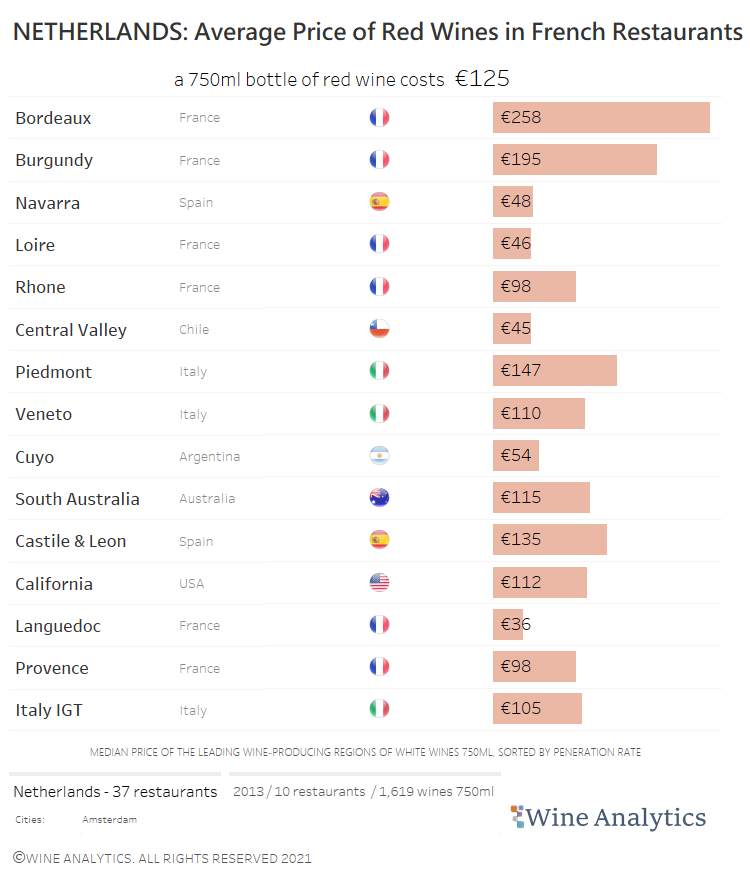 Entry Level Wines
If the Dutch market is evolving in value, the French wines are the most imported origin, with there PGI designation wines (Pays d'Oc and South-West, Vin de France). Lainé also observes a strong development of certain appellations (Provence for rosé, Loire with Chenin…) and of lifestyle-oriented labels, such as organic wines (10% of the market).
The Netherlands is a mature market, even saturated, says Lainé, who emphasizes the strong international competition, coming from the wines of the new world (Chile and South Africa), but also from European vineyards (especially Germany).
A lot of Stock in Warehouses
Even if wine re-exports explain these significant increases in imports (to Belgium, Norway and Great Britain), 2020 is a very good year for the grocery and wine retailers. The e-commerce market share increased from 10% to 35% of the total wine sales. Since October 14, 2020 restaurants remain closed in the Netherlands, wine stocks remain high for the On-Trade channel suppliers. Lainé notes however that only 15% of Dutch people would consume wine during the meal rather before, as an aperitif or after, watching television.
Today, it is not easy to enter the Dutch market. There is a lot of stock. It is complicated to find an importer who is looking for wines, especially from France. The country is small, they usually have in their portfolio one wine per region.
Key Points
Expected increase in the average price of wines sold in 2020
Strong development of lifestyle-oriented labels
Wine re-exports from the Netherlands
Wine stocks remain high for the On-Trade channel suppliers.