Sweden has increasingly become a wine-consuming market. The government took control of alcohol sales to deal with the historical Nordic binge drinking. The idea was to get the people off spirits and into lower alcohol alternatives, such as beer and wine. Due to Covid-19, the Swedish market is going through a cultural shift, similar to what is seen on a global level. We have highlighted 2020 wine trends.
RATE THE SWEDISH WINE MARKET ATTRACTIVENESS  
Falling Number of Swedish Wine Drinkers
The Swedish government has eminently succeeded to get people off spirits. The total consumption of alcohol stabilized at c. 7 liters per adult back in 1970. These data translate into an average of 29 liters of wine per capita (15+ years old) since 2010, when consumption reached its current stable level (data from the OIV). This is 1 bottle per person every 9 days.
According to Wine Intelligence data, the number of wine consumers decreased from 2015 to 2020, from 6.3 to 5.8 million consumers (regular consumers: from 4.8 to 4.3 million).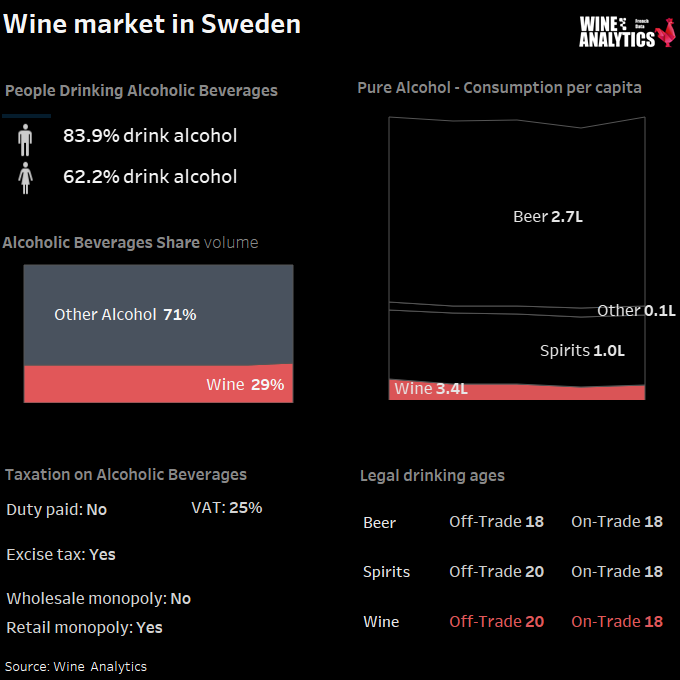 Alcohol Buying Channels
The main source of alcohol for consumers is retail liquor stores, all of which are the run by the government-owned by Systembolaget. To import wine into Sweden, you need go through an importer, who will either supply the trade directly (restaurants, bars, caterers), or market the wines retail through Systembolaget.
We have analyzed red wines listed in Swedish cuisine restaurants:
1. Rhône
2. Bordeaux
3. Burgundy
4. Italy IGT
5. Piedmont

6. Catalonia
7. California
8. Languedoc
9. Veneto
10. Castile & Leon

11. Navarra
12. Tuscany
13. Western Cape
14. France IGP
15. Cuyo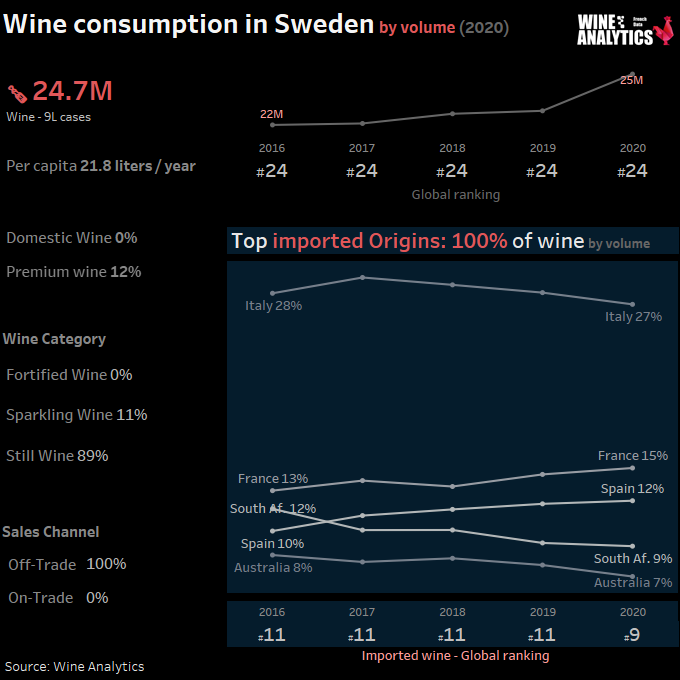 Considering wine sales by volume (2019 data published by Systembolaget), Italy dominates with 28% of sales, followed by France with 14% and Spain with 12% — these three make up 54% of the sales.
Low alcohol beer is available for sale in supermarkets, and this is the only alcoholic product allowed to be sold there. This has slowly decreased through time — Sweden is well-known as a market for craft beers, and these are in the retail stores only. Restaurant sales have been constant through time — this is not a big market because Scandinavia has very restrictive drink-drive laws.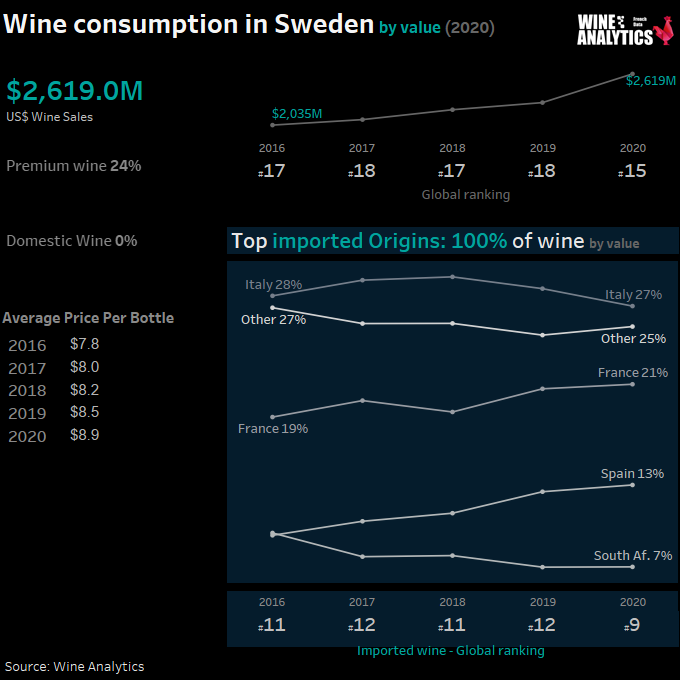 Wine Trends in 2020
Increase of online sales / home delivery. Women have been the driving force behind wine consumption.
Premiumisation of the wine market as Swedish people cautious their lifestyle
Organic wines increased by 17% in 2020. The are highlighted in Systembolaget stores.
Small formats sales increased, especially for sparkling wines in December 2010 (half bottle). Cans and small bottle are more and more popular as per single use to drink less and to try new wines. This is supported by Systembolaget.
Maturing wine drinkers population: the young people has consumed few wines, they've preferred drinking craft beers.
Rosé wines increased by 20% as there was a very good summer time in 2020. 80% of the rosé wine sales are made during summer.
Low/no alcoholic wines declined, as well as sweet/dessert wines. Serving low alcohol wines is not considered popular when you invite guests at home.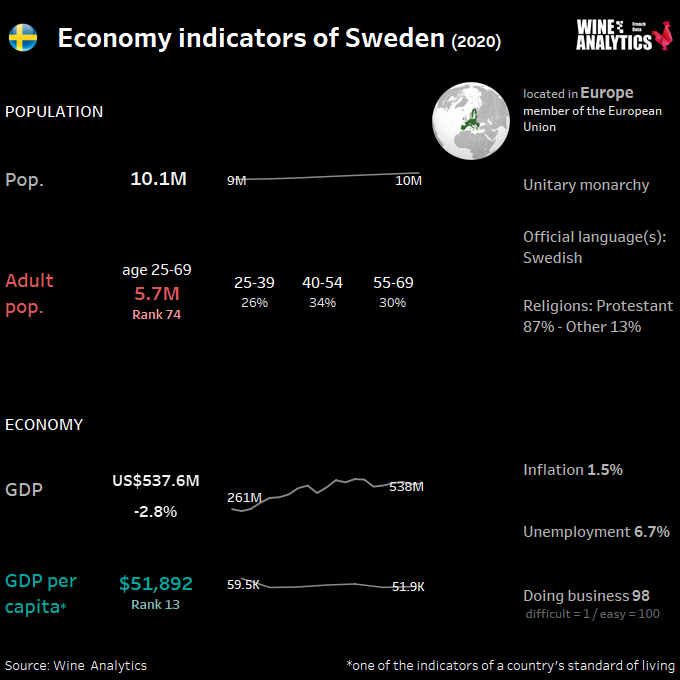 Sweden, Cultural Shift and Alternative Wines
Our evaluation method
The data shows key metrics, and these are combined to show a ranking calculated using a composite weighted attractiveness combining overall economic factors and wine market factors.
WINE CONSUMPTION IN VOLUME
76
WINE CONSUMPTION IN VALUE
85
IMPORTED WINE IN VOLUME
91
82
Wine Market Attractiveness