America is a huge country, and thus it's only reasonable to note that drinking rates across the nation vary considerably. A new study has revealed the drunkest states in America, based on a number of factors including binge drinking rates and alcohol-related deaths.
Many people, however, also report heavy use of alcohol. Approximately 19.0% of adults in the U.S. report regularly consuming unhealthy amounts of alcohol. In some states, excessive drinking rates are higher.
24/7 Tempo reviewed the adult excessive drinking rate in every state from the 2020 County Health Rankings & Roadmaps, a Robert Wood Johnson Foundation and University of Wisconsin Population Health Institute joint program, to identify the states with the lowest and highest shares of people reporting binge or heavy drinking.
Excessive drinking, according to the Centers for Disease Control and Prevention, includes binge drinking, which is defined as four or more drinks on a single occasion for women and five or more for men. Excessive drinking also includes heavy drinking, which is defined as eight or more drinks per week for women and 15 or more for men.
The states with the highest excessive drinking rates are concentrated in the Midwest, while those with the lowest rates are mostly Southern states. For example, 10 of the 15 states with the highest excessive rates are in the Midwest, including all of the top six. Seven of the 10 states with the lowest rates of excessive drinking are in the South.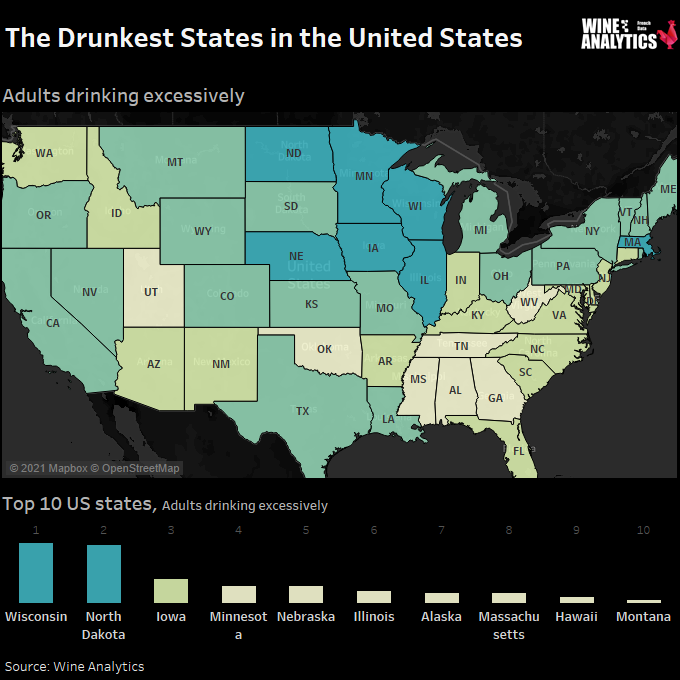 While there are some surprise states high up the list, the lowest-ranked state, Utah, will not come as a shock to many. Utah has the reputation of being a "dry state", largely due to its restrictive and somewhat complicated liquor laws, and comes out as the least-drunk state.
While Utah came out as the least-drunk state in America, with just 12.2% of its population drinking excessively, Wisconsin was ranked as the drunkest state, with a whopping 24.2% of its population drinking excessively – five percent higher than the national average.
Here is the ranking from drunkest to least drunk in full:
Wisconsin
North Dakota
Iowa
Nebraska
Minnesota
Illinois
Massachusetts
Alaska
Hawaii
Montana
New Hampshire
Colorado
Maine
Ohio
Wyoming
Missouri
Rhode Island
Michigan
Louisiana
Texas
Vermont
Nevada
California
Pennsylvania
South Dakota
New York
Kansas
Oregon
New Jersey
Indiana
Washington
Virginia
South Carolina
Kentucky
Florida
Connecticut
North Carolina
Delaware
Arizona
Maryland
Idaho
New Mexico
Arkansas
Georgia
Tennessee
Oklahoma
Alabama
Mississippi
West Virginia
Utah