Czech Republic is not only the birthplace of the brilliant writer Milan Kundera. Most visitors to the Czech Republic, especially to the capital Prague, have no idea there is any decent wine of local provenance to be had. Grocery stores are full of bottles with unpronounceable grape varieties, sitting next to more approachable-looking examples from Spain, France, Italy and Germany.
RATE THE CZECH WINE MARKET ATTRACTIVENESS
With a population of 10.6 million, the Czech Republic is relatively a small market. Nevertheless, it has a fast growing and prosperous economy and an excellent geographical location in Central Europe. As the EU member, the Czech market complies with all EU market entry regulations.
Read also Poland, red and sweet white wines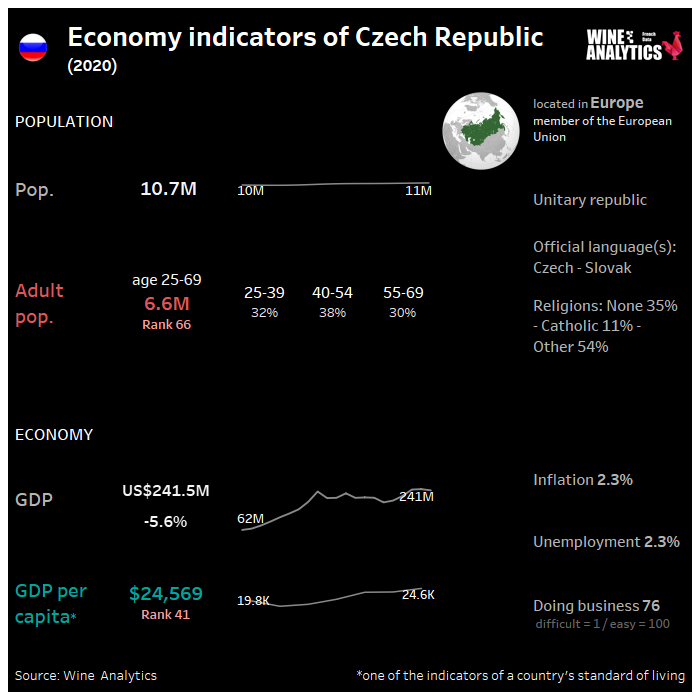 As a medium-sized, open, export-driven economy, the Czech Republic is heavily dependent on foreign demand, especially from the Eurozone. More than eighty percent of Czech exports go to EU states, particularly to Germany.
A strong and deep beer culture
Beer is considered a true national beverage and part of the cultural heritage. The Czech people have the highest per capita beer consumption in the world, reaching 138 liters per person in 2017. Unsurprisingly, growing and processing Czech hops also has a very long tradition.
Although both Czech beer and hops are major export commodities and enjoy worldwide recognition, niche market opportunities exist for U.S. beer and hops. This is mainly due to the recent boom of microbreweries and growing popularity of more heavily hopped beer, such as IPAs.
The spirits market is becoming more premium. Consumers are looking less at price and prefer traditional and imported products. Wines and spirits are mainly sold in the off-trade circuit. The breakdown is 75% for the off-trade and 25% for the on-trade for wine and 80% for the off-trade versus 20% for the on-trade for spirits.
Given the change in lifestyle towards health as a priority, the Czech spirits market is expected to decline, but not for all categories. In fact, rums have been doing very well in the market for several years. They are followed by white spirits (including gin and vodka) which represent the current trend in the Czech bar world. The market for cognacs and brandies is also expected to increase by +2% in 5 years.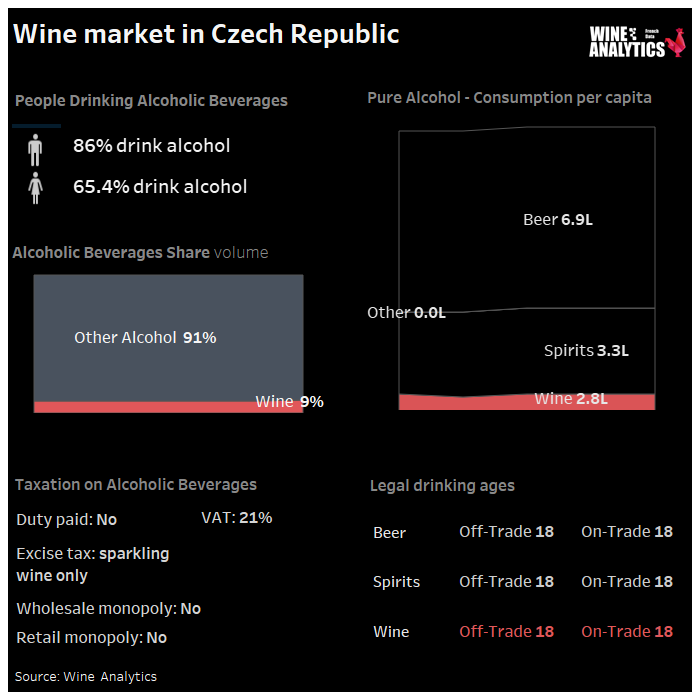 The retail sector is competitive
Most Czechs live in regions where several retail chains operate. The sector is saturated, consolidated, price-sensitive, and competitive. The top three retail groups together account for around 57% of the revenues. Small retailers continue to face strong competition from large and modern grocery retailers. Currently, the Czech market has been experiencing the boom of internet retailing including all food categories. Recent trends show growing consumers' attention to quality, good-value-for-money products, and their willingness to pay a higher price for premium food products.
Most wine is either purchased in grocery stores or supermarkets. Of these, the largest is the Dutch subsidiary Albert. n the Czech Republic, Tesco has faced heavy competition from the German discounters, Rewe's Penny Market and Lidl. The German influence on Czech retailing is further evident in Kaufland supermarkets, Billa's, Globus and Makro hypermarkets. Alongside these, local ownership is represented by the Coop chain which operates under several sub-brands.
Top 10 Retailers
Kaufland (Schwarz)
Albert (Ahold)
Lidl (Schwarz)
Penny Market (Rewe)
Tesco (Tesco Plc)
Coop
Billa (Rewe)
Globus (Globus Holding)
Hruska (Hruska a spol s.r.o.)
Makro Cash & Carry (Metro AG)
Hypermarkets remain the most popular grocery channel, however, they face increased competition from discounters and internet retailers. The fastest growth channel will remain internet retailing, food and drink internet retailing particularly, which already started to provide a stronger competition to traditional grocery retailers. Internet retailers will adapt to the increased use of mobile phones and bring technologies for simplified mobile shopping.
Burčák and the domestic wine
Huge EU subventions have encouraged investment on a scale that was unimaginable 15 years ago. The lands that now form the Czech Republic have a proud winemaking tradition. Great factories were constructed in which state-run cooperatives made it their business to extract maximum quantity, using plenty of added sugar, sulfur and sorbic acid along the way.
There is a unique tradition here, shared with neighbouring members of the Austro-Hungarian Empire, whereby every wine village will have another settlement adjacent to it, composed entirely of wine cellars, in which the local families have produced wine from their own small strip of vines since time immemorial. In the post-war Western-European boom, many Austrian cellars went to ruin; in communist Czechoslovakia, the tradition thrived. It was tolerated by the regime because the privately made wines were officially for consumption by family and friends.
When the 1989 Velvet Revolution came, the wine business was in an uncompetitive state, not fit to fight against the new products arriving from around the world. The local industry has begun to consolidate. The market leader is the Bohemia Sekt Group, owned by Henkell & Co of Germany. It has also acquired a number of smaller companies that specialize in still wines, including Víno Mikulov, Habánské sklepy, Chateau Bzenec and Vinařství Pavlov. Other major companies include Chateau Valtice, Znovín Znojmo and Vinium.
Burčák is another phenomenon. This is partially fermented grape juice known as Sturm in neighbouring Austria, and as its name suggests, the wine is stormy, cloudy and sweet. Low in alcohol, sold after a day or two in the fermentation tank, and subject to few controls, it is hugely popular and drunk in epic proportions in the wine bars, by the roadside, or at special vineyard events throughout the late summer.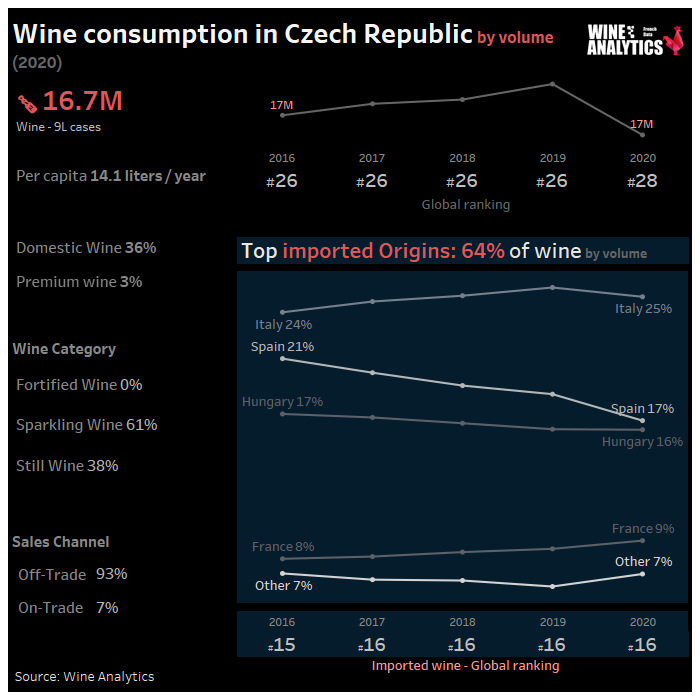 White was always the traditional wine color
Czechs drink mainly white wines, which account for about 56% of consumption. The share of red wines is 33% and rosé wines 11%. White was always the traditional color, many drinkers love it sweet, too, not least because the red used to be thin and green. The Czechs are traditionally consumers of white wines, since 60-70% of local production is oriented towards this type of grape variety.
The reds, however, are much improved, while many black grapes are now turned into the latest fad. Rosé had always been referred to disparagingly as a woman's tipple, but no more; the consumption of rosé wine has risen twenty-fold over the last ten years.
The Czech consumer is curious and attracted by new products. Nevertheless, the price of a bottle is still a determining factor, even though quality is an increasingly important criterion. In general, consumers tend to turn to quality products at the expense of low-end products. Therefore, they are buying wines at higher prices than in the past, thanks to their increasing purchasing power. The purchasing power per capita in the Czech Republic is the second highest among the Central and Eastern European countries (behind Slovenia).
The young consumer category under 35 years old likes to experiment. They are looking for wines from lesser-known appellations or grape varieties, biodynamic wines, or even natural wines. They also appreciate more modern labels. This category of consumers likes anything out of the ordinary. On the other hand, customers over 35 are more conservative. They will more easily buy wines from well-known appellations.
Most wines are from the major EU producing countries
Imports now account for two third of the market. Most are from the major EU producing countries, led by Italy. Since these attract no import duties, there is plenty of room for wines across the entire price range. Apart from local wines, Italy, Germany, Hungary and Spain lead France in the bottled wine market. About a quarter of all imports arrive from former Eastern Bloc countries.
Over the long term, France is the third largest supplier of bottled wine in terms of the value of its exports. In terms of volume, it generally ranks 4th among the supplier countries. The share of French bulk wine is marginal. For the sparkling wines, France maintains its position as the 1st supplier country in value and ranks 3rd in terms of volumes, behind Italy and Germany.
A huge number of active importers
Most Czech food retailers buy from central importers / distributors importing food and beverages. In general, these importers have an in-depth knowledge of importing requirements, such as product certification, labeling, and packaging. They also typically handle shipping, customs clearance, warehousing, and distribution of products within the country.
In contrast to more-established markets with long-established wine merchants, the Czech Republic has a huge number of active importers. Many do it as a sideline, bringing in a few pallets here and there while conducting their main business in, for example, shoes or lawn mowers. Such businesses will sell direct to the customer, thus cutting out the middle layer.
Well-established wine importers, to name a few
Bacchus Vins et Champagnes
Global Wines
Kupmeto
Tombalina Wines
Merlot Grands Vins
Riesling & Co
Czechs are quite conservative in business and prefer personal contact. To forge a trusting relationship, you should meet your contact several times.

Czech Republic, a white wine market
Our evaluation method
The data shows key metrics, and these are combined to show a ranking calculated using a composite weighted attractiveness combining overall economic factors and wine market factors.
WINE CONSUMPTION IN VOLUME
72
WINE CONSUMPTION IN VALUE
71
IMPORTED WINE IN VOLUME
84
72
Wine Market Attractiveness