Matteo Neri, Research Director at Xerfi, has explained what happened to the French wine wholesalers.
The turnover of the whole beverage trade plunged by 11.4% in 2020: the first time this has been seen in 20 years. This figure masks strong disparities between the different profiles of players. The activity of the specialists of the Horeca channels has collapsed by more than 40% over the last fiscal year following the closure of bars and restaurants. For C10, Distriboissons and France Boissons alone, the cumulative losses were close to €1.6 billion in one year.
READ ALSO

 How Medals Convince Shoppers to Buy Wine
Similarly, wine and spirits exporters had to deal with a particularly difficult year. Beyond the effects related to the pandemic, the American taxes on wine and spirits have weighed heavily on the demand for operators in the sector, and € 2 billion have evaporated in exports for the sector in 2020.
Beverages in the on-trade: a channel worth €8 billion
According to the CHD panorama of Gira Foodservice, beverage purchases in the out-of-home channels represented just over €8bn in 2018, including €7.1bn in commercial catering (restaurants, bars, etc.), and just over €400m in together collective catering and in alternative sales channels. Wines alone represent €2.7 billion, followed by beers (€1.7 billion) and soft drinks (€1.5 billion). Beverage wholesalers face competition from a multitude of players in the foodservice industry: first, manufacturers who sell directly (about 18% of the foodservice market according to the Gira FoodService panorama), but also cash & carry (12%), food wholesalers (7%), logistics providers (6%) and supermarkets (5%). In the end, beverage wholesalers only capture 51% of the market, which means that there is still plenty of room for improvement.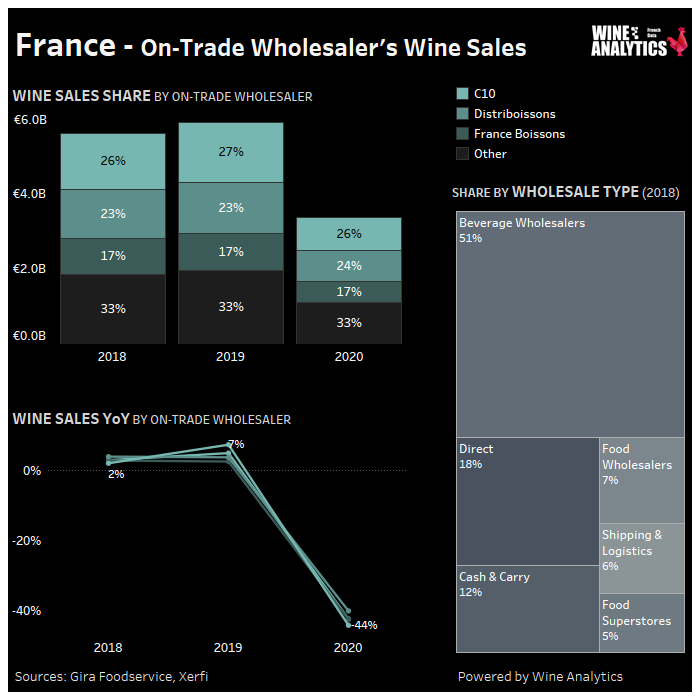 Digitization at full speed for the specialists of the Hospitality sector
In order to differentiate themselves and to capitalize on their competitive advantages, C10, Distriboissons and France Boissons are expanding their service offer and reinforcing their online presence. This strategy also aims to counter the competition from e-commerce players, whether generalists (Amazon and Cdiscount have developed an offer for professionals in recent years) or specialized (several BtoB marketplaces are dedicated to wines like Dixvins), but also to respond to the onslaught of competing channels (Metro launched in 2018 its marketplace for hospitality channels, and now offers more than 8,000 beverage references online).
Based on the observation that 30% of restaurant professionals say they are ready to use a marketplace to make their purchases, C10 launched its BtoB marketplace Marchandiz in June 2021. Accessible to all establishments (whether or not they are clients of the network), it offers a wide range of products and services through two interfaces: one hosted directly on the e-commerce sites of the network's members, and the other independent, accessible by all restaurant professionals (essentially non-food products).