Asian economic giant, with a growth forecast of 8% for the fiscal year 2021, India is a continental country with a population of more than 1.3 billion, a predominantly young population of which 485 million are of drinking age (25 years). India is a market that is approached by state. In recent years, sales of fine wines, champagne and whisky in India have been growing steadily.
RATE THE INDIAN WINE MARKET ATTRACTIVENESS

India drinks beer and spirits
Spirits – India has a particular appetite for spirits. Total spirits sales are estimated to reach over 3 billion liters by 2024. India is the world's largest consumer of whisky (with major international players such as Beam Suntory, Brown-Forman and Bacardi). Other particularly popular spirits are Brandy, Cognac and Rum. There is also a rise in the popularity of of white spirits and flavored alcoholic beverages. There is also a local production of arak type spirits.
United Spirits is the market leader in spirits with an extensive portfolio of spirits (locally produced & imported); from whiskies (e.g. Johnnie Walker) and vodka (Ciroc). Pernod Ricard, present in India, is the second largest.
The pandemic has particularly impacted retail sales of premium whisky, which have dropped by 36% in 2020. Indian consumers are looking for new flavors. There is a growing interest in cocktails and a rise in white spirits of white spirits; gin and vodka (especially flavored vodka).
Beer – India is also a notable consumer of beer, especially in the southern states. India is also a beer producing country with 170 microbreweries listed in 2019. It should be noted that 85% of Indians prefer beers with high alcohol content.
The main exporters (by volume) of beer to India in 2020 are: Mexico, Belgium, Spain and Germany. There is a strong demand for imported beers, especially in the urban areas of the southern states. by a young clientele.
United Breweries (UB) is the leader on the Indian market with more than 50% of the market share, with 30 breweries in the country. UB owns the local brand Kingfisher and imported brands such as Heineken.
Wine consumption expected to increase by 14%
 In 2020,  rosé wines have been increasingly sought after by importers. Wine in cans is also a new format format proposed by local and international players. It is worth noting that 90% of wine consumption takes place in large cities and cities and tourist areas (Delhi, Mumbai, Bangalore, Goa, Pune).
Due to a real awareness of environmental issues and their health, the Indian consumer is more inclined to consume products from organic / biodynamic farming and demand more environmentally friendly packaging. Let's note that the regulation in terms of in terms of organic labeling for exports to India is complex. It is forbidden to use the words "bio" or "organic" on the label.
Fine wine & champagne sales in India are expected to increase by 14% (in value) in 2021.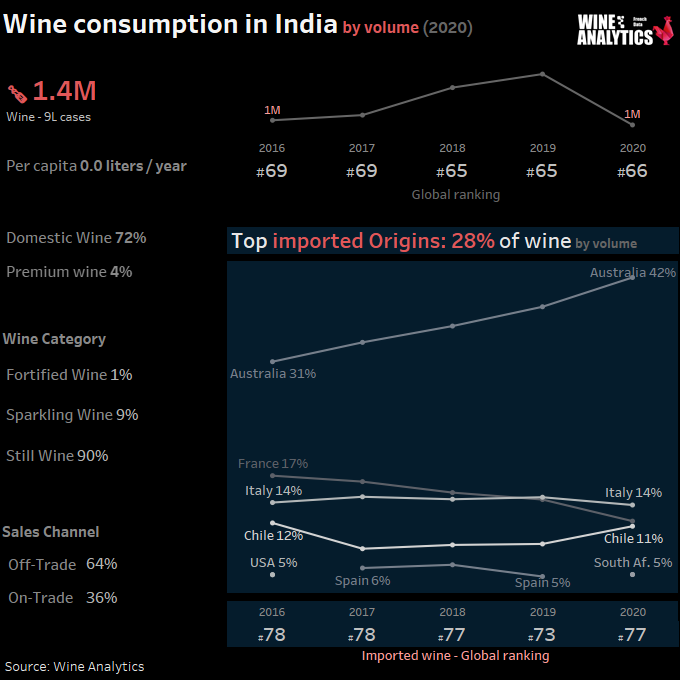 Brand owners rethink their strategies
India is also a wine producing country with two main wine producing regions; Maharashtra and Karnataka. India is a wine producing country with 3 main local actors: Sula (70% to 80% of the local production), Grover Zampa and Fratelli.
The pandemic afforded these domestic brand owners an opportunity to rethink their strategies, focusing more on their higher-margin products and concentrating more on their retail routes to market as on-trade opportunities contracted. This has also encompassed the creation of innovative, more egalitarian products, including wine in cans. Sula and Fratelli, for example, have launched canned products in the still and sparkling wine spaces with Dia and Tilt respectively.
Domestic producers account for 70% of still wine consumption, 80% of the sparkling wine category, and over 80% of the total wine category in India. Imported wines face familiar hurdles in the shape of high taxes and tariffs, and a cumbersome regulatory system.
For imported wines, 2020 was an immensely challenging year, thanks to Covid-19 restrictions and disruptions to supply and distribution. All origins and price bands registered volume declines during the year – except for premium wines from South Africa, which owed their increase to the anomalous stocking and promotion of one brand.
Wines from the New World – notably Australia with the Jacob's Creek brand – are increasingly present in India due to lower selling prices and lower logistics costs. The Australia Wine trade body has identified India as a "significant growth opportunity" for Australian wine, which it says is "already the primary importer of wine in the relatively small wine market", outlining a 10-year plan of short-, medium- and long-term objectives. The Australian approach is to try to collaborate with India's domestic wine industry, rather than compete with it.
If the regulatory, taxation and tariff environment improves over time, there is also a great opportunity for Australian wine businesses to invest in Indian businesses to further develop the Indian wine sector.

Lee McLean, General Manager, Government Relations and External Affairs · Australian Grape & Wine
France is the 2nd supplier of wine in India in value and the 3rd  in volume. The current trend of French wine sales to India shows that they are increasingly driven by red wine and in particular four main categories: Bordeaux, Rhone Valley, Loire Valley and Burgundy wines.
In terms of European competition, and in particular particularly concerning sparkling wines, the Italians (prosecco) and the Spanish (cava) are well present on the Indian market. However, Champagne maintains its position as the most renowned sparkling wine in India.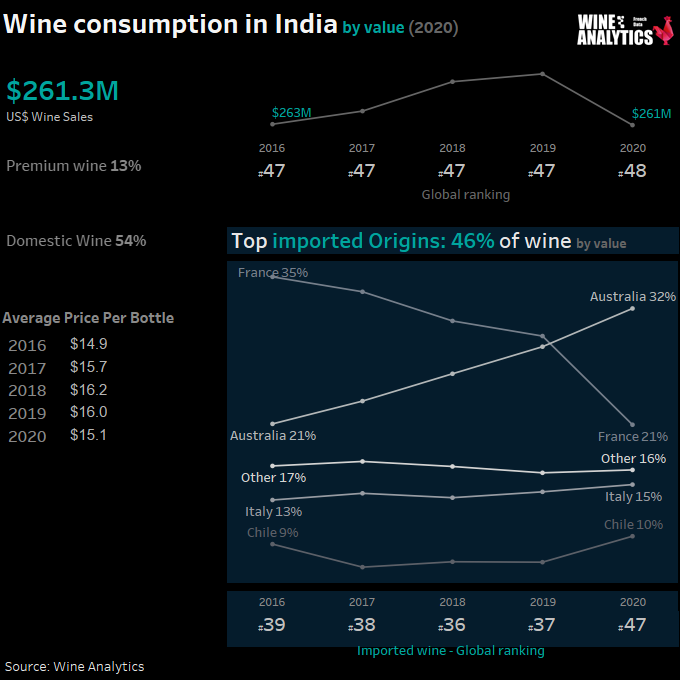 Liquor shops as necessity stores
Imports were also adversely affected by supply disruption and the scaling back of distribution, as well as challenges with international logistics and liquidity.
With the arrival of the Covid-19 crisis crisis, the Indian government has decided to impose a complete lockdown for many months (March-June 2020 – variable depending on the region and the number of cases), including the closure of restaurants and alcohol outlets. Since wine was primarily consumed in consumed primarily in restaurants, with containment sales came to a sudden and complete halt.
In May 2020, the Indian government decided to include specialty liquor stores as necessity stores. The long queues in front of these stores have prompted some states to allow online trading and home delivery of alcohol – which was banned before the health crisis – in order to avoid transmission of the virus (e.g. Maharashtra, Odisha, West Bengal…).
Eight Indian states have authorized e-commerce and home delivery of alcohol (Odisha, Maharashtra,…) due to the health crisis. Importers hope that this trend will continue.
Importers find themselves with a lot of stock to clear and are therefore reluctant to add new references to their portfolio until the situation improves.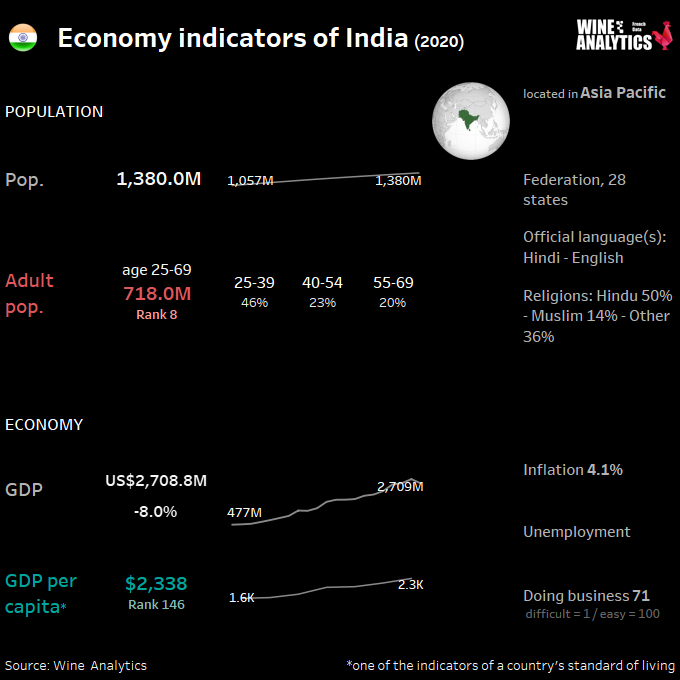 Laws are changing and complex
The regulation of alcoholic beverages (labeling, taxation, marketing, distribution, legal age of consumption,…) varies according to the States (which are 29 and 7 territories of the Union of India). of India). The laws are changing and complex. The importers themselves sometimes have to assimilate them well.
It is important to choose the right importer with the right import/ distribution license corresponding to the product and state(s) targeted. The " Excise Department " of each State of the Union issues import licenses.
Some states prohibit and/or restrict the consumption of alcohol (e.g. Bihar, Gujarat, Manipur, Mizoram and Nagaland). It should be noted that the sale of alcohol is an important source of revenue for the states that allow its sale and consumption.
A long-term strategy is needed to understand this complex market and establish market and to establish its brand.

India, Great Opportunity for Wine with Conditions
Our evaluation method
The data shows key metrics, and these are combined to show a ranking calculated using a composite weighted attractiveness combining overall economic factors and wine market factors.
WINE CONSUMPTION IN VOLUME
34
WINE CONSUMPTION IN VALUE
52
IMPORTED WINE IN VOLUME
23
41
Wine Market Attractiveness