Wine drinkers in Japan have reduced their wine consumption more than their Western counterparts, but seem more inclined to return to the status quo once the restrictions are lifted.
Japan's experience with Coronavirus has been more of a political roller coaster compared to its close neighbors, South Korea and China. However, the impact of the pandemic and associated restrictions on the behavior of Japanese wine consumers has many similarities with wine consumers in neighboring Asian countries, and some contrasts with English-speaking countries.
Japanese wine consumers reduced their consumption during the lockout period, mainly giving up sparkling wines, and spent less per bottle on the wines they purchased. Lack of formal or social occasions seems to be the main factor in the reduction, and drinking less wine seems to have been a generalized trend, regardless of age, gender, or relationship to wine category.
We have analyzed rosé wines listed in the restaurants of Tokyo, London.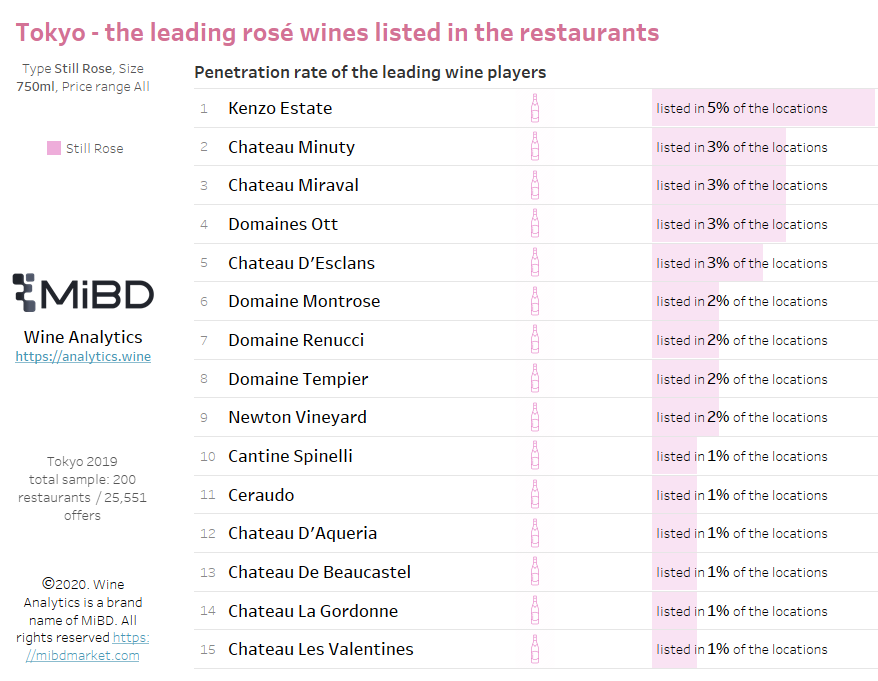 1. Kenzo Estate
2. Chateau Minuty
3. Chateau Miraval
4. Domaines Ott
5. Chateau d'Esclans

6. Domaine Montrose
7. Domaine Renucci
8. Domaine Tempier
9. Newton Vineyard
10. Cantine Spinelli

11. Ceraudo
12. Chateau d'Aqueria
13. Chateau de Beaucastel
14. Chateau la Gordonne
15. Chateau les Valentines
This conservatism about their current behavior contrasts sharply with their view of future behavior. Japanese consumers are, on the whole, quite optimistic about returning to a pre-virus lifestyle. More than 4 in 10 say they will be more likely to eat out when they are allowed to do so, and a similar proportion say they plan to go on vacation in Japan once restrictions are relaxed.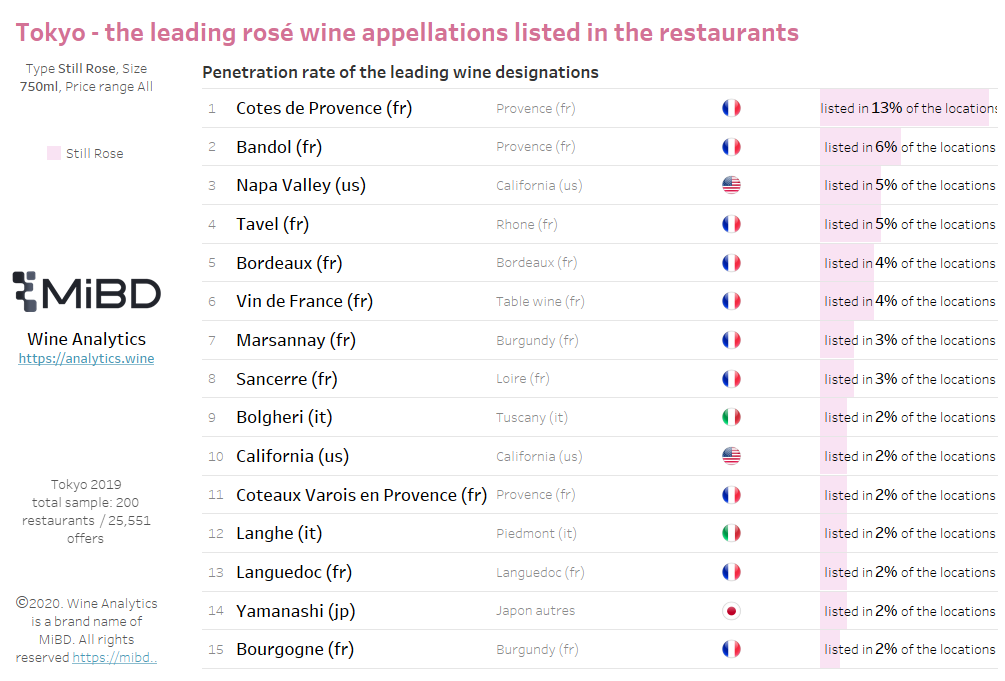 1. Cotes de Provence
2. Bandol
3. Napa Valley
4. Tavel
5. Bordeaux

6. Vin de France
7. Marsannay
8. Sancerre
9. Bolgheri
10. California

11. Coteaux Varois en Provence
12. Langhe
13. Languedoc
14. Yamanashi
15. Bourgogne
This self-imposed behavior restriction today, combined with optimism about the future, aligns Japan with South Korea and China, both of which have shown a similar pattern. The Asian trio contrasts sharply with the English-speaking markets of the United Kingdom, the United States, Australia and Canada. In these markets, there has been a significant upsurge in shopping during the closed period, but consumers say they are rather reluctant to return to social drinking and eating out.