The Korean wine market continues to expand as consumers look for high quality, lower alcohol beverages. Almost all wine consumed in Korea is imported.
South Korean wine imports reached a record $259.3 million in 2019, up 6.3% from the previous year. Young, professional consumers are a growing force in the wine market. These young wine drinkers have different sets of wine tastes and ideas from old generation drinkers. Many young consumers prefer bold and fruity flavors in wine. As a result, new world producers will likely see higher sales growth than old-world producers. Korean wine imports from the United States, Australia, and Argentina increased 51%, 31%, and 11% respectively in 2020 through August whereas imports from France declined 3.3%.
Red wine is the most consumed wine due to its highly publicized health benefits. However, white and sparkling wine are gaining shares as consumers adopt food-wine pairing themes.
Natural wine has been one of the hottest trends in the high-end wine market since 2019 as experienced wine consumers look for new tastes and higher quality. The natural wine boom that started in small, boutique wine restaurants and shops has expanded and large retailers such as EMART and Shake Shack stores now offer natural wine.
We have analyzed red wines listed in restaurants:
1. Central Valley
2. Bordeaux
3. California
4. Tuscany
5. South Australia

6. Cuyo
7. Burgundy
8. Rhone
9. Piedmont
10. Navarra

11. Languedoc
12. Veneto
13. Castile & Leon
14. Catalonia
15. Abruzzo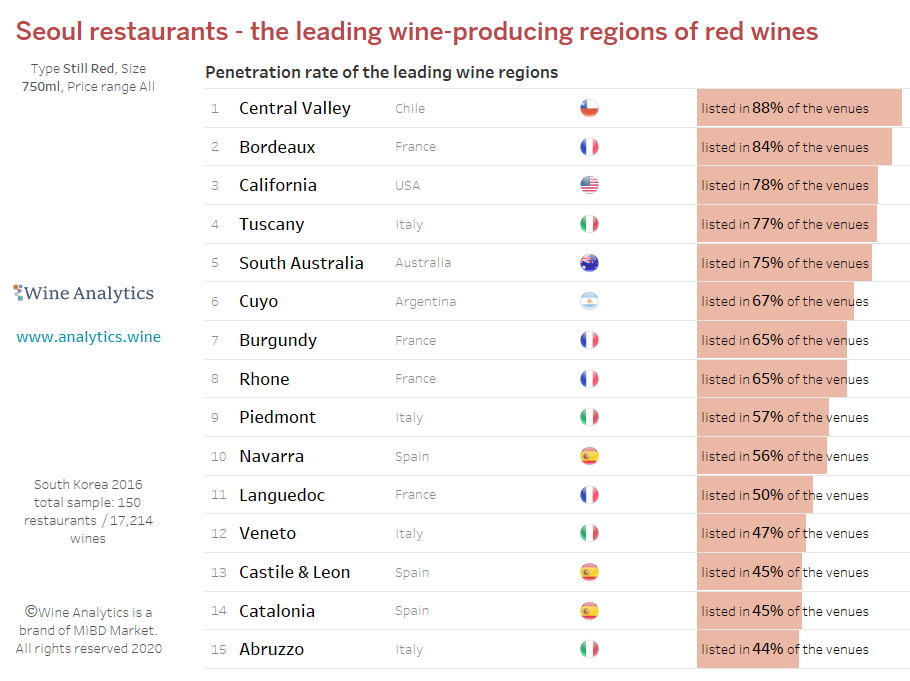 Large-scale Korean grocery retailers, including hypermarkets, supermarkets, and convenience stores, have recently launched low-price private label wine programs to capitalize on increased consumer interest. A notable example is 'Dos Copas' wine launched by the leading hypermarket chain EMART in fall 2019. This entry class wine from Chile was offered at $4 a bottle and generated 2 million bottles in sales during the launching year.
Korean consumers significantly reduced dining and drinking out due to COVID-19 concerns in 2020. Instead, many consumers opted to drink wine at home with their family. Major retailers reported double digit sales growth in wine as a result. Wine was the only alcoholic beverage that saw positive import growth in 2020 (up 9.5% through August).
Increased consumer demand for safe and convenient shopping due to COVID-19 led the government to allow online sales of alcoholic beverages for in-person pickup at stores starting in early 2020. Convenience stores, which are in almost every corner in urban areas in the market, have reacted quickly, offering wines through their online shopping platforms for easy pickup.
Key Points
Many young consumers prefer bold and fruity flavors in wine
Low-price private label wine in retail
Consumers drink wine at home
Online Sales allow from 2020.