Thailand amended the Alcoholic Beverage Control Act to ban the online sale of alcoholic beverages. Online alcoholic beverage sales have increased in the past few years due to the popularity of e-commerce and, more recently, due to the COVID-19 pandemic.
RATE THE THAI WINE MARKET ATTRACTIVENESS
A constitutional monarchy since 1932 the country has experienced 19 military coups and attempts The last one was in 2014 with the seizure of power by General Prayut Chan O'cha The legislative elections held in 2019 brought to power a new government, supported by a coalition of 18 parties, with General Prayut Chan O'cha as Prime Minister. The ambition is to develop the country to move upmarket (Thailand 4.0) by relying on new technologies, industrialization, transforming its agriculture, developing the country's infrastructure and connectivity to make it a hub and secure growth relays in neighboring countries.
With a GDP of 509 billion USD, Thailand is the 2nd largest economy in ASEAN. Thailand's economy is export-oriented (50% of GDP) and is well integrated in global value chains with a regional industrial base, large solid and internationalized companies, a constant tourist attraction (20% of GDP) but hard hit by the COVID-19 crisis.
Thailand has signed 9 bilateral/multilateral agreements (AFTA, China Thailand, Japan Thailand, Australia Thailand, USA Thailand reducing or abolishing customs barriers. The European Union has resumed discussions for a free trade agreement that will undoubtedly improve market access for agri-food and consumer products.
Read also

 Vietnam, the next wine hub for Southeast Asia?
16M Thais, or 23% of the country's population, consume alcoholic beverages. The Thai market is dominated by beers 73%, spirits 26% and wines 1%.
The highest consumption per capita
Thailand is not only the largest market in Southeast Asia for alcoholic beverages, but also has the highest consumption per capita among ASEAN countries (8.3 liters per annum), according to the World Health Organization. Krungsri Research estimated that sales of alcoholic beverages reached 400 billion baht (approximately US$12.8 billion) in 2019. Although alcoholic beverage sales rose 2-3% from 2016-2019, the market has become saturated. Laws and regulations aimed at cutting the consumption of alcoholic beverages have made it harder for new players to enter the market.
Thailand has gradually placed more restrictions on the alcohol industry over the last decade, starting with the ABC Act in 2008. The ABC Act restricted the advertisement of alcoholic beverages, focusing on restricting brand names, trademarks, and illustrations of alcoholic packages. Alcoholic companies had to find different ways to reach their customers by creating new experiences.
Thai drinking behavior has changed, however, with more Thais preferring to "drink at home." Importers have had to find new channels to distribute their products such as retail outlets. The "drink at home" trend also led to the growth of e-commerce as an important channel for selling alcoholic beverages. The popularity of e-commerce was driven by the fact that it is convenient, saves time, and has a cost advantage.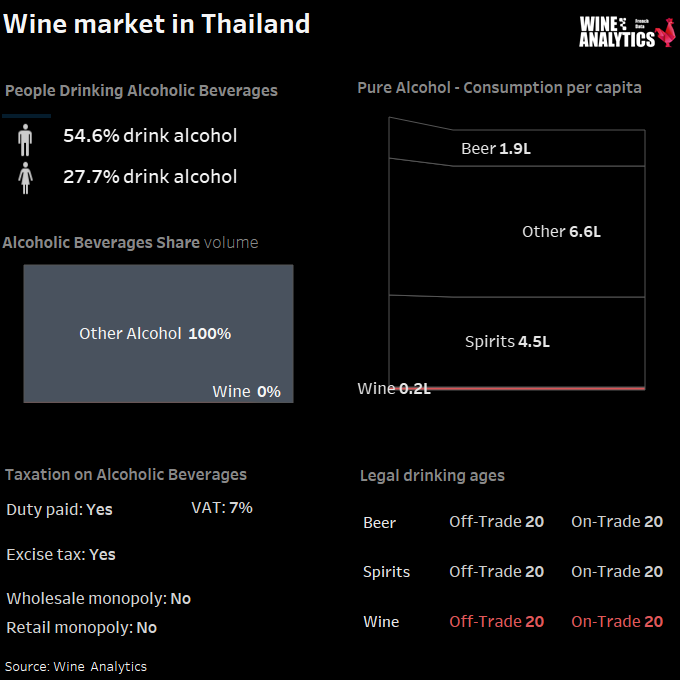 Beer is the most consumed alcoholic beverage
Beer was the most consumed alcoholic beverage in Thailand, accounting for 54% of the market by value. Craft and imported beers account for the other 7%. The demand for craft and imported beers is primarily driven by local consumers with high purchasing power. The Thai beer market is dominated by the following two key beer producers: Boon Rawd Brewery and ThaiBev account for 93% of the Thai beer market.
| | |
| --- | --- |
| Leading Producers | Beer Brands |
| Boon Rawd Brewery | Singha, Leo, and U Beer |
| Thai Beverage (ThaiBev) | Chang, Leo, Arch and Federbrau |
The preferred distribution channels for beer depends on the beer. Almost 70% of local beer sales are in retail outlets such as hypermarkets, supermarkets, convenience stores. Imported beer, however, is mostly sold in bars, restaurants, hotel, and pubs (approximately 75%). As a result, many alcohol importers establish their own restaurants, pubs, and cafes to sell their imported alcoholic beverages.
The premium beer sector in Thailand, although representing only 5% of the market, is the fastest growing segment. It is stimulated by the increase of the local consumption, urban people with strong purchasing power, having more and more sophisticated needs and paying an increasing attention to the quality.
Leading local beer producers mainly market their products by sponsoring entertainment events such as concerts, sporting matches, and lifestyle festivals. The bigger companies also started producing other product lines with their logos and names to expanding the promotion of their brands.
Social media made it easier for beer importers to build brand awareness, share marketing activity schedules, and engage their consumers. As online marketing of alcoholic beverages grew, the Thai government amended the ABC Act to expand the prohibition of advertising alcoholic beverages to include online advertisement in 2017.
ThaiBev dominates the spirits market
The spirit market is dominated by ThaiBev with more than 30 products and close to 80% of the market due to burdensome regulations that make it difficult for new players to compete in the market.
The United Kingdom, France, China, the United States, Vietnam and Japan are the main players in the spirits market. The imported spirits market is dominated by whisky. The United Kingdom still dominates with more than 40% of the market share in volume and value thanks to whisky and more recently to gin. France imports to Thailand mainly cognac but also vodka, liqueurs, whisky, rum and gin.
Online sales of alcohol grew quickly in 2020 due to the COVID-19 pandemic. The Thai government, however, banned online sales of alcohol in response to the growing popularity of the distribution channel. The ban on online sales will affect importers and new entrants into the Thai alcoholic beverage sector the most. Importers will no longer be able to offer delivery services and will need to find alternative distribution channels to sell their products. Many merchandisers claim that the law unfairly affects smaller distributors than bigger companies, such as Boonrawd Brewery or ThaiBev, that already have a large market share. Most of the larger companies' business structure already depends heavily on the traditional trade or dealer system and won't be affected by the ban of online alcoholic beverage sales.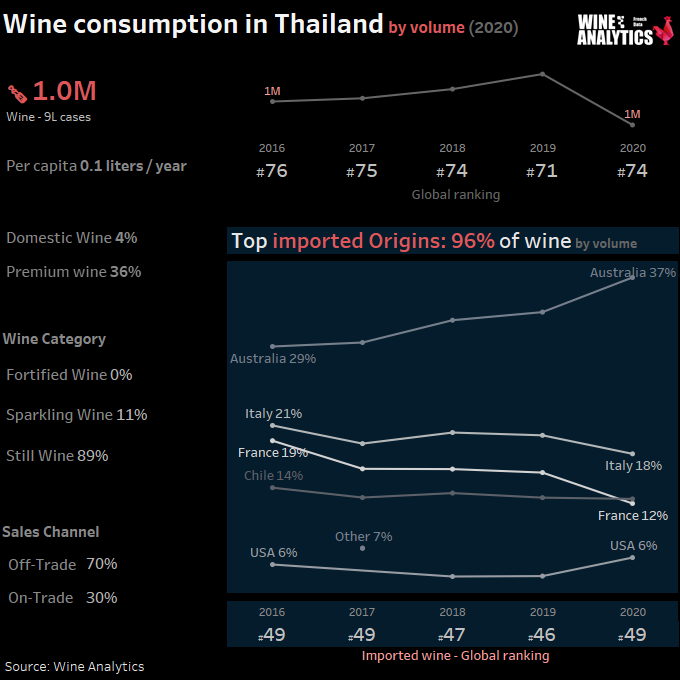 A wine market of opportunity in Southeast Asia
The value of Thailand's wine imports grew by 31% between 2014 and 2019 but with a 26% drop over the 2019-2020 period. The country still remains a market of opportunity in Southeast Asia with expectations of recovery.
In recent years, the evolution of demand for imported quality wine has been favored by Thai consumers. The most popular grape varieties among Thais are Cabernet Sauvignon, Syrah (Shiraz), Merlot, Pinot Noir for red wines and Chardonnay and Sauvignon Blanc for white wines.
The main actors in the wine market are Australia, Italy, France, Chile, South Africa and to a lesser extent the United States and Spain. Australia and Chile have signed free trade agreements with Thailand and enjoy preferential tariff treatment (import tax of 24% for Australia instead of 54%).
Wines imported from France are known because of their image of prestige and quality. They are considered premium, especially wines from Bordeaux and Burgundy. These are the top choices for Thai consumers of premium wine. Rosé wine is becoming increasingly popular in recent years, especially among female consumers. French rosé has a quality image and matches the tastes of Thai consumers.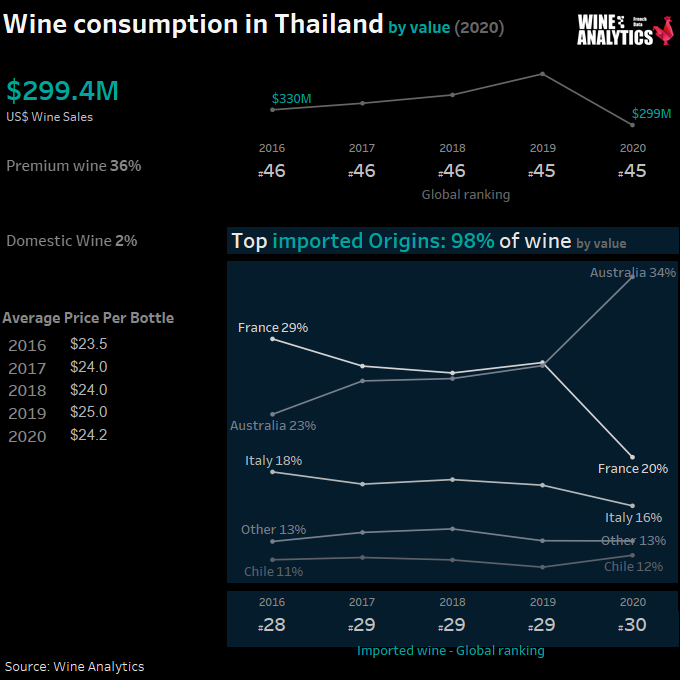 Thailand is a country of re-export of wine to neighboring countries such as Myanmar, Cambodia and Laos, which explains a value of exports higher than that of local production.
Almost all wine importers are also distributors
Wine and spirits imports are restricted to companies with Thai legal status and a license to sell and market alcoholic beverages issued by the Thai Excise Department. An import permit is required for each batch imported. Sending samples is subject to taxes.
Numerous and heavy taxes apply to alcoholic beverages such as excise duties which have the particularity of being applied on the retail selling price before tax declared to the Excise Department.
The label must be approved by the Excise Department. Mandatory information in Thai or English, such as minimum net quantity (in metric units), alcohol content (in degrees or percentage by volume), importer/producer contact information, warning statements (in Thai only), and the date (month and year) of manufacture or serial number of the bottling.
The import permits obtained from these approved certificates are valid for three years. The exporter must obtain a new export certificate to renew the import permit after three years. The sample of certificates for wine, beer, and distilled spirits are available at TTB website.
Almost all wine importers are also distributors. Some also import spirits and food products, with wines constituting only a part of their activity. The large historical importers are losing ground since the arrival of new, more efficient players.

Thailand, the largest alcoholic beverages market in Southeast Asia
Our evaluation method
The data shows key metrics, and these are combined to show a ranking calculated using a composite weighted attractiveness combining overall economic factors and wine market factors.
WINE CONSUMPTION IN VOLUME
26
WINE CONSUMPTION IN VALUE
55
IMPORTED WINE IN VOLUME
51
54
Wine Market Attractiveness