In 2016, Belgium came ninth in the ranking of import countries, importing approximately 300m liters. According to William Wouters, chairman of the Belgium Sommeliers Guild, "if you want to find a good winery, check the wineries where cars with Belgian license plates are parked.
Belgium is an important market for wine consumption, with many wine connoisseurs among the 11m population. The majority of Belgians drink their wine at home or in private circles — and the wine usually comes from the supermarket. The fact that a lot of wine is drunk at home, according to Gido Van Imschoot – chairman of the Flemish Sommeliers Association – has to do with alcohol legislation and the strict checks of drivers, particularly on weekends.
Between 2014 and 2016, the imports of French wine declined by about 13% in volume in favor of wines from the New World, such as South Africa and Chile. Imports from Spain and Italy also increased; these two countries are now in second and third place in Belgium.
Wallonia is French oriented
Wouters is proud of how much the Belgians know about French wines, though he adds there is a difference depending on which part of the country they come from. The markets of Wallonia and Brussels are traditionally a bit more focused on France, where the market share is approximately 60%. Anjou, Beaujolais are much more common there than in Flanders; the New World is almost non-existent.
Van Imschoot, sees major differences between north and south. "Our language border is also a taste-and-supply boundary in many ways. Previously most of it came from France, which is really shifting to wines from Italy," he says, adding that it's partly because French wine has become more expensive.
In Wallonia, on the other hand, says Van der Auwera, Prosecco is more popular than Cava. And red wine is the top choice for still wine. In Wallonia, nine out of 10 bottles are still red; in Flanders four out of 10 bottles are white.
We have analyzed white wines in Brussels restaurants
1. Loire
2. Burgundy
3. Alsace
4. Languedoc
5. Bordeaux

6. Rhone
7. Veneto
8. South West
9. Castile & Leon
10. Sicily

11. Western Cape
12. Central Valley
13. Roussillon
14. Piedmont
15. Tuscany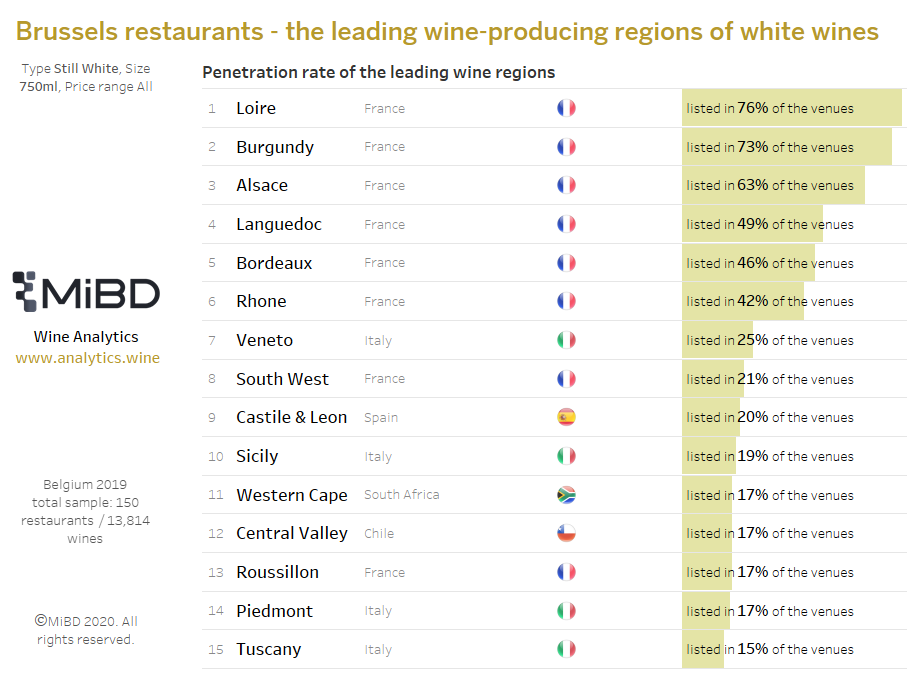 Flemish are willing to pay more
In Flanders, in the north, drinkers are more open to wines from the New World — and are willing to pay more for them. French wine market share is approximately 40%.
Belgians are solid champagne consumers.

Frank Van der Auwera
When it comes to the on-trade, Wouters says: "I think there is a slight preference for white wines in restaurants. Often a white wine is served as an aperitif. Wines with fresh acidity, a lot of fruit, not too difficult, do well." He adds that Belgians in general, but in Flanders in particular, are very fond of sparkling wine.
Key Points
The language border (French vs. Flemish) is a taste-and-supply boundary
In Wallonia and Brussels, consumers are more oriented on red wines, French wines
In Flanders, consumers like white wines and champagnes. They are more open to the New World wines.