After a tumultuous decade of growth, China's wine market is gripped by an economic crisis years in the making, plus a short term coronavirus crisis that has decimated the on-premise. The shape of the wine market's recovery will determine the themes of the next 10 years, some of which are already apparent.
The Chinese wine market is digesting two major crises. The most obvious is of course the fallout from the coronavirus pandemic, and its negative impact on the on-premise channel. The second crisis is the slowing of the Chinese economy after nearly three decades of unprecedented growth, which the impact of the virus has accelerated.
It is also the case that China's wine consumers have become more thoughtful, educated and less likely to buy product that is overpriced and poor quality. Unfortunately, during the boom years, poor quality wines that were either outright fakes or close copies of well known products were widespread and fostered a general caution and lack of confidence among some consumers, particularly those who were relatively new to the category. It was also the case that legitimate, but ordinary, wines were cleverly packaged and promoted as luxury products, with astronomic prices, to those consumers who didn't know any better.
We analyzed white wines listed in the wine shops of Beijing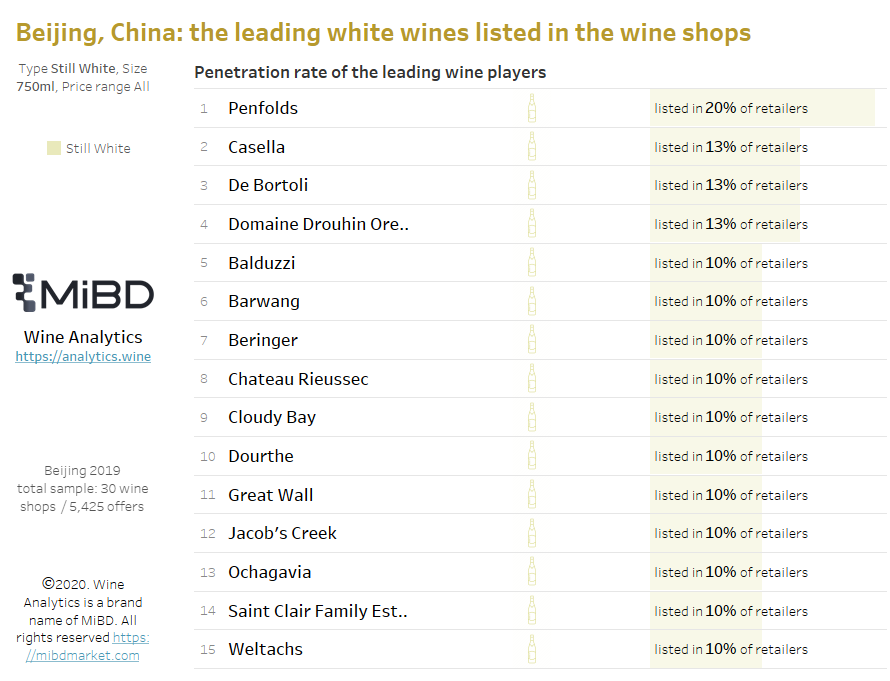 1. Penfolds
2. Casella
3. De Bortoli
4. Domaine Drouhin
5. Balduzzi

6. Barwang
7. Beringer
8. Chateau Rieussec
9. Cloudy Bay
10. Dourthe

11. Great Wall
12. Jacob's Creek
13. Ochagavia
14. Saint Clair Family Estate
15. Weltachs
Plenty of overpriced and counterfeit wines remain in the market, but their influence is waning thanks primarily to the extraordinary rise of the online sales channel for wine in China as a result of coronavirus restrictions. Online retail has enabled consumers to shop around for good prices, and also kept retailers honest in terms of the quality and reliability of the products they sell. In such a competitive space, a series of negative WeChat reviews can seriously dent a retailer's reputation.
The other big change over the past five years is the growing importance of high profile and mainstream brands in the market. The larger brands with a clear and distinctive quality and reliability message are making ground as the market matures and consumers become more quality conscious.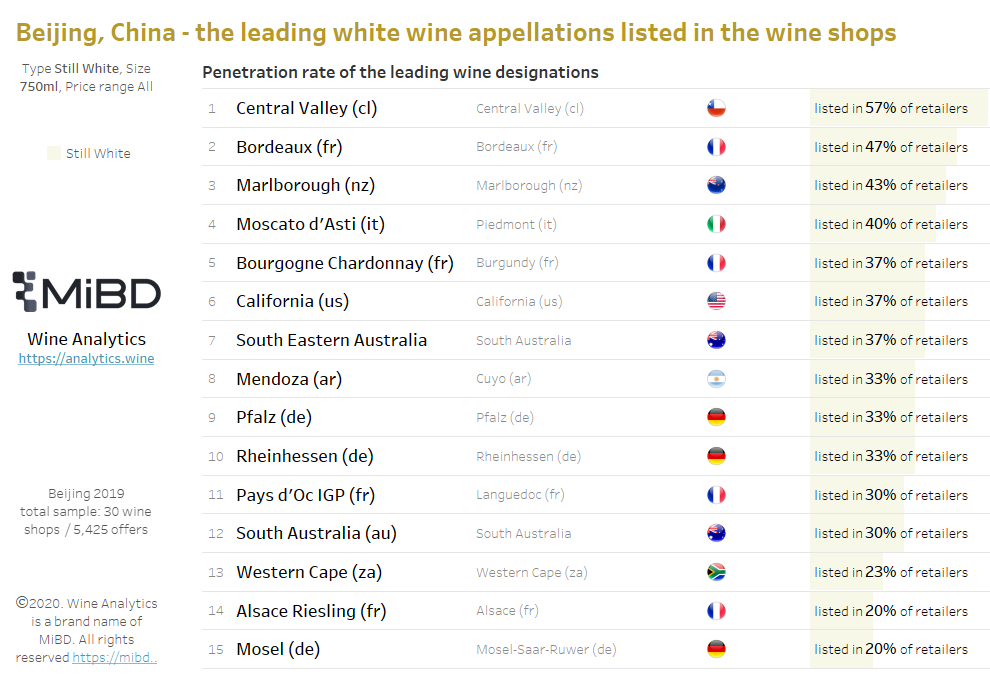 1. Central Valley
2. Bordeaux
3. Marlborough
4. Moscato d'Asti
5. Bourgogne Chardonnay

6. California
7. South Eastern Australia
8. Mendoza
9. Pfalz
10. Rheinhessen

11. Pays d'Oc IGP
12. South Australia
13. Western Cape
14. Alsace Riesling
15. Mosel
Most players are expecting significant volume declines this year as the twin impacts of virus lockdowns and economic slowdowns take hold. E-commerce will continue to make advances, building on its fundamental attributes of convenience, price and quality transparency, and stickiness in terms of consumer relationship management. The on-premise wine trade will suffer the most, and the longest, as consumers show deep and lasting reluctance to go back to restaurants, particularly for the large celebrations that are often accompanied by expensive wine purchases.
The next 10 years will see mainstream priced wines start to dominate as excess becomes unfashionable, while niche products such as organic wines, rosé, sweeter whites and sparkling wines will all grow, albeit from low bases. These and other specialty products can thrive in a world of online discovery and trend-seeking. Fundamentally, then, the coronavirus and associated economic crisis has hastened changes that were already afoot in China's relationship with wine. The market is no longer the wild gold rush sector it was once upon a time, and the aftermath of the current disruption will be a market that is less volatile, less high-end focused.