The UK's 28 million wine consumers have found new and more occasions to enjoy their favorite drink.
Despite lockdown and the total shutdown of in-house on-trade dining and bar visits, committed wine imbibers have found new occasions for wine drinking during lockdown: at lunchtime, or catching up with friends online, or replacing the trip to the restaurant with a more indulgent evening meal.
The e-commerce has understandably been the big winner, with an initial big spike in lockdown-oriented sales now continuing to deliver stronger-than-normal sales for supermarkets, merchants and online specialists.
However, and while these sales are being driven by younger, affluent and urban-dwelling wine drinkers – who are also ordering with greater frequency – there are significant differences emerging between differing age groups in wine purchasing behavior.
We analyzed red wines listed in the top 50 online retailers of the UK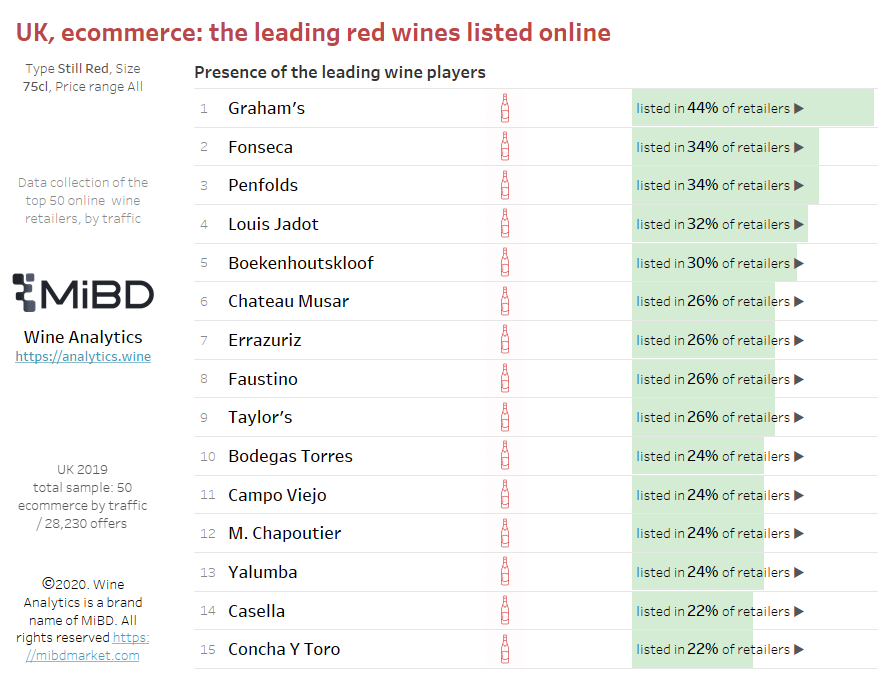 1. Graham's
2. Fonseca
3. Penfolds
4. Louis Jadot
5. Boekenhoutskloof

6. Chateau Musar
7. Errazuriz
8. Faustino
9. Taylor's
10. Bodegas Torres

11. Campo Viejo
12. M. Chapoutier
13. Yalumba
14. Casella
15. Concha y Toro
Drinkers aged 25-54 have been leading the charge, with those that are normally the most regular drinkers and most engaged correspondingly finding and driving those additional drinking occasions.
Conversely, Gen Z drinkers, those aged between 18-24, are cutting back on their already lower frequency engagement with wine, with the report surmising that this is perhaps more affected by the loss of socializing opportunities.
Overall, from March 2019, when average wine drinking frequency sat at 9.5 times on average for the month, this frequency rose to 9.9 times (equivalent) ahead of lockdown in March 2020, peaking at 10.3 following lockdown. Meanwhile, volume sales may still be on a high, but overall spend per bottle was down across all at-home drinking occasions, bucking the upward trend of the 12 months preceding the pandemic.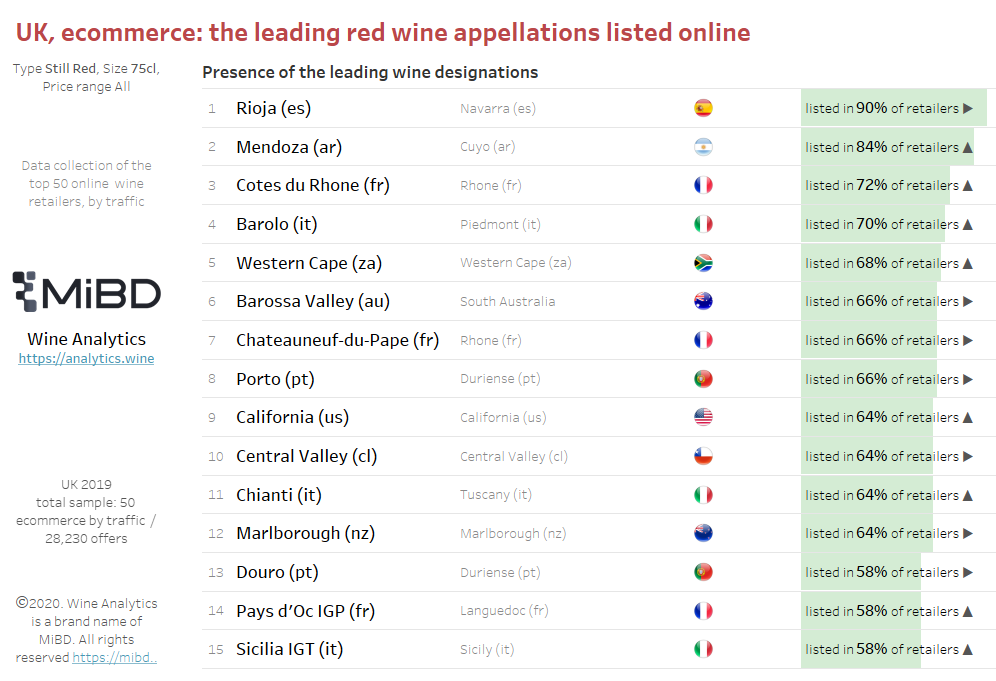 1. Rioja
2. Mendoza
3. Cotes du Rhone
4. Barolo
5. Western Cape

6. Barossa Valley
7. Chateauneuf-du-Pape
8. Porto
9. California
10. Central Valley

11. Chianti
12. Marlborough
13. Douro
14. Pays d'Oc IGP
15. Sicilia
Supermarkets picked up the biggest jump in online sales, followed by online wine stores and then mail order. However, and with many indie merchants having closed their (physical) doors, convenience stores were the only bricks and mortar retail sector to experience an uplift in wine sales through in-store purchasing.
Finally, when it comes to the future, the British wine drinker is understandably quite cautious about their household finances and the idea of getting on a plane. Mercifully for the wine category, and in common with consumers in other markets, UK wine drinkers are still choosing to buy wine even as their plans for summer holidays get put on hold.