Wine grew in popularity during the pandemic as people choose wine as a beverage of choice for drinking at home. The increase in young wine consumers and the growing popularity of wine will likely generate additional growth opportunities in Korea in coming years.
RATE THE SOUTH KOREAN WINE MARKET ATTRACTIVENESS
Drinking is considered an important part of social life and is often encouraged at social and business occasions (Hoesik). Although drinking is decreasing among the elderly population for health concerns, overall alcohol consumption remains high partially due to an increase in female consumers.
According to 'Alcoholic Beverage Market Trend Report 2020' published by the Korea Agro, Fishery and Food Marketing Corporation, Korean consumers picked beer as their favorite alcoholic beverage (46.3%), followed by soju* (29.3%), rice wine (10.4%), and imported wine (5.3%). Beer and soju were the most consumed alcoholic beverages due to their low prices. Beer, soju and rice wine were mainly supplied by local producers, while fruit wine and distilled spirits were mainly supplied by imports. While imports of distilled spirits are stagnating due to increased health concerns, demand for imported beer and wine remain strong.
READ ALSO

 Japan, Consumption Up lead by French wines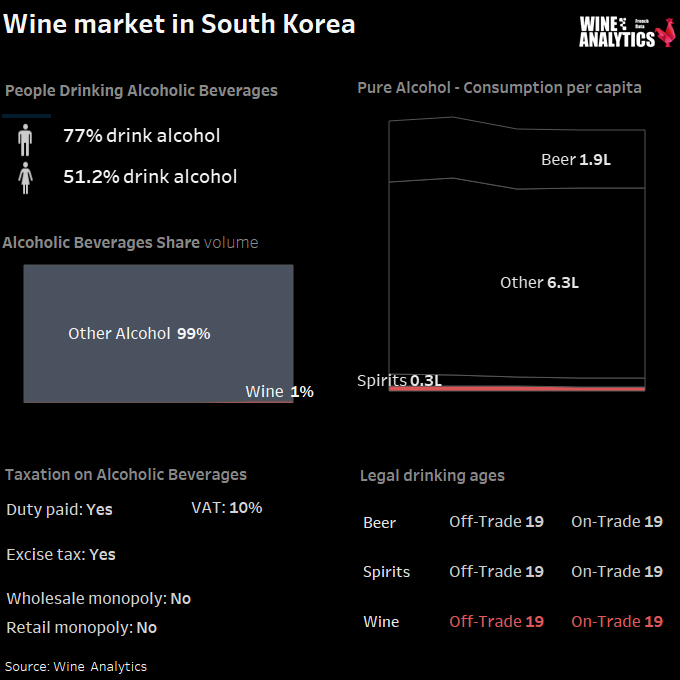 There is a trend to consume less but better and lower alcohol content drinks.
Imports of spirits is growing with a diversification of spirits: vodka, rum, gin, whisky, brandy, as well as liqueurs. There is strong competition from large international groups (Pernod Ricard) and local (Golden Blue). Importers in volume: United Kingdom 35.6%, China 19.2% and the United States 8.9%.
Mass production of cheap Korean lagers (declining) but growing interest in craft beer. Leading imported beers are China 15.5% of share value), Japan 14%, Belgium 13.8%, USA 12.1% and the Netherlands 10.8%.
All Wine is consumed by a limited population
South Korea, the Wine Market Expands. The increase in home drinking during the COVID-19 pandemic was the key driver for the outstanding growth of wine imports in 2020. Wine was the leading premium priced alcoholic beverage that consumers chose for home drinking.
Wine remains a premium beverage and is consumed by a limited population.
The Korean wine market is still in its early stage of development. Wine remains a premium beverage and is consumed by a limited population. Consumers are opting for beverages with lower alcohol contents due to health concerns, including wine and beer. The reported health benefits of drinking red wine are widely publicized.
Consumer lifestyle and taste continue to evolve as Koreans are further exposed to international themes. Wine fits the new consumer lifestyle and consumption trend. Competitors are export-oriented and deploy aggressive promotions in Korea. Many consumers and traders harbor outdated views that competitors offer better quality and value.
Wine consumption in Korea is skewed toward red wine due to publicity about its reported health benefits. Red wine accounted for 65.6% of Korean wine imports in 2020 by value (67.7% by volume). As a result, red wine remains the top priority segment in the market, generating the most competition among competitors. However, there is increased consumer attention to food-wine pairing themes and white and sparkling wine will likely gain some market share in coming years. Sparkling wine has been the fastest growing category recently, accounting for 14.1% of Korean wine imports in 2020 compared to only 5.5% in 2008.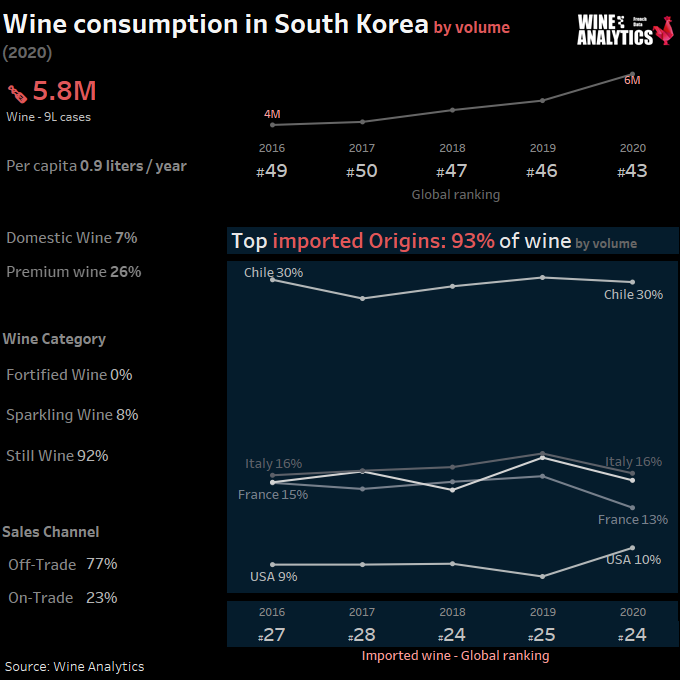 White wines are beginning to appear on Korean tables (17.7% of still wines consumed). There has been a strong growth in the consumption of rosé wines for several years, but the volumes are still anecdotal (600,000 liters).
Champagne is still sought after for special occasions and enjoys a very strong image on the Korean market.
A fierce competition on the wine market
Imported wine is offered at high prices due to high distribution costs and government regulations. The combined effect of local liquor taxes, logistics costs and distributor mark-ups make the retail price of imported wine in Korea much higher than in the export country. Korea applies a complicated duty and tax system to imported alcoholic beverages.
France faces elevated competition from value-oriented competitors and its market share has declined in recent years.
Many Korean wine opinion leaders and consumers view France as the reference for wine quality. France accounts for 23% of Korean imports in 2020 by value. The Korea-EU Free Trade Agreement (FTA), implemented in July 2011, eliminated the 15% import duty on French (and other EU origin) wine. However, France faces elevated competition from value-oriented competitors and its market share has declined in recent years. In terms of volume, France supplied only 13% of Korean wine imports in 2020. French suppliers will likely shift their focus to the higher price segment of the market. France will also likely gain from the growing demand for sparkling wine.
Chile is the leading supplier of imported wine to Korea by volume, supplying 30% of Korean imports 2020 (but only 26% by value). The strong rise of Chilean wine in Korea started in 2005 when the Korea-Chile Free Trade Agreement was implemented. The tariff advantage solely enjoyed by Chilean suppliers disappeared upon the implementation of the Korea-EU FTA (2011) and the KORUS FTA (2012). However, Chilean wine has established a firm value reputation in the market, presenting tough competition to other suppliers in the value-oriented segment.
Korean wine imports from the United States reached a record $56 million in 2020, up 65% from the previous year. Young Korean consumers have different tastes in wine than previous generations, and many are choosing U.S. wines.
Italian wine exports to Korea have continued a solid growth coupled with the popularity of Italian cuisine and travel themes. Increased consumer attention to white and sparkling wine will also likely provide Italian wine with growth opportunities in coming years.
Spanish wine exports to Korea have grown significantly based on its value positioning. Spain continues to ship a large amount of bulk wine to Korea for bottling and blending uses. Bulk wine accounted for 27% of Spanish wine shipments to Korea in 2020 by volume.
Australian wine has generated mixed outcomes in Korea in recent years due to strong market competition, adverse weather, and the strong Australian dollar. Australian wine is reportedly recovering from the challenges and will likely see a solid export growth to Korea. Australian wine exports to Korea increased 53% in 2020 to $19.5 million.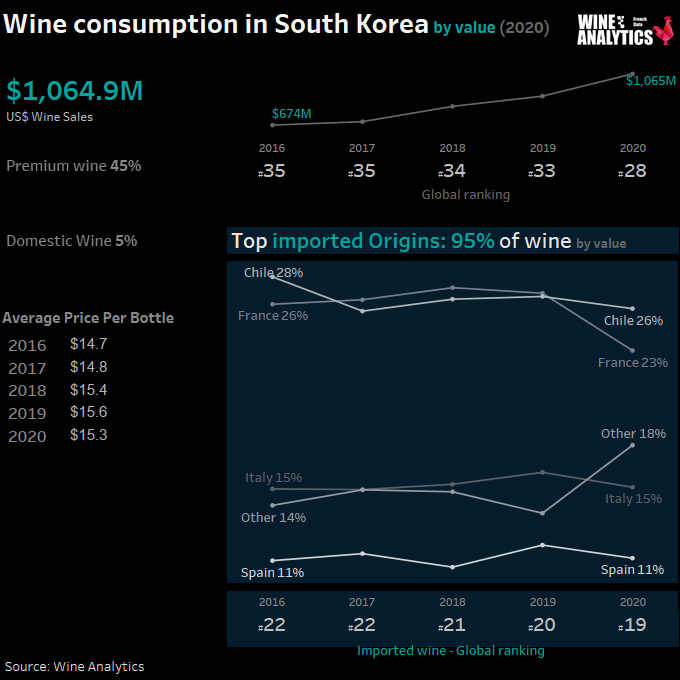 There is a move upmarket in Korea's food service offer (Michelin Guide Seoul 2020 4th edition, development of the sommelier profession, wine bars, opening of new 5-star hotels, etc.).
On the retail channel, distribution is structured thanks to the development of wine shops, the expansion of wine corners within modern distribution, particularly in convenience stores and premium supermarkets.
Over 300 active importers of alcoholic beverages
By law, only licensed alcoholic beverage importers can import alcoholic beverages. There are over 500 licensed importers, but marketers estimate that only about 50 of them currently maintain an active business. The top ten leading importers reportedly account for over 80% of total imports. Importers may sell directly to wholesalers, retailers (restaurants and liquor stores), or individual consumers (through the importer's own wine shops only).
Importers may not respond to new product offers from foreign suppliers.
Most alcoholic beverage importers are cautious about launching new products at this time due to the COVID-19 pandemic and slowdown of the Korean economy. Importers may not respond to new product offers from foreign suppliers unless the product in question shows strong market potential based on price, international acclaims (awards, favorable reviews by critics, etc.), or promotional support offered by the supplier.
Korean traders highly value face-to-face contact when developing business relationships with new foreign suppliers. However, traders are currently relying on on-line tools, including video conferencing, due to COVID-19 travel restrictions.
Korean law requires a separate Korean language label on imported alcoholic beverages. In most cases, the Korean language label (sticker) is attached to the back of the bottle manually by the importer in the duty-free warehouse before customs inspection.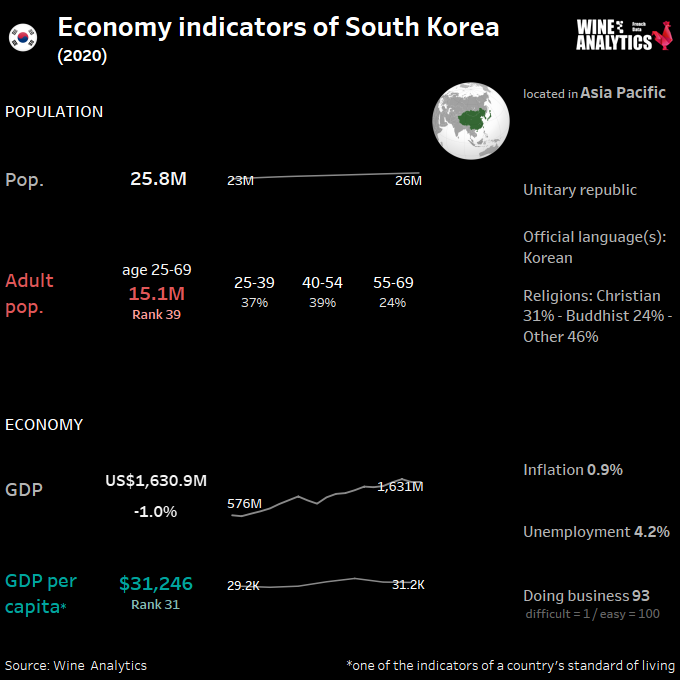 *Soju is a traditional Korean liquor distilled from rice. Most soju in the market today is distilled from cheap starch sources such as sweet potato or tapioca and diluted for low price and low alcohol content

South Korea, Wine is Consumed by a Limited Population
Our evaluation method
The data shows key metrics, and these are combined to show a ranking calculated using a composite weighted attractiveness combining overall economic factors and wine market factors.
WINE CONSUMPTION IN VOLUME
57
WINE CONSUMPTION IN VALUE
72
IMPORTED WINE IN VOLUME
76
73
Wine Market Attractiveness