Health concerns, along with changing lifestyles and demographics, mean that the per capita wine consumption is reducing. The UK is a key market for the global wine trade, particularly in terms of sales value. The UK wine market is a vibrant, ever-changing, and competitively challenging environment. Given the low margins in the main-stream sectors, most opportunities for U.S. wine are to be found with importers who service the high-end independent stores and the less price-conscious foodservice sector.
RATE THE BRITISH WINE MARKET ATTRACTIVENESS
The United Kingdom (UK) consists of four countries: England, Scotland, Wales and Northern Ireland. The UK, a leading trading power and financial center, is the third largest economy in Europe, after Germany and France. Services, particularly banking, insurance, and business services, account for the largest proportion of GDP while manufacturing continues to decline in importance.
On June 23, 2016, UK voters indicated their wish to leave the European Union (EU). After months of negotiations, the UK and European Union finally agreed a deal that will define their future relationship, which comes into effect on 31 December 2020.
ALSO READ

 Finland, a label for carbon neutral wines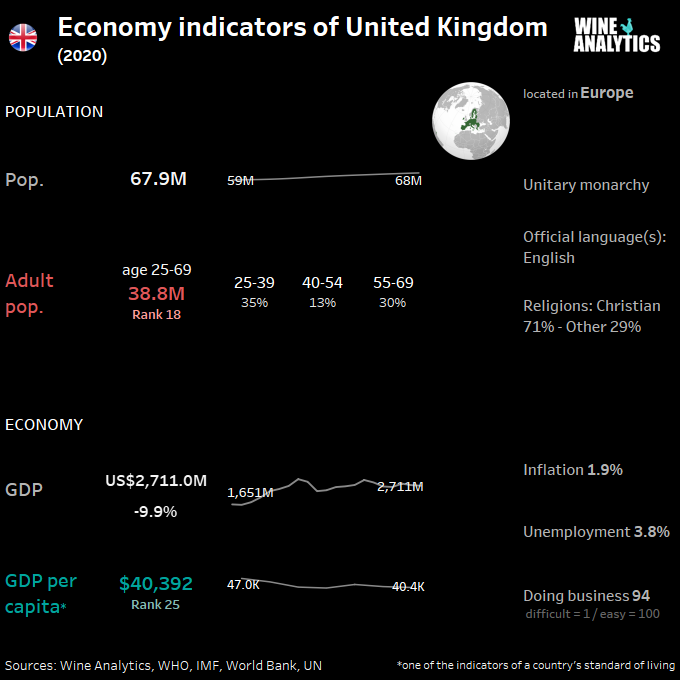 According to the latest data available (2016) of the UK Office for National Statistics (ONS), the South East of England is home to some 9.0 million residents (13.6% of the population, followed by London, which has 8.7 million people (13.2% of the population). The NorthWest (Manchester, Liverpool etc.) had the third largest population with 7.2 million residents (11% of the population).
Discounter chains: more and more important
Food and grocery expenditure accounts for 51 pence in every £1.00 of retail spending. Nine in ten people visit a convenience store on a regular basis to buy everyday grocery necessities. Four supermarket chains dominate UK food retailing, accounting for 69% of the market.
| | |
| --- | --- |
| Retailer | Market Share 2017 |
| Tesco | 27.9% |
| Sainsbury's | 15.8% |
| Asda | 15.4% |
| Morrison's | 10.3% |
| Aldi | 6.8% |
| Cooperative | 6.2% |
| Waitrose | 5.3% |
| Lidl | 5.2% |
| Others | 7% |
Source: Kantar Worldpanel
In general, each chain focuses on a specific market segment. For example, Tesco targets the middle market, providing both economy and up-scale products. Sainsbury's is pitched slightly up-market of Tesco, with Asda slightly down-market. Morrison's and the Cooperative both compete at much the same level as Asda, while Waitrose, part of the John Lewis Partnership, is the most up-market of the leading chains. Iceland, Aldi, and Lidl are all price-focused outlets.
The discounters' (Aldi & Lidl) sales increased 30% in 2016; Aldi's market share increased to 6.8% an all-time high making it the UK's 5th largest supermarket. The discount retailers continue to strengthen their position in the market.
Department Stores. Marks and Spencer (M&S) food halls continue to maintain successful business growth. Most M&S customers tend to buy the bulk of their groceries from less high-end retailers. The London-based Department Stores: Harvey Nichols and Selfridges have expanded to other major UK cities such as Birmingham, Manchester and Leeds. Other notable department stores are Fortnum & Mason and Harrods.
The UK's major supermarket chains dominate the private label market and on average 47% of products in their stores are private label.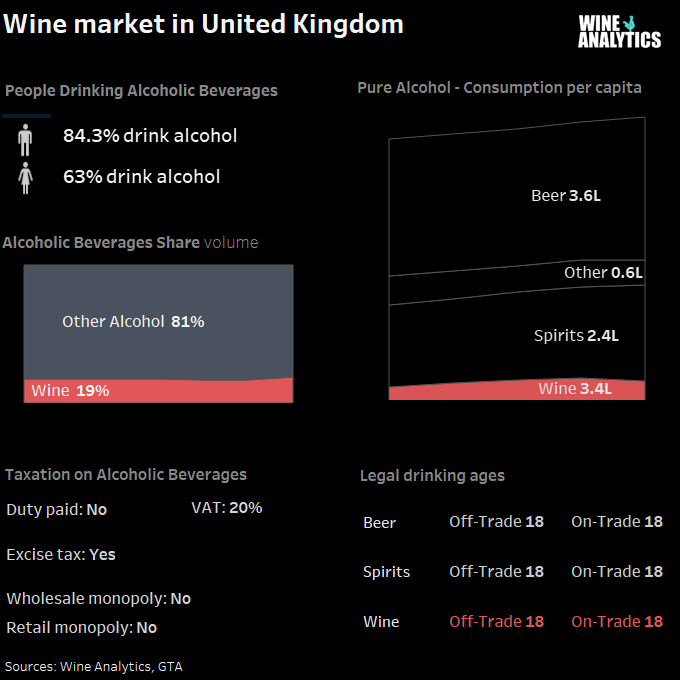 A Strategic Market for Alcoholic Beverages
The United Kingdom is the 2nd largest importer of wine and the 1st exporter of spirits worldwide. It is a strategic and local market proximity market.
British consumption of alcoholic beverages has until now tended towards premiumisation – consume less but consume better. However, this has not necessarily translated into an increase in the import purchase price of wines and spirits. In fact, the increase in excise duties and the instability of the GBP-EUR exchange rate since the announcement of the Brexit have created a partially false valuation of alcoholic beverages.
UK total alcohol consumption has declined by 20% in the last ten years (Her Majesty's Customs and Excise data). Health concerns are the main driver, along with changing lifestyles and demographics. The UK's Office for National Statistics reports that consumer spending on alcoholic drinks increased by 13% since 2007. At the peak of the financial crisis, consumer spend reduced between 2007 and 2009, but has increased yearly thereafter. While UK consumers may be "trading up" in their purchases, much of the increased expenditure is increased tax in the form of excise duty. The UK has one of the most punitive excise duty regimes in the European Union. This forms part of the government's strategy to reduce alcohol consumption per capita.
Wine private labels
Women in the UK are more likely to drink wine than men. Retail purchases of wine are skewed towards white wine (47% of all sales). Red wine accounted for 42% and Rosé 11%.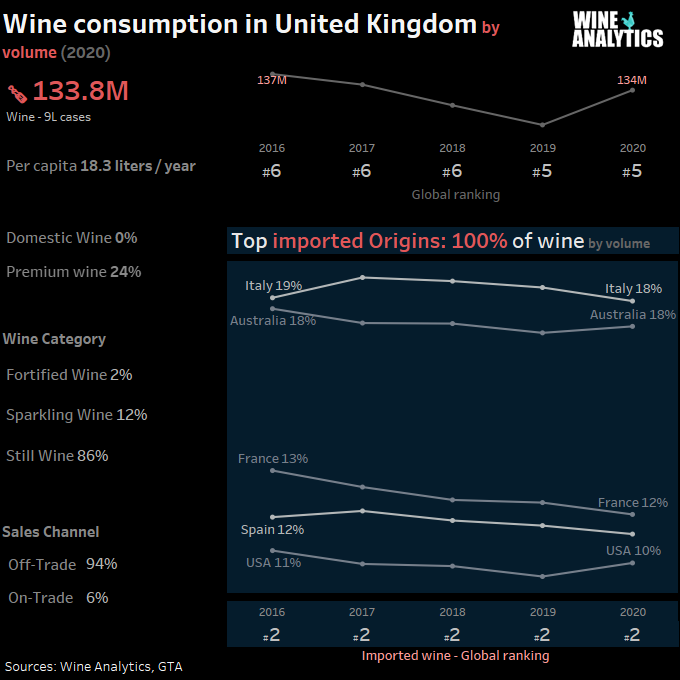 The UK wine market is fiercely competitive and mostly price-focused. Most opportunities for wine are to be found with importers who service the high-end independent stores and the less price-conscious foodservice sector. White wine is favored slightly over red wine consumption. Sparkling wine is the category exhibiting the most growth, mainly from Italian Prosecco and Spanish Cava that are perceived to be better value for money than Champagne. Fruit flavored wine and lower alcohol wine are new style products with growth potential.
The majority of UK wine sales are through retail outlets (known as the "off-trade" in the UK). The remaining sales take place in bars, restaurants, hotels and other foodservice venues ("on-trade"). UK consumers are generally very price-sensitive when it comes to wine, particularly those who shop for wine in supermarkets as consumers will often only trade up to mid-priced/premium brands when the brand is heavily discounted.
The retail sector has been shaken-up by the growth of non-traditional grocery stores such as discount chains Aldi and Lidl. Cash-conscious consumers are their main customers but their success is also down to main-stream consumers seeking value on their purchases.In addition, there has been an increase in trade through independent wine merchants. More UK consumers are turning to top-end retailers for special occasion shopping and a desire for quality. This polarization within the retail sector has led to a squeeze on market share held by supermarket chains such as Tesco, Sainsburys and Asda (Walmart). As result there have been radical reductions in the number of wine product listings in-store. In fact, as an industry, there continues to be wide-spread company consolidation and rationalization across the supply chain.
Private label is important in wine, considerably more so than in any other alcoholic drinks category, with grocery retailers offering consumers a wide selection across still light grape wine and sparkling wine in particular. With UK consumers expecting to pay relatively low prices for wine, private label players are well placed to take advantage by filling the gap between economy and mid-priced wine brands.
Food-led occasions at which to serve alcohol have become increasingly important to the foodservice sector. Casual dining venues are now 60% of the market versus 40% back in 2002. Since casual dining means shorter 'dwell' time, wine ranges available 'by the glass' are becoming increasingly important. Carafes are also becoming more common-place again in restaurants. As traditional mealtimes become less significant, health-conscious consumers are less inclined to drink with a late lunch than they would be with dinner.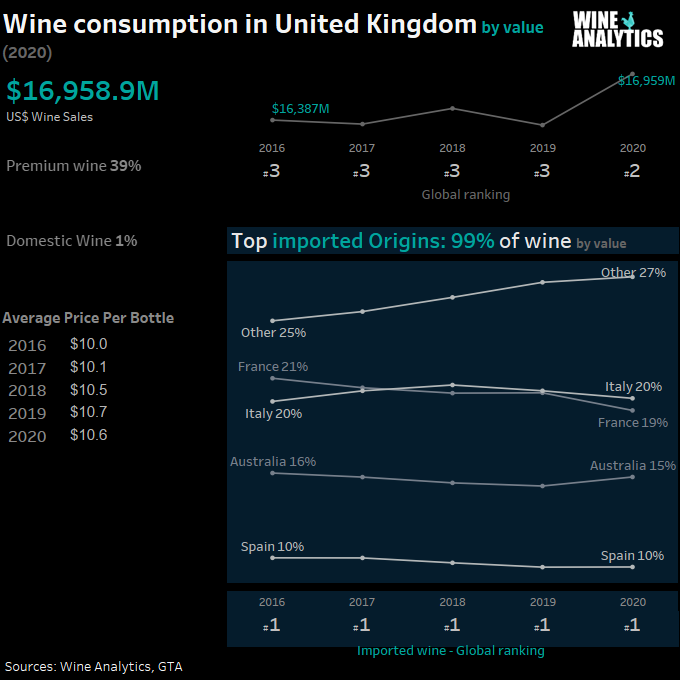 The internet wine selling channel was already experiencing double digit growth before the Covid-19 crisis. This growth is accelerated by the current situation and will probably continue after the crisis.
Consumers are now more aware of wine varietals and know their preference. Sauvignon Blanc and Pinot Grigio/Gris continue to take market share from Chardonnay. Pinot Noir is increasing in exposure and understanding in the red category, as is Zinfandel. Red wine from lesser-known grapes and regions in Europe are also gaining in popularity. Promoting a varietal with a regional story that reflects the diversity of wine producers is generally more readily understood.
Sparkling wine is bucking the downward trend with an increase of 27% in 2015. Market growth for sparkling wine is coming particularly from consumers under the age of 35. After the financial crisis of 2008, Italian Prosecco became the celebratory drink of choice for many consumers as Champagne seemed unaffordable for many. Although Champagne has returned to marginally positive total volume growth, UK consumers are still hugely in favor of Prosecco because of the value for money that it offers, while Spanish Cava has become increasingly popular as well.
Increased sales of low alcohol and organic wines
Despite significant growth, local production remains very limited 15.6M bottles in 2018. The UK also produces a small quantity of "made wine", which is made from imported concentrated grape must, mainly from Italy. Around two thirds of the wine made in England and Wales is sparkling, and comparisons are often drawn between English sparkling wine and Champagne – particularly as the climate and chalky soil in the South East of England are similar to the Champagne region of France. The two most popular grapes grown in England are the Champagne grapes, Chardonnay and Pinot Noir.
France is the 1st supplier of wine to the UK in value and the 2nd in volume. Competition is very strong and completely international on the market. Italian wines in the on-trade and New World wines in the entry-level segment are the main competitors.
ALSO READ

 France, Difficult Year for Wine Wholesalers
Capitalizing on the UK's obsession with health, wines are now available in low-calorie versions. Low alcohol by volume wines are expected to record slow but steady growth in the next 5 years. There are also an increasing number of organic wines in the UK market. The UK is one of the world's leading Fairtrade market (+4.9% volume growth in 2019). The Co-op has introduced fair trade wines from Chile. The organic wines consumed in the UK are mainly from Europe.
In terms of packaging, many brands are now appearing in single-serve bottles or with screw-tops. In fact screw-tops are now normal for most entry level wine. There are also a large number of gift packs now available for special occasions.
VI-1 certificates removed
In the United Kingdom, most operators source at least part of their range from an importer, so they have a key role in the British market. You have to plan to travel at least once a year to animate your importer's customer network. The British like to meet the producers.
Importers and bottlers must follow certain rules when labelling wine that's imported into Great Britain. The Food Standards Agency (FSA) is responsible for the safety, traceability and authenticity of wine and wine sector products in the UK. Guidance on the labelling requirements wine must meet to be sold in the UK. A VI-1 certificate accompanies imports of wine into GB. It provides details of the shipment of wine and a technical analysis of that wine.
"The Wine and Spirit Trade Association has been clear: as far as it can tell, the additional bureaucracy was entirely unnecessary. There was no customs requirement for it, and there were no safety issues involved. Importing 25,000 litres of South African Chardonnay, Australian Shiraz or Kiwi Sauvignon Blanc in a flexi-tank with one VI-1 form is much less burdensome and significantly cheaper than importing 20 wines in bottles from the EU, which requires 20 additional pieces of documentation."
On Thursday 16th December, Food Minister Prentis signed into law legislation that removes the requirement for VI-1 certificates on all wine imported to Great Britain from 1st January 2022.

United Kingdom, a Strategic and Proximity Wine Market
Our evaluation method
The data shows key metrics, and these are combined to show a ranking calculated using a composite weighted attractiveness combining overall economic factors and wine market factors.
WINE CONSUMPTION IN VOLUME
95
WINE CONSUMPTION IN VALUE
98
IMPORTED WINE IN VOLUME
98
94
Wine Market Attractiveness